Yamaha's NMAX 125cc scooter is an ideal inner city run-around. Here's our Yamaha NMAX review. Test & Images by Kris & Samantha Hodgson
On surface value scooters and motorcycles often draw very different crowds, but I know from both my own experience and from meeting fellow riders, that many appreciate having a scooter in the garage for various reasons. For my household a scooter is our second vehicle, after a sportsbike and is a machine we wouldn't get rid of.
So where does Yamaha's NMAX scooter sit in the scheme of things? Well first off, it's  a 125cc single-cylinder scooter, which is really on the low end of things power-wise, especially for open Australian roads with higher speed limits. It's right in the sweet spot for power and fuel consumption for an urban commuter however.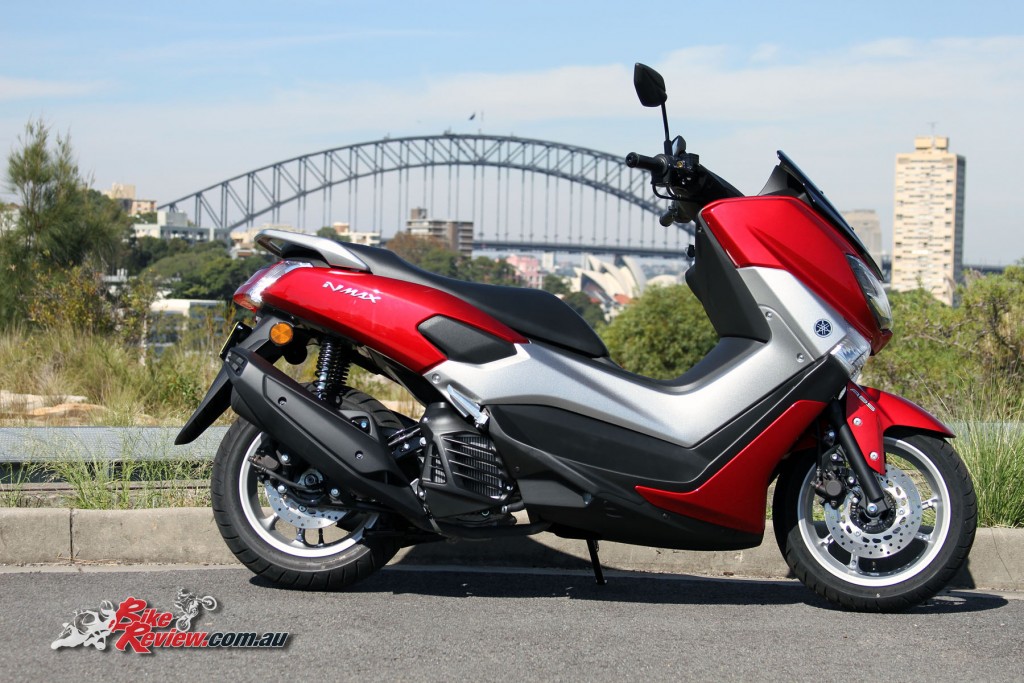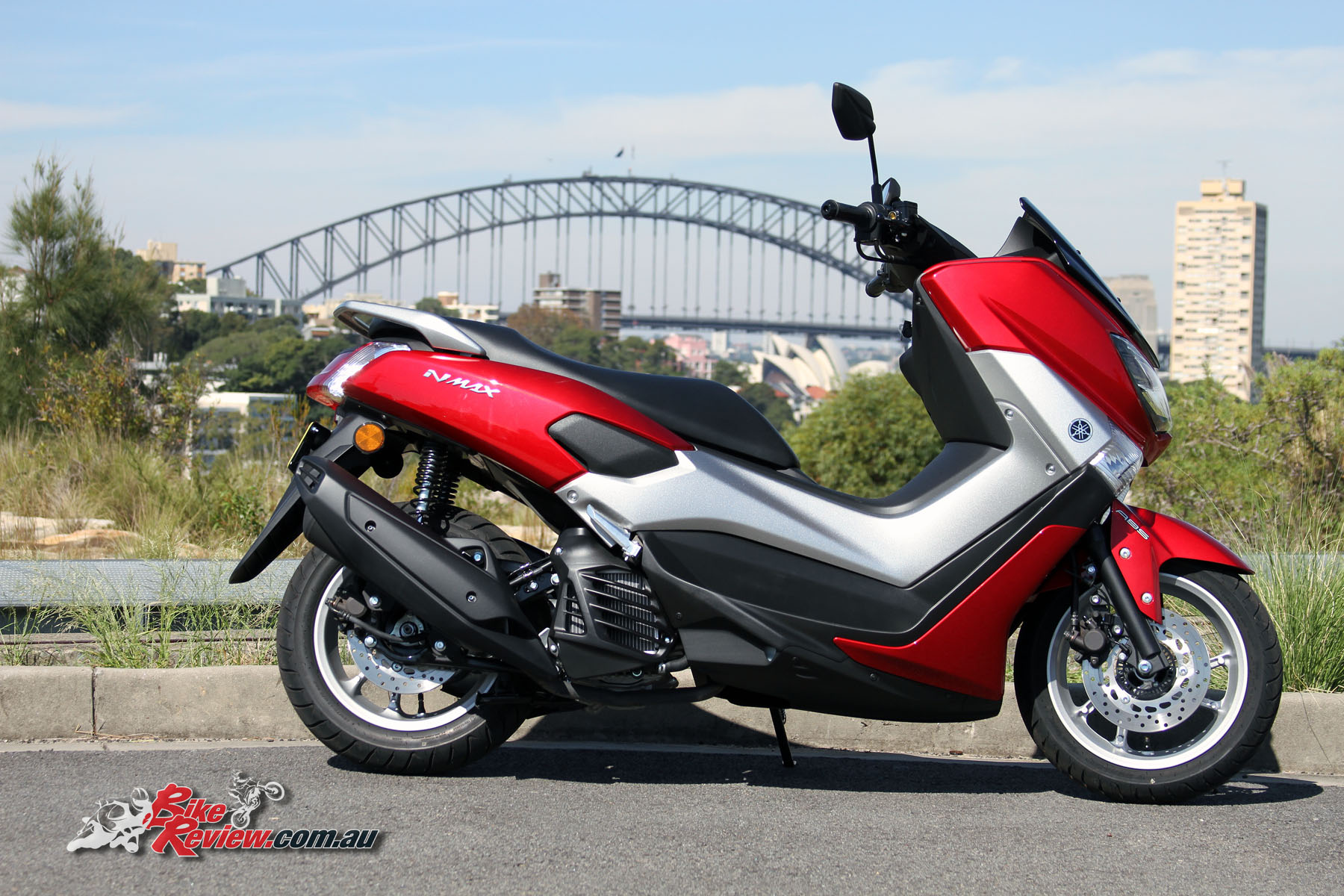 It's also Learner (LAMS) legal and weighs in at just 127kg, ensuring it's an easy to handle package. There's also a lot of attention to detail that's been put into the NMAX, for instance it's ignition is protect by a metal plate that you can engage by hitting a button, and which can be unlocked by the plastic end of the key. It's not foolproof, but ensures you aren't going to come back and find gum or superglue in your ignition, nor will someone be able to mess around with it easily.
It also incorporates the seat latch, which works in the same manner as the steering lock, but without pushing the key in, as you normally do with the steering lock. This does mean you need to unlock the steering to get access under the seat. The underseat storage will fit a full face helmet, put in upside down, which is cool. You'll probably want to line it with a towel to prevent scratching though, if you're riding with a helmet under the seat.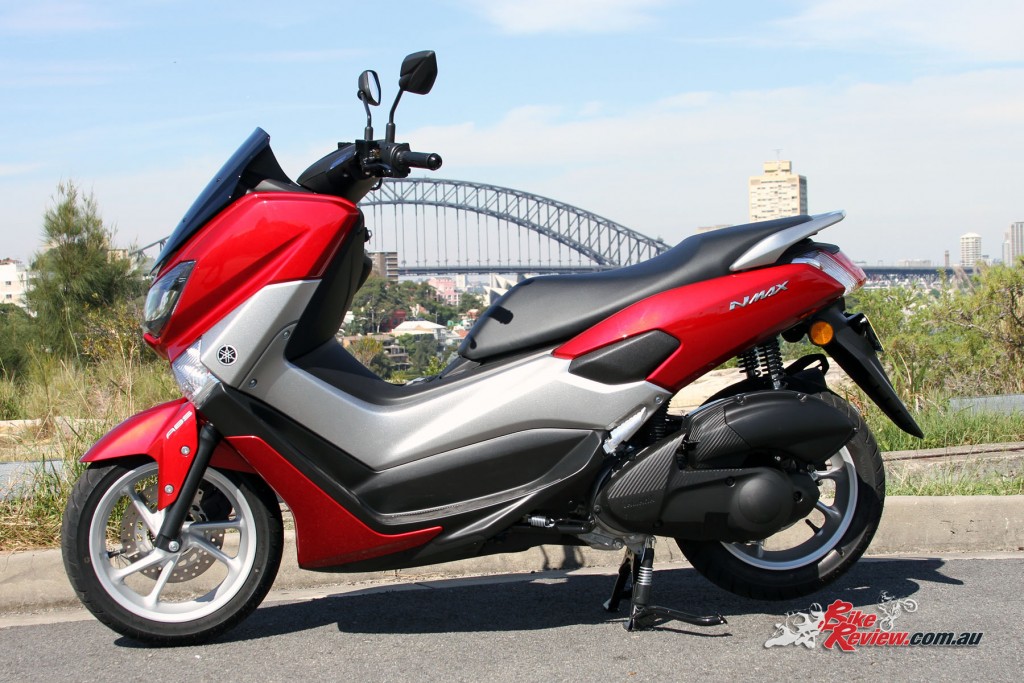 There's no flasher for the high beams, but the LED headlights do provide a good throw for city riding, with simple switchblock controls. The NMAX is also fitted with both a centre-stand and side-stand, so you'll need to put the sidestand up to start the scooter, with the single-cylinder easily chugging to life.
Styling is unusual but in the Power Red I think the NMAX looks pretty cool, I wouldn't go so far as to say it's elegant, but it does all come together for me, and the longer-shorter design allows for the extra set of footrests for your sportier, higher speed riding.

The dash is also simple, with speed, fuel and fuel economy readings, the last of which seems to just reflect how much throttle you are using. You can also track how long since your last belt service which is nifty.
Wheels are 13inch items, so not quite the size that's commonly recommended for more highway orientated scooters (16-17inch) but still do a fine job, with single 230mm rotors at each end and ABS as standard.
It's an impressive package for $4,199 plus On-Road Costs, and certainly fits the bill as an urban commuter, which is where Yamaha are placing the NMAX.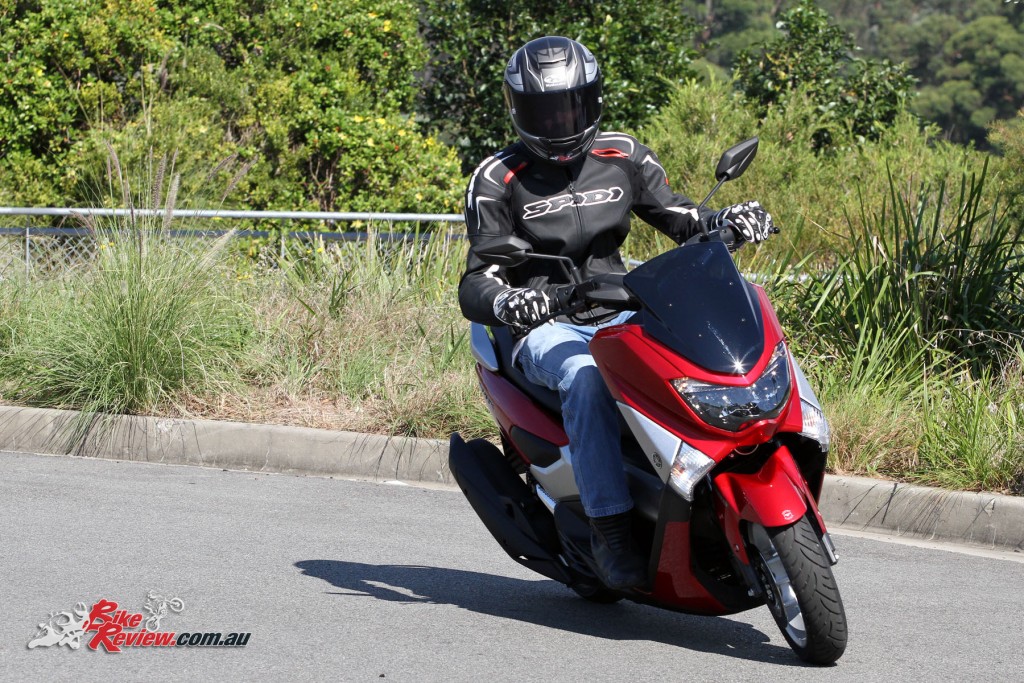 THE RIDE
So all the specifications are impressive, but how does the Yamaha NMAX handle Aussie roads… well here in Sydney it did an admirable job.
Starting up the scooter hums to life and setting off is easy, with nice gentle low down torque and linear power delivery. With the 125cc SOHC four-stroke single only delivering 12hp, this is far from an intimidating machine and true to its urban commuter theme is ideal for beginners or those doing lots of city or lower speed commutes.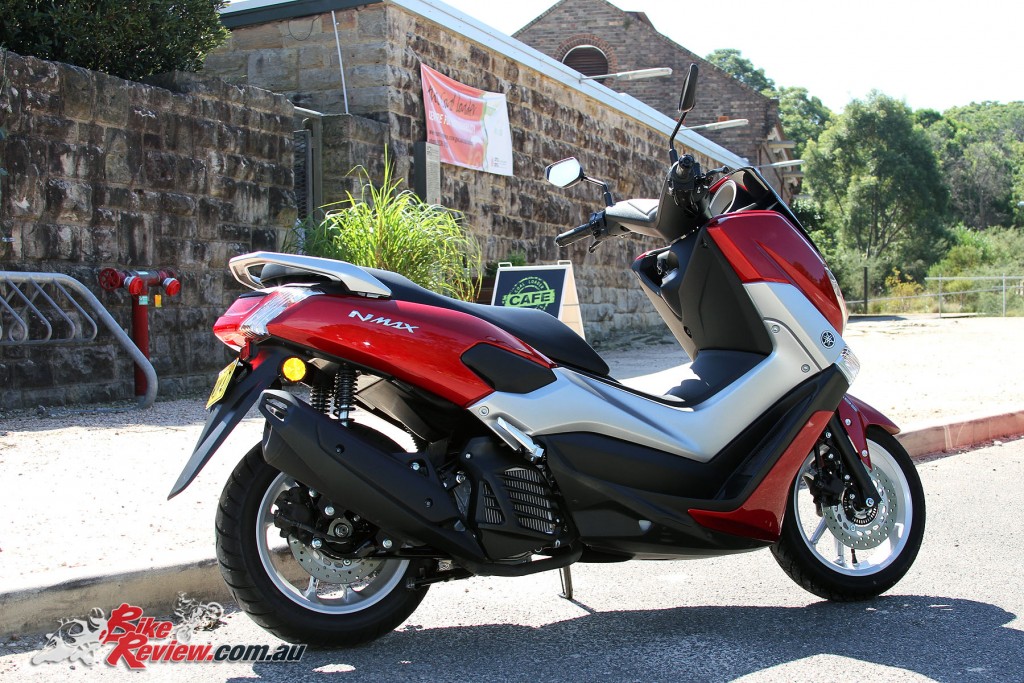 You can still take off ahead of most drivers if you hold that throttle wide open, and the NMAX will deliver enough performance to have some fun, but it's all about smooth acceleration and really steep sections of road will have a noticeable impact on your ability to accelerate, especially at higher speeds like from 70km/h upwards.
Steering is light and nimble, with impressive stopping power from the ABS supported front and rear disc brakes, ensuring even heavy traffic isn't a drag.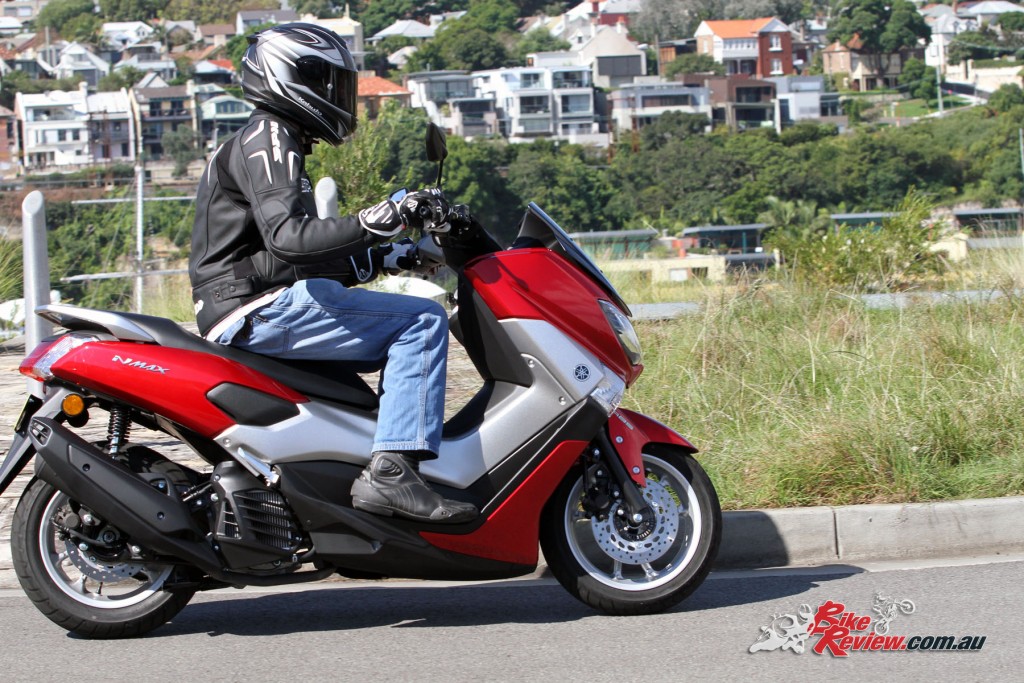 There's some minor vibrations through the 'bars, which I really only noted in passing and the front end is well supported, even over bumpy sections. The rear on the other hand I found quite stiff for my 70kg in gear weight, especially over bumps or speed bumps where the rear would really kick up.
It was a sporty combo on well finished surfaces, but I can see the rear being too stiff for lighter riders with lots of potholes and speed bumps on their regular routes, or those not frequently riding two-up.
The seating position is also comfortable, with a relaxed riding position that allows you to stretch out a little with the higher foot positions, for cruising at greater speeds.
Running around on the NMAX for a week, and doing all my lower speed (non-freeway/110km/h) trips I found it a capable, comfortable scooter, with exceptional fuel economy and great road manners. While it could reach 100km/h and easily did so on the flatter areas I wouldn't recommend the NMAX for those frequently travelling at 110km/h, especially on motorways. Its niche is as an urban commuter and that is where it excels.  
The price is also very competitive at $4,199 plus ORCs, and I'd probably fit some genuine Yamaha accessories, like the High Screen, Top Case Carrier and 39L Top Case (City), which will ensure a bit more wind protection as well as plenty of storage capacity, whatever your needs. Plus having had a Yamaha top box fitted to a previous Yamaha motorcycle they are a good piece of kit, and money well spent!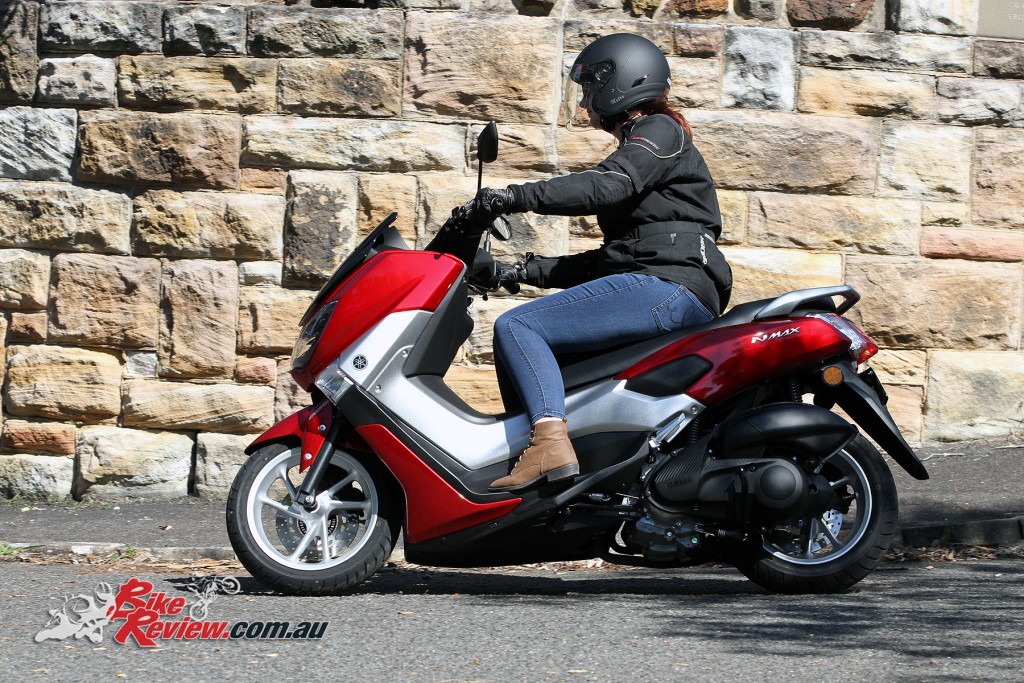 SECOND OPINION
When I first saw the Yamaha NMAX, I had my reservations. I thought the NMAX looked bulky and uncomfortable and after commuting to work on a 250cc scooter every day I was unsure about performance, but this little gem had a few surprising secrets.
The low, broad seat was comfortable for short rides, meaning I could reach the ground without shifting my position. That said, a little extra padding (or the Yamaha Comfort Seat) would be ideal when doing more than 40 or 50km a day. After a couple speed humps and potholes I was also looking for the smoothest sections of road, just to avoid the kick in the rear suspension.
I found the NMAX excellent for short commutes, it definitely holds its own in Sydney's busiest traffic. While vibrations were noticeable when taking off, I don't doubt the NMAX would easily compete with other scooters when it comes to taking off at the lights. The smoothest ride was from about 60-80km/hr making it suitable for most metropolitan areas, but I wasn't game to test it on a motorway at a steady 110km/h, with some steep uphill sections along my regular routes!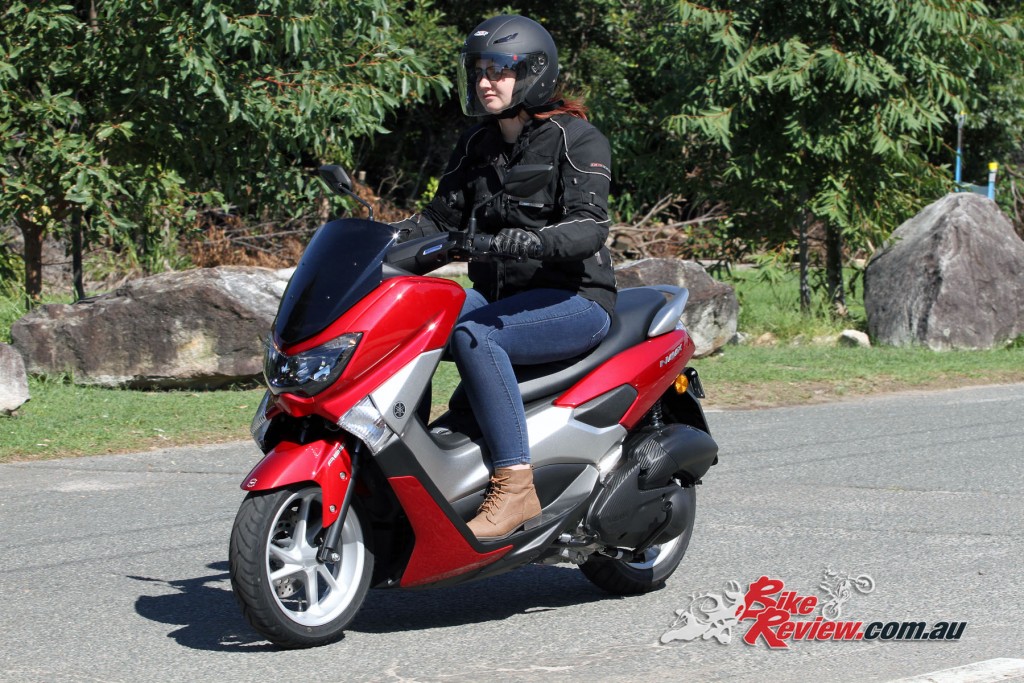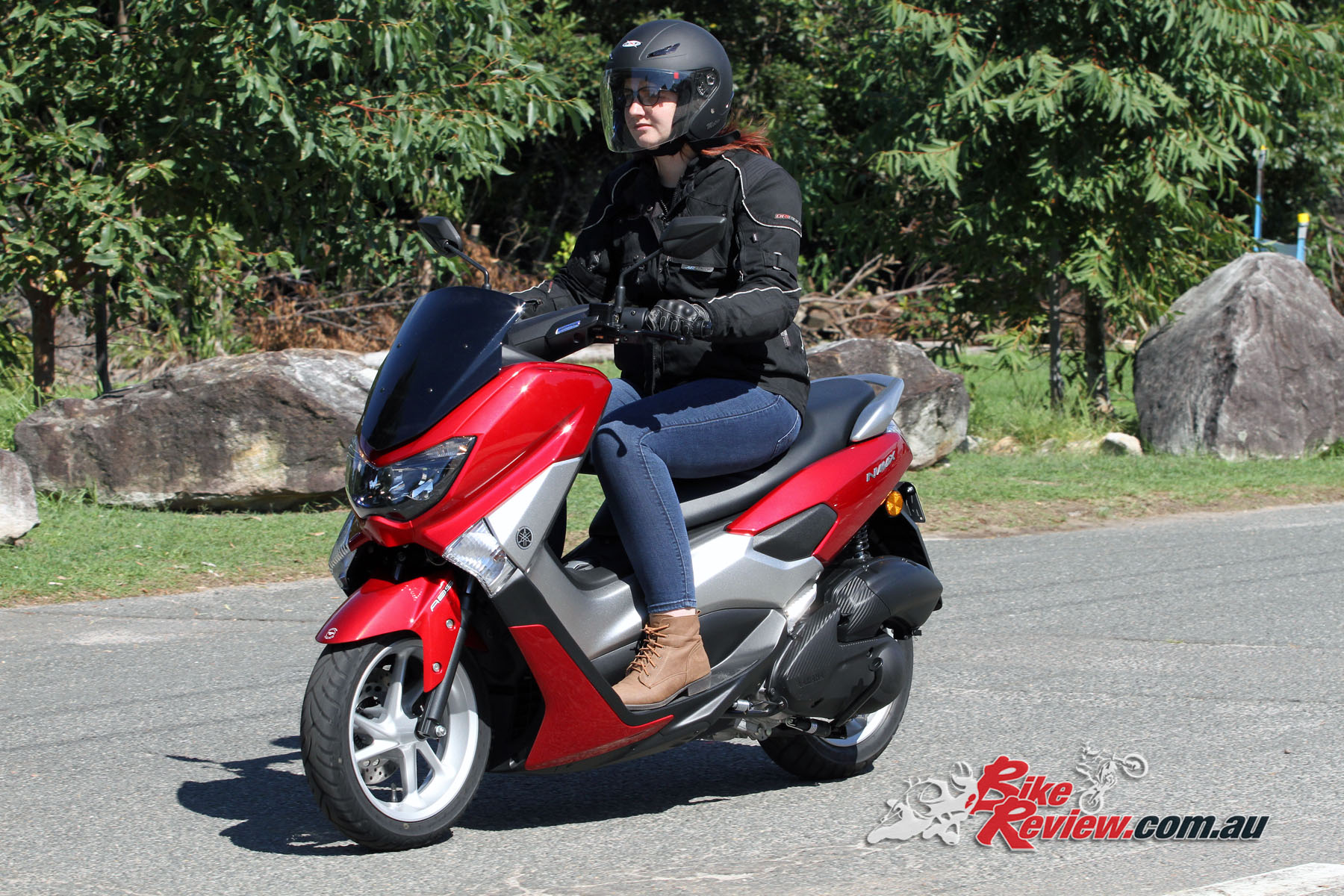 The option of a side stand proved useful when parking uphill or on smooth concrete surface (you'll understand if you have a centre stand on your current machine). The under seat storage was surprisingly ample, holding a helmet and other bits and pieces, meaning a top box is not a necessary accessory, if that's not your thing.

I felt like the bulk of the scooter was carried at the front, which looks less streamlined and less attractive to me, but styling is a personal preference. I also wasn't a huge fan of the separated foot well, with your feet separated by a raised central ridge that includes the fuel cap. It was almost painful, digging into my calves. Coming from a scooter with a flat foot well I have the option to keep my legs together, which is a feature I appreciate as a woman, despite always wearing jeans while riding.
This separation made me think I had to hold on with my ankles and rethink my balance going into corners. That said, the balance and turning circle of the NMAX couldn't be faulted.
Overall I enjoyed riding the Yamaha NMAX, it was easy, uncomplicated and that's what it should be. – Samantha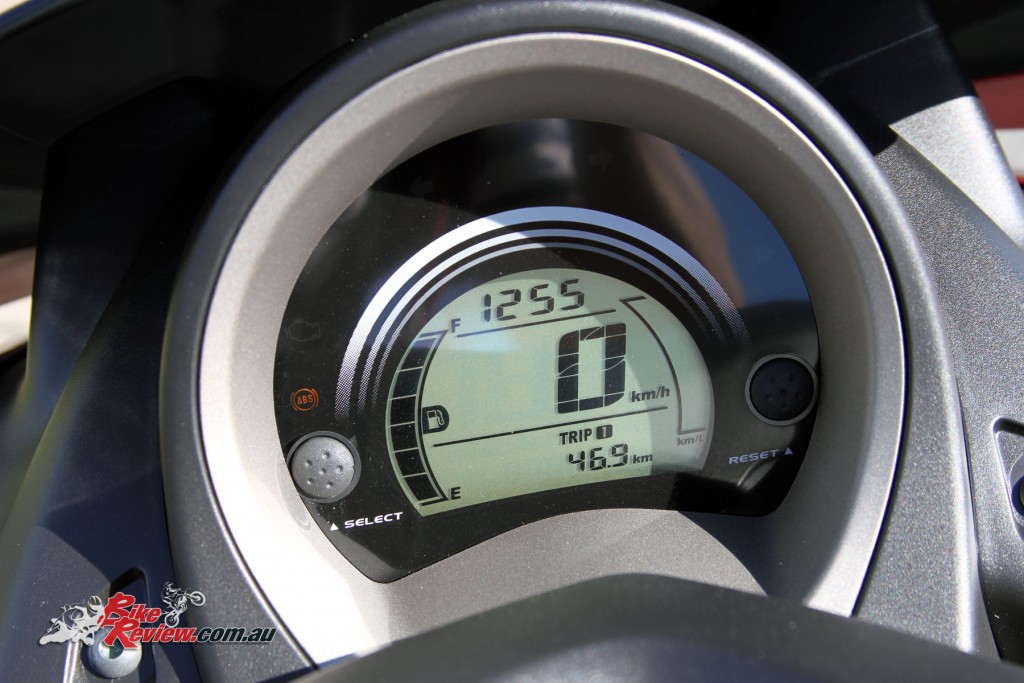 THE TECH STUFF
The Yamaha NMAX features a 125cc liquid-cooled SOHC four-stroke four-valve single-cylinder, with variable valve actuation (VVA) for better performance and excellent fuel economy. The cylinder is offset, with a forged piston and DiASil cylinder helping reduce frictional losses, with a high lift camshaft and the VVA system switching between two cam lobes according to engine speed for smooth running.
The frame is a new lightweight design with vibration absorbing mounts, while the radiator is mounted to the side of the scooter, with overall wet weight just 127kg.
Wheels are 13inch items, with dual shocks on the rear offering 90mm of travel. The forks offer 100mm travel and both ends are fitted with single 230mm rotors for impressive braking performance. ABS is also standard.
Power is a claimed 9kw@7500rpm, while torque is 11.7Nm@7250rpm, with a 6.6L tank, with up to 46km/L claimed for mileage, which is a figure we came close to with a few refills at around 160km or about 4L each, or around $5 a fill.
Headlights and brakelights are also LED units, with an LCD multifunction dash.
Click the arrows to scroll through the 2016 Yamaha NMAX detail shots:
SPECIFICATIONS: 2016 Yamaha NMAX 
Price: $4,199 + ORC
Warranty: One-year, unlimited kilometre
Colours: Power Red, Frozen Titanium
Claimed power: 9kW@7500rpm
Claimed torque: 11.7Nm@7250rpm
Wet weight: 127kg
Fuel capacity: 6.6L
Engine: Liquid-cooled, SOHC, single-cylinder, four-valve, four-stroke, 125cc, 52 x 58.7mm bore x stroke, 11.2:1 compression, V-Belt Automatic, Variable Valve Actuation (VVA)
Gearbox: Auto

Chassis: Lightweight, small diameter steel tube frame, Unit swingarm
Suspension: Telescopic forks, 100mm travel, dual rear shocks, 90mm travel
Brakes: ABS, single 230mm front and rear rotors, single-piston calipers
Wheels & Tyres: Alloy multi-spoke 13inch wheels, 110/70 – 13, 130/70 – 13

Dimensions:
Wheelbase: 1350mm
Seat height: 765mm
Overall height: 1115mm
Overall width: 740mm

Instruments: Multifunction LCD display
The Verdict | Review: 2016 Yamaha NMAX (LAMS)