An amazing bling high end custom R1 build... Words: Tony Wilding Photography: Heather Ware
This bike has to be the most blinged R1 that I have ever come across. I could fill this entire column alone just writing about the amazing computer and electrical system the bike has, never mind the rest of this awesome machine.
The bike itself is a 2005 Yamaha R1, built by Firebrand Motorcycles. You could be forgiven for thinking that the project R1 had started out as a wrecker, or been down the road before the boys started working their magic. But it's not true; the bike was actually a mint, low kilometer, one owner machine.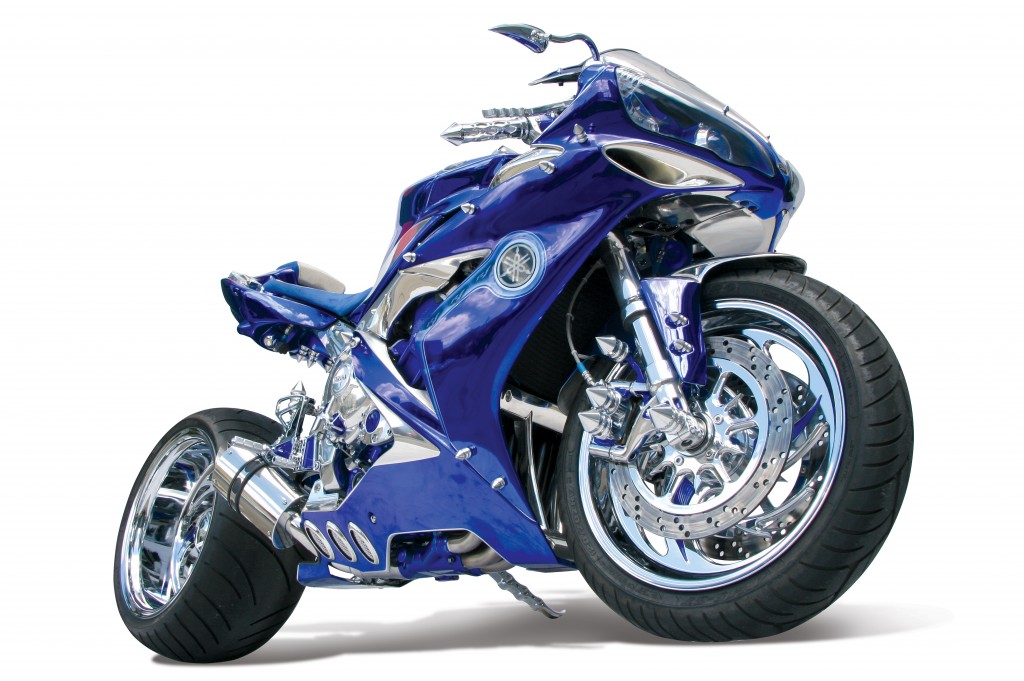 So how did the project start? First, the decision had to be made. What rear tyre did they want to run? The second was that the bike must have NOS. Like any good project the bike was stripped to a bare frame. The frame was then painstakingly polished to a mirror finish.
The boys then decided to be different and install a massive single sided swingarm, no easy feat and not just a bolt in job as first thought, it had to be machined and spaced to fit perfectly. The arm itself is CNC machined from solid billet alloy for strength and extends some six inches further than standard. The monster arm was bought as a kit from Rickman in the U.S, which included the RC Components Stingray wheels.
The enormous rear wheel has also been machined from a block of billet alloy and then polished to a mirror finish before being chromed. The wheel spokes have been inlayed with blue to add a nice contrast to the chrome. Sitting on the wheel is a very large Avon Venom 300/35/18 tyre. There's a Performance Machine rear caliper fitted with EBC brake pads that grabs on to a Galfer rotor disc. A Mobile Auto Hoses braided brake line is used to take care of rear braking duties.
The chain drive has to run dual chains to offset the driveline, leading to a standard chrome rear sprocket. To add ground clearance as well as looks, a set of chrome Vortex rearsets are used again with blue inlays. The brake lever is attached to a standard polished master-cylinder and Suttons Speedy Services have provided the ultra-trick brake reservoir.
For comfort a very trick, Big Bore Air Ride suspension system has been fitted to smooth out the ride but mainly so the R1 can be dumped, which adds a nice touch…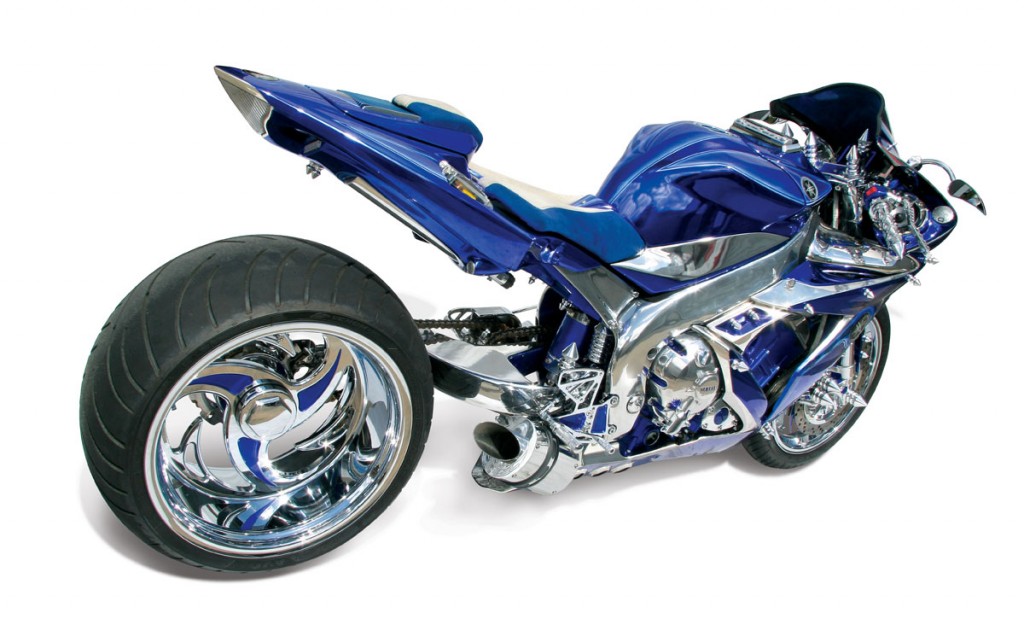 Sitting on the R1 looking over the cockpit area is like looking at the controls of a fighter jet, the bike has everything. The heads-up computer has the ability to log and show the G-Forces on the bike. You can even load pre-sets in case you lend the bike to a mate so he can't rev its bollocks off.
The computer also has full diagnostic capability and a PCIII is used for keeping the beast running right. Don't plan on getting lost either; the bike has satellite navigation as well as a DVD player. And a DVD player would be pretty useless without a ball tearing stereo, sub woofer and amps included.
It will even tell you the distance of the car behind. You can also keep track of what make and model it is, thanks to the rear mounted camera. The dash unit holding all the instruments and LCD screens was custom built in-house.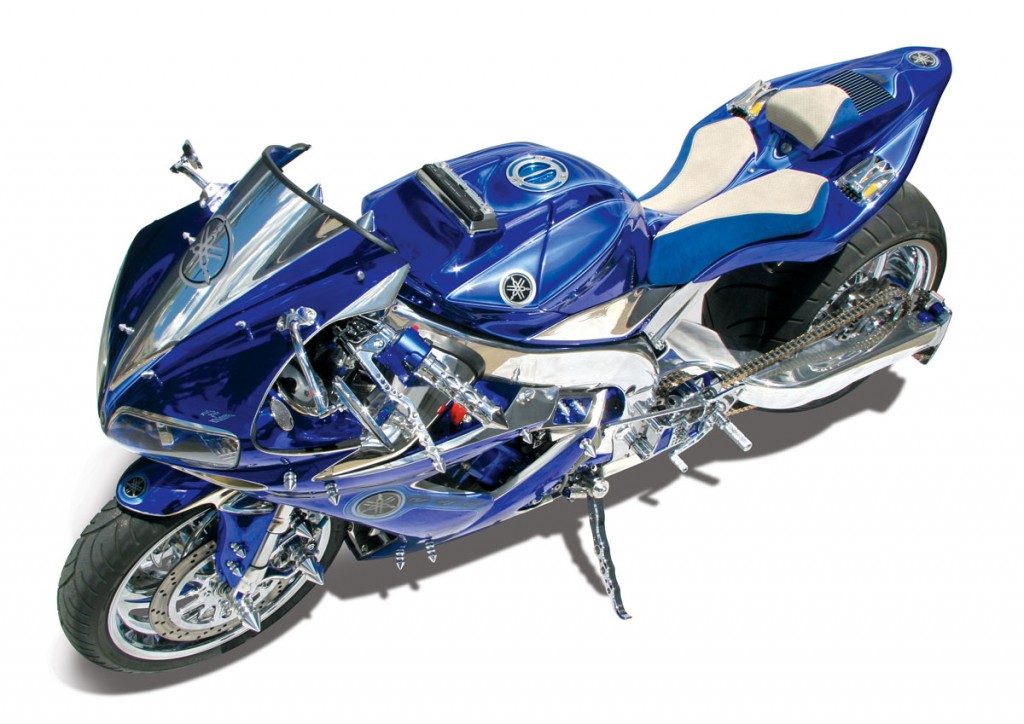 The standard polished handlebars have been kept although they sport some rather flash chrome grips. The triple-clamps were custom machined by Suttons Speedy Services then polished with blue inlays for added affect. The levers are by RIS Designs and attach to standard polished master-cylinders, with Mobile Auto Hoses braided brake lines used to improve stopping power.
The custom made reservoirs holding the brake fluid were also made by Suttons Speedy Services. The front suspension is stock, and has come in for a polish, along with the steering damper. The front wheel is a billet chromed alloy item by RC Components wearing an Avon 120/70/17 Viper. And RC Components Vega disc rotors are used to bring the R1 to a standstill. The standard calipers have been polished, again with blue inlays.
The low kilometre engine was kept stock although extensive detailing has been done, including painting and polishing. The bolts have either been replaced with alloy or stainless and those that couldn't be, have been chromed. Braided oil and water hoses add to the custom look. The airbox was a bit of a challenge. It had to be custom-made by Firebrand because of the room taken up by electronics and sub woofer. If you look at the rear seat unit you will see two polished bottles molded in to the under-tray. These are NOS bottles but for legal road use they have not yet been hooked up to the solenoids. Something to look forward to!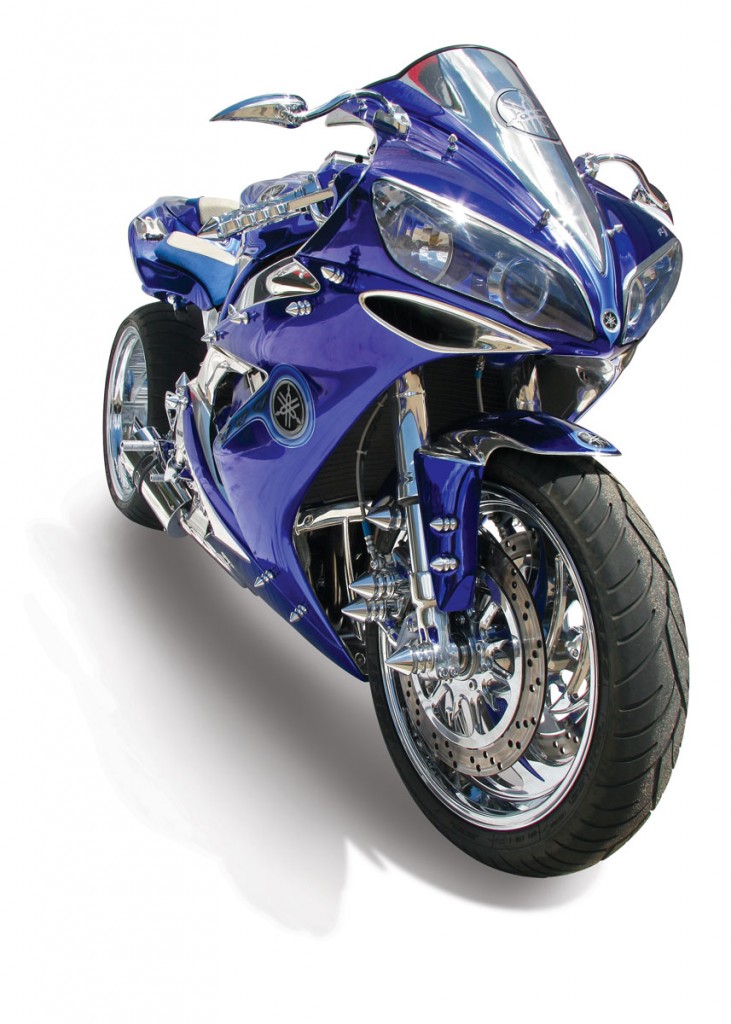 The blue chrome bodywork is something else. Besides the amazing paint there is so much to take in, such as the headlights in the fairing, the surrounds have been given the blue chrome treatment. The custom-made air intakes, painted chrome of course, keep a supply of air flowing to the airbox. And a set of Pro 1 chromed mirrors have been fitted. And look at all the spike fasteners that hold the fairings and guards in place. Most have been custom machined just for this bike by Suttons Speedy Services, although if you drop the bike on yourself it will end in pain!
The lower fairing has been modified to fit the Boz Bros slip on muffler while the Yamaha EXUP valve has been kept to retain mid range. Cooling vents have been fitted in the lower fairing to remove exhaust heat. The seat unit houses some serious amps and has had air vents installed to keep thing cool as well as having a molded undertray for the NOS. The seat was made and upholstered in matching colours in-house by Firebrand.
THAT PAINT
The first thing that was done to get this amazing finish was to get the panels prepared. This required a lot of work, even the smallest blemish or chip had to be repaired first so that every panel was perfect. I was always told during my spray painting apprenticeship that piss poor preparation leads to poor performance. That has never changed.
The chrome was the next step, this was a two-part water based, acid clean system, very fickle and hard to use. Ronnie from Firebrand was responsible for the paint and by his own admission it took him much trial and error to get it right. At first, the chrome was inflexible and would flake off the panels, a problem that took a long time to sort out. The whole chrome paint system of Firebrands is a bit of a secret but I'm told they are now capable of painting any surface, plastic or metal.
With this in mind, the options are only limited by your imagination. Once the chrome was applied, sections were masked up then later removed; this reveals the chrome contrasting against the blue bodywork. Several coats of PPG candy apple blue were then sprayed over the top. This was harder than it sounds. Because the candy paint is transparent, each coat had to be applied evenly otherwise there would be a build up of colour on the edges or blotching on the panels, it's a job best left to a craftsman.
Each coat that is applied makes the candy darker until the desired affect is achieved. The candy apple gives the paint an amazing translucent depth. After the candy was finished, spraying several coats of PPG clear coat sealed the job. The job was then left to harden before being sanded back with ultra fine wet'n'dry paper to a super flat finish. Then it was time to get out the airbrush.
All the lines and ghosting effects you see were done by airbrush. Once that was done the whole job was sealed again with six coats of PPG clear. The clear also adds depth to the paintwork and, because it is UV resistant helps protect the candy from fading in the sun. A nice finishing touch is the tuning fork badges on the panels. They are custom made by Firebrand, illuminated from behind they really stand out at night and are a work of art.
SPECIFICATIONS
ENGINE:
998cc inline four-cylinder, 20-valve DOHC four-stroke, 180hp std, bore and stroke 75 x 53.6mm, compression ratio 12.3:1, dual-valve throttle bodies with motor-driven secondary valves, Boz Bros muffler, stainless headers with EXUP valve, stainless braded oil and water hoses, custom airfilter with modified airbox, computer heads up unit and data analysis, NOS.
CHASSIS:
Polished frame and six-inch extended swingarm, standard 43mm inverted forks and Big Bore Air Ride rear suspension system, standard 'bars with custom grips and end spikes, Pro 1 chromed mirrors, RIS Design levers, Sutton's Speedy Services CNC-machined triple clamps and reservoirs, spike brake cooling system, R1 master-cylinders, Mobile Auto Hoses braided lines, spikes fairing and fasteners, LED indicators and rear lights, Custom Firebrand seat, RC Components Stingray wheels, Vortex chrome rear-sets, Galfer rear disc, Performance Machine rear caliper, RC Components front discs, reverse cameras, DVD player, sat nav, G-Force logger. Paint work by Firebrand.