The 2021 BMW R 1250 RT tourer will be here in Q2 next year and scores a bunch of extras as standard as well as some great updates including a restyle and a 10.5in TFT dash...
The 2021 BMW R 1250 RT has increased standard equipment including Dynamic Traction Control (DTC), BMW Full Integral ABS Pro and Dynamic Cruise Control (DCC). It also has a big new TFT dash and new fairing design and is due here in Q2, pricing to be announced.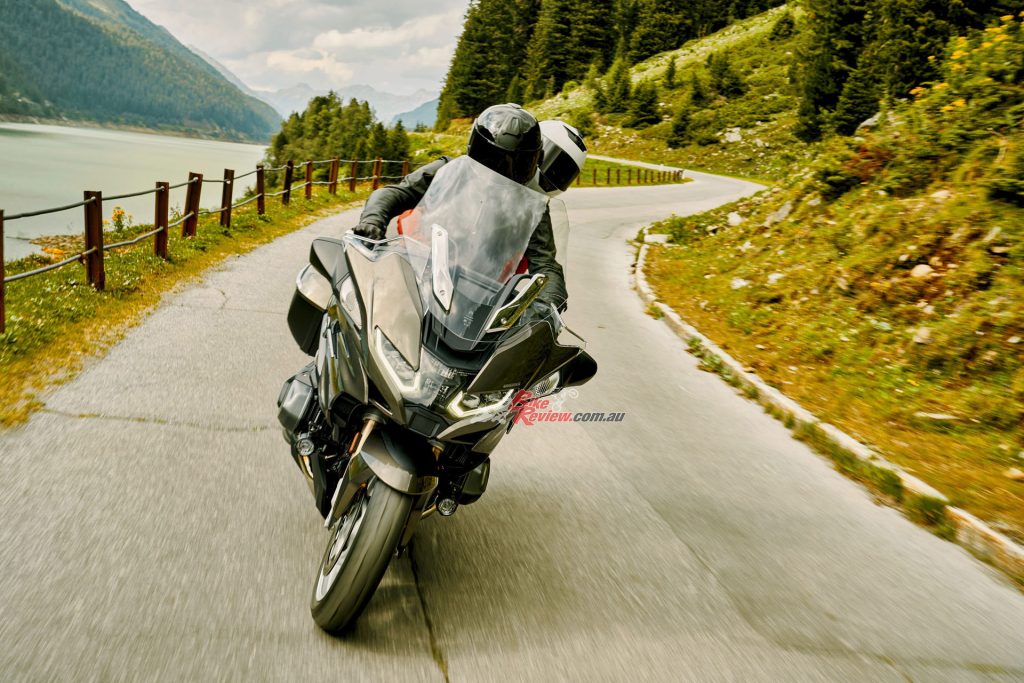 Fitted with renowned boxer engine incorporating BMW ShiftCam Technology that develops 100kW (136hp) and 143Nm
New multifunctional instrument cluster includes 10.25-inch full-colour TFT screen with world-first ability to show full navigation map
New fairing design updates appearance and enhances aerodynamic properties
Pricing and specification detail to be announced ahead of local launch in Q2, 2021
---
---
The RT, long recognised for its broad touring ability that mixes comfort and dynamism, integrates a host of key changes for the 2021 model update.
"We have given the R 1250 RT a new look, a comprehensive increase in standard equipment and numerous technical upgrades to achieve a whole new riding experience," said RT Project Manager Harald Spagl.
"As a dynamic tourer with the incomparable BMW ShiftCam engine, it also has the perfect power unit with impressive power across the entire speed range."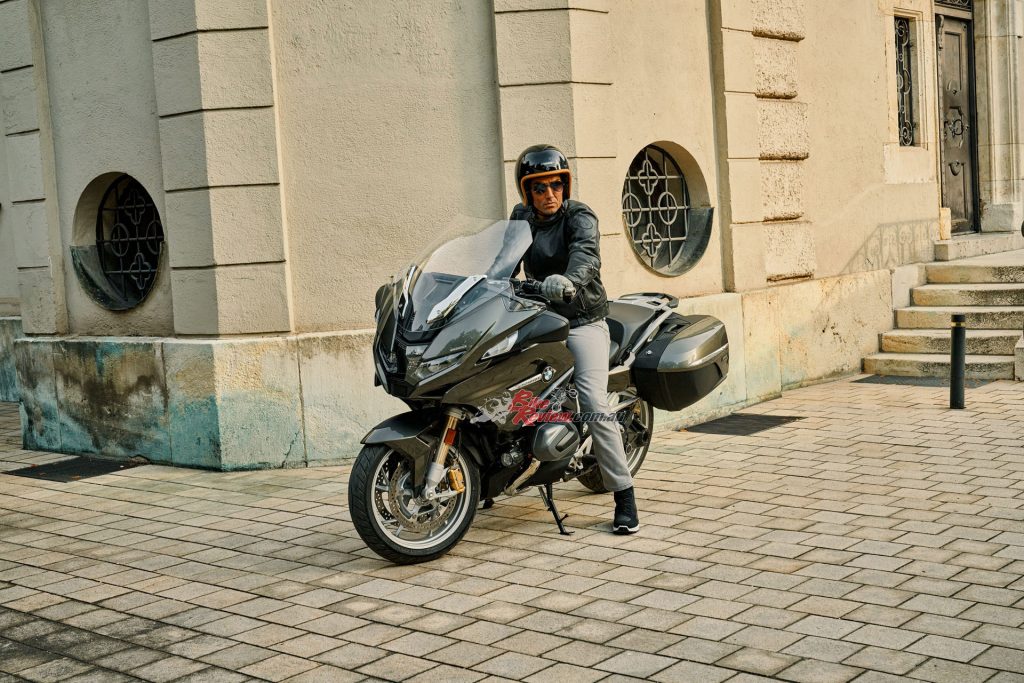 ---
Check out our review of the current R 1250 RT here…
---
UPDATES
Dynamic Traction Control (DTC) and new "Eco" riding mode as standard; Riding Modes Pro integrate riding mode preselection and engine drag torque control (MSR). The standard-fitment Dynamic Traction Control (DTC) ensures a high level of riding safety to enhance traction, while the new standard "Eco" riding mode helps the rider achieve the best possible fuel efficiency.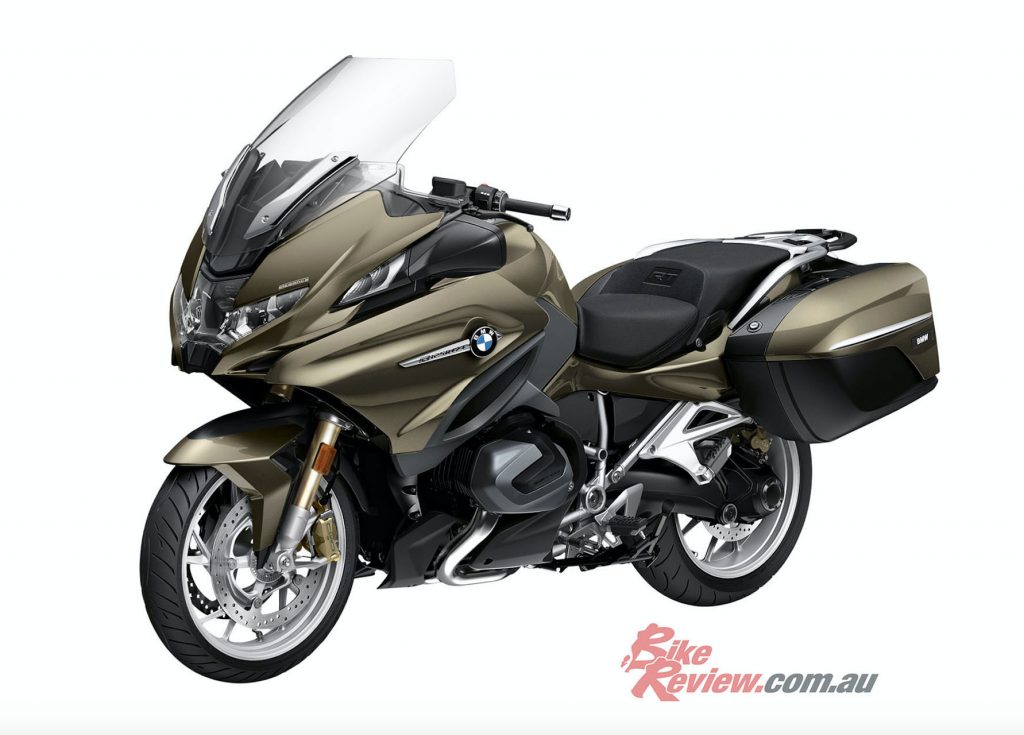 All locally delivered R 1250 RT models will come fitted as standard with Riding Modes Pro, allowing for configuration of ride qualities to individual preferences.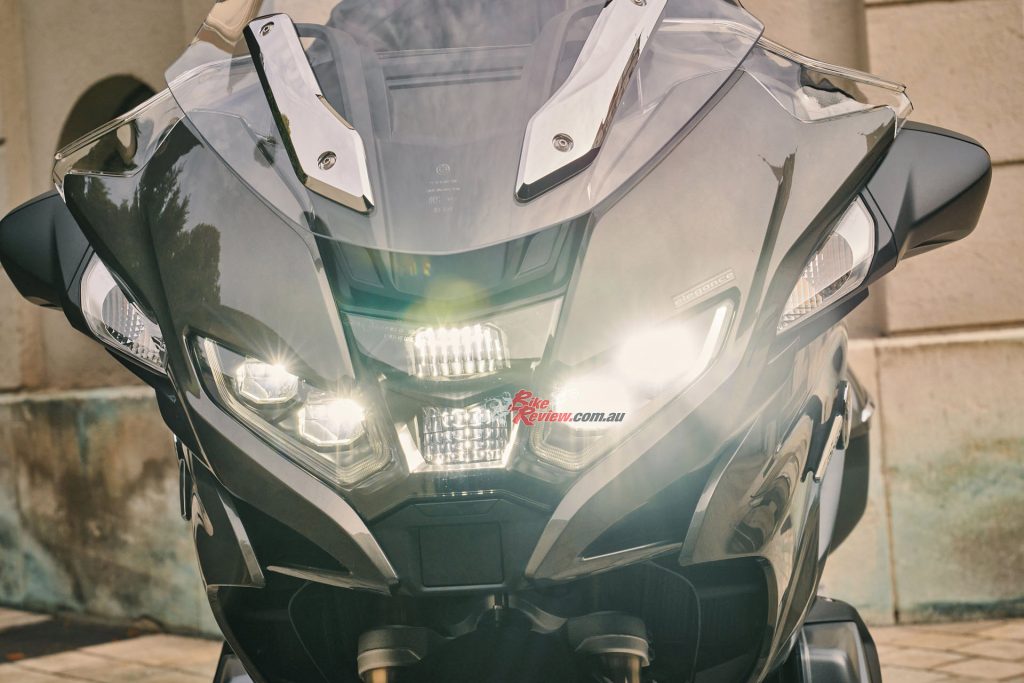 Engine drag torque control (MSR), an additional component of Riding Modes Pro, can help safely avoid unstable riding conditions that can occur during coasting or downshifting due to excessive brake slip at the rear wheel.
---
---
BMW Motorrad Full Integral ABS Pro, which is standard equipment, combines the hand and foot brake levers to simultaneously apply the front and rear brakes. Combined with the qualities of ABS Pro with banking angle optimisation and dynamic brake force distribution, Full Integral ABS Pro is the ideal braking system for the R 1250 RT.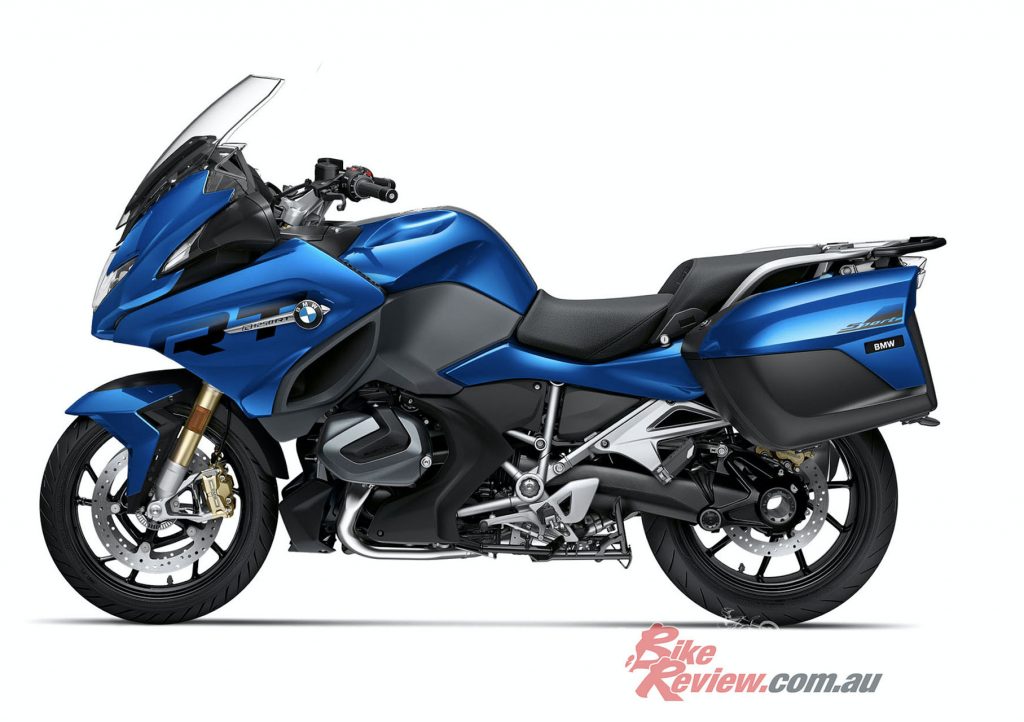 The new LED headlamp with swivel function goes one step further than the impressive LED unit of the previous RT model. The unit combines the "Adaptive Turning Light" and dipped beam of the standard full LED headlamp to turn the light beam into the bend according to the banking position. This ensures the bend is almost fully illuminated to provide greater visibility of the surroundings for the rider in low light conditions.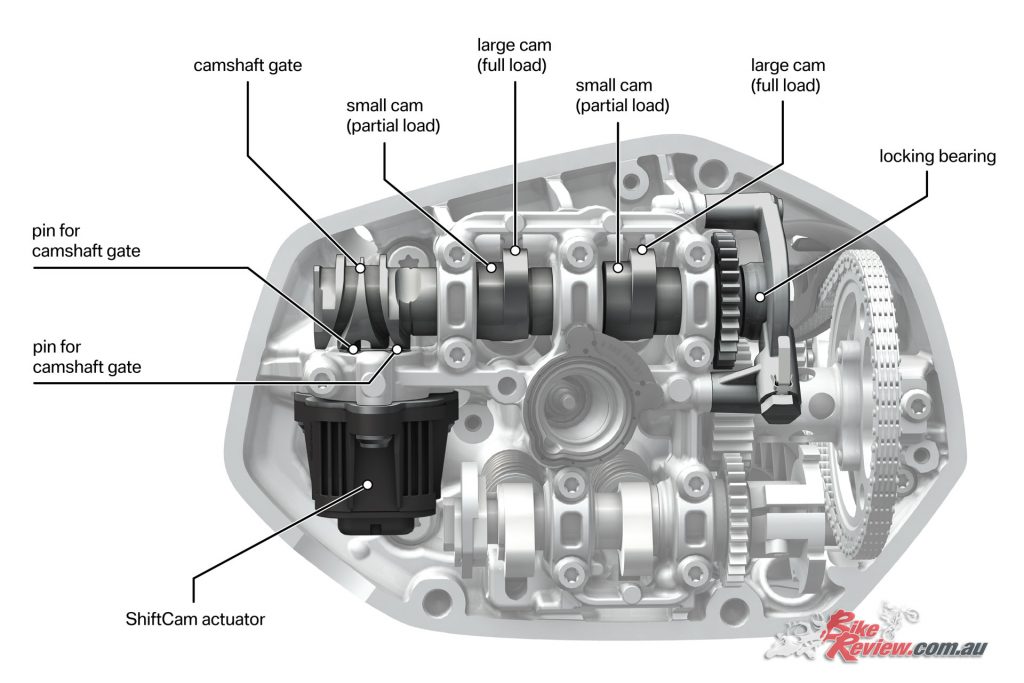 Dynamic Cruise Control (DTC) and Active Cruise Control (ACC), which are both standard on Australian models, take the RT's touring potential up a notch. On DTC, the preselected speed is kept at a constant level when riding downhill. If the braking effect of the engine is insufficient, the fully integral brake is automatically activated to maintain the desired riding speed. The radar sensor technology of the ACC system allows the RT to modulate its speed and distance in relation to the vehicle in front, delivering relaxed gliding with distance control.
The 1,254cc 2-cylinder boxer engine of the R 1250 RT integrates BMW ShiftCam Technology for variation of the valve timings and valve stroke on the intake side. The engine provides powerful response across the entire engine speed range while also offering exemplary fuel consumption, low emission levels, superior running smoothness and a high level of refinement. It produces 100kW (136hp) at 7,750 rpm and 143Nm at 6,250 rpm. The engine also incorporates a knock sensor system for optimised travel suitability.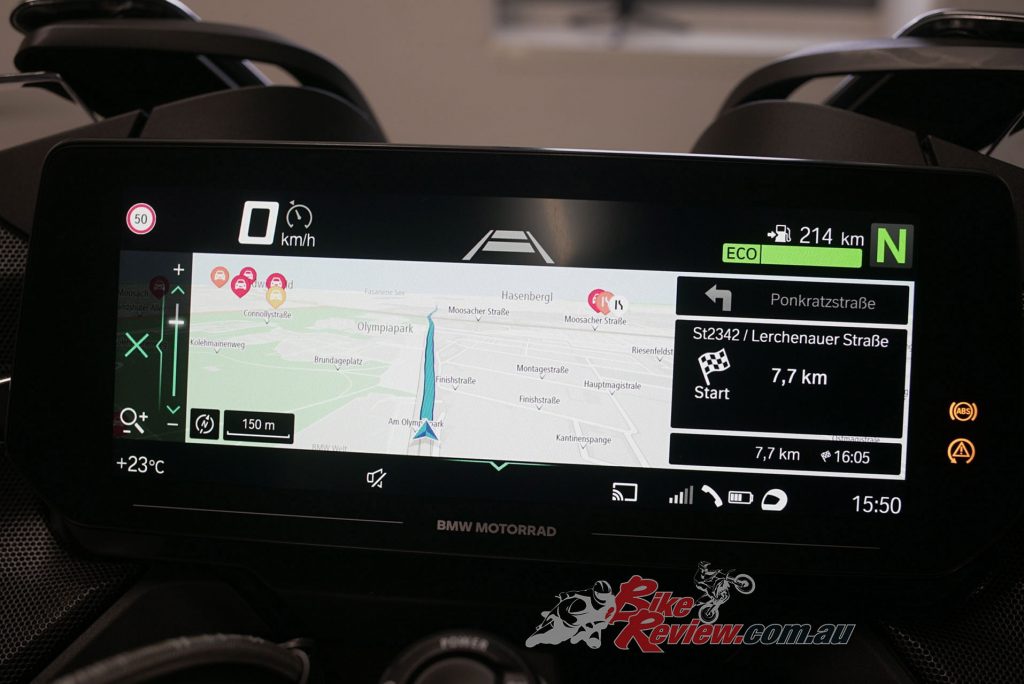 The new R 1250 RT is fitted with a 10.25-inch TFT colour screen with integrated map navigation, connectivity and the ability to show a navigation map in the instrument cluster. Display of the map in the cluster is a first for motorcycles. The new 'Comfort telephony with extended smartphone connection' feature also provides a high level of rider convenience.
---
---
A smartphone can be securely accommodated in a storage compartment protected from splash water and ventilated by an electric fan, while its battery can be kept ready for use inductively or via USB connection. The Audio System 2.0 of the R 1250 RT offers an even more intense sound experience than its predecessor, elevating the entertainment offering for both short and long journeys.
A newly developed front fairing provides an updated appearance while enhancing the motorcycle's travel and touring qualities thanks to integration of additional aerodynamic advancements. In addition, the new front fairing encloses the headlamp and its upper section is now reduced in height. This results in a wider field of vision for the rider as well as providing a contemporary aesthetic.
The new R 1250 RT will be available in four variant levels – RT, Elegance, Sport and Option 719 – with pricing and specification detail for the Australian market to be announced in early 2021.
---
---