Suzuki's RG500 is another classic two-stroke performer, offering razor sharp handling for the era combined with impressive performance... Words & Images by BikeReview.com.au
There is no denying that riding a large capacity two-stroke is just about as exciting as it gets when it comes to motorcycling and probably none more so than the RG500.
The RG500s direct competition was obviously the RZ500 but where the RZ was somewhat floored when it came to handling, the RG wasn't. The bike was super-light at only 175kg wet – that's 22kg lighter than the GSXR750 – and had an all-alloy frame that cradled the square-four two-stroke engine.
The bike also had full floater rear monoshock suspension and an alloy swingarm – couple that to a small 16in front wheel and you had yourself a very fast steering bike with razor sharp handling (for its day). Although, with only a 120 wide rear tyre, don't expect the grip to be massive.
The engine was almost an exact copy of Barry Sheene's World Championship wining engine from '78 and '79 and has four water-cooled cylinders that were arranged in a square above the two crankshafts.
The pistons were set at 180 degrees to each other so that they fire in opposite pairs – giving perfect mechanical balance.
The engine had disc valve induction and was fed by four 28mm flat slide Mikuni carbs located on the outside of each cylinder. Like all two-strokes, the engine was peaky and didn't have much pull below 6000rpm but after that, it would rev hard to the 12,000rpm redline where it produced around 95hp.
At the time 95hp was an astonishing figure, especially from a super-light 500, it enabled the bike to reach a top speed of 225km/h.
To stop all this speed, the RG was fitted with powerful 260mm dual rotors with four-piston calipers and because the bike was so light the brakes were sensational.
If, like us, you're addicted to the smell of burning two-strokes, then this is the bike for you…

Looking for an RG500?
A two-stroke engine is a funny animal. By design it requires more maintenance than a four-stroke due to the oil being mixed with petrol to lubricate the top-end. This results in oily plugs, pipes and rings and if the oil isn't being sent from the pump at the exact ratio then you can have problems – even complete engine seizure.
Another problem is if the bike sits for a few years, the crank seals become brittle and even rust can form on the main bearings and little ends – this is due to the two inlet ports always being open allowing moisture to enter.
The cassette gearbox is a bit weak with second gear being the culprit – if this fails it can destroy the box and put a hole in the engine cases so make sure the box has been modified with undercut gears. If the engine needs a full rebuild, expect to pay around $6000 for the pleasure.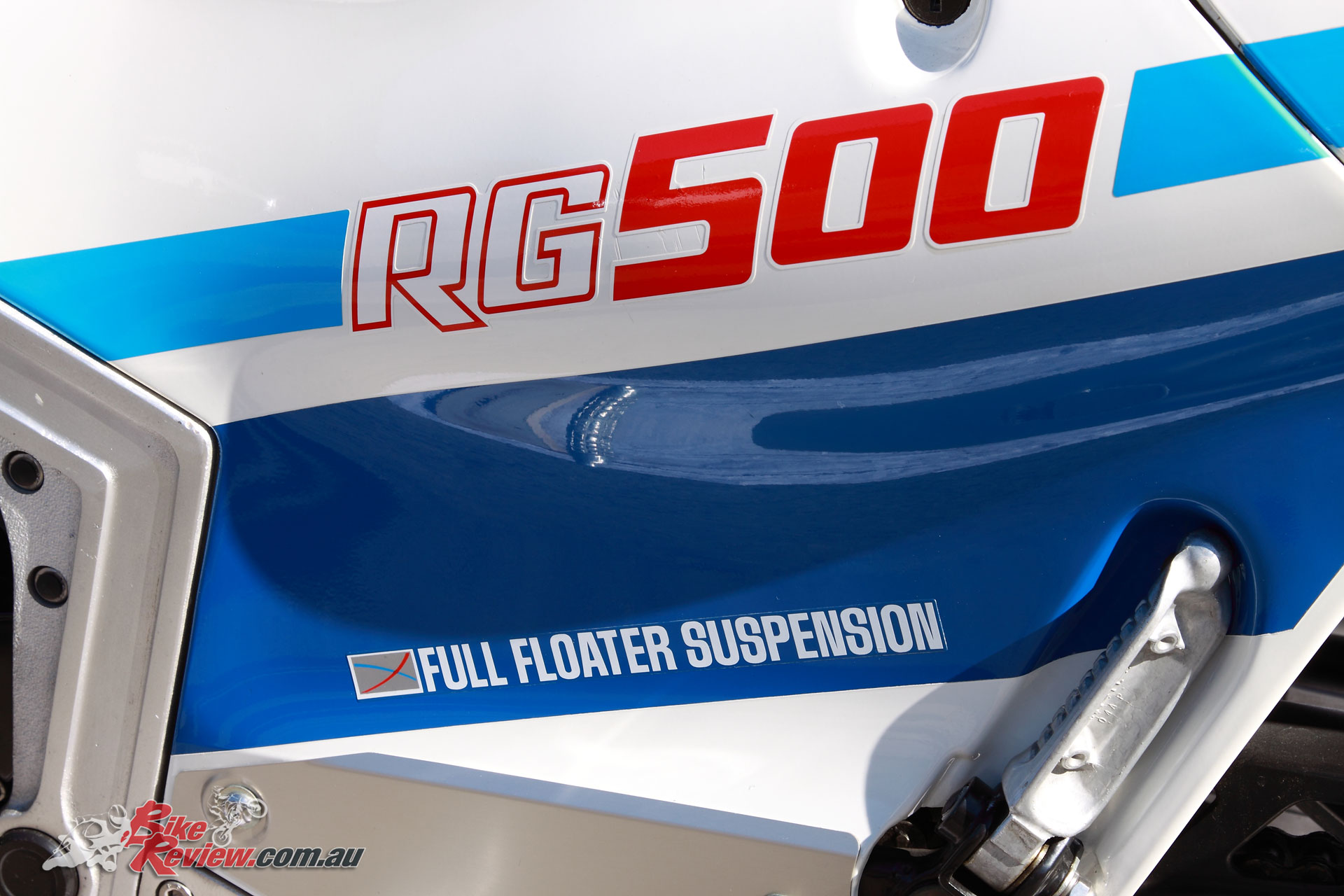 Suzuki RG500 Key Features:
$5,590 in 1985
Race style fairing
16in front wheel
Powerful 260mm four-pot brakes
Four-into-four pipes
Mikuni flat-side carbs
Alloy frame
Liquid cooled square-four engine
BAD POINTS: Brittle seals and possible rusting on main bearings and big-ends, weak gearbox, 16in tyre choice could be limiting and high price may put the bike out of reach.
GOOD POINTS: Blistering performance, good brakes/handling and ultimate bragging rights.
1985 Suzuki RG500 Specifications
Colours: Blue/White, Red/Black
Claimed power: 70.8kw[95hp]@9000rpm
Claimed torque: 72Nm[53.1ft-lbs]@9000rpm
Dry weight: 154kg
Fuel capacity: 17L
Engine: Liquid-cooled, two-stroke square-four, rotary valve with exhaust port valves, 498cc, 56 x 50.6mm bore x stroke, 7:1 compression, four 28mm Mikuni flatslide carbies, Suzuki PEI ignition, kick start
Chassis: Double cradle alloy
Suspension: 38mm telescopic, air adjustable with adjustable preload and anti-dive
Front brakes: 270mm dual rotors with four-piston calipers, 210mm rear rotor, two-piston caliper

1985 Suzuki RG500 Gallery