In a series on iconic bikes, we start with the mighty GSX-R. First we ride the incredible 1996 SRAD, a bike that kept the 750 class alive... Review: Jeff Ware Photography: Tony 'Pommie' WIlding
In 1996 Suzuki delivered its very first beam frame supersports 750. It was a radical step and one that took sportsbikes to another level. The SRAD 750 was faster, lighter, more powerful and high tech than any other inline four 750. We recently rode this mint one and had a blast…
I've been privy to world launches at exotic tracks around the World for many of the Suzuki bikes that have been built in the past two decades. And I've raced some great machines. But in all that time, very few machines have really, truly touched my motorcycling soul. Wind the clock back 24-years, however, to this stunning SRAD, and there was plenty of touching going on. Ahem…
In 1996 I was a 20-year-old budding A-grade 250-proddie racer and competing in the Shell Oils Australian Road Racing Championships for Graeme Boyd. I was also an apprentice mechanic at Parry's Kawasaki and spent half of my life working on the brilliant ZX-7R. A bike that was more than a match for the Fireblade and FZR1000 in the chassis department but no match in straight-line speed.
It was a time when 1000s were ultra fast but less than ideal handlers and 600s were insanely good handlers but screamers on the road (aside from the ageing CBR at the time). The GSX-R750 was dead thanks to the heavy WP and WR series and 750s were on the way out. We thought… Then Suzuki unleashed what must be considered the second wave of global 750 domination after the 1985 GSX-R – the mighty SRAD GSX-R750T.
I've just spent a few days on this immaculate original one up on my local twisties. Stunning. Telepathic. Light. Confident. Magical. Soulful. Stylish. One with the rider. I love this bike…
THE HISTORY OF THE PROJECT
Planning for the 1996 GSX-R750 SRAD began way back in April 1993 when Suzuki's bosses met at the Hamamatsu headquarters and declared that they were going to build a new winner. "Born on the track, back to the track" had to be the concept adopted by all staff involved. The GSX-R had grown from a race bike – the works XR41 – and had become a success on the track throughout the 1980s. However, with the other manufacturers revelling in beam frame technology and Suzuki stubbornly sticking to the classic lines of its cradle frame to retain the GSX-R's heritage, racing was suffering. Suzuki looked stupid. They needed to win again…
The job would be left entirely to the engineers and project leader, something never attempted by Suzuki who, along with all manufacturers, use market research to determine motorcycle design. Only Honda had risked such a step, with the 1992 Fireblade, and we all know what a success that was. So it was balls-out for Suzuki with the new 750…
---
---
Another first for Suzuki was to make the entire project 'integrated' – so no separate chassis and design team producing separate components. Everyone on the 750 team had to work as one machine. In perfect harmony.
They started with Kevin Schwantz's winning RGV500 grand prix machine, using the wheelbase, aerodynamic specifications and height as guidelines. So producing a 750cc four-stroke engine that compact meant all the rules had to be re-written. Engine designer Masahiro Nishikawa had his work cut out for him. The engine also had to challenge the new trendy 900s…
---
---
750cc was the WSBK and WEC limit so was the only choice. The rest was open.
Bore x stroke was set at 72 x 46mm for a 13,500rpm redline – the same dimensions that Yamaha and Honda used in their 750s at the time. DOHC would go without saying, with shim under bucket. The combustion chambers a compact 15cc with 11.8:1 compression and an included valve angle of 29-degrees with a short downdraught port. Perfect.
The gearbox shafts were located behind and below the crankshaft, shortening the engine with a bolt-on counterweight. SCEM (Suzuki Composite Electro-chemical Material) applied directly to the alloy surface of the cylinders rather than using the heavy pressed in steel liners. Even with a crank-end alternator to eliminate alternator drive, the engine is still a narrow 469mm.
---
---
Magnesium was used for all covers and the engine was 9kg lighter than any other Gixer and made 126hp. Ram air was the icing on the cake for this weapon, feeding 39mm Mikuni carburettors featuring semi flat-slide bevelled face slides with sophisticated computer controlled vacuum lines matching slide lift to rpm and throttle position.
The chassis had to be light, compact and seriously good. At 1400mm the GSX-R750T is shorter than the RGV500 GP bike and Kawasaki's ZX-6R! The frame was made of pressed alloy with cast steering head and forged engine mounts. It had twice the rigidity of the previous model but weighed 2.5kg less. 43mm inverted forks were chosen and the swingarm was 12 per cent stiffer with an all-new Showa shock. The swingarm pivot point also incorporates replaceable pivot point inserts. Ride height is also adjustable via the top shock mount. With tricks like hollow axles the entire package was factory racer light…
---
---
Massive six-piston brakes were also included and a new sleek shape based on wind tunnel testing and the RGV500 fairings gave the bike a serious look. Other trick things many people miss are wheel spacers that stay in place during wheels changes, an oil filter mounted at 90-degrees to the engine, a hinged fuel tank, and bugger all fairing fasteners – all this came from endurance racing heritage…
THE RIDE
It'd been years since I rode a GSX-R750T; in fact, it had been 1996 when I last rode one. I was only 20 then and every bike felt good. But I'd forgotten just how good the T was.
I decide to go for a ride on my Sunday loop; 20km of town, 15km of freeway and 40km of mountain twisties then home. I'm very familiar with my own bike, of course, and this immaculate T model had not been ridden much in the past few years. In fact with 11,000km on the dial, it is like new. I'm nervous and don't want any 'incidents' on the SRAD.
But as I filter through traffic I simply forget what I'm on. I honestly feel I could be on a new current bike – and a good one at that. The 1996 is smoother than most new bikes and is running cooler. It feels lighter and is more comfy. I love the way I'm 'in' the bike not on top of it. I feel 20 again and I'm grinning. No wonder this bike was so popular with sportsbike riders back in the day.
---
---
By the time I hit the freeway I'm already in love and when I feel the torque on tap in top gear at 110km/h when passing a few trucks my heart melts. This thing stomps like a 1000. Amazing torque.
The twisties arrive and the bike turns telepathic. Within 5km of twisties on roads I know like the back of my hand the GSX-R750T tyres are warm and I'm settled into a fast flow. I completely forget I'm on an old bike and old tyres. It is that good. With the soft suspension (by modern standards) it soaks up the bumps and with the amazing steering and light weight is absolutely on rails.
The bike is so neutral and stable yet initial turn-in on or off the brakes is accurate and quick, followed by a smooth yet rapid transition to full lean with no stand up on the brakes or bumps and an incredibly confidence-inspiring feel of grip at the front. As I peel through the turns I can feel the decades of WSBK and WEC heritage in the geometry of the bike. The chassis does not put a foot wrong.
---
---
Off corners the shock struggles but the revvy responsive engine slingshots the bike from turn to turn, the gearbox smooth and the acceleration just as good as my new bike. Braking is not the best – initial bite is weak and the lever needs a big squeeze by modern standards but the bike's behaviour is perfect. I'm not getting tired on the bike and feel like I've barely used a muscle through the tight flicking sections that normally wear me out. The SRAD is just a mind-blowing package…
Throw in some modern suspension internals, Kevlar brake lines and modern pads, and new current generation rubber, and this bike is ready to run with the best of 2020.
Most of all – it has soul. You can feel the passion and the skill that has gone into this special machine – a machine that revolutionised the sportsbike World and is quite possibly the best 750cc inline four ever built…
---
---
They say that the press reaction was incredible at the World launch of the GSX-R750T held at Misano in the old reverse direction days. I wasn't there as I was not a journo yet. But after sampling the bike I can only imagine the stunned silence in the pits after the first session. There must have been quite a few smiling Japanese engineers and a few gob-smacked journalists that day…
---
---
Next time we ride the GSX-R750M. In the meantime, check out our GSX-R750F Old V New test here!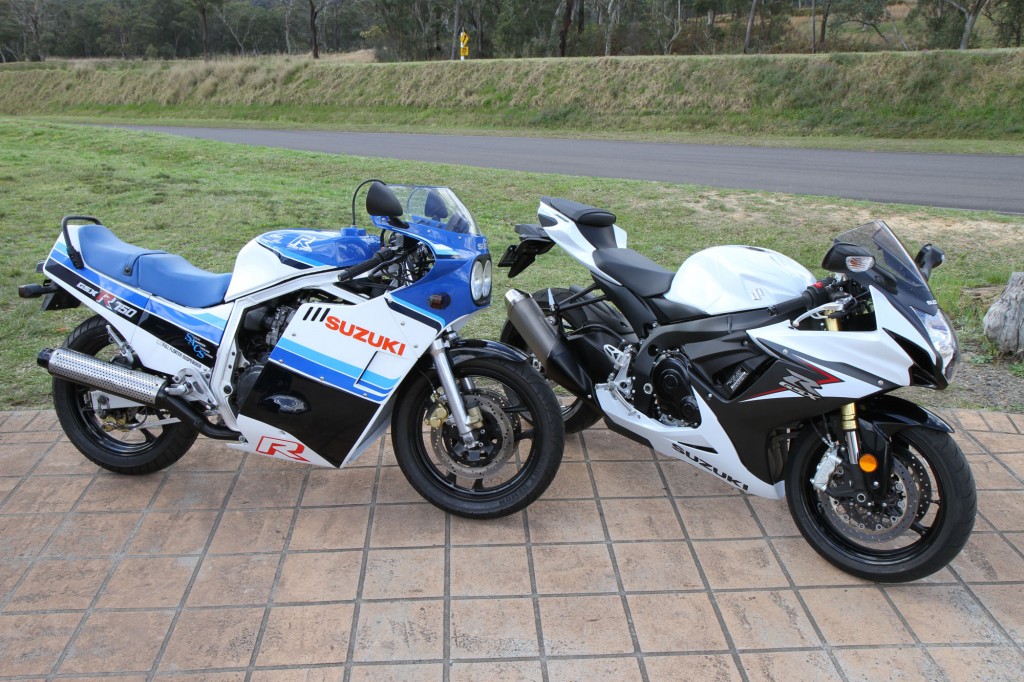 1996 Suzuki GSX-R750WT SRAD Specifications
Price in 1996: $14,899  RRP + ORC
Claimed Power: 91kW[126hp]@12,000rpm
Claimed Torque: 80Nm[59lbs-ft]@10,000rpm
Dry Weight: 179kg (194kg Wet)
Fuel capacity: 18L
---
Engine: Liquid-cooled DOHC, 16-valve inline four-cylinder four-stroke. 749cc, 72 x 46mm bore x stroke, 11.8:1 compression, 39mm BDSR carburettors, stainless-steel four-into-one, computer controlled electronic ignition
Gearbox: Six-speed constant mesh
Clutch: Wet, multi-plate, cable actuation
---
Chassis: Twin beam alloy frame, alloy swingarm and sub-frame
Rake: 24°
Trail: N/A
Suspension: 43mm fully adjustable inverted forks, 120mm travel, single Full Floater shock, fully adjustability, 133mm travel,
Brakes: 320mm rotors (f), six-piston calipers and conventional master-cylinder, 220mm rotor (r), two-piston caliper
Wheels & Tyres: Cast alloy, 120/70-17 and 190/50-17 tyres.
---
Dimensions
Wheelbase: 1400mm
Seat height: of 830mm
Ground clearance: 130mm
Overall width: 720mm
Overall Length: 2055mm
Overall height: 1135mm
Instruments: Analogue with LCD display.
---
---
1996 Suzuki GSX-R750T Gallery
The Verdict | Retro Ride: Built to WIn, Suzuki GSX-R750T SRAD