Racing a Pantah 500 in a BEARS Championship round a few years back was a blast. Here's a look at Dave Ward 1980 Ducati Pantah 500 race bike... Test: Jeff Ware Photography: JPM
Dave Ward, the owner of this 1980 Ducati Pantah 500 race bike, is the proprietor of Moto Italia workshop. Moto Italia specialise in all things Italian – from servicing to ground-up restorations. Dave is well known in the industry and has a reputation as a bit of guru. Dave has been behind many a championship winning machine.
Back in the day, as well as twirling spanners, Dave raced himself. In the early 1990s he acquired this cool Pantah 500SL while working as a mechanic at a Ducati dealership. The bike was an ex racer from the early 1980s and had then been returned to road trim, albeit fitted with a 1990s SS full fairing, which Dave still has in storage.

Dave went to work pretty quickly, stripping the bike and building a BEARS (British European American Racing Series) racer for the F5 class and occasional F3 as well as some Post Classic events.
An early SS based custom race fairing was made and a one-piece seat/tank cover unit out of fibreglass. The fuel tank was made from alloy and hides under the cover.
Stock wheels were retained but Dave heavily braced the frame. He also fitted Mille triple-clamps, moved the shock mountings forward and fitted a steering damper and clip-ons. The Marzocchi forks were heavily re-worked with firmer springs and emulators and a set of Ikon 7610 series shocks fitted at the back. Custom footpegs were fabricated and all the other usual work involved in building a race bike including crankcase breather and fuel/oil catch bottles, top fairing mounts, tacho and switchgear and so forth were made.
Engine-wise Dave originally kept the 500 fairly stock, and that is how I rode the bike, but it has actually done a full circle of evolution. Originally the 500 got a machined (lightened) and balanced crank, removal of the starter motor, some mild porting and built to spec using stock cams, pistons and gearbox internals sans a steel basket 650 clutch. Dell'Orto 36mm carburettors were used and the ignition system left standard.
After a year or so punting the bike with some success and lots of fun, Dave decided to up the capacity with a 680 kit. That helped with a bit more torque and resulted in some more bracing of the frame and a few more suspension tweaks. Brakes were upgraded to Brembo cast iron rotors and pads but also with Brembo carbon brake pads and a ZXR750 Kawasaki brake master-cylinder. Trust me – it stops well!
Next stage was huge. A virtual full factory race spec 780cc race engine was built using the absolute best of everything. It was a weapon and extremely competitive.

In 1999, Dave decided to go Pro Twins racing and he sold his beloved 500 and bought an RSVR Aprilia. Three race meetings and $5000 later in racing expenses, he got rid of that idea. Meanwhile the Pantah went through a few different people before one day a customer walked into Dave's shop and asked if he knew much about 500 Pantah's. He then returned with a bike for Dave to prep for a racing season and lo and behold it was Dave's 500! Needless to say a deal was immediately struck and Dave now had the bike back…
Since then the Pantah has basically been collecting dust on a mezzanine with the original 500 motor back in it. Dave would often look at it and think about dragging it out of retirement and eventually when a mate needed a bike urgently for the BSFS (Barry Sheene Festival Of Speed) it happened. With just a few hours to prep the machine, it was off to Eastern Creek Raceway for Friday practice. Sadly without a logbook, officials banned the bike and sent Dave packing. Once again parked in a dark corner.
However, just one week later yours truly damaged my RSX550 engine just days before BEARS Rd1 at Eastern Creek Raceway. When I dropped my engine off for Dave to rebuild, he offered me the 500 Pantah to enter in F3 and salvage some points. It was an offer I could not refuse, as I had never ridden a Ducati race bike of this era and, well, I needed points! The weekend was tough against the modern bikes but I score 66 points and as a result I ended up second in the championship.
The bike never missed a beat and I dropped it back to Dave. Now all inspired by this truly remarkable little Ducati, Dave has the 780cc engine on the bench and is about to completely rebuild it and get it on the track. I will be lined up waiting to have a crack on that one!
THE RIDE – PANTAH 500SL
I must admit I was sceptical about racing this bike at first. The skinny tyres, old school electronics and carburettors, starting method and the 49hp output all had me worried! But mainly the tyres. Those skinny Avon AM22s looked like cheese cutters and my tyre warmers would not fit… 'OK, back to the early 1990s for the weekend', I though, when none of us had tyre warmers anyway!
Starting the bike was interesting. Second gear, full choke for a split second, fuel tap on, no throttle and spin the roller and dump the clutch. Not to self – do not stall on the line! But as I headed out of pit lane for my first session on the 500, I was instantly surprised. OK. There is virtually zero acceleration out of the 49hp engine but the chassis! Man, I could not get over how good it felt for a 36-year-old bike.
It only took a lap to have full confidence in the Avon tyres – amazing grip and sensational feel. The rolling corner speed of the bike had me stunned and the lean angle possible felt incredible. The steering felt ultra stable yet perfectly accurate. Plus the bike tracked through the corners and the amount of mechanical grip on offer shocked me. There is so much trail – so much of a front tyre footprint – it literally feels like it is impossible to lose the front end. I tell you, Ducati knew what they were doing when they built this thing. The geometry is sensational.
Over the weekend of racing I learned something that, well, I had been told but never really felt. That is – if you have good geometry, you really don't need super good suspension to have grip and good control of the bike.

It is so true. With this Pantah 500, despite making the best of what is extremely basic suspension, Dave has focussed on the chassis geometry and he has it spot on. It would definitely rate as one of the most exciting bikes I've raced and despite completely getting my arse kicked by 1299s, RSV4s and so forth; I was pushing the little 500 and had a grin from ear to ear all weekend. With the 780 engine in it, giving 30hp more, this thing will be a hoot! I also won A-Grade as I was the only A-Grade rider so came home with a trophy and points and had an awesome family weekend of racing and hanging with mates and the Ware clan.
There's no doubt Dave's Pantah is a gem and a keeper. It's been around the block more than a few times. Done thousands of laps of current and extinct tracks. Broken peoples bones. Broken bank accounts. Won trophies and driven many a love-hate relationship. And it's still going strong 36-years later! It goes to show that old dogs can still learn the odd new trick… No wonder so many of these Pantah 500s sold when they came out…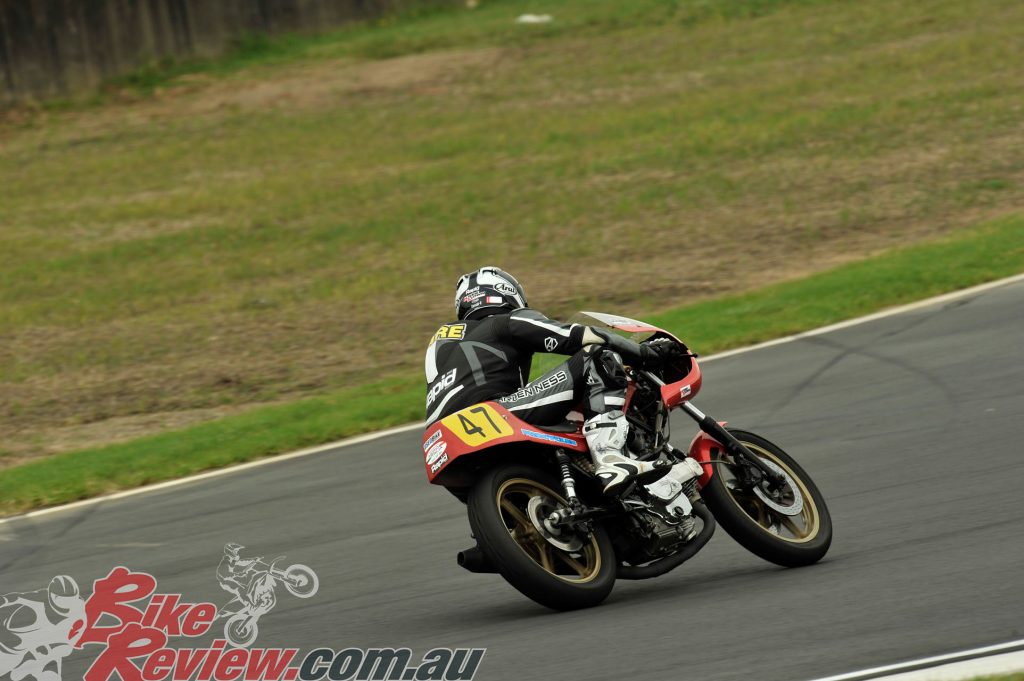 DUCATI PANTAH 500
When the 1976 350 and 500 vertical twins were recognised as a marketing disaster, Fabio Taglioni went to work developing the Pantah. The bike was first shown at the Milan Bike Show in December 1979. The prototype was different again to Ducati's earlier bikes: it had a trellis frame, with the suspended motor acting as a stressed member, the swingarm pivoted on the rear of the crankcase, the SOHC was driven by toothed rubber belt, the primary transmission was via Morse chain and the front disc was a Campagnolo Hydroconico. The claimed performance was impressive: 500cc, 50hp@8500rpm, 180kg, 1450mm wheelbase.
The Pantah came onto the market in 1980 as the red and silver 500SL, with the engine-using belt driven camshafts, and a plain bearing crankshaft. It had the same bore and stroke as the old 500 racer, 74 mm x 58mm, but the head had a 60-degree included valve angle and kept the belt driven camshafts used on the final 500GP engine version.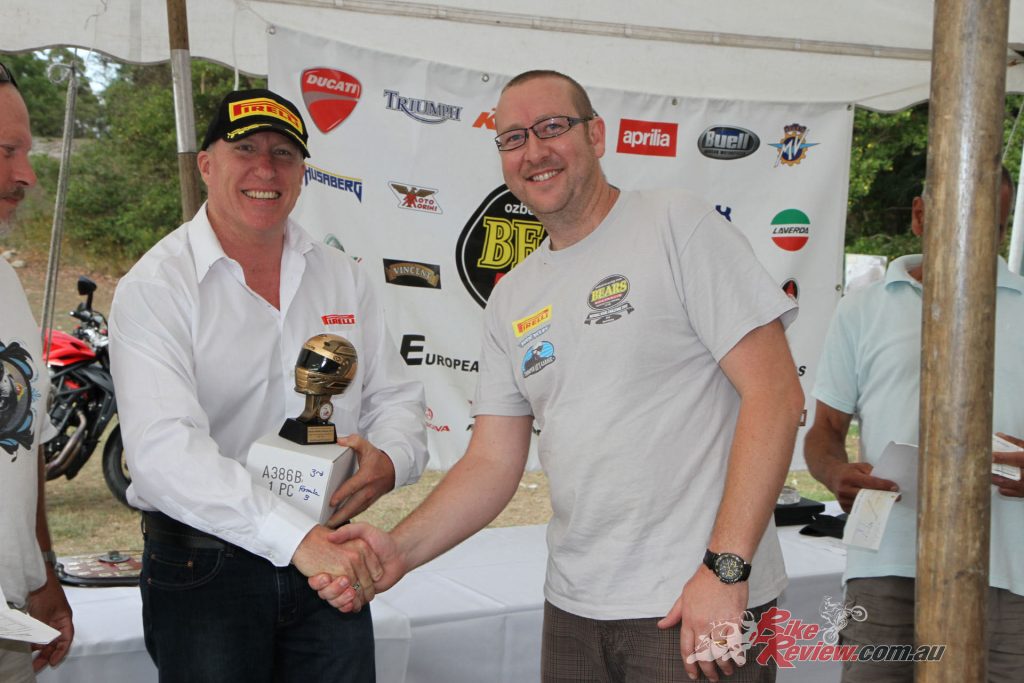 1981 DUCATI PANTAH 500SL RACER SPECIFICATIONS
Engine: 497cc V-twin air-cooled four-stroke, 74 x 57.8mm bore x stroke, two-valves per cylinder, Desmodromic valve control, five-speed gearbox, 650 steel clutch basket, 36mm Dell'Orto carburettors, custom made exhaust
Power: 49hp@11,000rpm
Torque: Plenty!
Weight: 150kg
Fuel Capacity: 10L
Chassis: Steel trellis frame, braced, Marzocchi forks – modified, Ikon shocks – modified, stock wheels, Avon AM22 tyres, Brembo callipers and pads, Brembo cast iron rotors, chrome-moly clip-ons, custom SS fairings and fuel cell, custom tail/seat/tank cover unit
MOTO ITALIA PANTAH 500 GALLERY