You might remember James 'Rocket' Weaver from his early columns here when he first started road racing. Well, he's made it to the awesome OJC series for the second time!
Hi everyone, it's been a long time! My last article (here) was back in 2017 when I was 9 and on a KAYO. Since then I've done a lot more road racing. I'm turning 14 this year. At school I am in Year 8. Some of my hobbies are bike rides, playing handball and basketball…
But my life is mainly all about two wheels! My racing background started at Central Coast Junior Motorcycle Club doing flat track when I was 5. I was riding a CRF50. After that I went up to the KTM Pro Senior 50 class, then I went up to the 65 class then the 80 mod class when I was 8. From there I competed in the Moto Stars series on a Kayo 150 (check out my Kayo review) from the age 8 to 11 in which time I graduated to an R15 V2.
---
---
In 2020 I was doing my first season in OJC but before the season, while training, I highsided and broke my collarbone and couldn't do the official test at Phillip Island. At the first round it was my first time riding at Phillip Island and it was a support class to WorldSBK! Amazing! In 2021 I was going to do OJC again but then I got iron deficiency so we had to pull out and just do club events instead, which was still awesome fun, but I was keen to get back to ASBK so worked hard to do it.
The thing that I did to prepare for this year was train on my pushbike eat healthy food plus take my iron pill every morning. In my off season and school holidays I went swimming, jumping off jetty's, I went to Flip Out with my friends I also went to Aqua Splash.
---
For those of you not sure, the Oceania Junior Cup (OJC), is a class for kids from 11 to 16. This class teaches kids racecraft and how to go fast, you also learn about media and what to say on camera, and lots more for the future. I am racing this year in OJC because I won the motoDNA motoCHAMPIONS sponsored by Bendix and Motorcycling Australia, so I scored a free ride this year. I can't believe it and I feel like the luckiest person on the planet right now.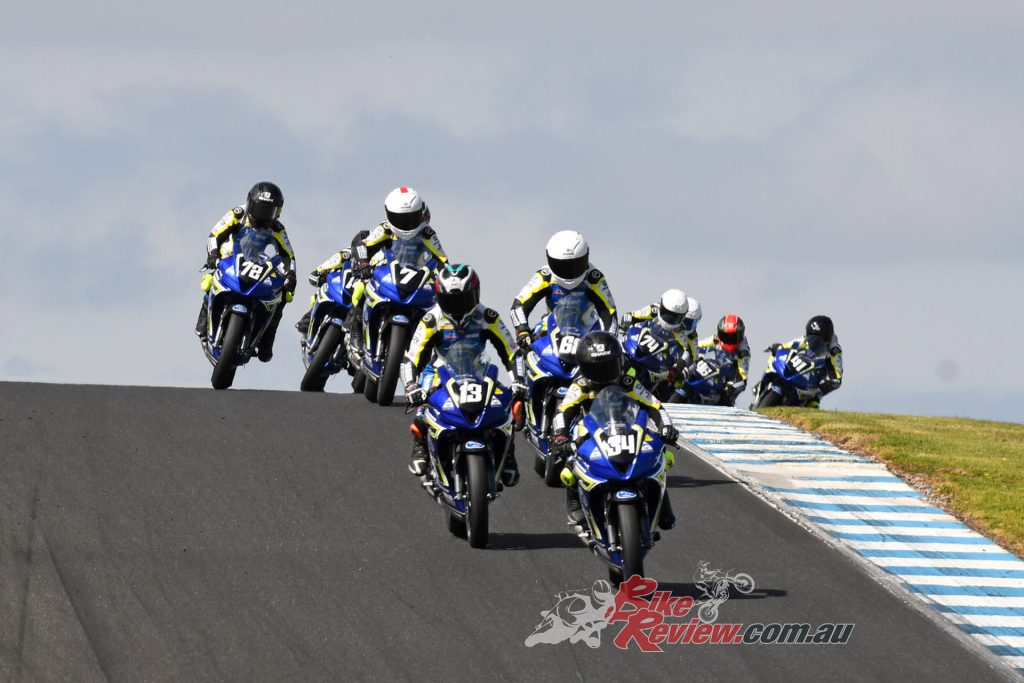 The OJC control bike is the Yamaha R15. You can see our R15 review here. The bike had a top speed of 151km/h on the Phillip Island Gardner Straight. The best thing about the R15 V3 is it is a better step to the R3 cup because the tyres are fatter than the earlier version R15 and the geometry is the same as the R3. The R15 V3 has the same suspension as an older R3 and is faster now too!
---
---
Round one at Phillip island was really good, I was fast in practice, I got top three ,but when it was qualifying I didn't get out with a group of people so I qualified ninth. This made me learn that to go fast in this class you have to be in a slipstream, so I will definitely need that this weekend at QR!
For any young riders that want to start in this class I would suggest getting a little bit of time on a road bike before jumping in this class don't go from a dirt bike straight to the Oceania Junior Cup. This year I would like do my very best to make my sponsors proud and my goal is to finish top three. I've just arrived in Brisbane for Round Two, so wish me luck and talk soon! James #71
---
My sponsors are: motoDNA, motoCHAMPIONS, Bendix Brake Pads, Bendix Workshop
Series Sponsors are: Ricondi, Shark, Dunlop, Ohlins, IRC Components, DID chains, Yamaha bLU Cru
---