For $4,799 you could ride away on a brand new YZF-R15. To find out if this updated racier model is good in the real world, we put it to the test... Review: Nick Ware Photos: HMC Photography
An SMS from Jeff usually means one of two things – I've stuffed something up, or I've got a new bike to review. Luckily for me, this time it was the latter. Wicked, it was the 2020 YZF-R15, a 155cc LAMS approved mini sportsbike as raced in the Oceania Junior Cup…
At first I wasn't entirely excited at the thought of my 197cm, 90kg frame straddling the tiny learner bike that is raced by 11-year-olds, I've been compared many a time to a monkey riding a mini bike on a few of the smaller testers I've ridden, so I didn't think it would be anything out of the norm again. However, my first run on the R15 was fantastic and proved me wrong.
---
---
THE RIDE
First of all, in the flesh, the bike looks as sporty, aggressive, and mean as its older brothers in the R-series. We were lucky enough to receive the Racing Blue colour (also available in Thunder Grey) and I was not at all disappointed. To start, the riding position for a taller rider is very comfortable.
---
---
The bike still allows for an upright position for the beginner riders when required, but the shape of the fuel tank allows you to tuck in nicely when pushing a little harder, really a perfect in-between for a LAMS bike to allow the rider to get a taste of both styles of riding, sports and commuting duties.
The multi-function LCD dash is enough for any rider, beginner or advanced, and good for the price point. Speed, gear and rpm is easily visible in all light conditions, while the shift light is a fun little added extra for those looking to wind out the mean little VVA 155cc — which I'll get to very shortly – and handy on track for the racers.
---
---
Starting with one of the most important aspects of any LAMS approved bike, the brakes. I'm satisfied with how well the little bike pulls up, especially with a heavier rider. The updated, 15mm larger 282mm front rotor and twin-piston floating caliper set-up is basic but it holds up nicely on the heavier braking, has good feel in the daily riding and even trail braking throughout some of the tighter runs we did.
---
---
The brakes feel just right for a bike of that size and speed and don't have too much intimidating bite for a LAMS rider. The rear is a little softer than I prefer, however, being a learner motorcycle this is very well suited for those gaining experience. I'm not sure how the brakes would handle the track though… There is no ABS, but it would be a nice feature in the future.
In terms of steering and suspension, this is where the YZF-R15 comes to life, without a doubt my favourite aspect of the bike. After my first ride, I couldn't believe how agile and nimble the bike felt. It just wants to lean over and be pushed that little bit harder each corner. It is set-up quite stiff, in fact really solid, most likely for proddie racing.
---
---
This suited me at my weight, and only became uncomfortable on the bumpiest, longest rides. But the trade-off is razor-sharp steering and fast corner speeds, with no squat or running wide. Also lots of ground clearance and a real racy feel.
Harder steering and turning-in is great in my opinion and due to the smaller capacity motor you start to really focus on leaning and turning in and out of corners without the worry you'd have on a larger, faster motorcycle. Running the YZF-R15 through some of our regular rides it was clear why these bikes are chosen for production racing. They teach good corner speed and are a lot of fun, without being intimidating or too heavy to handle.
Away from the hills and back to reality in town, running the bike as a commuter to work is perfect and I rode it around as my only transport for a fortnight. It's tiny and can fit through almost any gap in traffic. It's easy to park. It's OK to pillion on short runs. It's cheap to run and it's fun even in traffic. The clutch action is smooth enough, side-stand easy to access but could have a bigger lug – and it has a steering lock. To be honest, as a commuter or weekender, I wouldn't bother changing anything much…
Yamaha certainly did something right with the gearing on the R15. The six-speed 'box ratios are great for what I wanted and expected out of the bike and the 155cc engine. First is punchy and torquey, allowing the bike to get ahead quite easily at the lights.
Sixth, to my surprise, is perfect for the freeway. Granted, I didn't ride a whole lot on the freeway, but for the hour or so I did, in sixth I had the tiny bike sitting comfortably at 110km/h without feeling like it was about to rattle to pieces or needing a back-shift for passing. The engine and gearing combo works well.
---
---
Moving on to the tyres, I'd look into something better than the Indian made Nylogrip Zapper-S hoops straight away. Buy a set of name brand decent rubber, it's not worth running cheap tyres and risking a crash. They are not much good… I had the R15 out on a few rainy runs and experienced sliding in the rear even under conservative throttle and very little feel either end.
Finally, the angry little VVA 155cc SOHC engine. It's not a powerhouse, it won't rip your arms off (obviously) but it fits, and it fits well. One of the first things I noticed was that it felt like I was riding faster than I was. It's torquey enough to have a little fun and powerful enough to keep up on the twisties with the bigger bikes with some effort and tactics.
---
---
The VVA addition to the 2020 model means you have that high rpm power without sacrificing that low rpm torque. When the shift light flashes for the next gear, you know the solenoid has earlier flicked the cams over and you're up into performance mode. Its just so much fun! The stock exhaust sounds exactly as you'd assume out of a little 155cc. With a nice upgrade, you'd probably get a louder note out of it, especially at the higher rpm on the limiter!
Living with the bike is easy enough. The LED headlights are very good, the horn too, all of the switchgear is standard and easy to use. The throttle and clutch and gearbox action are all refined enough to make the ride pleasant around town and easy to be smooth when upping the pace out of town. The mirrors are vibe free in most situations (but could be bigger for taller riders) and so are the 'bars and 'pegs.
The R15 starts easily every time and doesn't run hot in the traffic. Most impressive, though, is the fuel consumption, which is incredible. Yamaha state a 450km range out of the tiny 11L tank. Even on the hardest of rides, the consumption barely changed on the bike, around the 40km/L mark!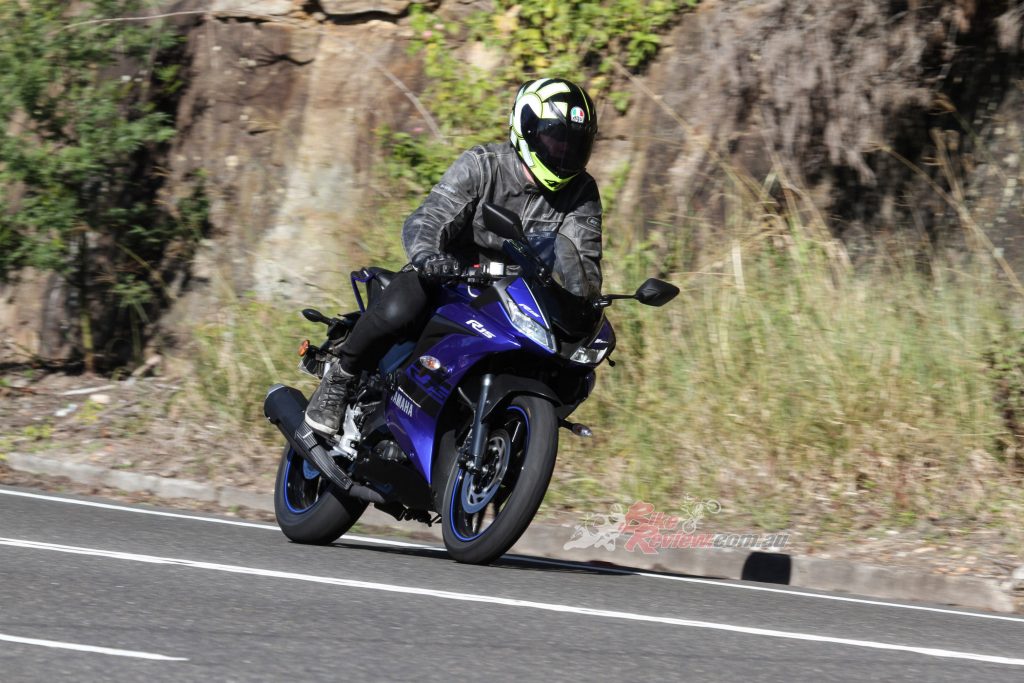 Overall, I'm stoked to have had the YZF-R15 on test. I feel guilty about the low expectations I came in with. The bike shows where small LAMS bikes are at now. For such a low ride away price, any beginner rider can get a wicked piece of machinery that will allow them to get a taste of both city commuting and the open back roads.
---
---
It's obvious why they're chosen for production racing, I'd race one if I had the chance! Yamaha has brought the aggressive, mean looking styling and performance of the big bore R-series, into a safe and accessible LAMS approved package. If you're looking for a bike for the first time, looking to jump back on after a long time, or simply looking for a solid commuter that looks wicked, you can't go past the YZF-R15, it is a class leader.
Now, can this 23-year-old sneak into the OJC for a few rounds? Someone let me know…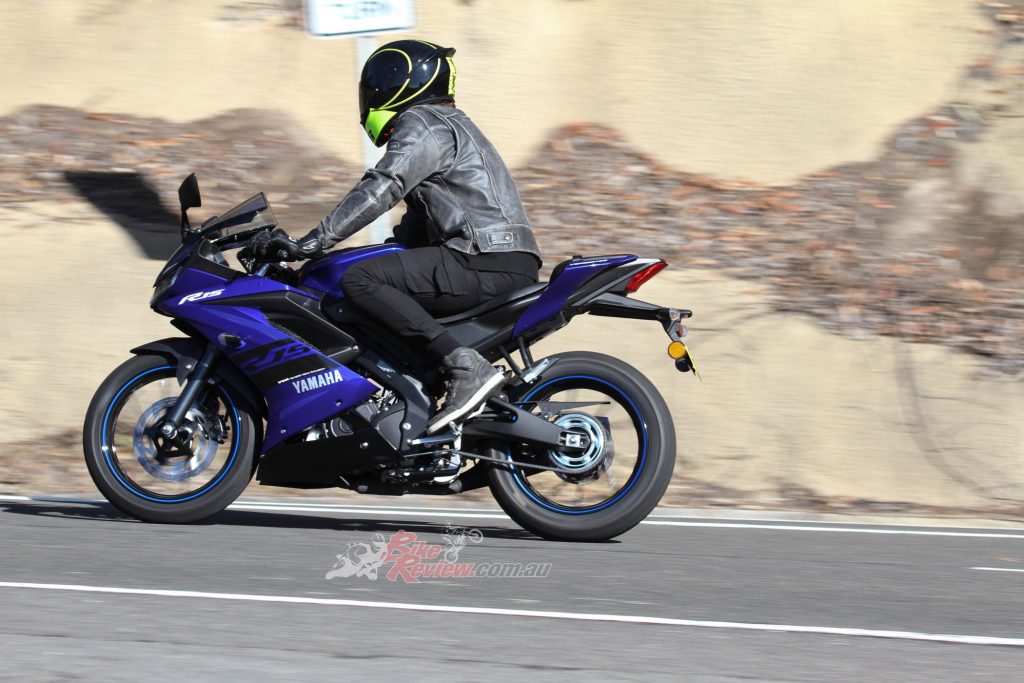 ---
---
Official Yamaha Motor Australia 2020 YZF-R15 Video
---
TECH TALK
The 2020 YZF-R15 has arrived with a larger, more powerful engine, variable valve actuation (VVA), a new Delta Box frame and swingarm, and some very tidy new styling and colours! You'll also notice a significant increase in torque, some larger brakes and the ability to throw on some much bigger tyres.
Starting with the engine, the R-series baby is brought to life by an all-new design. The 155cc liquid-cooled, SOHC engine features Yamaha's Variable Valve Actuation system. Two inlet cams act interchangeably for both low to mid-range rpm and high rpm consecutively.
A solenoid motor switches between the cams at pre-determined rev-ranges to increase power and torque at high revs without losing any bottom end torque or punchiness. The VVA system has shown an 18.3 per cent power increase from a 3 per cent (5cc) increase in capacity.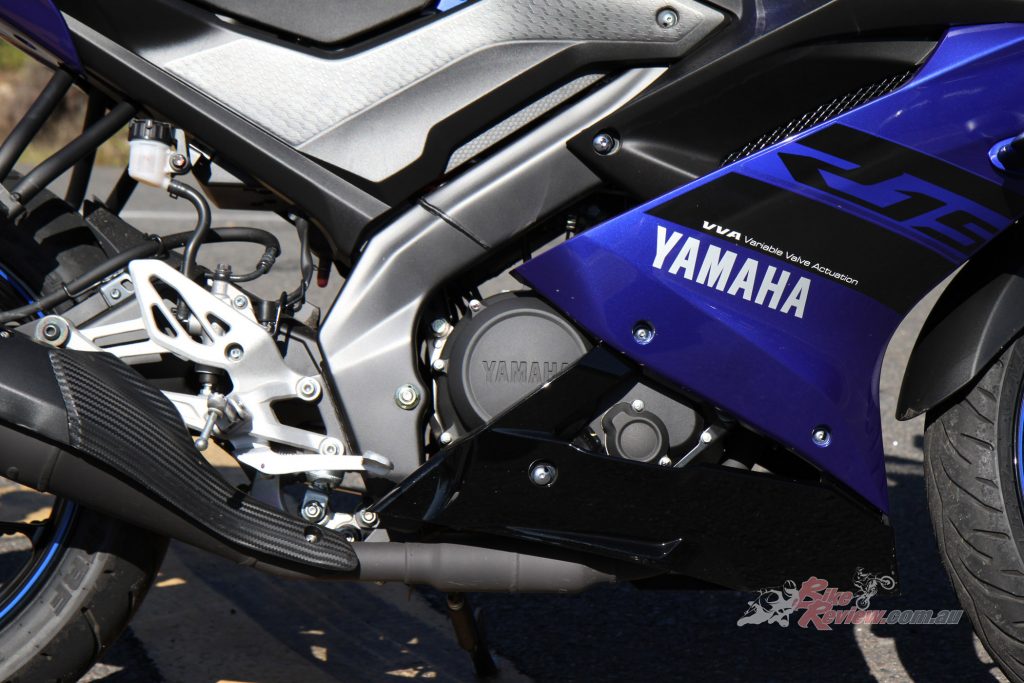 Yamaha has upped the diameter of both the intake and exhaust ports, upgraded the fuel system, and increased the air cleaner by 60 per cent over the outgoing engine. The 2020 model also offers a new muffler with a three-stage expansion chamber not only increasing overall power but decreasing overall fuel consumption. The little R-series delivers a reported 450 km per tank, that's a staggering 45km/L.
The 2020 model features the new Deltabox Frame with a 20mm width increase between pivot points, pushing it out to 221mm. This increase allows for the new delta-shaped swingarm, in turn allowing for a wider 140/70-17 rear tyre on the newly designed 10-spoke cast aluminium wheels.
Braking performance has also increased with a 282mm front rotor and twin-piston caliper, 15mm larger than the previous model. The rear rotor sits at 220mm with a single-piston caliper.
One of the most noticeable updates and improvements for the 2020 model YZF-R15 is the styling and bodywork. Yamaha offers the YZF-R15 in Racing Blue and Thunder Grey, both fantastic and attractive colour schemes. The slim yet functional LED headlights parallel that over the YZF-R1, giving the baby LAMS bike a much more aggressive look and feel.
The bodywork features upgrades in aerodynamic performance, with a centralised intake and layered fairings. The R15 begs the rider to tuck in and ride quick, with the fuel tank indentations optimising an aggressive riding position when sought after. Yamaha has dropped fuel capacity by 1L to streamline the intended design.
---
---
2020 Yamaha YZF-R15 Specifications
Price: $4799 + R/A, 12-months warranty
Claimed Power: 13.7kW[18.37hp]@10,000rpm
Claimed Torque: 14.1Nm[10.4lbs-ft]@8500rpm
Wet Weight: 138kg
Fuel capacity: 11L
---
Engine: Single-cylinder, four-stroke, liquid-cooled, SOHC, four-valves, bore x stroke: 58.0 mm x 58.7mm, 155cc, 11.6:1 compression ratio, VVA, EFI
Gearbox: Constant mesh, six-speed with slip and assist clutch
Clutch: Wet, multiple plate, cable-actuation
---
Chassis: Deltabox frame and swingarm
Rake: N/A
Trail: N/A
Suspension: Conventional non-adjustable forks, 130mm travel, Monoshock/ preload adjustability, 97mm travel
Brakes: 282mm rotor (f), sliding twin-piston caliper, 220mm rotor, single piston (r), caliper, conventional master-cylinder, no ABS.
Wheels & Tyres: 10-spoke cast aluminium 17 x 2.5in, 100/80 – 17in (F), 10-spoke cast aluminium 17 x 4.0in, 140/80 – 17in (R)
---
DIMENSIONS
Wheelbase: 1325mm
Seat height: 815mm
Ground clearance: 170mm
Overall width: 725mm
Overall Length: 1990mm
Overall height: 1135mm
Instruments: Digital LCD display with shift light.
---
---
Review: 2020 Yamaha YZF-R15 LAMS