Take a mint GSX-R1000L3, turbocharge it, fit a nitrous kit, nine layers of paint, Ohlins and Brembo goodies and bling everywhere and you have the L&S Motorsports Gixer Thou. Check it out... Words: Jeff Photography: iKapture
When Lishan Stromer was a boy he developed a connection with sportsbikes and spent hours drawing them and dreaming about the day he could ride. As soon as he was big enough he was on a bike and would go on to own and run L&S Motorsports…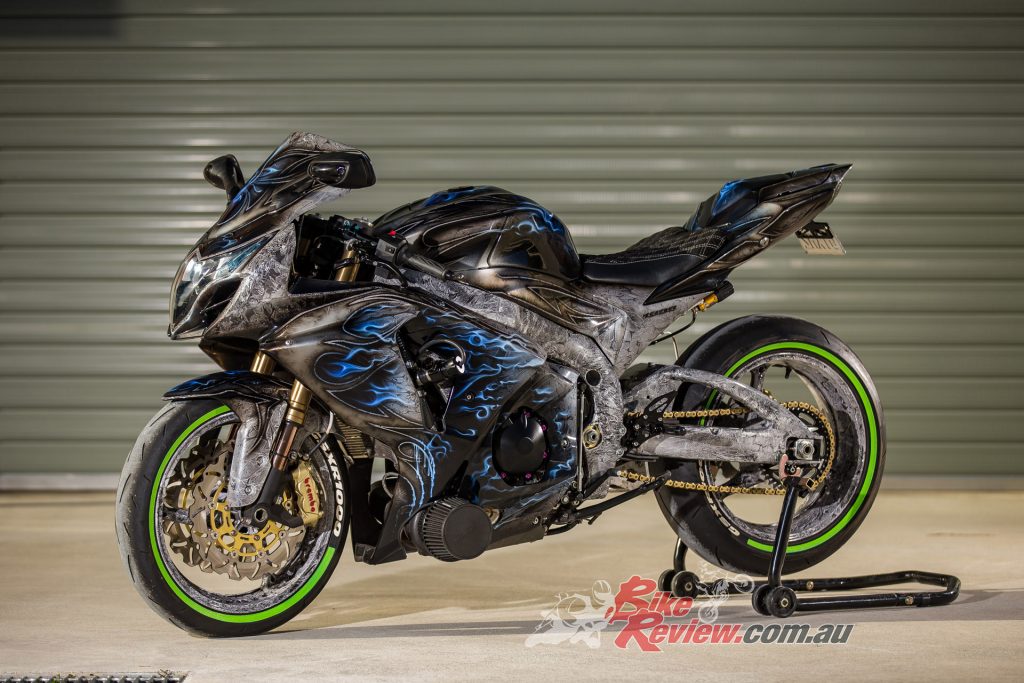 His latest build is this stunning turbocharged 2013 Gixer Thou…We recently had our Gold Coast snapper, the talented iKapture, do a photoshoot on this bike. There's no doubt it would have made cover and poster of Rapid Bikes magazine back in the day when we published the custom bike bible… You can see the full Gallery of the L&S Motorsports GSX-R1000 here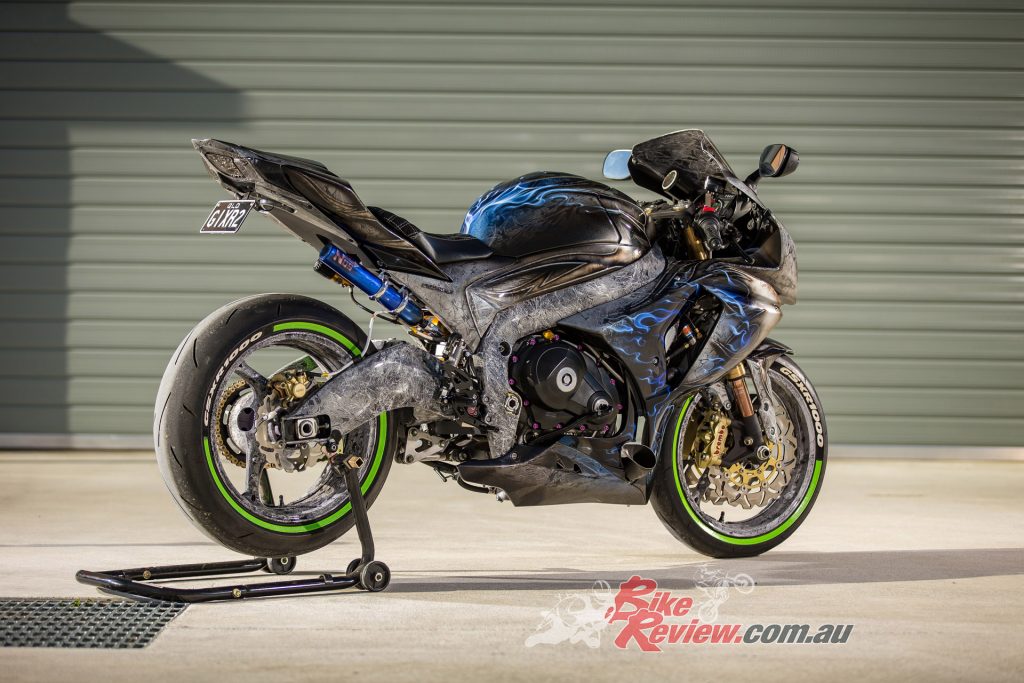 The Bike
This particular Gixer started life as a bog stock mint condition 2013 model that Lis picked up for $8,000.00. The L3 has the long-running long-stroke motor that was introduced in 2007. It's a motor that puts the power down smoothly and efficiently but lacks the fun factor and punch the K5 and K6 had. The 2017 GSX-R100 has an even longer stroke of 76mm…
---
---
These engines are great turbo motors. They are relatively low in compression, have a long stroke, broad powerband and are super strong, meaning low boost requires minimal to no internal changes and no need for additional cooling. This is one of the reasons we've seen so many turbo GSX-R1000s built. We featured dozens of them back in the day, however, we've never seen one with looks to match the go like this particular machine…
"The GSX-R1000L3 has always been one of my favourite bikes." says Lis, "I bought this one back in January 2019 with a view to customising it and I put 12-months into the build. It was worth the effort but it was a huge effort"!
---
---
Lis has been into bikes for 25-years of his 39. He has owned plenty of bikes, with a special interest in sportsbikes. "I've owned stuff like RGV250s, R1s, GSX-R600, GSX-R750J, GSX-R1000. I'd love to get my hands on a few more… a BMW S 1000 RR, Ducati 1199 Panigale, NSR250SP and a GSX-R750R… just to name a few".
So with the decision made to build this 1000 into something special, as a personal bike and to showcase his business L&S Motorsports Services and Consulting, it was time to get started…
---
---
The standard bike makes a claimed 184hp and 84.2ft-lbs at the crankshaft. We dyno tested ours in 2013 at 167.2hp and 80.1ft-lbs at the back wheel. Lis has achieved 97.3ft-lbs and a healthy 181.3hp at the wheel on this bike, with no internal changes and restraint in boost. Smart tuning.
---
---
We'll start with the engine. The stock liquid-cooled 999cc DOHC inline four was left alone aside from a careful checkover including comp and valve-clearances. It was a low km unit, so very healthy. All internals remain standard – crankshaft, cams, pistons, conrods, valves, even the 12.9:1 compression ratio remains. The turbo chosen is a Garrett GT3071R with the housings changed to .48 rear and .58 front. Turbo mounting and piping was a trial and error job performed by Precision Motorcycle Virginia.
The turbo runs an internal wastegate set at 6psi and it sucks through an Aeroflow reverse-cone pod filter. On the exhaust side there is a custom 2.5in dump pipe and the turbo headers are a trick custom job designed to keep the turbo tucked up tight close to the engine for reduced lag and to allow standard rake and standard fairing position. Oil is supplied to the turbo via a tapped feed and returned via a VDO scavenge pump to the engine through the R/H engine cover.
---
---
On the intake side, a custom alloy plenum chamber fits into the standard Suzuki throttle-bodies and a Stealth BOV is mounted to the turbo piping behind the left fairing side for that much loved Pssshhh…
Fuelling the beast is taken care of by bypassing the internal FPR and running a 1:1 rising rate regulator with -8 fuel lines  with Stealth fittings and braided -8 hose to the stock fuel rail and stock injectors. The ignition system is stock standard Suzuki… A Power Commander is used for tuning and mapping was done by Fred at Procycle Dyno.
"The build time for the turbo install was a whopping 87-hours," says Lis, "There was a lot of R&D time to work out how to fit all of the parts in the narrow L3 frame"… "The bike also has a Sneaky Pete Nitrous Oxide bottle fitted. It's just plumbed up to a solenoid as a purge only kit for show use and is fitted via a custom mount on the stock pillion peg mount, just for added spectacle"!
---
---
The clutch and gearbox is completely stock and the only gearing change is a tooth down on the front and two up on the rear, with a conversion to a 520-pitch chain. A Pro Bolt kit replaces the original fasteners on the engine covers and a gold alloy oil filler cap is featured.
---
---
Look at the stunning chassis and bodywork… The stock frame, triple-clamps, swingarm and wheels were retained, with the lot getting coated in black and white marbiliser effect paint, which just looks amazing. The frame rolls on an Ohlins TTX shock and standard anodised nitrided forks with Ohlins FGK146 cartridge kits done by Garry at Classic Mods.
Pulling the Gixer up is taken care of via wave rotors front and rear, squeezed by Brembo radial-mount calipers fitted with sintered brake pads, with fluid pumped from a radial-pull Brembo RC19 master-cylinder via Hel lines. A Brembo clutch master-cylinder is also featured.
---
---
Vortex clip-ons replace the Suzuki items, while billet CNC machined rearsets also replace the Suzuki hangers. Billet levers are fitted, as is a billet quick-release fuel cap. All bolts are polished throughout the bike or replaced with anodised items. Other neat touches are the LED taillight, diamond stitched custom seat, the Turbosmart boost gauge and the GSX-R1000 whitewall lettering on the Bridgestone tyres… Done by Gold Coast White Walls.
Now the bodywork. Wow… this is something else. Lis explains, "The paintwork took hundreds of hours. It is a one-off freehand airbrushed tribal design with a silver, black, bronze – white candy blue. There are a total of nine layers of paint, five of clear, four of colour, with a base paint marbeliser.
---
---
"The paint was done by Tony at 2Tone Airbrush Art and the paints are DNA Candy Colours. The standard fairings were used, even the screen was done…"
Lis doesn't know exactly how many hours or how much cash he has sunk into the bike but he estimates it to be around 450 and 35k respectively… So, was it worth it?
"I've ended up with a very unique GSX-R1000 that looks stunning and makes 200hp at the crank. I'm pretty happy with that! It was definitely worth the effort but if I did it again, I'd possibly leave the paint, as it gets damaged so easily…
---
---
Overall, I love the bike, and I have to thank a lot of people – starting with my wife Shona, Nick and Leigh at Precision Motorcycle Virginia, Tony at 2Tone Airbrush Art, Sam at QMD, Shan at Gold Coast White Walls, Tristan at Pro Bolt, Garry at Classic Mods and Fred at Procycle Dyno…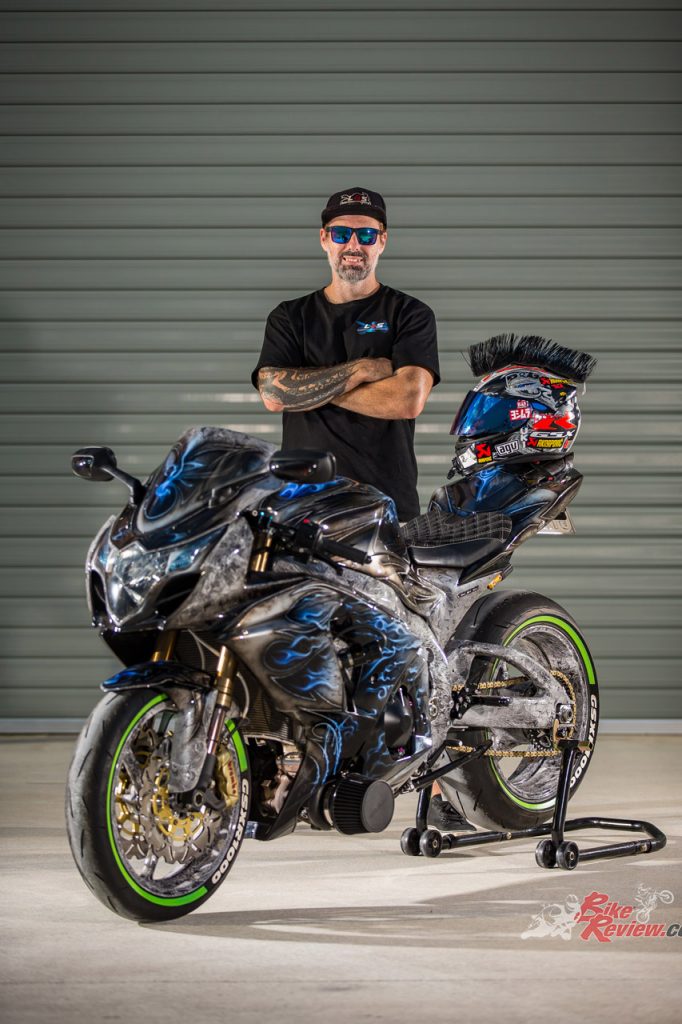 ---
---
TURBOCHARGED GSX-R1000 L3 FEATURES
Wave rotors front and rear
Sintered pads
Hel brake lines
Pro bolt alloy kit engine cover stator, clutch and clips on and brake reservoir purple
Polished steel bolts throughout
Brembo clutch and brake master-cylinder RC19
Vortex clip-ons
GSX-R1000 tyre letter tiffany blue walls
Ohlins front and rear suspension
Brembo front calipers
Billet quick release fuel cap
Billet rearsets
520 chain sprockets kit – 1 front + 2 rear
Led taillight, smoked
Diamond stitch seat
Nine layers of paint, five layers of clear and four of colour
Base paint marbelizer
Custom one-off free hand airbrushing tribal design with silver black bronze white candy blue
Black and white frame marbelizer
Black and white wheels marbleizer
Gold oil cap
GSX-R custom number plate Qld (G1XR2)
Fender eliminator
Polished engine case inner
Fuel system – internal fuel pressure regulator has been bypassed and now runs a stealth 1:1 rising rate regulator, – 8 fuel lines with stealth fitting and braided – 8 hose to stock fuel rail and injectors
Tubed by Fred at Procycle Dyno.
Garrett GT3071R core with housings changed to .48 rear and .58 front, internal wastegate
VDO oil scavenge pump
Aeroflow reverse cone airfilter
Custom 6mm alloy plenum
Stealth BOV
Custom short radius exhaust manifold
2.5in dump pipe
Fuel is pump 98
Nitrous system – "Sneaky Pete" bottle and NOS solenoid as a purge only kit for show use, it uses custom mounts bolted to the stock rear pillion footpeg tabs.


---

L&S Motorsports Turbo GSX-R1000L3 Performance

---

L&S Motorsports Turbo GSX-R1000 Specifications
Engine Stock 2013 Suzuki GSX-R1000 L3, Garrett GT30711R turbocharger, internal wastegate, Aeroflow reverse cone filter, 2.5in custom dump pipe, custom shorty turbo headers, VDO oil scavenge pump, custom alloy plenum chamber, Stealth BOV, Stealth rising rate FPR, Stealth fuel lines and fittings, stock injectors, stock ignition, Power Commander piggyback fuel unit, Sneaky Pete nitrous bottle and NOS solenoid as show purge kit only.
---
Chassis 2013 Suzuki GSX-R1000 frame, swingarm, triple-clamps and wheels, all marbelised with black and white base. Ohlins TTX shock, Ohlins fork internals and nitrided gold stanchons and inner tubes, Brembo radial mount calipers and Brembo radial pull master-cylinder (brake) and clutch. Billet rearsets, Vortex handlebars, billet levers, Pro Bolt kit, white walled Bridgestone tyres, billet quick release fuel cap, VDO boost gauge in psi, 520 chain conversion + 2t rear – 1t front, Hel brake lines, sintered pads, wave rotors front and rear, fender eliminator, LED taillight tinted, diamond stitched seat, gold anodised oil filler cap.
---
Bodywork 2013 Suzuki GSX-R1000L3 stock bodywork, base paint marbeliser, four layers of colour and nine layers of clear, hand airbrushed custom tribal design throughout.
---
Performance 97.3ft-lbs and 181.3hp@6psi boost, at the rear wheel.
---
Check out the L&S Motorsports and Consulting Facebook page here – which is very active and interesting. Or visit their website here. 
---
---
---
---
---
---
---
---