This custom TL1000S 'Fighter is a great example of what thinking outside the box can achieve. Words: Kris Hodgson, Photography: John Downs Photography
Suzuki's TL1000S has an interesting history, in large part for a certain level of renown as a bike that was quite unforgiving, particularly in its first years. Part of this was due to suspension but what caught real attention was the fact the engine was a belter, with 125hp and a kind of spirit that was elusive on later models which used an engine derived from the TL1000S.
This in part explains the popularity of the TL1000S custom scene and the model has become synonymous with some pretty amazing custom bikes in our experience.This TL1000S owned by Sergio is no exception, taking inspiration for its makeover from a number of sources, while, for now at least, maintaining the original power plant which is still capable of plenty of thrills.
In fact you know Sergio is serious about his TL1000S's when he admits he actually had a mint 1999 model, prior to starting this project but couldn't bare the thought of heavily modifying an all original model, instead selling it in order to finance the whole operation!
Plus he'd sold his K2 GSX-R1000 custom 'fighter as well to make room for a characterful twin, explaining, "It must have been fate, as I had a work training week in Melbourne and had found a rough original TLS 1997 bike in Victoria and agreed upon the purchase sight unseen.
"So with a one-way flight ticket and a thrift shop $5 suitcase stuffed with all my bike gear and work clothes I was underway. My work mates thought I completely took leave of my senses in my quest to ride a $1000 bike for 2000km over two days, with no Plan B if the bike turned out to be unrideable!"
Sergio lives on the Gold Coast, and took the path less travelled in bringing this unknown quantity home in one piece, "I went over the Victorian Alps on the Great Alpine Rd, through Omeo, Mt Hotham, Bright and Beechworth," Sergio explained, adding, "It was a hoot and I was amazed I made it home with no problems at all, mechanically it didn't miss a beat heading home!"
A few of the bike's niggling problems at this point included the fact it had been dropped, was filthy, had a leaking fork seal, cheap Chinese rotors which had warped, a dent in the tank and plenty of tape holding everything together. Sergio had his can of WD40 on hand as well, having purchased it at a service station along the way, for use on all the cables to keep everything moving as well.
With the bike home it was time to get started and the bike was stripped right back to basics, with the engine running well after the long trip home, "The bike was stripped completely to its bare frame," explained Sergio, "Everything needed to be removed, cleaned, painted and powder coated, greased or replaced. It took me a whole day just to clean the frame, engine and swingarm."
As it stands, it is the stock TL1000S engine, with a gutted airbox for greater airflow, as well as a K&N airfilter. A full Yoshimura two-into-two system with custom Salter Engineering hangers was also added with RS-3 Carbon Oval pipes for a bit of additional aural presence, enhancing the TL1000S's already formidable exhaust tone.
A new set of NGK Iridium plugs were also added and Sergio did the 1999 TK thermostat mod as the 1997 models run a temperature sensor in the radiator which isn't too accurate and is also known for leaving the bike running the cold map, restricting performance at the expense of fuel economy.
A gold X-ring chain with 18/43 gearing were also added to get the 125hp to the rear wheel, while the standard clutch was retained, with plans to add a TL1000R clutch in the future, with a billet clutch cover with a window, added for some extra bling. The other stock engine cases remain black as standard.
The chassis has seen the greatest attention with the TL1000S alloy oval section trellis frame stripped back and powder coated black, along with the stock swingarm, a move which Sergio admits he'd do differently a second time. "I'd paint the frame in 2pac not powder coat it! Let's just say petrol and powder coating don't mix."
The sub-frame has been totally replaced with a Ducati 1098 item, which was modified with the help of Joseph Salter to fit the TL1000S frame, before being powder coated to match the frame and swingarm.
"I initially planned to have an RSV4 tail," confided Sergio, "But I couldn't find an OEM one second-hand at a reasonable price, complete with subframe…The Ducati 1098 sub-frame is joined by a full carbon-fibre 1098 race tail, with an OEM 1098 undertail and fender.
"It also needed to be relatively easy to match up with the current frame without cutting anything, then I saw the Ducati 1098 carbon-fibre tail on eBay for very little money and snapped it up. This really set up the carbon-fibre theme for the bike."
The TL seat was also modified to suit the new tail, with a set of LED indicators fitted to the fender, with LED brake lights to match. A custom battery tray was also fabricated to suit the new sub-frame and hold a lightweight lithium battery and the ECU, with some grinding required to get everything to fit.
The TL1000S is actually unusual in that it uses a separate rear shock absorber and spring assembly, with the spring located on the right side, with the rotary style damper on the left using rotating arms, similar to a system used on F1 cars.
This was necessary in order to keep wheelbase to a minimum due to the length of the engine, although the suspension on the TL1000S tended to get overwhelmed with really aggressive riding on the originals.
To solve this problem and taking into account the bike was at this point over 15 years old, Sergio sourced an Ohlins shock with a custom billet height adjuster.
The front end received a slightly more in depth review with Sergio replacing the front forks with those from a GSX-R1000 K8, complete with K8 triple-clamps, Tokico brake calipers and master-cylinder. An aftermarket brake fluid reservoir was also used, with custom spacers and axle bolt necessary to fit the original TLS front wheel.
The original Chinese no-brand rotors, complete with warping were replaced with some high quality Braking wave rotors and lines are now Hel Performance braided stainless steel items, with Sergio describing the improvement as massive. On the rear he also replaced the TLS caliper with a GSX-R K2 item.
Other additions to the front end include a set of Easton extra fat 'bars, holding the original TL switchblocks, while a YZF-R6 throttle is joined by aftermarket 'bar end mirrors and adjustable levers, with a Hyperpro RSC steering damper and custom mount used to keep headshake under control.
A set of Dominator headlights with a TL1000R dash are held in place by a custom Salter Engineering bracket, with a carbon-fibre Buell screen added above the headlights, helping to hide wiring. The result is a clean minimalistic setup, that looks the business.
The tank was repainted by A1 Race Paint in Nerang in black, with Sergio adding, "Phil from A1 Race Paint did a fantastic job on the tank, it was amazing to see the before and after." A carbon-fibre tank protector was also added after the new paint.
A carbon-fibre SV1000 belly pan, GSX-R front hugger and carbon-fibre Speed Triple radiator guards also now grace the bike, with the latter also holding LED indicators. On the rear there's also a carbon-fibre full rear hugger including chain guard fitted to the TL1000S swingarm, while the TL1000S wheels, front and rear have both been powder coated in gold and clad in Pirelli Angel GT rubber.
Final details include a set of Robby Moto rearsets, while custom crash knobs help minimise damage in the event of a drop or crash.
It's certainly a stunning machine and one that Sergio is still working on, with further plans including carbon-wrapping the tank and the possibility of a TL1000R swingarm, or Ducati SS unit, not to mention some engine work, such as a Power Commander 3, big bore kit and quickshifter, as well as some stickier rubber, with tuning to be done when this is completed.
The build to date has taken Sergio over a year, he explains, "I am not sure how many hours it's taken, but I would imagine 100-plus…"
"I would do something after work some days, even if it was just an hour at a time, or sometimes spend a whole day or weekend, it's a labour of love."
"I now have a bike that's one off in the world – now that's a limited edition! It's nice to know that no one has a bike like yours and have the satisfaction you get from riding something you put together from all those dirty bits all over the garage floor…"
On top of the purchase price of just $1000, Sergio has also spent another $8000, telling us it certainly adds up quickly even on a tight budget and thanking several people particularly, "I would like to thank my wife Kate for lots of patience, understanding and being a garage widow for many hours.
"Also for encouraging me and giving some awesome tips on some of the problems I was facing, like the brackets, when I'd run out of ideas, plus of course letting me spend that money on all those bling bits.
"And my friend Joseph Salter (of Salter Engineering) who is always awesome at helping me out with fabricating, welding and sourcing bling parts. I could absolutely not do without you mate and your skills… There's nothing you can't make fit! Also his wife Deborah for letting us do bike stuff for many hours and understanding our madness."
"The bike is now a dream to ride, you have all the great ingredients… Suzuki V-twin torque and a soundtrack which has you smiling all the way to the redline. Punching through corners the handling from upgraded suspension and brakes just builds confidence. In the right hands it gives a hard time to the current generation of 200hp computer controlled super crotch-rockets!"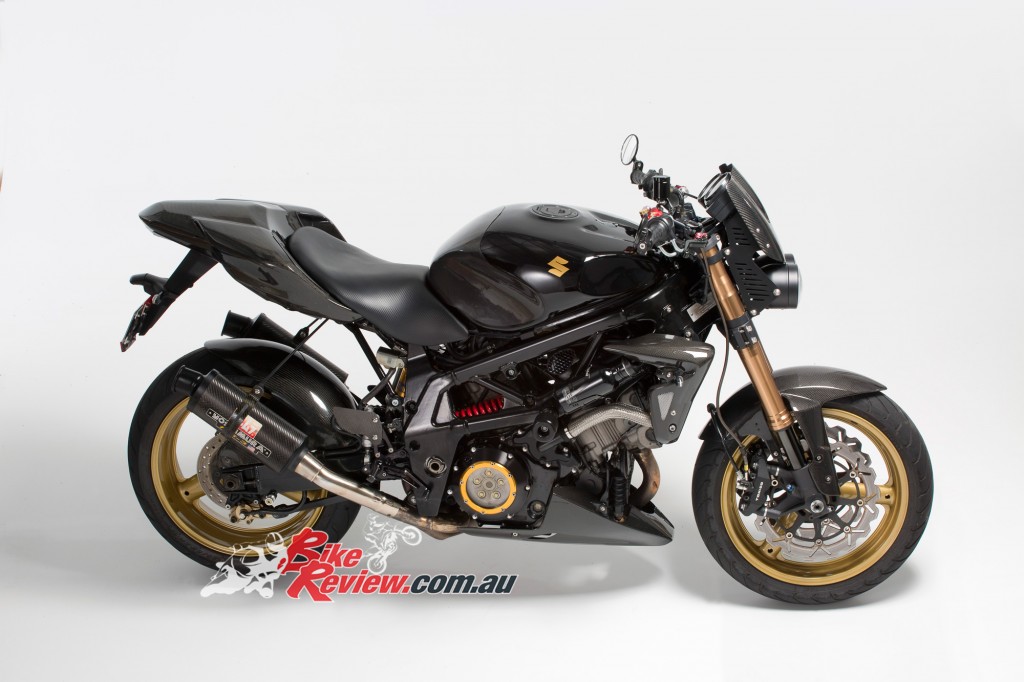 SPECIFICATIONS
ENGINE
Stock 1997 Suzuki TL1000S, liquid-cooled four-stroke, 90 V-twin, DOHC, four-valves per cylinder, 996cc, 98 x 66mm bore x stroke, 11.3:1 compression, dual 52mm Mikuni Denso EFI, billet clear clutch cover, modified airbox, K&N airfilter, Yoshimura two-into-two with RS-3 Carbon Oval mufflers, Salter Engineering exhaust brackets, NGK Iridium spark plugs, 1999 TL thermostat mod, ignition coils Plus mod
CHASSIS
Powdercoated stock 1997 Suzuki TL1000S aluminium trellis frame and swingarm, modified Ducati 1098S subframe, Suzuki GSX-R1000 K8 – triple-clamp, forks, radial calipers, master-cylinder, aftermarket brake fluid reservoir, Easton Extra Fat 'bars, R6 1/6 throttle tube, Hel Performance stainless steel brake lines, TL1000S wheels, custom front axle bolt and spacers, Braking front wave rotors, Ohlins rear shock, custom billet height adjuster, GSX-R1000 K2 rear brake caliper, Robby Moto rearsets, Gold X 530 chain, 18/43 final gearing, Hyperpro RSC steering damper, custom steering damper mount
BODYWORK
Aftermarket carbon-fibre – front guard, Buell screen, SV1000 bellypan, rear hugger, exhaust carriers, Speed Triple radiator guards, Geelong Carbon Craft tank guard, Ducati 1098 race tail, Salter Engineering instrument and headlight brackets, TL1000R instruments, Dominator headlights, Ducati 1098 OEM undertail, custom TL1000S seat to suit 1098 race tail, custom battery tray, lithium light-weight battery, relocated ignition, tank painted by A1 Race Paint – Nerang, LED indicators and brake light, custom crash knobs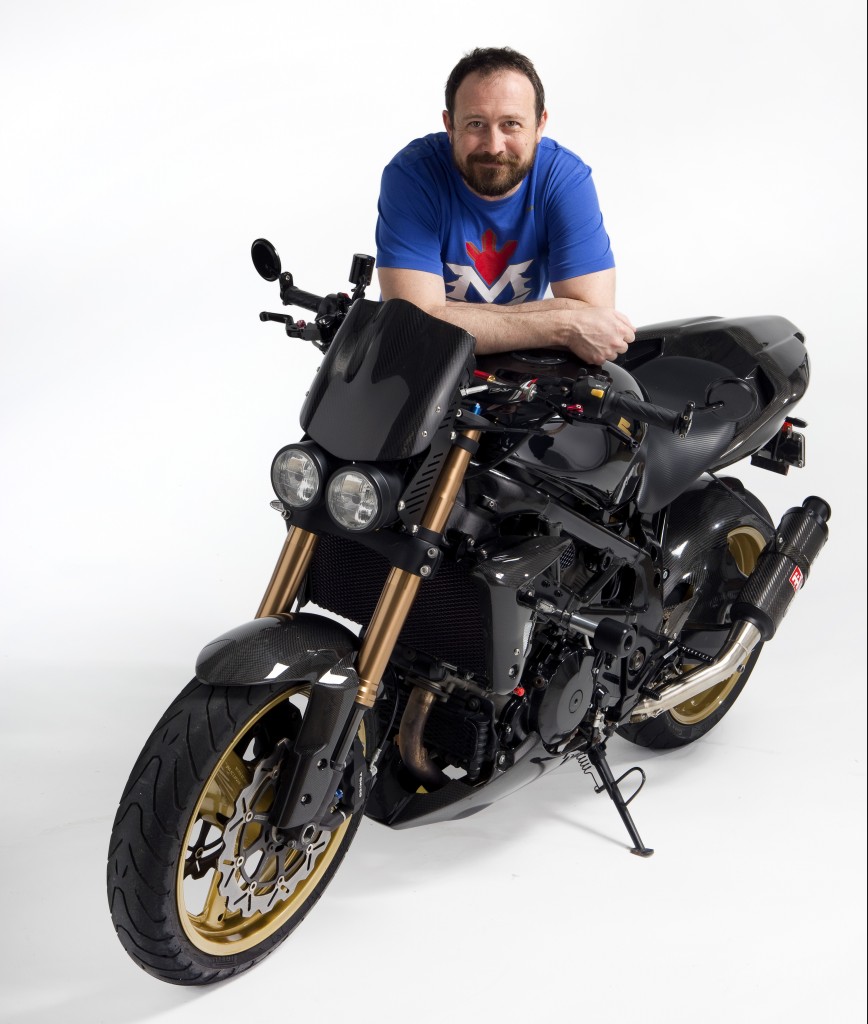 OWNER'S PROFILE
NAME: Sergio
LOCALITY: Gold Coast
AGE: 39
HAVE LONG HAVE YOU BEEN INTO BIKES? All my life. But riding for 15 years.
WHAT OTHER BIKES HAVE YOU OWNED? Honda CBR250RR tri-colour, CX500 Shadow, XR400, 1999 CBR900RR, 1996 Kawasaki ZX-6R, BMW K100RS, R1100S, R100GS Paris Dakar, R80RT Custom RAT Brat, 2006 Aprilia RSV1000, Suzuki GSX-R1000 K2, GSX-R1000 K2 custom 'fighter, 2000 GSX-R750, 1999 TL1000S, Suzuki GSX-R600 SRAD track bike, 2006 Triumph Speed Triple (Wife's bike), Yamaha YZ125, WR250, Husqvarna 570SMR
WHAT OTHER BIKES WOULD YOU LIKE TO OWN? Too many to list but the top five would have to be – Suzuki TL1000R, 1998 Yamaha R1, 1992 CBR900RR tri-colour, Aprilia RS250 two smoker, GSX-R1000 K6
WHAT INTERESTS DO YOU HAVE OTHER THAN MOTORCYCLING? No other hobbies… This one costs enough money and time. We just bought a house and have a five-month old baby girl, so not much time for anything these days. And I love spending time with my family. Otherwise just going for a ride and spending time with good friends.