Gowanloch Ducati's Mike Soderland built this MHR replica a few years back, putting over $35k into the stunning built. Check it out... Story: JPMedia P/L
Mike Soderland, a well known Sydney A grader and owner of Gowanloch Ducati, has built a tribute to Mike 'The Bike' Hailwood. It's a gorgeous machine built by the Ducati Guru…
---
---
In 1967 Hailwood won what is considered the most dramatic Isle of Man TT ever, setting a race record that was to last eight years. Honda pulled out of Grand Prix racing the following year and undoubtedly realising Hailwood's value in racing, paid him a hefty sum to not race with another team – presumably to return to racing with them in the future.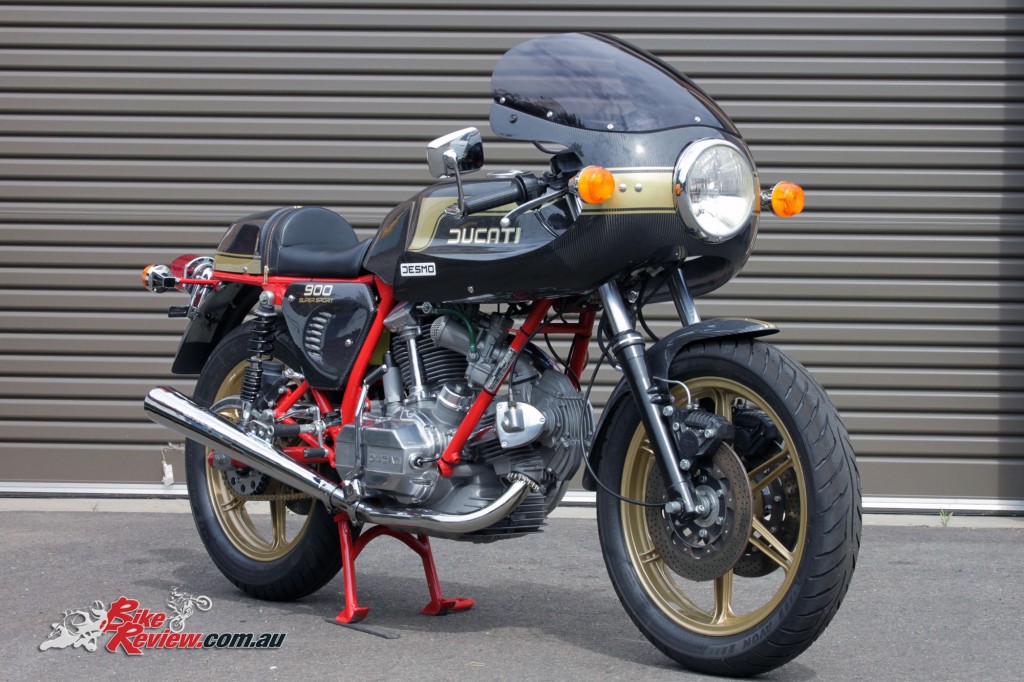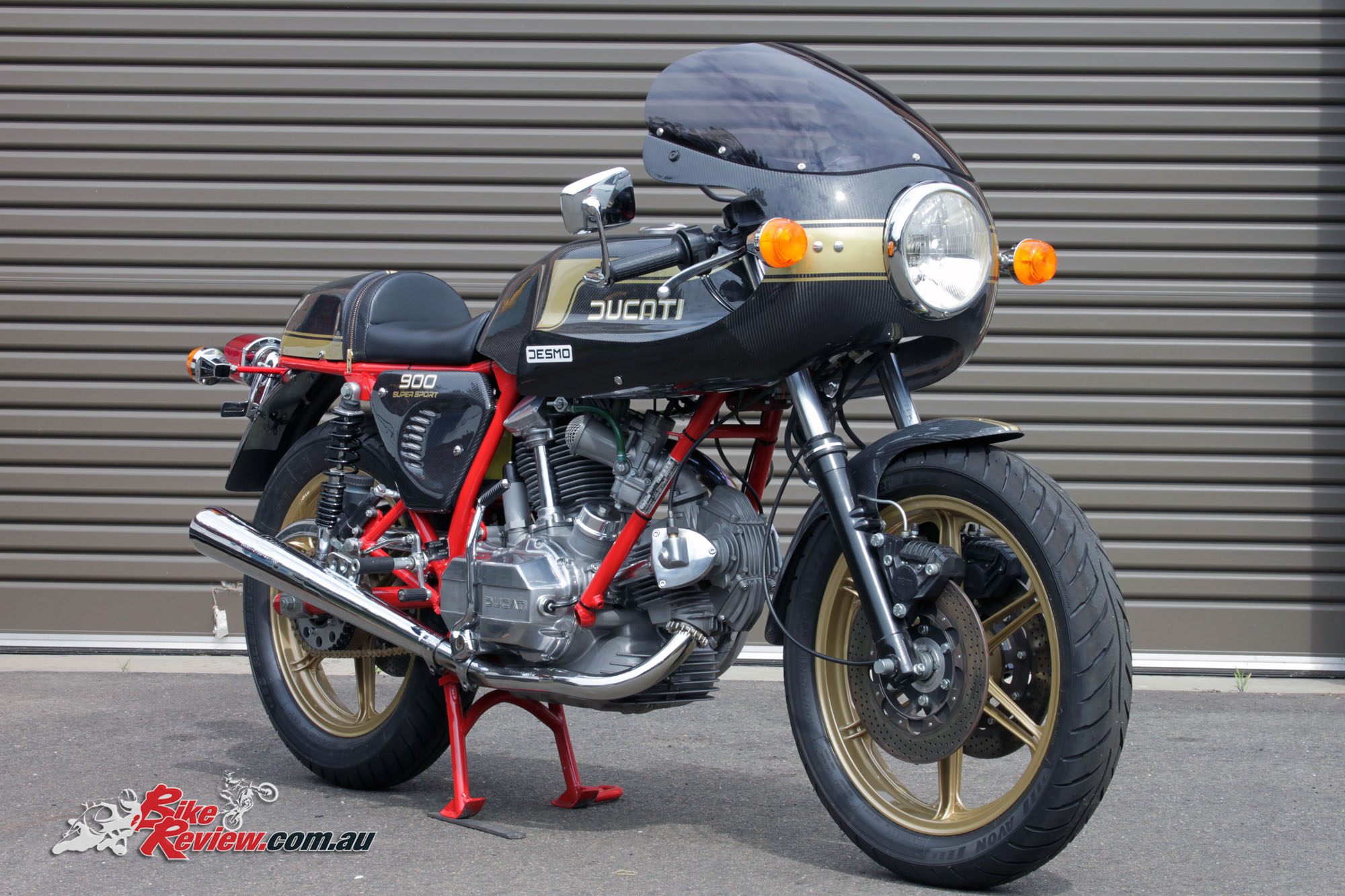 11 years later, after a pronounced absence from motorcycling racing, Hailwood reappeared at the Isle of Man TT this time riding a Ducati 900SS. With such a lengthy absence expectations were low but hope was strong and it was an amazing result when Hailwood won, rewarding the record crowds his re-emergence had drawn. Aged 39 Hailwood returned the following year on a Suzuki, further proving his skills but it was the Ducati 900SS or more accurately 'NCR' and his 1978 win that caught the hearts and minds of motorcyclists everywhere.
---
---
Mired in financial troubles Ducati at this time had actually stopped factory racing development, with management seeing the activity as an unnecessary expense. Franco Farne, Giorgio Nepoti and Rino Caracchi of Scuderia NCR teamed up to create the Ducati 900NCR, taking very little from the 900SS but creating the machine which was to capture a generations imagination.
Totally unprepared, Ducati scrambled to take advantage of Hailwood's win, releasing the Mike Hailwood Replica, effectively a Ducati 900SS with a one piece fairing, fibreglass tank and Hailwood's red, white and green colours, with the iconic red frame.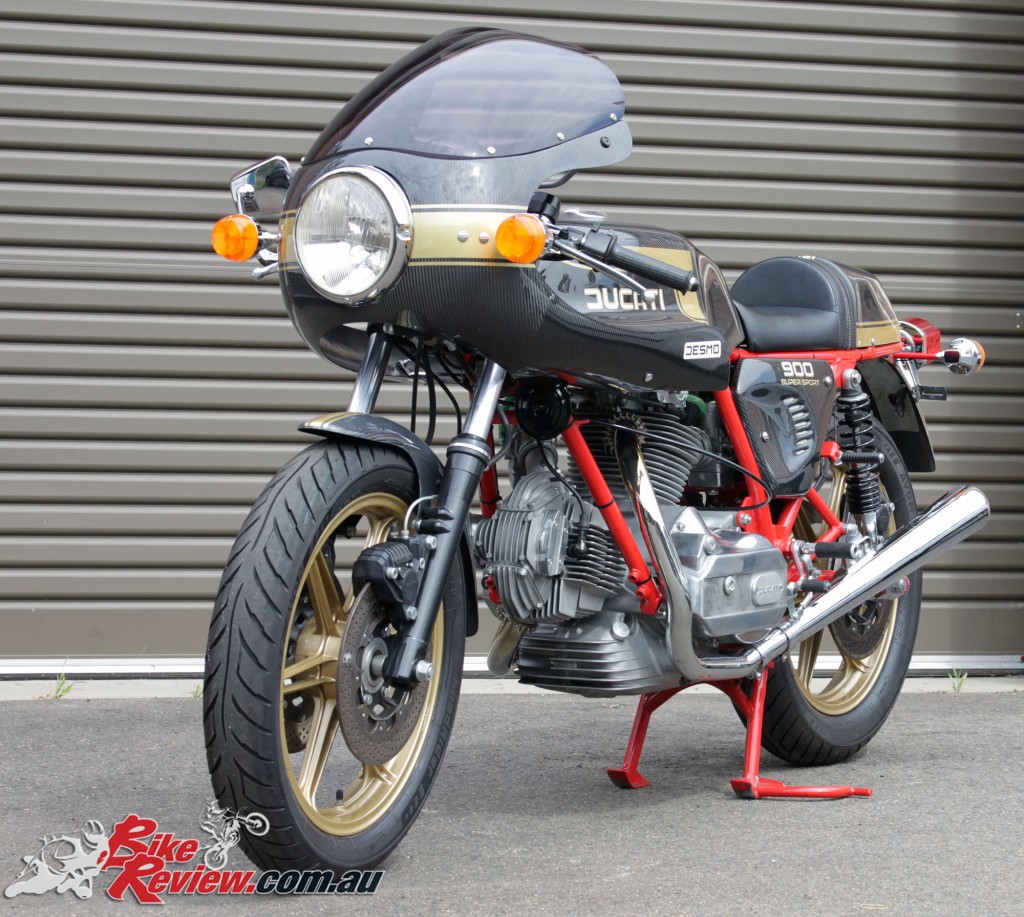 While Mike Hailwood and his daughter Michelle sadly passed away in 1981 when a truck made an illegal turn into the path of their car the MHR continued to be produced until 1982 with over 7000 sold, while a 1000cc variant was released in 1984.
Mike Soderland, retired champion racer, owner of Gowanloch Ducati in Sydney, restored this 1982 Ducati MHR after the bike was offered along with cash to pay for restoration of the owner's other bike.
Sound too good to be true? Well apparently the MHR was quite the basket case originally and is a restoration from the ground up, with a true collectors touch behind the work done – returning the bike to pristine condition while staying as close to stock as possible.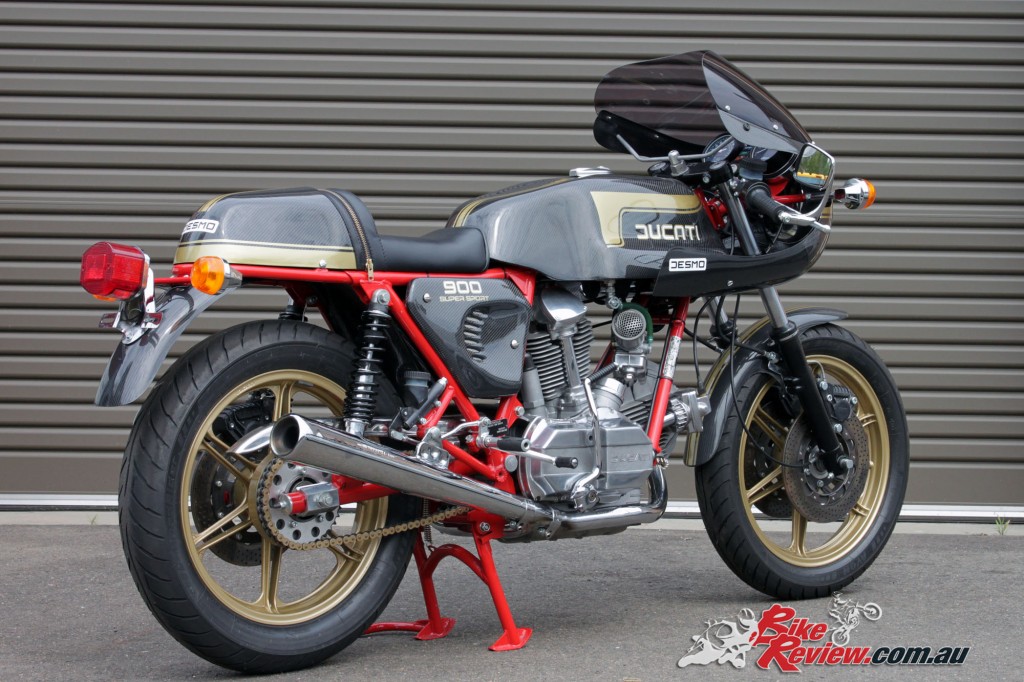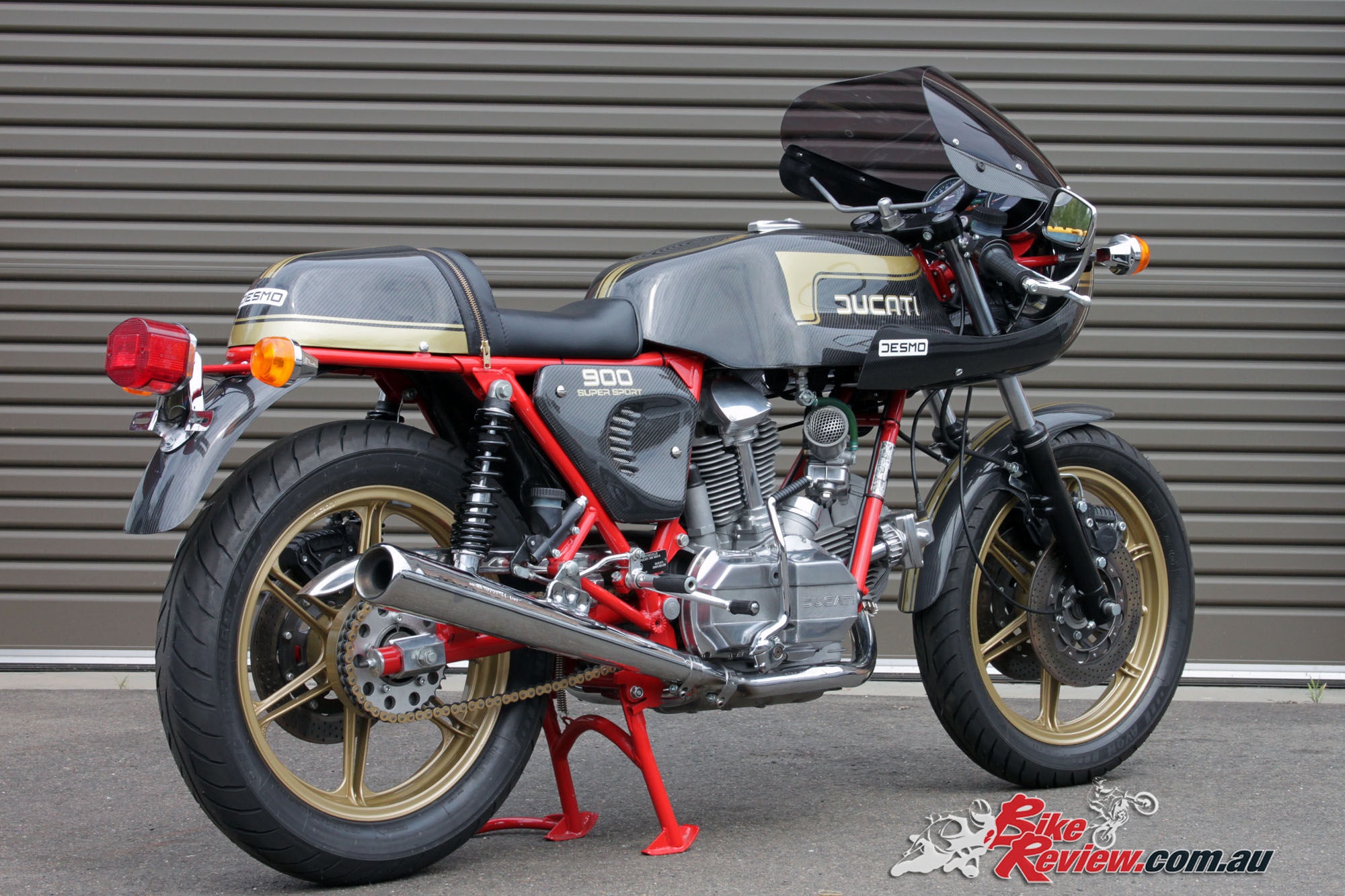 Featuring the 864cc stock Desmo bevel drive V-Twin engine, which Mike had to rebuild himself, the 1982 model also benefites from 40mm Dellorto carburettors and exhales through genuine Conti mufflers.
The frame is stock and remains the iconic red – a major consideration for Mike, who felt this amazing machine should display as much of the frame and engine as possible, "I wanted to show off the carbon bodywork, so I knew it would really stand out over the red frame." Mike explains.
---
---
"The idea is that you have your original Hailwood bodywork but don't want to get it stone chipped.
"But you want to enjoy your bike, so you have this spare set of bodywork for everyday riding, while the originals go on the bike for Concourse time – show days."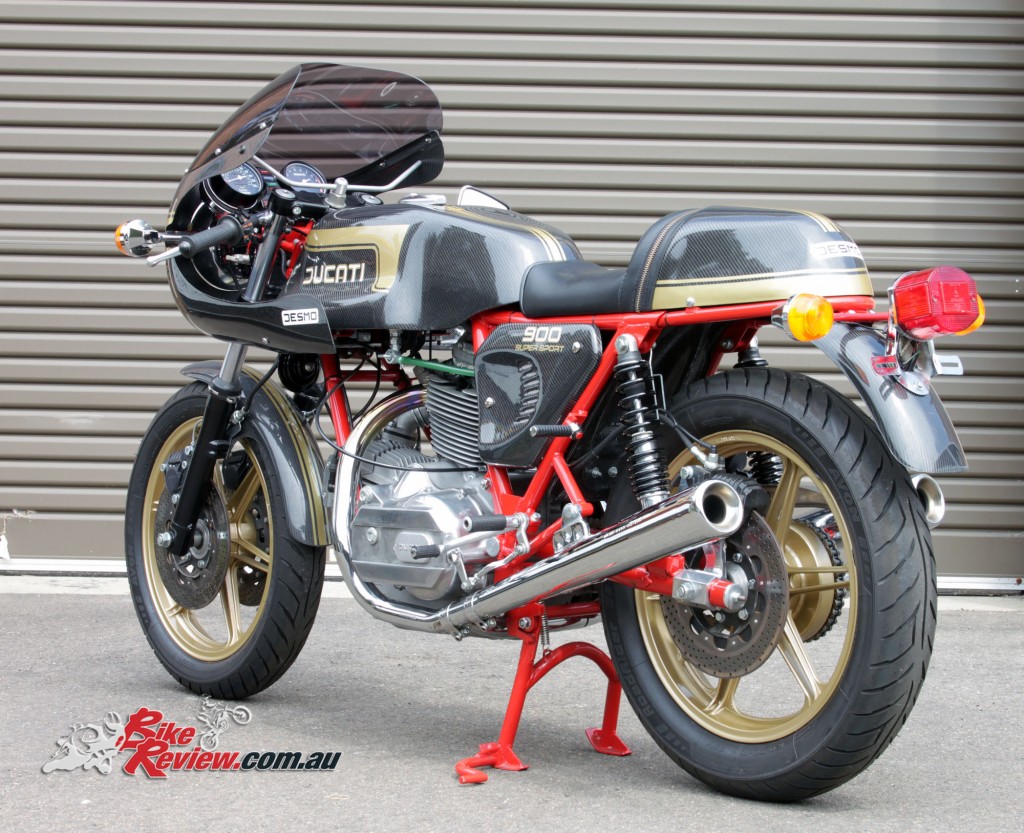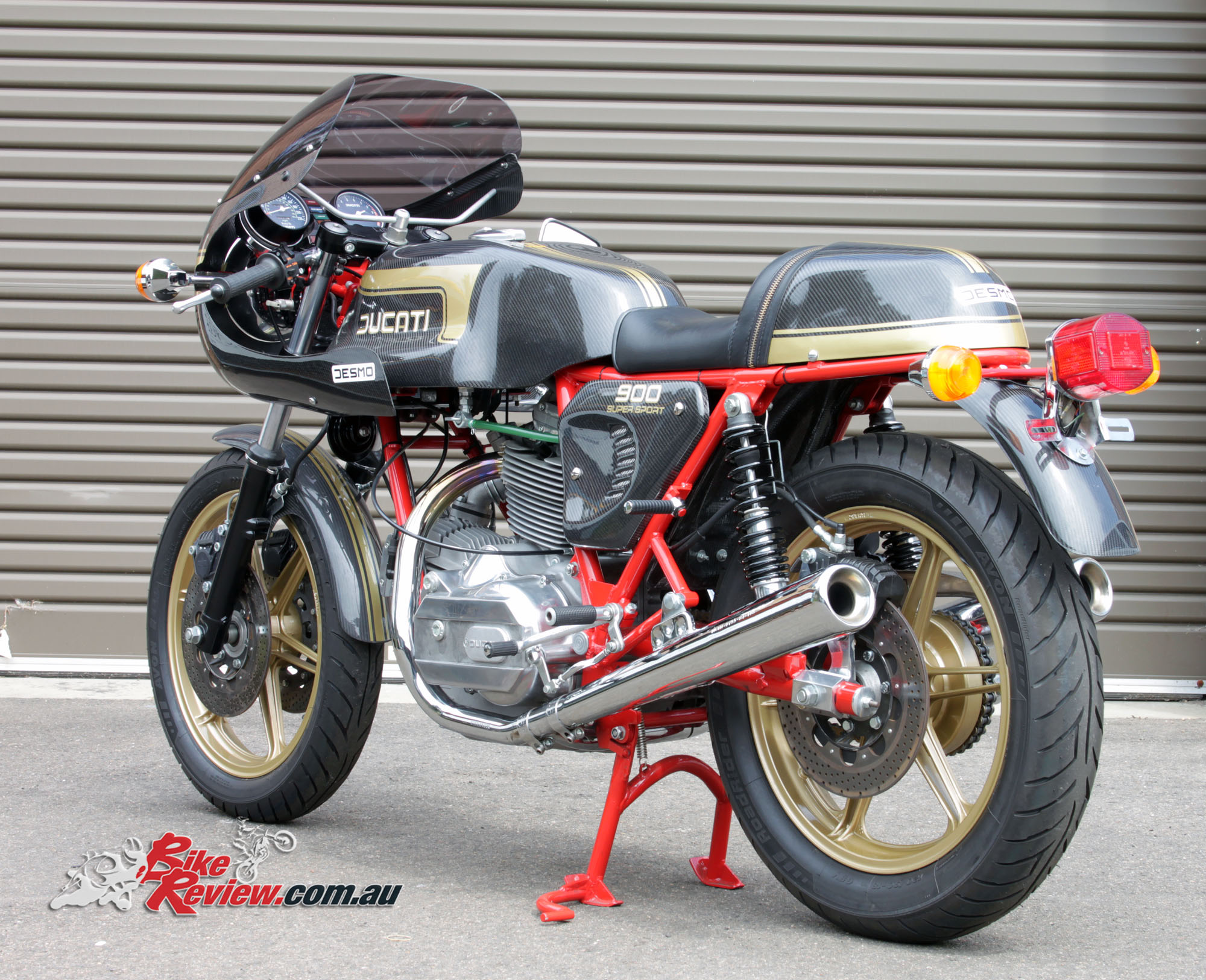 The new bodywork is impressive, including a carbon-fibre supersport fairing, carbon-fibre Imola 22L tank and carbon-fibre supersport side covers, solo tail unit and mudguards.
The paint was taken care of by Crow's Custom paint, while Dan Murdoch of MotoGraphix  took care of the decals. The gold is certainly an eye catching detail over the magnificent carbon-fibre.
---
---
The front forks are the stock 38mm Marzocchis', while the shocks have been upgraded with Ikon offerings – which Gowanloch Ducati stock for a variety of models. Brembo takes care of the braking with 280mm rotors front and rear. P08 Brembo callipers do the stopping in subtle style.
Stock wheels in the original gold also maintain the appearance and are Foundry Pedrini Siena offerings, of the alloy variety – replacing the magnesium wheels on the earlier models, which proved too fragile. Avon AM26 100/90×18 tyres take care of traction.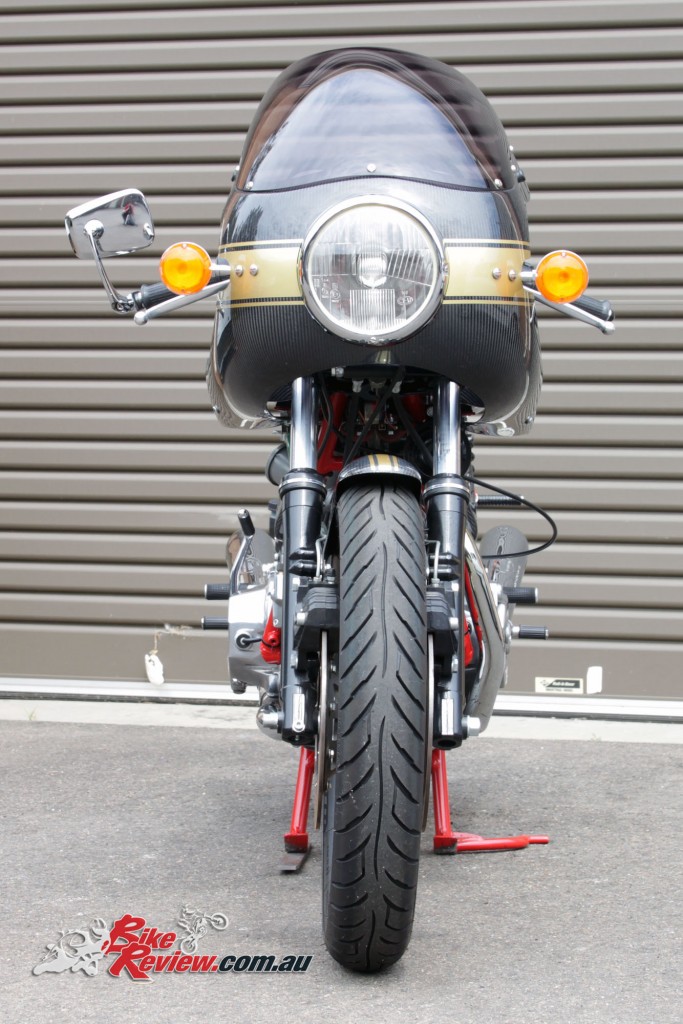 Mike got a bit cagey about the hours that went into this project exclaiming, "Who cares, it's a labour of love!" Hard to argue with that…
He also had some useful advice on the cost side of things, "Always hide the receipts if you can, I can't because it all goes through the business but I would say the bike's worth around the $35-40k mark in its current condition."
If he had to do it again Mike would consider going for spoked wheels but is looking towards the future now, "It's time to move onto the next bike, this is an addiction remember and I would do it again in a heartbeat."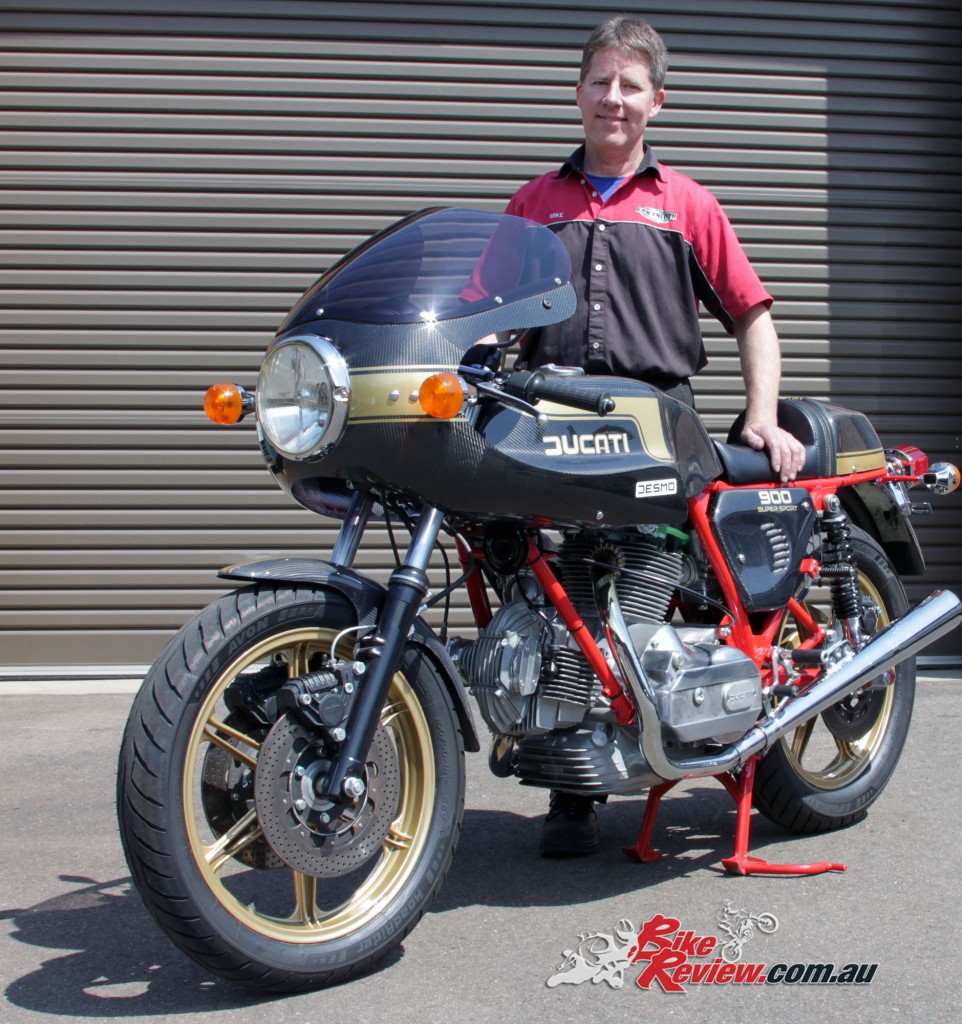 OWNERS PROFILE
Name: Mike
Lives: Sydney
Age: 53
How long into bikes: Since I was 8 or 9. Mike is a well known A Grade racer.
Bikes owned: A whole bunch of road, road race, short circuit and speedway bikes.
Bikes desired: All black ST4s and Desmosedici RR
Other interests: My family!

1982 Ducati Mike Hailwood Replica Specifications
Engine: 964cc Air cooled, four stroke, 90°"L"twin cylinder, SOHC, desmodromic 2 valve per cylinder
Power: 80hp@7500rpm
Torque: 64.5ft-lbs@5800rpm
Weight: 202kg dry
---
Frame: Double-cradle steel frame
Bobywork: Supersport Carbon Fibre, original MHR fairings
Suspension: 38mm Marzocchi forks, Ikon rear shocks
Brakes: Brembo P08 callipers, 280mm rotors, front and rear
---
New Parts:
Ikon rear shocks

Avon tyre

Carbon-fibre supersport fairing, fuel tank, side covers, solo tail unit, mudguard




---
Restored Parts:
Rebuilt engine

Rebuilt clutch

Genuine Conti mufflers

Brembo P08 callipers front and rear

Marzocchi forks

Seat

Frame
---
Special thanks:
Gowanloch Ducati
Crow's Custom Paint
Dan @ MotoGraphix
---
MIKE HAILWOOD DUCATI 900 GALLERY

---
---
The Verdict | Classic: Ducati 900 Mike Hailwood Replica (MHR)