Here is the incredible and entertaining adventure that is Danny Hayes AKA The Million Dollar Bogan and his Sidekick David Parry... Feature: Knackers BDP
You may or may not be a fan of Danny Hayes, he is one of those polarising characters, which is probably why he is currently starring on Big Brother. But whatever Danny is, he is doing it well! The Million Dollar Bogan is insanely popular. Knackers asked him what his story was…
---
---
My name is Daniel (Danny) Hayes and I'm 48 years young… aka …"Million Dollar Bogan". I'm the Managing Director of our five HayesWinkle real estate offices in the Geelong region (about a 50 minute squirt down the Princess Highway from Melbourne CBD), and a published author, National keynote speaker, motovlogger, number one individual fundraiser in Australia for the Men's Mental Health organisation "MOVEMBER"; 29 years clean and sober, father to my two gorgeous kids, divorced twice and happily single! I'm also an avid motorcyclist.
I have ridden since the age of 18 but not seriously until I was 31 when I went into real estate, I simply couldn't afford a motorbike until then. I was a social worker at the time and it was more important to pay bills by colour; red ones first so the power didn't get disconnected, etc. But as I went into real estate I never knew I was a born sales person. That year I became the top salesperson in Victoria for the group I was working for at the time and bought my first Harley-Davidson; a little 883.
---
---
Over the years I have had a number of bikes, always loved the V-Rod with its insane power and have also done a few custom jobs. I started a YouTube channel in 2016 to do with real estate and called it Million Dollar Bogan, the intent was to take the piss out of the real estate industry, so many agents full of themselves. My career was built on being real and trying to stay true to myself. The channel was hard going; real estate is not a sexy topic or a trending one!
---
"I attempted to ride a stock 883 to Mount Everest from New Delhi!"
---
My younger brother suddenly died from a heroin overdose and I really spiralled downhill, my second marriage was all but on the rocks. I decided without much thought to grab my drone and GoPro's and thought, "I'm gunna see how far I can ride my brand new 2018 H-D Road King special north from my home in Geelong with stock tyres on it". I vlogged the entire trip! It was a success; I got as far as Weipa and spent 1000s of kays in sand, but persevered through scorching 40-plus degree hot days.
It was a hit and when I started to upload the series it was getting hundreds of thousands of views! I then bought my now ex wife a Harley, a little 48 Sportster and surprised her with that, the vlog went viral with 1.4 million views and still counting. So I discovered that Harley-Davidson was now going to be the subject of vlogging on my channel as it was beginning to grow.
---
"I travelled from Seattle non-stop on a Road King all the way through from Yukon to Dead horse, which is the most Northern part of Alaska you can go…"
---
Some of the other adventures I have been on… I attempted to ride a stock 883 to Mount Everest from New Delhi! This is probably my most watched trip, lost deep in the Himalayas I got within 90km of the summit, eventually chartering a chopper to get to base camp at 20,000 feet! Four weeks later the same pilot crashed the chopper killing himself and all onboard, very sad…
---
---
I travelled from Seattle non-stop on a Road King all the way through from Yukon to Dead horse, which is the most Northern part of Alaska you can go; well into the Arctic Circle. They said…"You can't do it on a Harley… well I just went and did it!" After my brother died I decided to raise some money for men's mental health.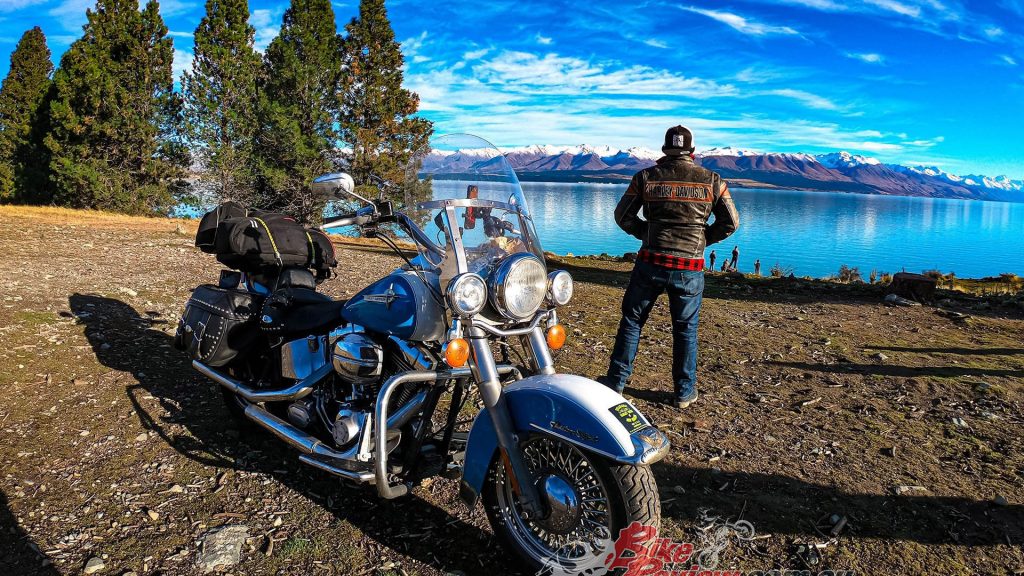 ---
---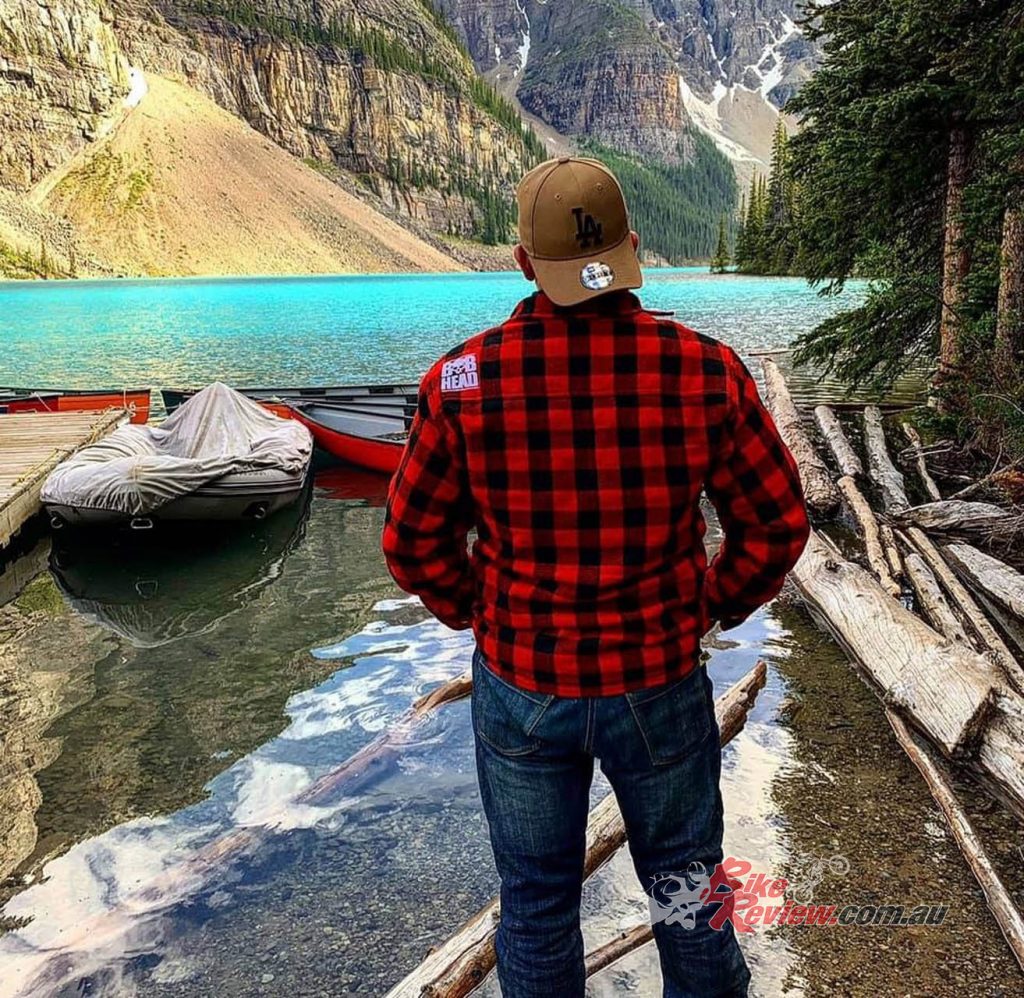 I had a small Honda 125cc (Monkey bike) donated to me by Geelong Harley-Davidson and a real estate board company. I rode non-stop on the Honda Monkey Bike from Geelong across the Nullabor Plain to Perth, then with only 7 hours sleep I rode all the way back. I vlogged the entire trip, it took 11 days and I covered 8500km raising more than $100k in 11 days from my YouTube fan base.
---
"I rode non-stop on the Honda Monkey Bike from Geelong across the Nullabor Plain to Perth, then with only 7 hours sleep I rode all the way back."
---
It was a tough ride and I think I needed spinal surgery at the end! But I came good after a week or so. The top speed I got on the monkey bike was 137km an hour as I was nearly sucked under a truck! But I have to say that the little bike had the guts thrashed out of it and never let me down.
---
---
I've also motovlogged all over Australia, deep into the desert on Harleys, all over New Zealand and extensively through South East Asia. I currently own three bikes, my green Road King Special, which is the bike I use for brutal off road riding fitted with special off road tyres; we had to put a Dyna rear wheel on to make the tyres fit for a recent trip to Cameron Corner on it; it's where Queensland-South Australia-New South Wales connect at one point geographically. It just made all the difference with the new tyres. It's a stage two bike with a full exhaust and cam.
I also have just purchased a brand new CVO Street glide, that's for friendlier Highway cruising, it's also fitted with a stage 2 kit and I am just having fitted a new 21in front wheel. My final bike is the 48 Sportster I bought back off my ex wife and did a full custom on it. I want to take it into the Simpson Desert and climb over Big Red on it, seriously, it's a massive moving sand dune; when restrictions are eased. It has an extended swingarm and upgraded suspension as well as chain drive…
---
---
I think initially people thought I was crazy taking my bikes off road or on the beach, especially a 400kg Road King. But people understand that the undertones of the channel are about perseverance, determination, true adventure, no planning, challenging the status quo. Who says you cannot do that? I like to prove people wrong; people need to stop watching Netflix and start making it! That's what Million Dollar Bogan is all about. Future trips planned are the UK and the US as I want to meet up with some other H-D motovloggers. I plan on riding a lot more!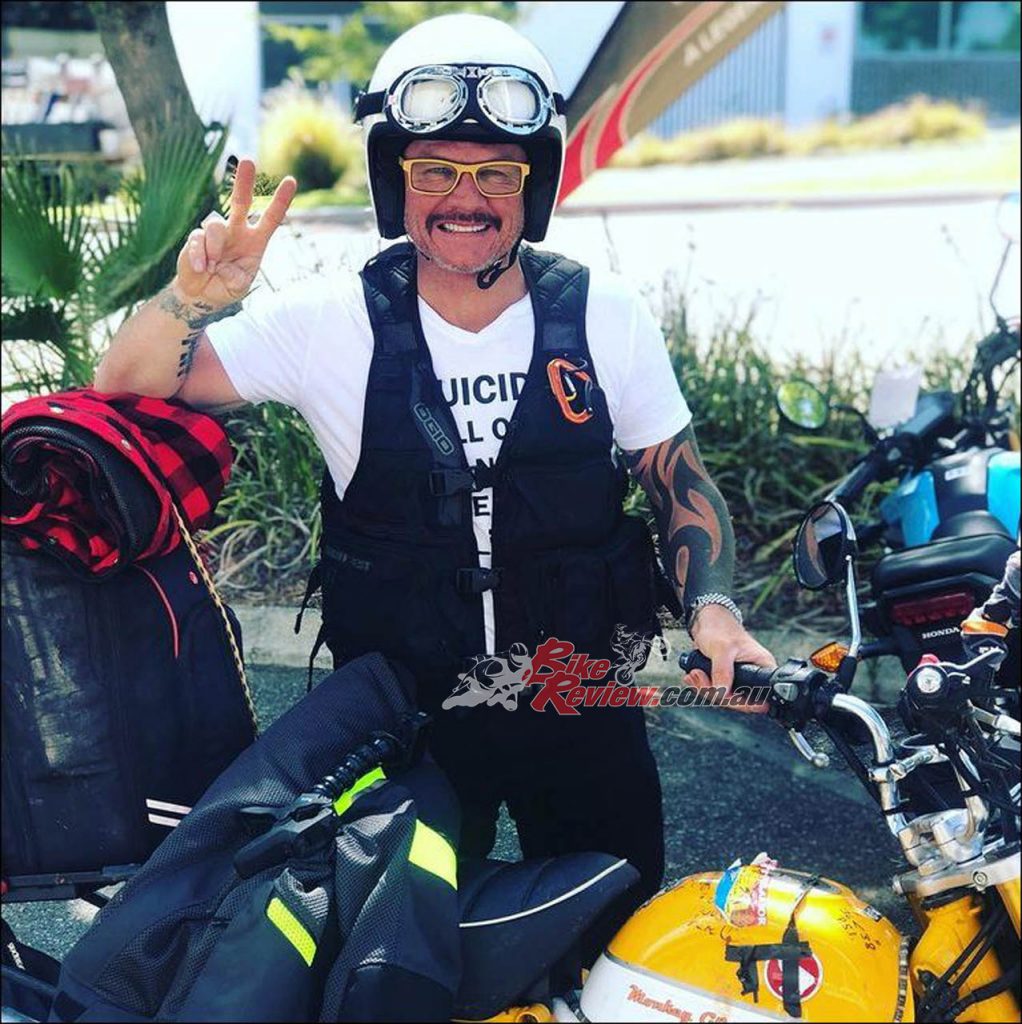 ---
---
And this is MDB's sidekick David Parry…"How he saw things from the start"…
I met Daniel seven years ago but had followed his real estate career for quite some time before that. We met through real estate training within our own business and then become close friends from there. We travelled to America to attend Daniel's wedding. During this time Daniel and I became close and he was able to guide me through attending AA meetings and this is when my sober journey began thanks to Daniels support and his business partner Michelle.
About five years ago Daniel was bringing his Road King over to Tasmania to ride around the Apple Isle, I was intending on being a pillion passenger on the back so I went to the local Harley dealer Richardsons Harley-Davidson to purchase a helmet and a jacket. As it turned out while there I found a bike that I liked quite a lot and decided to purchase it as well.
---
---
We rode around Tasmania and it's just progressed from there. Our next ride was to America where we hired Harleys; we rode through America and Canada all the way to Alaska. The way this trip came about was Daniel called me and said, "Listen, listen, listen, we are going to be riding in America. Flying into LA we then flew to Seattle where we picked up some Harley's and rode up through Canada to the highest point of Alaska. I then asked "Who we were?" Daniel said…"You and me!"
---
---
That was the beginning of the Million Dollar Bogan sidekick. Some of the highlights from the American tour were coming through the Rockies in Canada; my main fear was I was worried because I've never ridden anything so big. I had a little Harley Sportster I purchased many years before but had not ridden too much prior to that. Thankfully I had four hours on Danny's Road King prior to leaving Australia to fine tune my riding skills. However, I was still petrified I would drop the bike in the carpark!
Before we got home to Australia Daniel was already planning the next ride to Uluru (Ayers Rock) which meant I needed my own Harley or a bigger touring one. My first job was to go and buy myself a Road King; I should mention by this stage I had completed my motorbike license and indeed hold a motorbike license now! So now with my brand new Harley Road King special that has never been dropped and never off the road we embark on our trip to Uluru or Ayers Rock prior to the place closing to the public.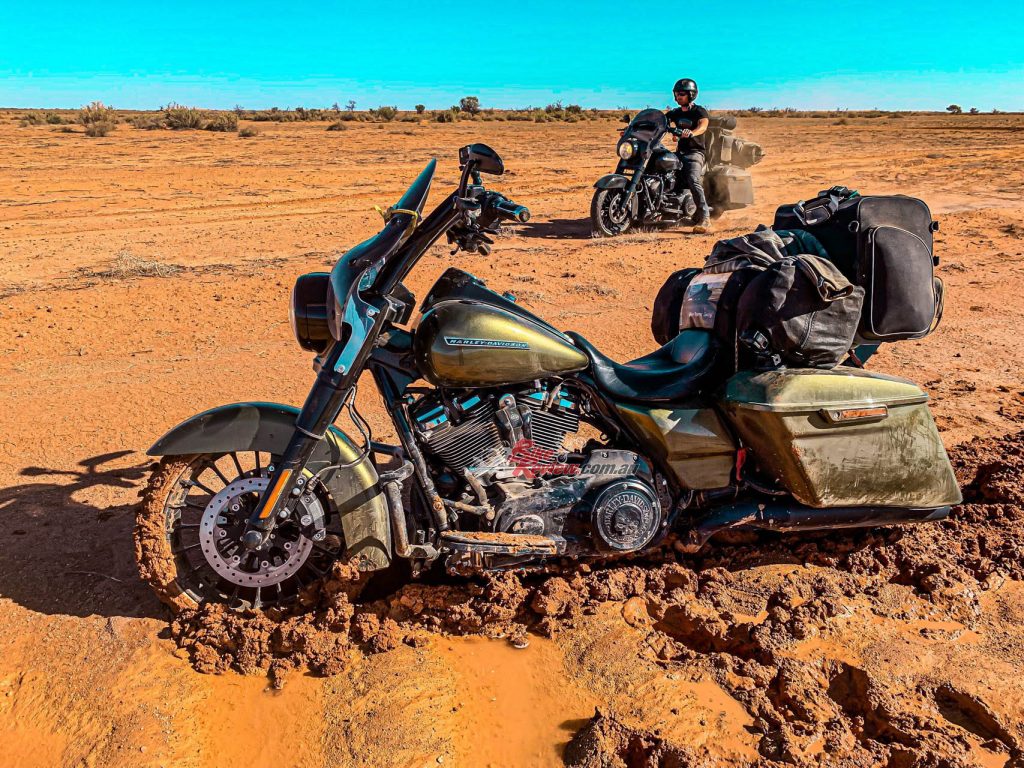 We set off on this trip, I board the spirit of Tasmania and over on the ferry I go, that was probably the last of the bitumen I'd see for this trip. Heading up to the Oodnadatta Track not ever riding a motorbike this big in desert sand, or any other surface really was interesting, nearly coming off several times! Danny breaking bits and pieces having to tow his bike. I think that trip cost him $10,000 in towing to out the back of Alice Springs or Tennant Creek, one of them places. He thought it would be a great idea to Mountain climb the Harley-Davidson. But he tore a hole in the sump, which he had to get repaired in Alice Springs and have welded together again.
---
---
Danny thought riding across the salt plains at Lake Eyre was a great idea until he got bogged and snapped the belt. I had to tow him out with my road king and I thought I'd lost him when he swung wide on the tow rope on a bend and came off his bike… I seriously thought I'd killed him! Anyway, Danny and I got thinking all the way back to Melbourne, it was an interesting time, I'd spoken to the pilot the night before and I could've got flown out of there down to Adelaide, which I could've then flown back to Tasmania, but my wife said "stick it out"… so I did!
---
The next trip was the monkey bike ride across the Nullarbor, Danny's sensational idea of riding a 125cc Honda motorcycle across the Nullarbor Plain. This time he was raising funds for Movember to prevent men's suicide as his brother took his own life about three years ago, this is something close to Daniel's heart and he asked me to attend this. However, I couldn't due to work commitments; Danny offered to wait in Adelaide so I could join the tour. This meant buying a bike and getting it freighted from Melbourne to Adelaide to join the tour.
---
---
This was a difficult tour as temperatures were in the 40s but it was fantastic to meet so many people and get as much support as we did along the way. I think Danny is the highest fundraiser in Australia for men's mental health and currently ranked number three in the world; $100,000 was a number that he plucked out of the air and did raise that amount! This was a great tour, within five minutes Danny had me trying to do burnouts and monos on my brand new little Honda.
---
I actually tried a wheelstand and flipped it smashing the back guard off it. The average speed of these bikes is about 90km/h, but behind a truck with the tailwind you can get up to between 110 to 120 kays. I only rode over to Perth, but Danny went to Perth and back; I had to fly back for work commitments. Our most recent ride was around Tasmania, it's currently being released.
---
---
You can subscribe to Million Dollar Bogan on YouTube or follow him on Facebook and check it out. Stay tuned as there's more upcoming trips… coming soon, Dave!
---