McLeod's Accessories have hooked us up with the updated 6D ATS-1R helmet, check out Zane's first impressions of the new lid. Check back in soon for a full review...
It's always an exciting day when new gear rocks up. It doesn't matter if its a pair of socks or a whole new kit, it always feels like Christmas. McLeod's sorted me out with a new 6D ATS-1R Lid, my first from the brand, and first impressions are all positive…
Since I started riding, I've been pretty loyal to AGV and Shark when it comes to lids. I've got quite the collection but for the past year I've only been wearing my AGV K3 S-V since it's so comfortable. It has seen plenty of road tests, track days and it has even been my choice for when I take my go-kart out.
---
Check out our product reviews here…
---
It's about time a new contender entered my personal helmet rotation and the 6D ATS-1R has already impressed me. Unboxing it, I was welcomed with quality packaging, three visors (including the clear one that comes on the helmet) and a Pinlock system.
---
---
Pulling it out of the box and the ATS-1R is secured by a zip up back instead of a conventional cloth helmet bag, this properly protects your lid from any bumps or scratches when storing/transporting it. Unzipping the bag and I'm greeted with a solid black colour, changing it up from my usual eccentric colour scheme choice. The solid gloss black colour scheme works well to show off the carbon-fibre outer shell, subtle in the dark but looks great when the sun hits it.
---
---
First course of action is getting rid of that clear visor, my refusal to look up the instructions proved handy as it showed that the visor couldn't be removed by accident or pressure. After searching up how to properly do it, a latch on each side pops the visor straight out. McLeod's sent me a choice between a Dark Smoke (anti-scratch and anti-fog) and Light Smoke (just anti-scratch but Pinlock ready) and of course I went for the darker one!
---
---
Throwing the lid on for the first time and it's pretty roomy inside. My long nose has plenty of space, my cheeks sit comfortably against the padding with my usual XL size and my glasses don't feel like they're digging in at all!
Under the chin is a small fabric guard with some elasticity that tucks in well to properly seal off your head in its own cockpit. I haven't had a lid like this before and I never realised how much a difference it makes in terms of comfort and protection from the elements.
---
---
The helmet itself is relatively light, weighing in at 1640 grams, it's definitely not one of the lightest on the market or in my collection but it doesn't feel heavy on my head at all. In terms of visibility, its fine for the road and we will see how it goes on track in full tuck.
Other features include a conventional double d ring strap, plenty of vents to help your head stay cool and an emergency release system which seems to be an industry standard across all lids now. I'm looking forward to putting it to the test with my daily riding soon, check back in a few months for a full review of the 6D ATS-1R helmet!
---

Tech Talk
The brand name name "6D" is a reference to the engineering term 6 Degrees of Freedom, which refers to the ability to move three dimensionally on the X,Y and Z axis, including rotation about each axis. The Omni-Directional Suspension system utilises this term to maximise its ability to absorb and mitigate energy. Read further into their Omni-Directional Suspension system here.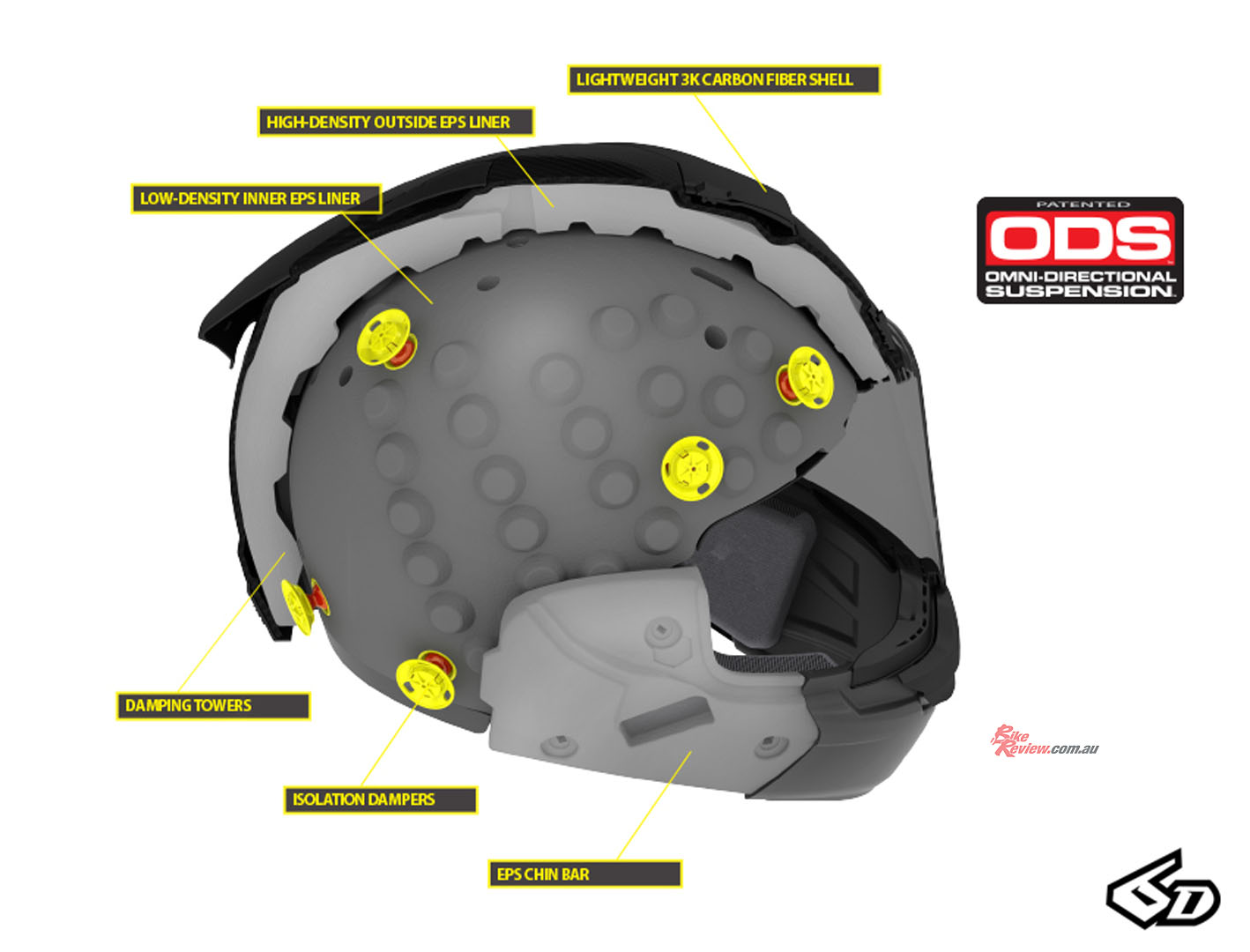 This impact system is improved over the last model ATS-1R, with the new design taking heavy inspiration from the ATR-2 motocross helmet. For 2022, 6D have shed 200 grams off the total weight with the new lid weighing in at 1560 grams (medium).
For comfort, they've redesigned the shield base plates for an improved feeling and seal.  The fitment as a whole has been improved thanks to a larger shell opening and cheek pad shape, combined with a new chin curtain and neck cuff. The internal breath guard directs fresh air up the inside of the shield, while exhausting breath down and out to reduce fogging.
---
---
6D know not everyone's head is the shape, so they have multiple pad options available to help you feel comfortable. All of these features are wrapped up neatly in a 3K carbon fibre shell with three visor options: clear, light smoke and dark smoke. All of which are VESC-8 certified and anti-scratch. A clear Pinlock 120 anti-fog insert is also included. 
The 6D ATS-1R is available now at your local motorcycle store or through McLeod's Accessories for an RRP of $999.95 in a choice of gloss black, matte black, gloss silver, grey and gloss white.
---