Balls-out racing at the famous Cemetary Circuit, NZ. Words: Rennie Scaysbrook Photography: Andrew Gosling
The one-day Wanganui Cemetery Circuit event is unlike any street race in the world, even the Isle of Man. It's tiny 1.6 kilometers are crammed into nine hair-raising corners, with train lines, gutters, pot holes and man hole covers all waiting to catch you out.
On a Superbike you're nudging just on 200km/h down the back straight before you brake hard for the train lines. On a Supersport machine you're nudging about 190km/h. It's an intense lap, one that takes about 50 seconds if you're really on it, with around 13,000 screaming Kiwis training 26,000 pair of eyes on your every move, separated from bikes on redline by water barriers and thick chicken wire.
Those super-dedicated in the crowd spend Christmas night camping amongst the tombstones around Robert Holden Corner, getting on the sauce and enjoying what could only be described as a ghastly camping experience before the first bikes take to the track at 9:00am the following morning.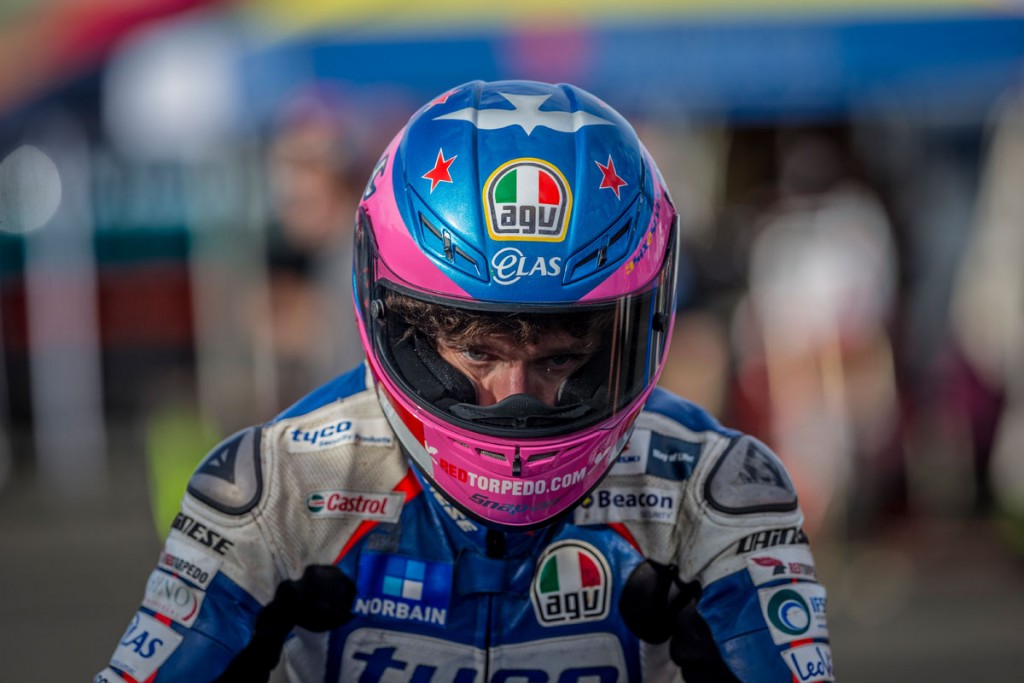 Racing here makes going to Phillip Island look like a picnic.
Now part of the Suzuki New Zealand Tri-Series, this race was formally known as one half of the Battle of the Streets series with the equally frightening Paeroa street track in the north of the country. But since joining the Tri-Series a few years back, the event's profile has grown to such a level that everyone's favourite sideburns, those of Guy Martin, returned for a second year running on a locally prepared Suzuki GSX-R1000.
He was joined by fellow TT hero, World Endurance and Macau Grand Prix rider Horst Saiger (who took out the 2014 Tri-Series), Aussie father and daughter duo Sophie and Phil Lovett, Japanese star Kishimoto Yoshi, Isle of Man Manx Grand Prix newcomer lap record holder Billy Redmayne and internationally renowned female racer Maria Costello. Oh, and I had a crack, too…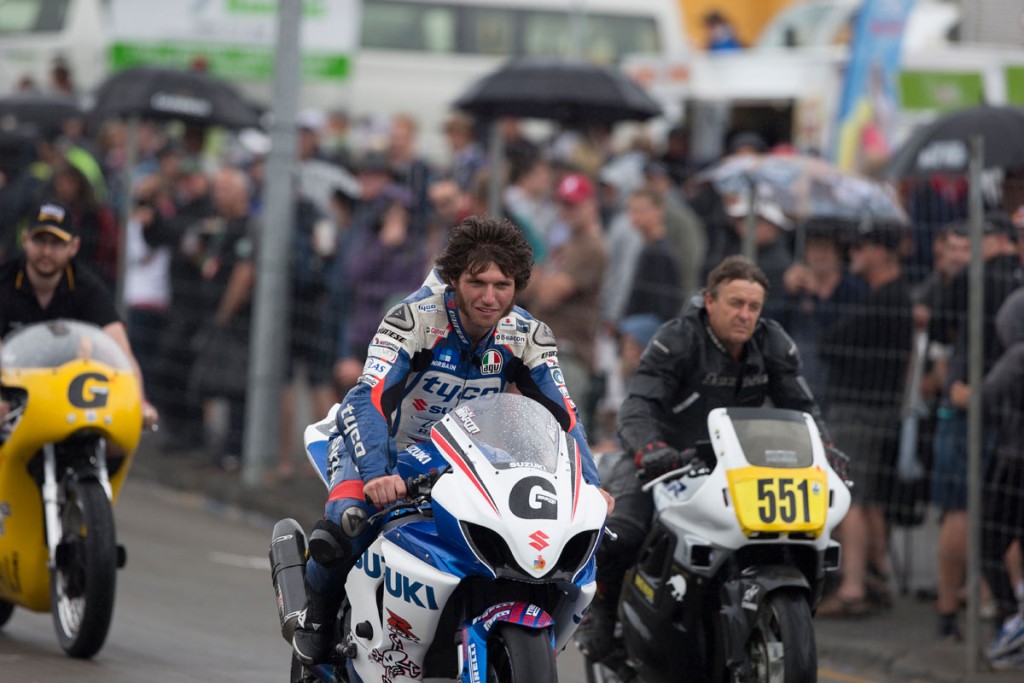 These internationals were joined by some of the fastest riders NZ had to offer, including the redoubtable Tony Rees, who took out the premier Robert Holden Memorial feature race on his Honda CBR1000RR. Jayden Carrick, Dennis Chartlett, Scott Moir and Sloan Frost also pitched in to make sure the internationals didn't take their famous trophy.
And as far as a variety of racing machines go, the only place you're likely to find better would be Pikes Peak in Colorado. The headline act is obviously the 1000cc Superbikes (F1) and 600cc Supersport (F2) machines, but there's also the tinkerer's paradise that is the F3 category (picture home-built chassis, four-cylinder 600cc CBRs with one cylinder killed to turn it into a triple, Grand Prix 250s and Moto3 machines – you name it).
On top of that you've got Classics like the Manx Norton and G50 Matchless, Pre-89 Post Classic for bikes like the Kawasaki ZXR750 and Suzuki GSX-R750, BEARS (British European American Racing Series) for Aprilia RSV4s, BMW S 1000 RRs and a plethora of Ducatis, Supermoto and Sidecars.
The tight, fast, heavy braking nature of the course means the laptimes across many of the classes are ultra close. Indeed, four F2 machines qualified for the Robert Holden Memorial feature race that is reserved for the top 20 fastest riders across every class.
For event promoter Allan Willacy, the Cemetery Circuit is the one that takes up, "Roughly 95 per cent of my time". Willacy is the only full-time administrative professional in New Zealand racing, and while the Tri-Series is made up of three races (round one being Hampton Downs in Auckland, with round two a couple of weeks later at Manfield near Fielding); the undertaking that is the Cemetery Circuit is nothing short of staggering.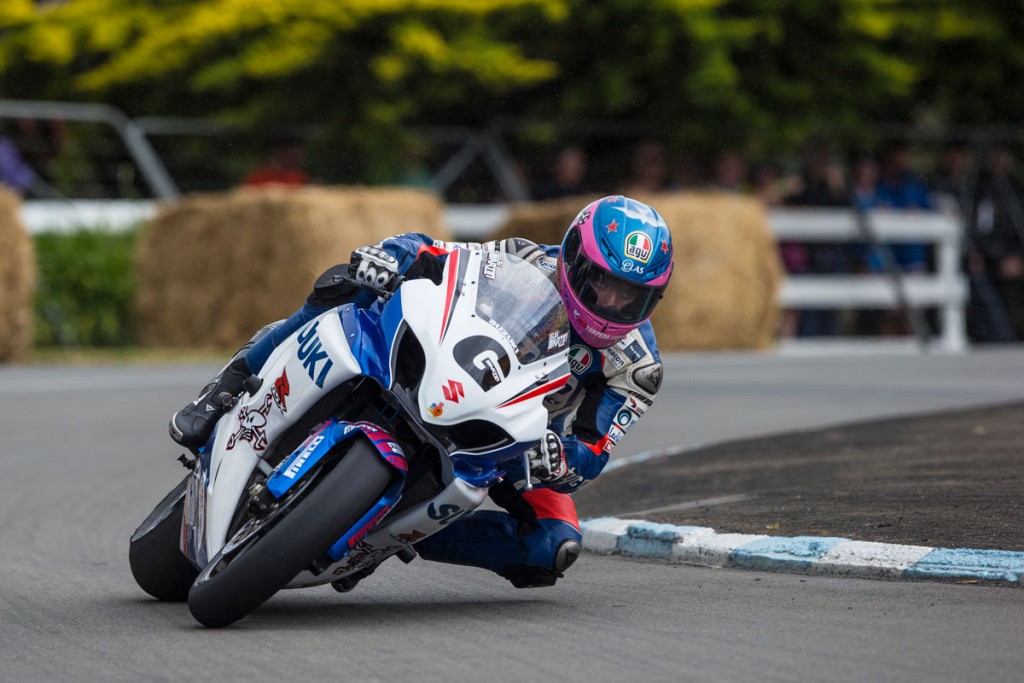 "It takes about a week to get the track up and running and it can't take any more than that because the locals need the road as well," Willacy begins. "We have a real community spirit behind the event as local businesses pitch in to help get the track constructed and pulled down – there's barriers, hay bales, fencing… and it all gets cleared before the sun comes up the day after the race. But the event is excellent for the town – it's by far the biggest sporting event we have and it brings in over NZ$1.4m to the local economy.
"I think a lot of that has to do with clever marketing and having a company like Suzuki behind us, and having someone like Guy Martin come over for a second year has lifted the profile of the event internationally, which has in turn seen more people locally turn up – it's a win-win."
Martin agrees, having enjoyed his time at Wanganui in 2013 so much he came back for another crack, this time bringing his Dad along as company.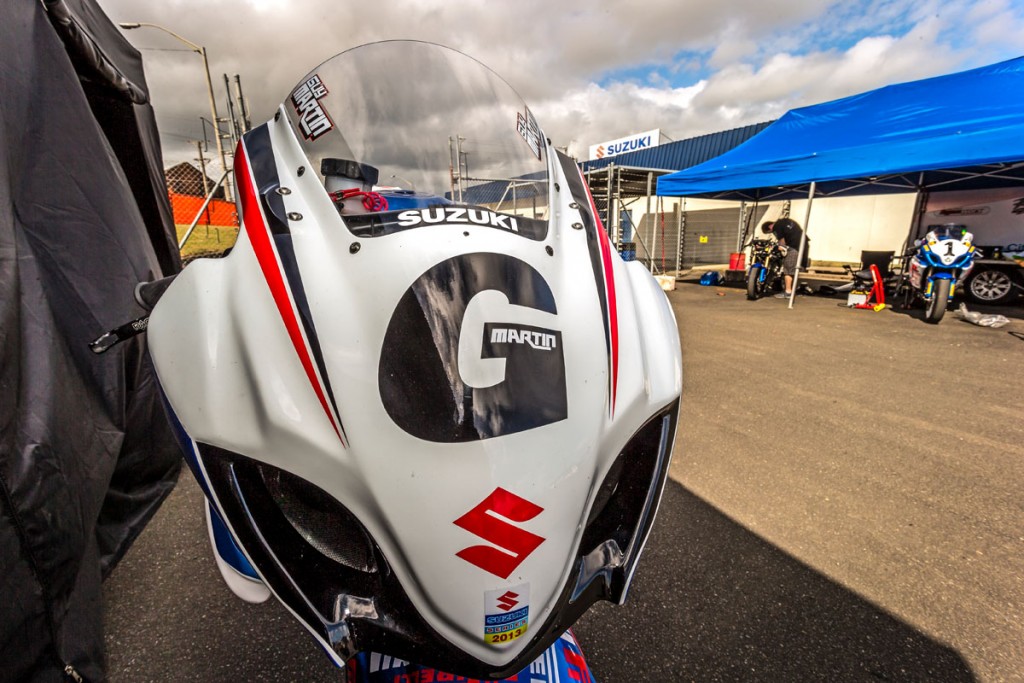 "I won a couple of classic races, the big bike result was shit, but I enjoyed this year every bit as much as I did in 2013," Martin says. "It gets me away from work! I'd be back working on the truck on Christmas Day if I wasn't here. I get a chance to ride me bike somewhere different, plus I got me Dad here because I never see him when I'm at home, even though he's only down the road.
"This event has the same feel to it as an Irish national street race, not an international like the North West 200 – those a proper series. This event is a bit of craic and banter, nothing too serious, a few beers at the end of the race – I like that."
It mightn't seem too serious for someone with the international pedigree of Martin, but for the locals this event is one of the jewels in the NZ racing crown. That fact is not lost on 2014 F2 (Supersport) Tri-Series champion Toby Summers. The Brit, who now calls Auckland home, made a name for himself by decimating the best Supermoto riders in the country before turning his attention a Yamaha YZF-R6.
"This is an iconic event in its own right – there's not many places you can street race and certainly not on this side of the world," Summers says. "There's such history behind the event, when you see pictures of the guys racing here from the '50s it really hammers home just how big this race is for New Zealanders. But we also have the Paeroa, Nelson, Greymouth street events – they're all fricken fast and dangerous (laughs), and compared to the road tracks we have in NZ, which are for the most part quite tight and technical, the street races make for a good contrast.
"This event is one of my favourites though, but it is bloody dangerous. If you take it for granted you'll end up in the bayles. There's nowhere else in the world, I think, where you can race motorcycles on the street on Boxing Day. Have Christmas on the beach, then go race motorcycles – it's pretty cool."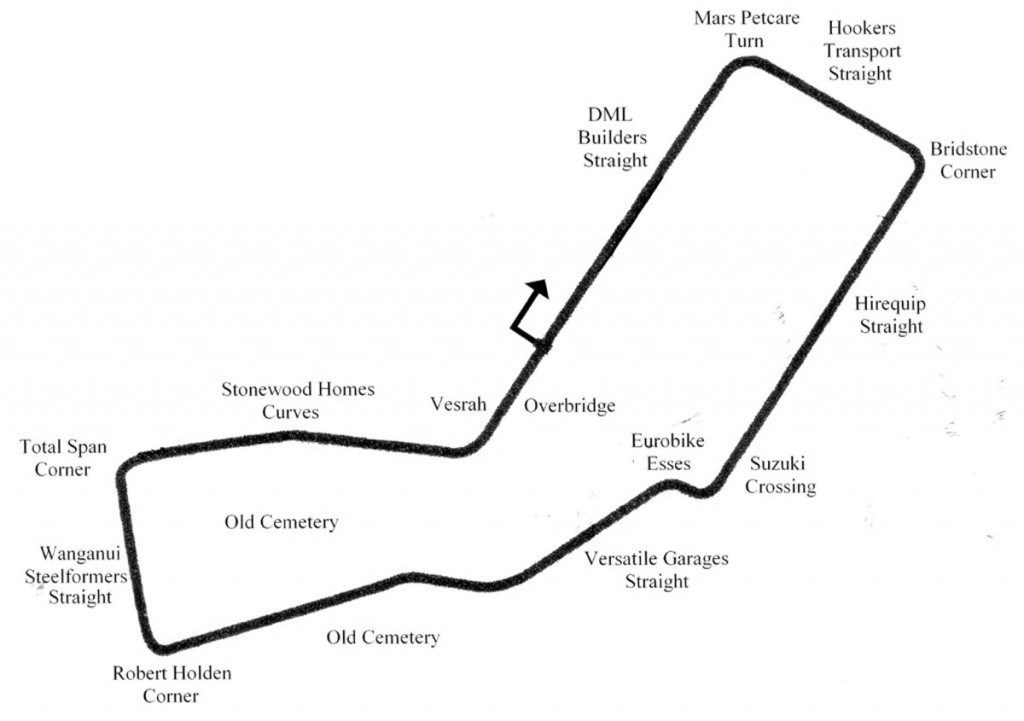 THE CIRCUIT
1.6km. Nine corners. Gutters, pot holes, train lines. Full gas, full brake, full gas. No chance for a rest. It's no wonder the Cemetery Circuit isn't for everyone. But for those that do race it, it's a buzz unlike any other.
You start of Ridgeway St, an off-cambered downhill approach to turn one at Wilson St. Getting a good start is critical as passing opportunities are minimal and everyone is out for blood the second that red light goes out. Through the 90-degree, right hander, down a short straight to another 90-degree right and onto the back straight of Taupo Quay.
If you're lucky you'll nab fourth gear for a split second before hitting the brakes, down one gear and over the flip-flop of the train lines at Heads Rd. From here you're full gas again as you throw the machine into the right-left kink of the Heads Road Cemetery, one of the oldest European burial grounds in New Zealand.
Another short straight sees you pop out from the trees and into one of the best passing places of the whole track at the 90-degree right of Robert Holden Corner and up Guyton St. Yet another 90-deree right sees you fire your machine hard up the hill of Ridgeway St, the road becoming evermore off camber before plunging hard left back down the start and finish straight.
If you did it properly and you were on a 1000cc Superbike, you'd have got round in about 49-seconds. And before you've even had a chance to get your breath, you're back onto Wilson St for the next crack. This is intensity at its best.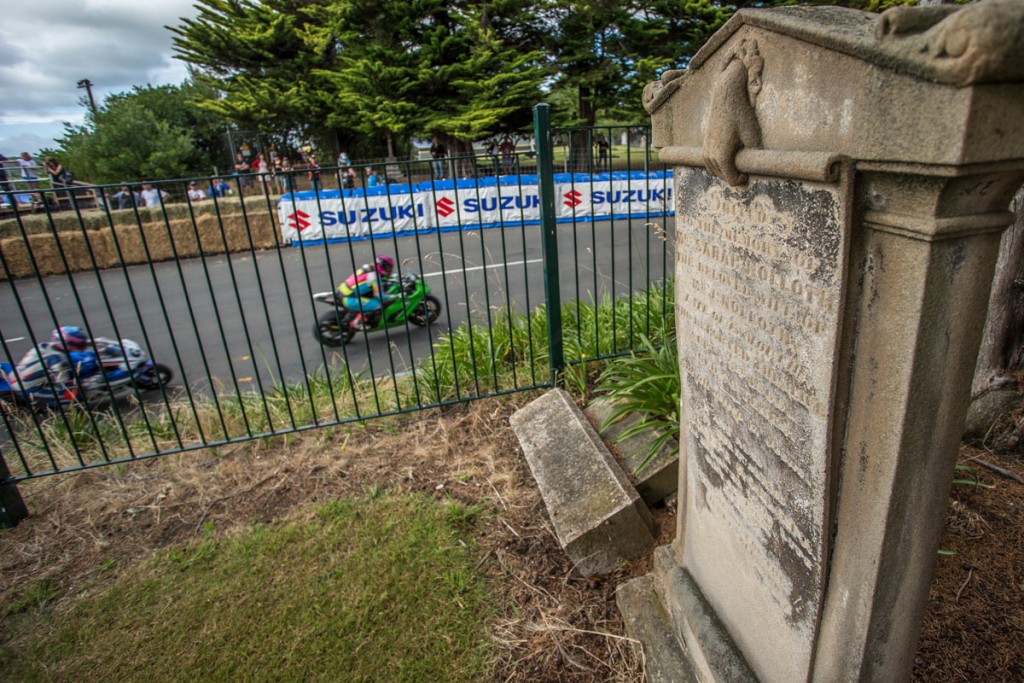 THE GREATS OF WANGANUI
To win at Wanganui is to put your name up there with the best in New Zealand racing. Andrew Stroud, Ginger Molloy, Hugh Anderson, Aaron Slight, Bruce Anstey, they've all won the big one at Wanganui. Australia has its own share of Cemetery Circuit history, with Daniel Stauffer being the first rookie in 40 years to take out the feature race when he did so in 2010 – he also backed it up with another win in 2011. Other Aussies to win include the late Len Willing and the late Gregg Hansford.
For the Americans, the man at Wanganui has always been Pat Hennen. A three-time winner at the track, Hennen is a firm Wanganui legend and made an emotional return to the venue to witness the 60-year anniversary of the track back in 2012.
But the man at Wanganui has, and always will be, Robert Holden. The rider who was tragically killed at the Isle of Man TT in 1996 won at this venue no less than 47 times. He also took 22 second and 22 third places. You'll struggle to find any rider, on any circuit in the world, to match those kind of numbers.
For this year's winner of the Robert Holden Memorial, Tony Rees, it was his fourth time over 24 years atop the Wanganui podium and his first win since 2001 on a Yamaha YZF-R1. The emotion of a man with huge respect for the name on the trophy was evident in the aftermath of the feature race.
"It's fantastic, I'm so wrapped! It has been a while and it means a lot. Robert got all my rides in Europe for me. It was a year after he died the team rang me, so it was because of him I got those rides," Tony said.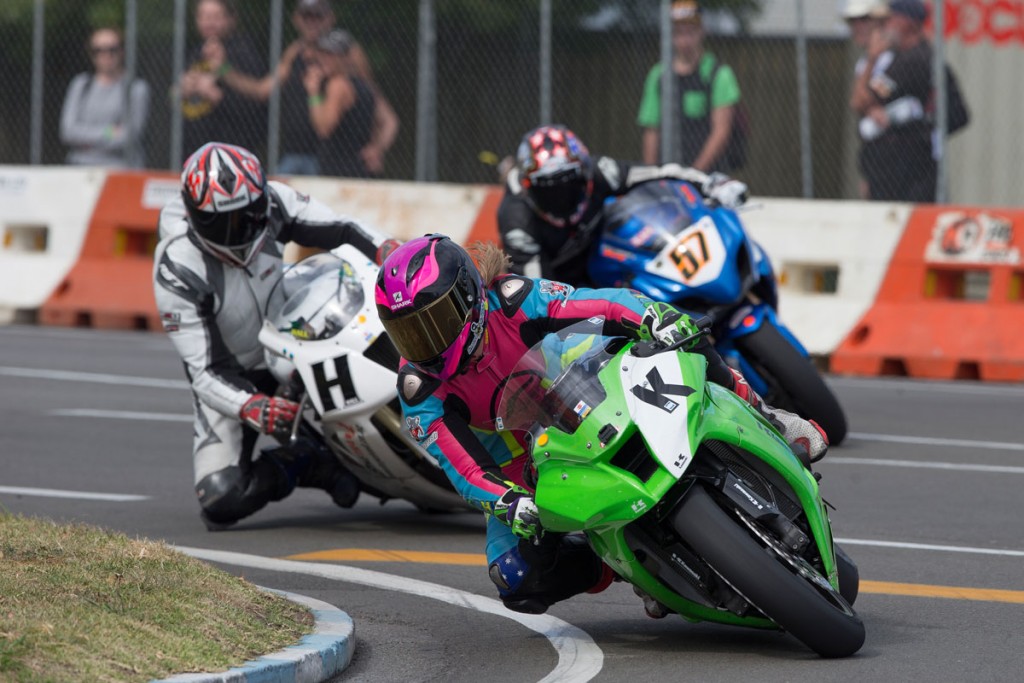 THE RACE
It had been two years since my last encounter at Wanganui, where I managed to take 7-6 results in a standard 2011 Suzuki GSX-R600. So this year I was feeling confident of a top five result. My ride for this year was an older 2006 GSX-R600, one that needed a bit of massaging to get it into racing shape. Two days prior to the race was spent working on it, and the morning of the race, I was in the pits at 5:30am fitting the hlins rear shock that turned up just in the nick of time.
However, any hopes I had of a top five result were dashed after two laps of practice.
Just getting ready to set a flier, the front brakes decided to take a Christmas break. The lever came right back to the 'bars entering turn one, and that session was over and done with before it began. Standard brake lines were the cause, and with no spares, I wasn't sure if I was going to be able to race.
But then just as all hope seemed lost, Suzuki New Zealand General Manager Simon Meade came to rescue with a whole front brake system (calipers, master-cylinder, pads, lines) off a 2015 GSX-R600. Happy days!Until those ones failed after four laps…
By now I was getting a real appreciation for just how hard on brakes this place really is. And about how much damage I could cause myself and others with no brakes.
Finally I was able to secure another set of calipers, pads, etc, but this time with a proper set of racing braided lines from young F3 hotshot Daniel Mettam, and I was back in the game. I'd qualified a lowly 13th thanks to the minimal track time, and for race one got an average start that saw me jump two spots to be in 11th but then stuck behind some slower riders who made it all but impossible to pass. I did manage a quick slip up the inside at turn one to get myself into the top 10, and that's where I finished.
I'd bitched out in race one. Got too scared, didn't get the knives out in turn one, got boxed and subsequently left for dead. That would not pass for race two, oh no…
For race two, I pulled the start of my life. I went from 13th to fifth into turn one, and this time I was going to hang on. By the end of lap two I was holding the pace of the leaders until the race was stopped with the fourth place rider crashed out.That meant I had to do it all again. And I did!
Up to fifth again from 13th, but coming down the back straight for the first time, my bike lost all power. I went from fifth to 14th in the blink of an eye. I was creaming at myself. I've never been so pissed off. So I thought, "Screw it, I'm going for it."
Channeling my inner Marquez, over the next five laps, I passed eight riders to finish seventh in the race. Catch/pass, catch/pass, catch/pass. Why didn't I ride like this in race one!?
I came in disappointed with the result but happy in how I rode. I was also happy I didn't end up in the cemetery or making friends with a gutter somewhere.
Regardless, it was a good end to a stressful yet ultimately bloody enjoyable day's racing. I have to thanks Suzuki New Zealand for giving me a bike to ride, Allan Willacy for the entry and accommodation, and Ray Clee, Daniel Mettam and their pit crew for constantly helping me over the day's racing.
I'm already planning on how I'm going to get back there next year.