Review: 2016 KTM 1290 Super Adventure
The KTM 1290 Super Adventure is the ultimate tourer for Australian conditions and any roads, here's our review... Test: Richard Collins Photography: Heather Ware
This go anywhere bike, built around the fabulous LC8 power plant, is as sophisticated as many superbikes, with some goodies and controls thrown in to provide on the fly adjustments to suit prevailing conditions.
If your thing is a tall bike, long distance touring, off road fun and even tight twisties, then this is your bike.  With 160hp and 140Nm of torque on tap, it is a recipe for fun… 

I was a bit daunted at first sight as the KTM is way taller and bigger overall than anything I have ever ridden in my years testing for Jeff. I swung my leg over it and felt like I was on tiptoes.
Weighing in at 229kg plus 30L of fuel it felt a bit awkward at standstill. All good though, after the short ride back to the shed. I actually read the manual and easily adjusted the seat height from 875mm to its minimum of 860mm.
This transformed the feel of the bike and if you are going for a test ride, make sure the seat height is adjusted to suit you, otherwise you may be put off.
My test was over 3500km on all sorts of roads, so it is not an around the block review. As it was a road trip, the bike was fitted with road tyres, which performed extremely well in the dry and in the wet in combination with the ABS and traction control fitted as stock.
The first part of the trip was on a dreaded parking lot road, which showed up two things. This will never be a lane splitting bike, but then it is designed for open and off road riding. It may have been an adjustment needed, but it would only go into neutral about one in 20 stops.
When the engine was not running, it would find neutral. Sounds like a bent selector fork or similar. Fortunately the clutch is extremely light to overcome this, but the engine off/on was my way to save the clutch. Something for KTM to fix when they get the bike back.
The next phase of the trip/test was on the freeway for about four hours and this is one place the bike excelled. The ergonomics are brilliant and on this particular day it was extremely cold. Enter some cool things.
The on the fly, manually adjustable windscreen height was cranked to maximum, reducing the chilling wind and buffeting. Big handguards kept the wind off my hands and the grips are heated with three selectable levels that were used extensively when up in the cold high country.  All makes an amazing difference.
Now freeways are boring at the best of times and my throttle hand can get sore due to lack of movement. Cool thing number three – cruise control, which is activated at the press of a button and adjusted up or down to suit. It "hunted" up and down by 1km/h, but if you were not looking at the speedo you would not know. This thing carves up the kilometers in comfort, which includes heated rider and pillion seats if it gets that cold!
Next we were off to the twisties through the forests in conditions ranging from dry, through damp to pouring with rain.

Even though it is a big bike, don't be daunted by the size as it is surprisingly nimble and is very much at home in the tight twisties where the smooth torque has it hauling out of corners. One thing I did not notice is that the guys following on sportsbikes said they were hanging off their bikes while I was sitting pretty much upright at the same pace. I had no need to hang off whatsoever.
The gearbox is amazingly slick going up through the gears and acceleration is intense, but you would expect that from a 1301cc V twin, however down-shifting needed a firm press on the lever, then a deliberate release before selecting the next gear down. Maybe that is related to the neutral issue.
Particularly in the corners a few goodies came into play, with the slipper clutch working seamlessly as lower gears were grabbed, then traction control coming into play for really aggressive acceleration out of the corners. It also has lean angle sensitive ABS, semi active White Power suspension that is brilliant and Brembo brakes, but more on that in the tech breakout.
Being such a big bike, side winds have quite an effect on it, but simply leaning into the wind it remained extremely stable.
The bike has some really nice features, apart from electronics and controls covered in the breakout, most of which can be adjusted on the fly.
It has a centre-stand, which is great for maintenance, such as chain lubing and adjustment, or for tyre repairs in the back of beyond. The bike has factory fitted mounting points for a tank bag, panniers and top box. These are optional extras, however none of the mounts looked out of place and the top box area provided plenty of space for a conventional bag.
The seat is super comfortable and no need for standing up or leg stretching and that was over the full 3500km-plus trip.
At night the lean angle sensitive driving lights are a plus. The system detects lean angle, obviously in corners, and illuminates the appropriate light to provide extra light, rather than relying on the headlight, as with most bikes, which will be pointing somewhere else.
While the bars are relatively wide, one of the contributing factors to no lane splitting, they are really comfortable and combined with a light throttle (ride by wire) no arm ache was experienced at all.
The engine is also remarkably tolerant of being in a tall gear, with the bike accelerating smoothly, without bogging or chugging from the V-twin, from quite low revs.
Bottom line, if upright and multi-purpose, multi-road is your desire, combined with comfort and performance, then this is a great bike. Even if multi-road, as in off road is not on your list, this Super Adventure is a great ride and rideable for hours and hours.
When you look at the capacity, finish, performance and rider/engine aids, it is a lot of bike for the money. It is one of those bikes where you could jump on it and ride around Australia with absolute confidence.
Styling is always a personal thing and for a bike designed to be an enduro, styling will always be a challenge when trying to incorporate all the requirements such as engine and sump guards. KTM have done a great job as the bike does have style, particularly with the trellis frame.
The only thing I found unattractive was the whopping cover over the tank, which is probably why it is so big. Maybe if it were a different colour it would blend in better. Just a personal thing that others may well like.
Currently there is a promotion that includes Akrapovic slip on and Power Parts Pannier, total value $3,200, thrown in, which makes the package even better value.
TECH TALK
The KTM 1290 Super Adventure is packed with go safer, go faster and comfort controls. These are not in any particular order and are listed with comments about them. Starting on the right handlebar controls.
Fly by wire throttle: this obviates the need for cables down to the throttle-bodies and from a rider's perspective makes it quite light, but not so light that you lose the feel, and allows the ECU to override the rider for the various maps and modes and TC. This controls the 160hp, 140Nm engine, with 108Nm available at 2,500rpm by allowing the ECU full control over the throttle butterflies.
Staying on the right handlebar, there is the brilliant inclusion of cruise control, which accurately controls speed and strain on the right hand. Not only does it save the hand, it saved me a few times from having an expensive trip, as the engine is so tractable it is easy creep well above the speed limit. Activation is a two-step process, I guess for safety reasons. Step one is arming it, then step two is setting it and thereafter up/down rocker switches allow you to adjust the set speed.
Moving to the left controls, there are the normal indicator and headlight controls, and then there is a second switch set that control everything else to allow you to customize the ride. This switch set is linked to a LCD panel to the left of the combination analog tachometer and digital speedometer.
The switches and menu structure that allow you to scroll through settings and information are really simple to use. I had read what was available, but had not read how, so it was simple to work out.
One nice feature is a menu screen that shows front and rear tyre pressures, which also activates a visual alarm if either are out of spec.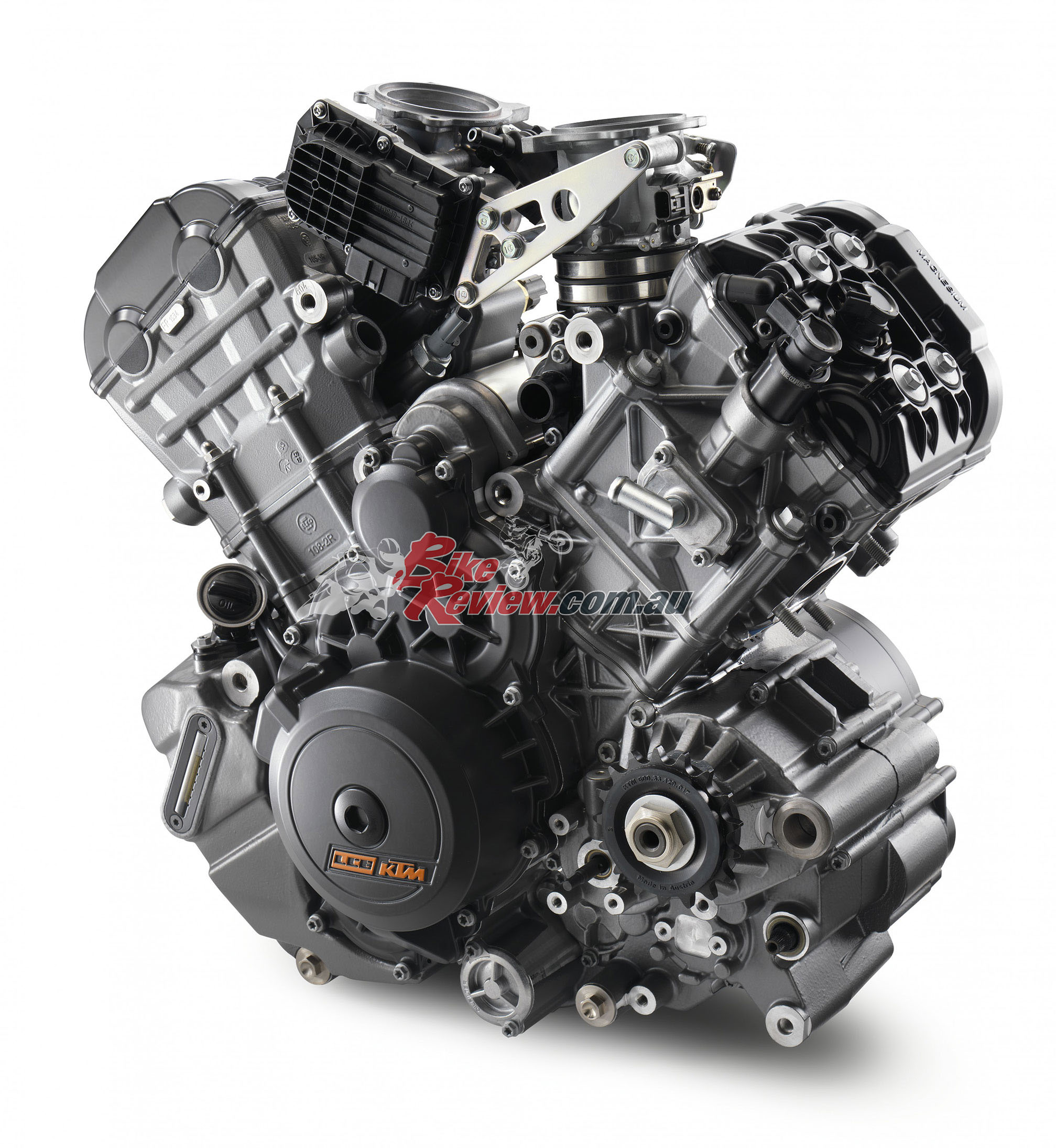 On the suspension screen there are four options, being Comfort, Sport, Street and Off road, which are linked to the White Power semi-active suspension that continually adjust the damping depending upon prevailing road conditions and riding style. I did not get a chance to test Off road, but with the rapidly changing road conditions this was my default screen so I could flick between each in a moment.
There are some linked functions in what KTM refer to as Motorcycle Stability Control. This is a lean angle sensitive ABS and traction control system, that also links into the ride (engine performance) mode selected. This system also applies rear braking upon use of the front brake. There is a dedicated Off road mode that allows front wheel slippage and rear wheel lockup, but you can also disable ABS completely for really self-controlled aggressive riding.
On the ride mode screen you have a choice of Street, Sport, Rain and Off road, where Street and Sport gives you the full 160hp and the others limited to 100hp. These modes also control the amount of slippage for traction control, with soft slippage in Street, controlled spin in Sport and 100 per cent slippage for Off road. Traction control can be disabled if you want to go it alone. While I tried each of the road modes, I found Street to suit my style, even in the wet. Wet was just too soft for my style, but would have its place though.
A final cool thing I found by finally reading the manual is that it has hill start control, where it will keep some pressure on the brakes, after you have released them, until the bike starts to move. Very handy instead of controlling the throttle, clutch and brake all at the same type, particularly on steep inclines.

SPECIFICATIONS: 2016 KTM 1290 Super Adventure

Price:  $26,995 + ORC
Warranty: Two-year, unlimited kilometre
Claimed power: 118kW[160hp] Claimed torque: 140Nm
Dry weight: 229kg
Fuel capacity: 30L
Engine: Liquid-cooled, DOHC, V-twin 75-degree, four-stroke, 1301cc, 108 x 71mm bore x stroke, Keihin EMS & RbW, twin ignition, ride modes
Gearbox: Six-speed
Clutch: PASC slipper clutch, hydraulic
Chassis: Chromium-Molybdenum steel trellis frame powder coated
Suspension: 48mm WP front forks, Semi Active, 200mm travel, WP rear shock, Semi Active, 200mm travel
Brakes: Bosch 9ME combined ABS, dual 320mm front rotors, four-piston Brembo calipers, single 267mm rear caliper, two-piston Brembo caliper
Wheels & Tyres: 19in front, 17in rear airtight rim bed spoked wheels, 120/70-19, 170/60-18
Dimensions:
Wheelbase: 1560mm
Seat height: 860-875mm
Rake: 64 degrees
Trail: 120mm
Ground Clearance: 220mm
Instruments: VDO multi-function display
The Verdict | Review: 2016 KTM 1290 Super Adventure