After riding the 650MT for a year, we sent Nick to the Aussie launch of the new CFMOTO 800MT to see how it stands up in the competitive adventure segment... Photography: FSTYLE Photo
The mixture of nervousness and excitement sat better than I had expected over the four-weeks prior to the 2022 CFMOTO 800MT Launch in Melbourne, Australia. The text from Jeff late one evening, while unexpected, was a wicked surprise! Straight away, I was in.
I'd never been to Melbourne, let alone for a ride through 800km of relatively untouched Victorian bushland. I'd never even been on a launch! I replied immediately, "Hell yeah!" with a few more expletives, of course. "You'll be looked after." said Jeff… After a year riding a CFMOTO 650MT, the 800MT was on the bucket list to test, as it will be my next long termer…
---
---
We touched down in Melbourne after what felt like 15 minutes in the air. Having found our luggage on the conveyor belt, we were greeted by an enthusiastic and welcoming Mav from MOJO Motorcycles, who had graciously organised this entire trip for us. As we squeezed into the Dual-Cab Triton, Mav gave us the run-down on the 800km trip we had waiting for us early the next morning. Over a few pints and a beautiful dinner at a local pub, we started to get an idea as to what was in stall for us…
MOJO HQ, in Altona, Victoria, was the starting point for our expedition. We had about a 400-450km ride East out of the city, through Christmas Hills, Yarra Glen, Tarrawarra and Healesville, where we'd then cruise North upwards to Taggerty, Rubicon and Eildon.
We'd stay south overnight in Woods Point (an old mining town, population 34), and head back early the next morning through the picturesque Yarra Ranges National Park. The route was a perfect combination of motorways, open roads, dirt roads and twisties!
---
---
MOJO had the eight CFMOTO 800MT's lined up, ready and waiting, and damn they looked good. The line-up consisted of one fully decked-out adventure model, with all the panniers attached, followed by six standard adventure models and a sports-touring model. The 2022 CFMOTO 800MT looks fantastic and is the up-spec'd big brother to our favourite so far, the 650MT. Judging by the spec sheet and details Mav ran us through prior to leaving, it seems like most of my critiques had been answered.
---
---
The bike looks mean and is aggressively styled, I'm a big fan of the look. It also offers far more in terms of suspension capabilities, a beautiful TFT Bluetooth dash, heated grips, a heated seat, lever protectors, front fog/spotlights, cruise control, a quick-shifter, and a great little 800cc powerhouse of an engine. MOJO had also fitted ALL the bikes with brand-new Pirelli adventure rubber. The bikes looked mean and ready to tackle some serious terrain.
The first 100 or so kilometres were purely motorway as we cruised along the M80 in some serious peak-hour traffic. While this isn't the terrain you'd typically be interested in tackling on the bike, it's something I'd be experiencing A LOT of on the inevitable daily commute.
---
The bike is incredibly smooth at 115-120km/h and makes for a very comfortable commute. The cruise control isn't the easiest of settings to navigate initially, but with a bit of practice and familiarisation with the dash and button layout I had it on and off in a couple of seconds each time.
The controls and switches are fairly well organised in my opinion, I would prefer for a more tactile feel to the standard switches, as it's not always evident via touch if you've switched off the indicators for instance. They're quite stiff, but I'm sure they'd loosen and become more 'clicky' with time.
---
The cruise functionality was much the same as any other and performed well for the few times I used it on the motorway. The rest of the controls are intuitive for me, aside from the heated seats and grips, which take a bit to find in the menu settings.
---
---
The dash is tidy, and a real neat addition to the upcoming CFMOTO line-up. The 7in TFT is crystal clear and an obvious display for all the necessary information when you're out on the road. Navigating the display options is simple and changing maps is fairly intuitive.
I didn't manage to get around to pairing my phone, but I can say, I was getting all Mav's calls through my bike via Bluetooth (which he'd obviously paired prior to the ride) and it was clear and visible. The wireless tyre pressure monitoring is neat too!
Straight line stability is great and the 800cc engine feels rather at home on the open motorway. Being a taller rider, I do struggle with wind buffeting on most bikes, and the design of the front windscreen on the 800MT doesn't seem to serve its purpose particularly well. Where the 650MT has small winglets at the side, the 800MT does not.
This seems to cause a vortex/turbulence effect right in front of the helmet visor and leads to some serious shaking and vibrating at higher speeds, despite the adjustment being maxed out at its highest setting. The big sun-visor on the adventure helmet probably didn't help much, but it is something I'd look at adjusting or upgrading if I were to purchase the bike.
---
---
In terms of comfort and ergonomics, the bike is well suited to a bigger rider, the bar positioning is solid for my long arms and the riding position is quite comfortable. Like the 650MT, I would recommend a set of bar-risers for any standing terrain, just to save your lower back!
---
Check out our 650MT long termer articles here…
---
Lane filtering was a breeze without the panniers, unfortunately, those stuck with the kitted-out model struggled to squeeze between some of the bigger trucks, for us without the panniers, we had no issue darting in and out. 
As we neared the end of the motorway and cruised into some of the tighter, twistier roads I finally got to test out the quick-shifter properly. When it worked, it was quite good. Unfortunately, it didn't work for long, as was the case for the majority of the bikes that left MOJO with us.
---
Whether it was a software/electrical issue or mechanical problem I'm still not sure, but it would phase in and out intermittently, working only upwards sometimes, only downwards sometimes, both ways and then no way. It was strange, and a bit of a shame as it was a neat addition!
As I pushed and did my best at attempting to keep up with Mav and Stu, I really got a sense for how the bike handles the faster, tighter corners. I was pleasantly surprised. At first glance, the big adventure bike doesn't look as though it would be the best of rides through the twisties, but as was the 650MT, it was damn fun. It has the similar 'confidence inspiring' feel to it as the 650MT. The 800MT quickly proved itself that it was capable of anything I was willing to throw at it.
We were moving quickly, and it's a stable and forgiving bike if you come in a little hot to a corner. The adventure tyres get a little sketchy when you're hard on the brakes, I locked up the rear a couple of times and the washy sensation under hard, hard braking was something I just got used to. In all honesty, you wouldn't buy the 800MT to push it that hard on the road, rarely, if ever.
---
---
At points, we hit very high speeds tucked in behind the screen on the straights coming into a corner. It was nice to know that it can take it if ever required or wanted! Over the course of the two days, we spent a lot of time in slow, tight corners. The bike loves it. While the centre-stand does scrape at serious lean angles, it's almost like a gentle warning letting you know this is it, don't go any harder. We managed to shave off the chicken-strips on the rear Pirelli's by day two and it was clear that the bike has plenty of potential when it comes to fast roads. I was, and am, still super impressed.
---
---
"On the road, the 800cc engine is the perfect amount of power for the bike, in my opinion. For me, a 'usable' amount of power is always what I'm looking for. The 800MT is exactly that."
---
On the road, the 800cc engine is the perfect amount of power for the bike. For me, a 'usable' amount of power is always what I'm looking for. The 800MT is exactly that. Every HP it has to offer is attainable in the corners and you can really open it up confidently, knowing you're sapping out everything it has to offer. For me, it's always more fun ringing out every ounce of power from a motorcycle than riding something at half capacity. We all had them pinned for much of the ride, and it was seriously fun. The electric start is faultless and remained that way throughout the entirety of the ride. 
---
---
Despite the quick-shifter issues, the gearbox is sound and holds up well under pressure. I couldn't fault it throughout the ride. The 800MT boasts an electronically controlled throttle, which for the most part is okay. There are a few dead spots in the rpm range we noticed, especially when attempting to get the front wheel of the ground at around 2000-3000rpm. Sometimes I'd have smooth power, sometimes I'd lose almost all before it would cough and splutter for a split second, before kicking back into full power. 
On the tarmac, the brakes are impressive and complement the size and power of the bike nicely. As I've said, we were pushing them pretty damn hard in some of the sections and they remained responsive with similar feel across all temperatures. At the end of the quickest runs, I was still yet to notice any real fade in performance.
---
They were also excellent on the dirt, I wish there was an option to switch off the ABS for the rear, at least. Despite the inability to switch it off, you can still quite easily get the rear to lock up and slide. While this doesn't say a whole lot for the effectiveness of the rear ABS, it makes for some serious fun on the dirt roads.
---
---
On the dirt, I struggled to fault the 800MT. If you're comparing it to the upmarket adventure bikes from manufacturers such as KTM and BMW, there's very few things to complain about. As I always say when it comes to CFMOTO, just look at how much you're paying! The upgraded suspension is a fantastic improvement from the 650MT and makes short work of the gravel fire trails of Victoria.
Both the front and rear use KYB adjustable set-ups, which surprisingly, I didn't mess with at all. Some of the other guys played with a bit of rebound and compression, however for my size and weight, was bang on for the terrain we tackled. Obviously, you'd set this again based on the type of riding you do most, with the KYB setup, you've got a lot of options to chose from since it's fully adjustable.
---
---
As expected, it did struggle a bit with the heavier terrain, and I still managed to bottom it out a few times. This is expected in my opinion, it's a big bike, with an even bigger rider on top of it. If you were looking at some serious adventure riding in the future, upgrading the rear shock would be something I recommend, as I do worry about how it would handle an extra 50-60kg in the fully loaded panniers.
Coming in hot off the tarmac and switching straight to washy gravel and sand always takes a bit to get used to. After switching up the riding position from seated to standing and getting a bit of weight over the front wheel I started moving quickly. Front-end grip on the loosely packed dirt while seated is questionable and I could see some of the other guys struggling in this department.
---
---
Once there's weight over the front there isn't a worry! The front Pirelli's gripped up nicely and I felt secure on the dirt and gravel between 80 and 90km/h. It should be noted that the 800MT comes on Maxxis road tyres from the factory, if you're doing a lot of off-roading maybe look into doing the tyre swap to Pirelli's…
---
"On the dirt, I struggled to fault the 800MT. Even comparing it to the upmarket adventure bikes from manufacturers such as KTM and BMW, there's very few things to complain about."
---
Despite the weight of the 800MT, it was a breeze for me in the fire trails. I would have liked to have seen adjustable ABS, or at least the ability to turn it off in the dirt as it does struggle under hard rear-braking.
In the slower tighter single track dirt sections I struggled a bit with the weight and manoeuvrability of the bike, I'm more used to smaller enduro bikes, e.g., our old WR250, and my motocross bikes, but I still managed to get through the majority with only a couple of drops in the loosely packed mud and clay. This came down to exhaustion to be quite honest. After a few hundred kilometres of dirt, I didn't quite have the same level of strength and balance!
The same can be said with the river crossings, the terrain that I wouldn't have looked twice at with some of my bikes, was a little more foreboding on the big 800MT, but I still managed to stay mostly up right, albeit stuck in many places in the water. While this probably comes down to skill level, as many of the other guys tackled the river crossing with ease, it's still something worth mentioning. It's a big bike and if you're heading off bush alone, especially in tight single trails, you want to make sure you can pick it up if needed!
---
---
Chucking it on the sidestand is no issue, as I found at the numerous rest stops. It's stable and holds well, no problems there for me. I do love the fact it's got a centre-stand too, which makes maintenance so much easier, especially when you're out on the road without the standard shed gear.
After what felt like three weeks on the corrugated, loosely packed gravel logging trails we finally found tarmac. As I cruised through some of the most beautiful roads I've experienced thus far in my riding career, I had some time to think about how happy I'd be to own one of these 800MT's. Sure, there's a couple of minor issues with throttle mapping, the quick-shifter needs attention, and I'd make sure that this issue was resolved prior to purchasing, but overall, you get a serious amount of bike for not a lot of cash! In terms of performance, as I have said previously, it's 'confidence inspiring', for me anyway!
---
---
The suspension setup is a vast improvement when stepping up from my previous 12-months on the 650MT and was, in my opinion, rather well suited for the terrain we experienced throughout bushland Victoria. With a decent set of hoops, the bike is a real weapon on the dirt, especially in the hands of an experienced rider. We really pushed it hard and it didn't let anyone down at all. 
While you could really get the thing moving, it's also a fantastic option for someone wanting to enter the adventure arena without spending bucket-loads of cash. The 800MT's well spec'd with all the electronic add-ons aside from TC, it's comfortable, with cruise control, heated grips and seat and handles nicely on the freeway and around town. In the twisties, I pushed it just as hard as I'd push any other bike, and it held up perfectly. It's a seriously fun bike.
---
---
As I always do, I look for reasons why I wouldn't purchase the bike, and I honestly still can't find one. With the issues resolved, CFMOTO has provided the goods. We smashed these bikes for hundreds and hundreds of kilometres without one major fault in any of the bikes, all seven left and all seven returned. Aside from the electronic shifter issues, reliability is without question.
If you're looking for a bike that can do a bit of everything, and do it well, for not a lot of cash, you can't look past the 2022 CFMOTO 800MT. I'm stoked, and still grinning from the Victorian adventure, eagerly awaiting our long-term 800MT. I'll check back in once it's arrived for some further updates.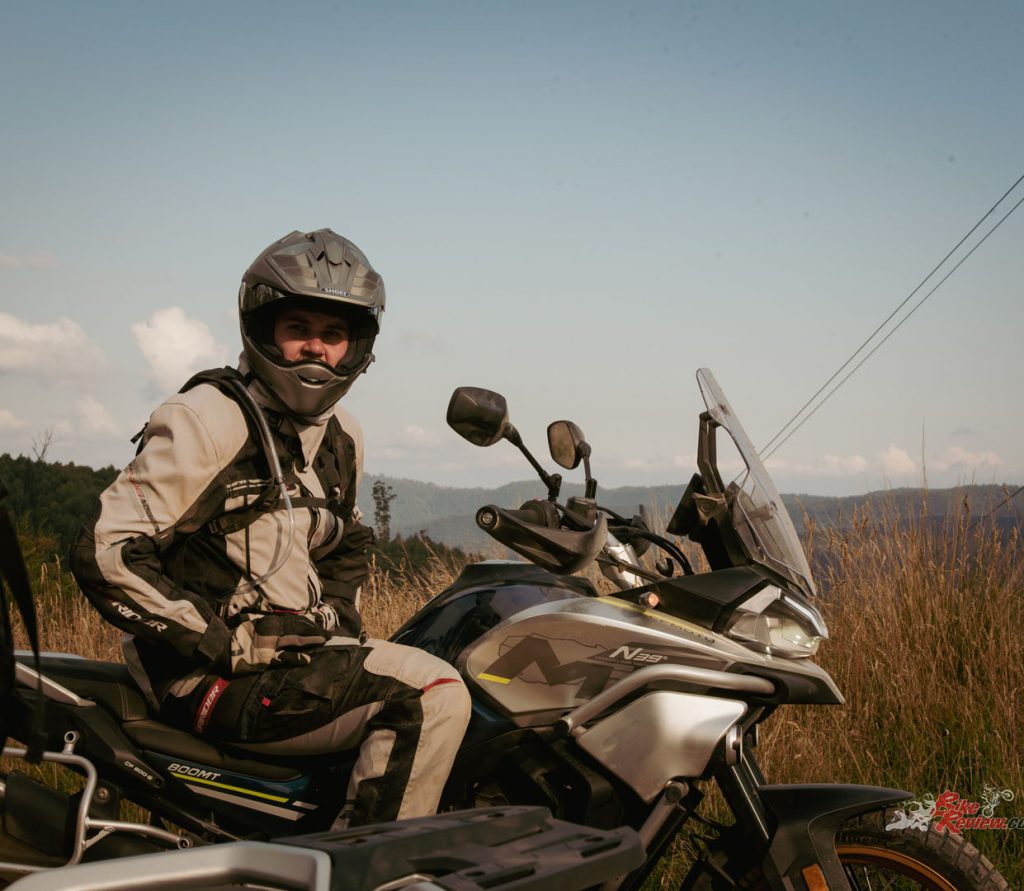 ---
2022 CFMOTO 800MT Model Info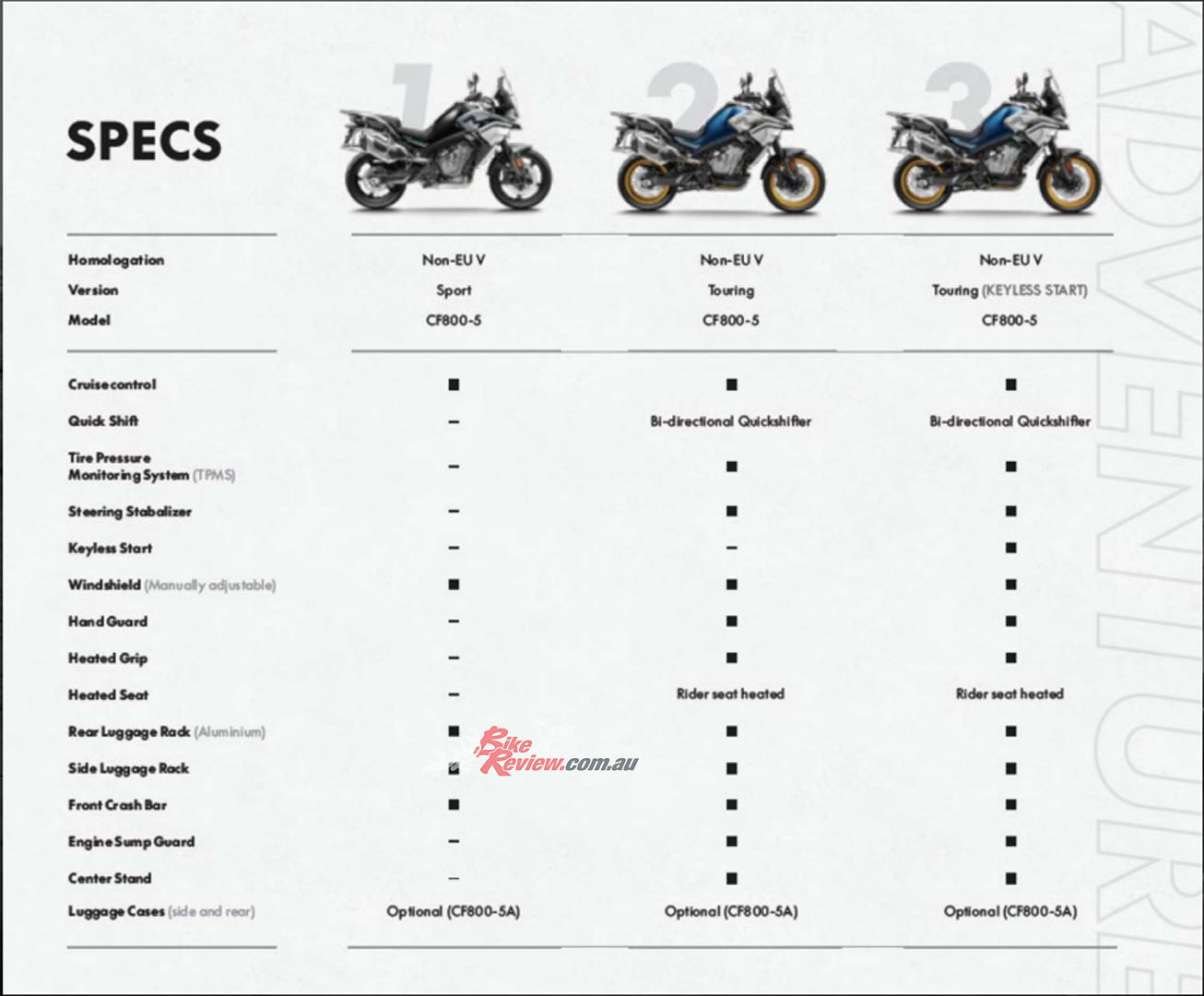 ---
CFMOTO have two choices for the KTM powered 2022 800MT. Both with different price points, you can choose from the base "Sport" model, for those looking for a bit more tech can opt for the "Touring" model. The Touring is available with or without a keyless start system, check out all the differences below to find the best fit for you!
---
---
In addition to a huge catalogue of standard-fitment features, 21 items are also available across the full accessories' gamut: luggage, protection and ergonomic alternatives such as a higher seat, handlebar riser mounts and oversized rally pegs.
---
Aluminium top case (36 litres): $699
High-strength reinforced corners  for the shock and stress of off-road riding

Perfect match with the original mounting bracket 

Waterproof, dustproof scratchproof inside lining
---
---
Aluminium side case (RHS 28 litres, LHS 35 litres): $699 each
High-strength reinforced corners  for the shock and stress of off-road riding

Perfect match with the original mounting bracket 

Waterproof, dustproof scratchproof inside lining
---
Rear tail bag (40 litres): $399
Constructed from waterproof and wear-resistant nylon fabric

Wide range of internal pockets and strapping

Top access port (waterproof zipper), internal nylon waterproof bag

Double-end roll mouth, items accessible from both sides

Converts to a backpack when not fitted to bike.
---
---
Side bag assembly: RHS $599, LHS $499
Isolation plate which protects the bag and its contents from exhaust heat

Made of wear-resistant waterproof 1000D fabric, with a waterproof zipper to achieve an all-inclusive waterproof and dustproof seal

Can be used as a backpack or tail bag

10kg maximum load
The 800MT Sport and 800MT Touring will go on sale with factory-fitted pannier mounts.
---
---
PROTECTION
Headlight guard (silver or black): $179

Radiator protector (silver or black): $169

Lower crash bars (silver): $299

Spotlight guards : $99

Front brake caliper guards: $59

Front brake fluid reservoir guard: $59

Rear brake fluid reservoir guard: $59

Dashboard protective film: $12
---
ERGONOMICS
High seat (up 30mm to 855mm): $199

Handlebar riser mounts: $89

Oversized rally pegs: $119 each
---
---
MISCELLANEOUS
Oversized side stand seat (800MT Sport only): $59

Front fender extension: $39

Device extension bar: $99
---

2022 CFMOTO 800MT Specifications
Price: $12,990 ($13,990 for touring)
Colours: Twilight Blue (Touring), Nebula Black (Sport)
Claimed power: 70kW@8000rpm
Claimed torque: 88Nm@6600rpm
Wet weight: 225kg (no panniers)
Fuel capacity: 19L
---
Engine: Liquid cooled, DOHC, parallel twin, 799cc, 88 x 65.7mm bore x stroke, Bosch electronic fuel-injection with ride-by-wire throttle, 12.7:1 compression ratio.
Gearbox: 6-speed
Clutch: Slipper
---
Chassis: Steel tubular frame
Suspension: 43mm USD KYB Fully Adjustable, 160mm travel (f) KYB Monoshock, fully adjustable, 150mm travel (r)
Brakes: 320mm discs, J.Juan 4-piston radial calipers, ABS (f), 260mm disc, J.Juan 2-piston caliper, ABS (r) Bosch ABS,
Wheels & Tyres: Maxxis Tubeless, 110/80–19in (f), 150/70–17in (r) Spoked wheel with Touring model, Cast-alloy with Sport model.
---
Dimensions:
Length: 2234mm
Width: 853mm
Height: 1277mm
Wheelbase: 1531mm
Seat height: 825mm
Ground clearance: 190mm
---
Instruments & Electronics: 7in TFT Dash, two riding modes, ride-by-wire throttle, cruise control, Bosch ABS, LED lighting.
---

2022 CFMOTO 800MT Gallery

---
The Verdict | Launch Report: 2022 CFMOTO 800MT Adventure