Launch: Over two days of real world conditions, wet and dry, the new Suzuki GSX-S1000GT was pushed to its limits in Scotland. Here's our full review... Test: Chris Moss Photos: Jason Critchell
Scotland is perhaps my favourite place to ride a motorcycle. Replying to Suzuki's invitation to ride its new 2022 GSX-S1000GT sports tourer around this fantastic part of the world was a no brainer. Yes, yes, yes came my instant response. Here's my review on the sports tourer…
In saying that I did wonder whether the near 900km ride up to Nairn near Inverness, especially in autumnal weather, would be worthwhile. After all, several of the recent new Suzukis I've ridden at press launches have had me come away a little nonplussed.
OK, bikes like the KATANA, V-STROM 1050 and GSX-S1000 may have offered decent enough performance, but they've all been a bit short of that all-important X-Factor to make them feel stimulating or memorable. Luckily, after my run around Scotland, I reckon this new GT changes that, and I'm confidently optimistic for its future. I think it's one of the best Suzukis I've ridden for years…
---
---
Ahead of the two-day, 500km sample of its performance, the makeup of the GT hadn't seen me being quite so positive. Like all the aforementioned machines, much of the new bike features components we've seen introduced many years previously.
---
The engine is the oldest of the lot, with the GSX-R1000K5-derived inline-four motor's origins dating way back to 2005! With the frame, swingarm, wheels, suspension and brakes lifted from the GSX-S1000 streetbike, there was a bit of 'here we go again' suspicion about what could well lay in store.
Get settled into the plusher seat though, and encouragement of a potentially brighter overall view begins. At last the clocks look up to date, with the 6.5in full colour TFT screen displaying loads of data in contemporary style, with the added bonus of having phone connectivity to boost the info level and riding convenience still further.
---
"Comfy, practical, easy-going, spirited, good character, effective……were just some of the comments I made a mental note of…"
---
Given how long I was going to be riding, the GT's slighter lower footrests, giving a slightly more relaxed riding position, and rubber-mounted 'bars ensuring any vibes don't reach the rider's hands, are very welcome features. With the size of the head-turning, super stylish R1-M aping fairing, and tallish screen appearing to offer decent protection, I predicted the day's riding was likely to see me in good physical shape throughout.
Then within just a few minutes of setting off, that good cheer was then raised quite a few notches more. The 'antique' 150bhp engine is an absolute beauty and worthy of plenty of approval. In fact, I'm prepared to go so far to call it epic.
---
---
No matter that it's now over 16 years-old, the engine's torque, flexibility, superb manners, smoothness, and overall strength are legendary to this day. For it to still cut the mustard, and deservedly warrant so much praise in 2021 is nothing short of miraculous really. My deep affection for it would grow with each extra mile travelled on the GT.
---
"No matter that it's now over 16 years-old, the engine's torque, flexibility, superb manners, smoothness, and overall strength are legendary to this day…"
---
The initial phase of the runout started with what Suzuki had deemed a 'get to know you' period, with open easy to ride roads flowing gently through typically spectacular scenery allowing us a chance to get familiar with the new machine.
But with the route lacking much in the way of riding stimulation, and the 1000's feeling of manageability coming so quickly, it wasn't long before temptation to seek tougher navigational challenges surfaced. Not that the GT was the sort of bike that's constantly itching to be thrashed. On the contrary, it's happy to be ridden more gently, even in the most responsive A-setting of the three rider modes available.
Luckily, we got the opportunity to up the pace before long, and then Scotland delivered what it's also famous for, lots of rain. To be honest, I didn't mind. I enjoy riding in the wet and think it lets you examine any bike's behaviour in finer detail. It certainly gives you the chance to discover how friendly and well-balanced it might be, or not.
---
---
The new sports-tourer's rider-friendly nature is very apparent, and though its easily-adjusted electronics might not be able to match the highest spec of some bikes, primarily thanks to the lack of an IMU, the traction control and ABS systems helped me feel safe. Both needed deliberate provocation to be triggered, reacting well when they did.
---
---
Despite the precipitation level increasing as the day wore on, my affection for the GT prevailed. Comfy, practical, easy-going, spirited, good character, effective……were just some of the comments I made a mental note of. Above all though, I got a feeling of reward from riding the Suzuki. And that's not something I've felt on one of the firm's new models in recent years.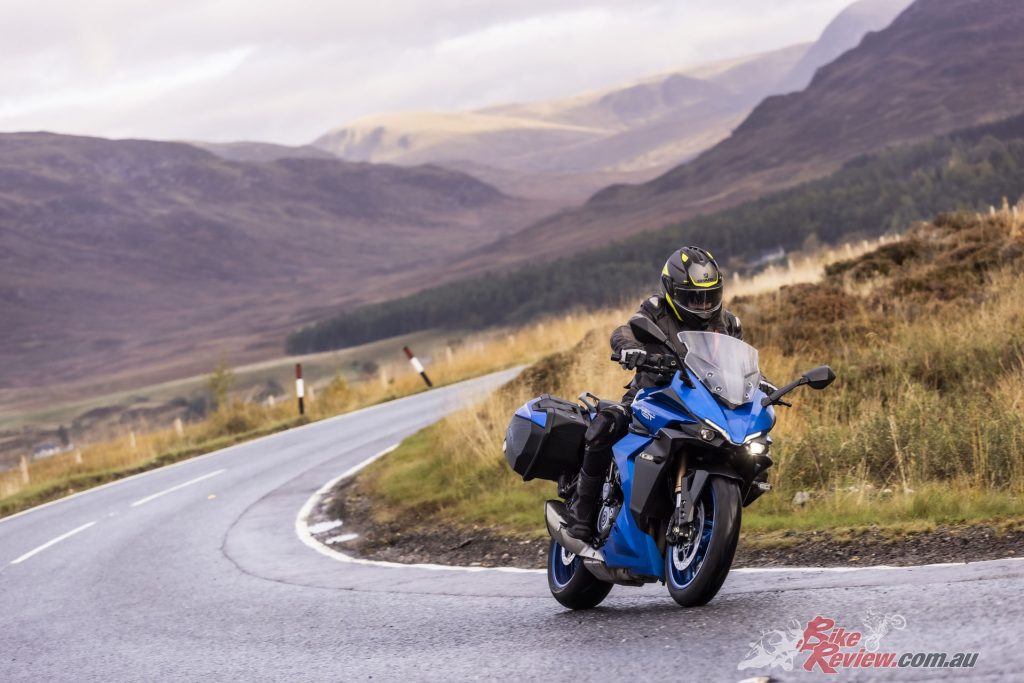 With the rainfall persisting enough to stop any chance of serious photography, we completed the 250km day's stint happily enough, but certainly wishing for better climatic conditions the following day. The mood from all testers was obvious over a lovely curry in a Fort William restaurant that night, and even if day two dawned bright and very cool, the daybreak was met with positivity from us all.
---
---
Freezing hands not long into the trip courtesy of wearing wet race gloves, soon had me wishing some of the optional heated grips had been fitted. Fortunately, I had warmer hand protection in the panniers. The luggage might be a little wide to allow easy filtering through traffic, but they're convenient, capacious at 36litres each, and thankfully waterproof. Sadly, they're only an option; Suzuki defending the decision by saying not all owners want them as standard.
Very cool temperatures brought my first real criticisms of the GT, its tyres and brakes. Though fitted with precisely the same OE Dunlop Roadsmart 2s as the GSX-S streetbike, which I found sticky enough to be pushed hard on track in the summer, they don't offer the same adhesion in low temperatures. They're not bad, with only the rear moving a little under harder power when performing for the camera – and being dealt with effectively by the traction control arrangement.
---
"Very cool temperatures brought my first real criticisms of the GT, its tyres and brakes…"
---
Even so, I'd want to fit some other more versatile aftermarket sports touring rubber if the bike was mine. I might want to swap the brake pads too. There's no doubting there's plenty of braking power on offer, with a fair bit of feel too. But that only comes, like the tyres, when pads and discs are up to fuller temperatures. When chilled by lots of very cold water and air, there's a tiny delay before they start to bite hard.
---
---
Triggered from the excitement of riding harder, the latter part of the warming day was spent progressing more quickly. The Suzuki remained worthy of praise. On dry roads, tyres and brakes work as preferred, with that brilliant engine delivering everything you desire. There's a nice GSX-R style rasp from airbox and exhaust to please the ears whenever it's spun harder. Yet though the stronger, more serious pull and associated music does reward higher revving, the beauty is it's not at all necessary to gain significant extra speed.
---
"There's a nice GSX-R style rasp from airbox and exhaust to please the ears whenever it's spun harder."
---
The excellent standard-fitment two-way quickshifter, slick gearbox, and light clutch might encourage more left foot and hand activity. But the fact I was regularly surprised to see the number 6 displayed by the digital gear indicator, when the seat of my pants suggested a lower figure would be shown, thanks to the potency of acceleration out of corners, really underlines the strength and broad power spread of this superb engine.
Drier roads also brought an appreciation of the GT's steering accuracy, stability, and agility in direction changes, with only light effort needed through the wide bars to get it to change line. Not everyone was convinced by this keenness to turn, but I'm sticking to my view. In contrast, all testers liked the revised suspension's supple action over bumps.
---
---
Helping to smooth out the rougher sections, both forks and shock still give excellent support when tested by heavier forces delivered by acceleration, braking, or cornering. There's full adjustment at the front, and choice of preload and rebound settings at the rear, but I never felt the need to fine tune either end, even if I could have summoned a Suzuki man to get the tools out and do the job for me.
Sadly, time seemed to have flown by as the test came to a premature end on the second day, and I brought the GSX-S1000GT to a halt for the last time. I would have loved to have ridden it another 900km home to see if I could further my enjoyment for another day. I suspect I would have relished its kilometre-munching abilities all the more – especially if Suzuki's claim of a 300km tank range are true.
If I'm honest, I ended up really liking the Suzuki a fair bit more than I expected, and I've got a sneaky feeling it's going to be a hit for the Japanese firm. It's made very few purpose-built sports tourers over the years, but I think it's done a very good job with this one.
The GT does what all commendable bikes in this class should do, but has the bonus of possessing an extra portion of excitement in addition. There's definitely some GSX-R in its DNA, and it's one of several virtues helping to make the GSX-S1000GT more memorable and stimulating than most recent new Suzuki models. Suzuki it seems, might well be on the way back.
---
2022 SUZUKI GSX-S1000GT TECH TALK
---
 The new GT is powered by a high-performance 999cm3 DOHC liquid-cooled inline-four engine developed to realise the ideal a true grand touring riding experience. The engine underwent a thorough review and updates to increase power output and achieve an even better balance of overall performance, all while satisfying Euro 5 emissions standards.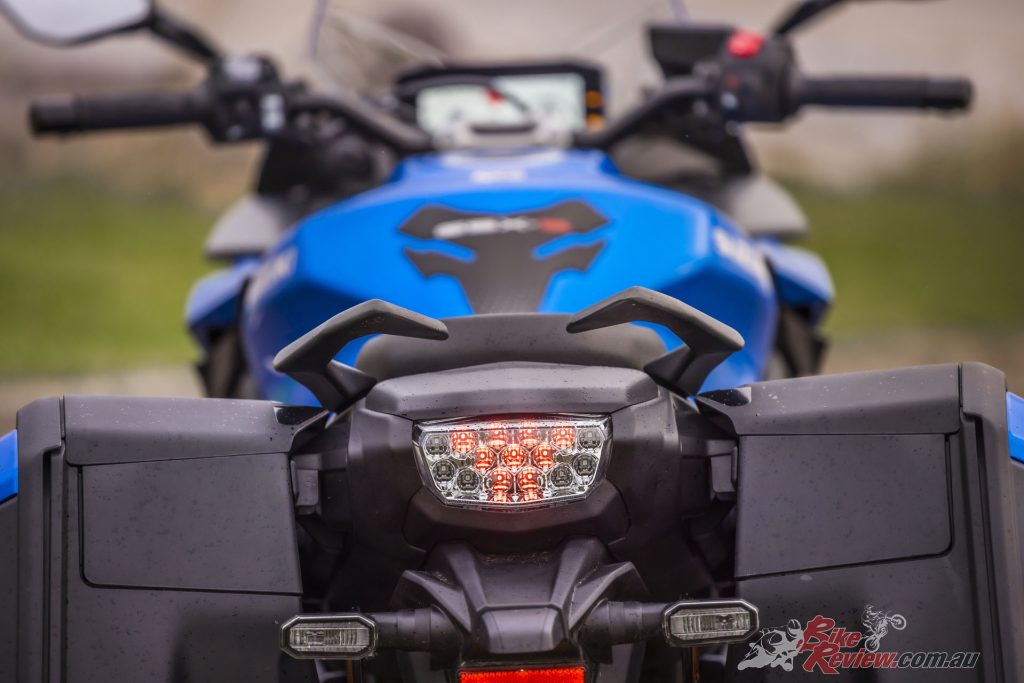 Suzuki say the new version delivers superbike-level performance while minimising vibration to make riding more exciting, more comfortable, and less tiring, whether travelling long distances on the highway or enjoying a ride around town.
---
Its broad, smooth torque curve featuring greater cumulative torque production consistently delivers abundant power throughout the engine's operating range and makes this grand tourer equally adept at street riding as it is at high-speed long-distance touring, even under load when carrying gear and a passenger on the back.
---
---
The new GT complements its slipper clutch, which helps provide smoother deceleration when downshifting, with a new assist function that increases the clutch's clamping force under acceleration to allow the introduction of softer springs. The result is a light touch to clutch lever operation that helps reduce left hand fatigue on long rides, especially when caught in busy traffic.
---
---
Suzuki says the new GT delivers nimble handling and confidence-inspiring controllability, whether out touring long distances on the highway, negotiating twisty roads, or simply enjoying its sporty performance on the streets. Every component of the chassis and running gear is engineered to bring the right balance of agility, stability, and comfort for a true grand touring experience.
At the core is the compact, lightweight chassis design. The rigid twin-spar aluminium frame and ruggedly braced aluminium-alloy swingarm are key to great road holding ability that will go the distance, even when carrying a passenger and a full load of gear.
---
Every component of the chassis and running gear is engineered to bring the right balance of agility, stability, and comfort for a true grand touring experience…
---
Newly designed sub-frame rails serve two benefits. Firstly, they provide more rigid and secure attachment points for the optional side cases. Secondly, the new design lowers the height of the seat rails, making it possible to increase the thickness of the pillion seat for greater passenger comfort.
---
---
Fully adjustable ø43mm KYB inverted front forks and link-type rear suspension combine agility and stability with a ride that is sporty yet plush.
---
---
Carrying all this to the road surface in harmony with the suspension settings are six-spoke cast aluminium wheels shod with new Dunlop SPORTMAX Roadsport 2 radial tyres designed specifically for the GSX-S1000GT.
---
The tyres adopt an updated internal construction with a carcass that is custom engineered exclusively for the GT and tuned to deliver just the right level of rigidity to match its weight and the riding conditions under which it will be used.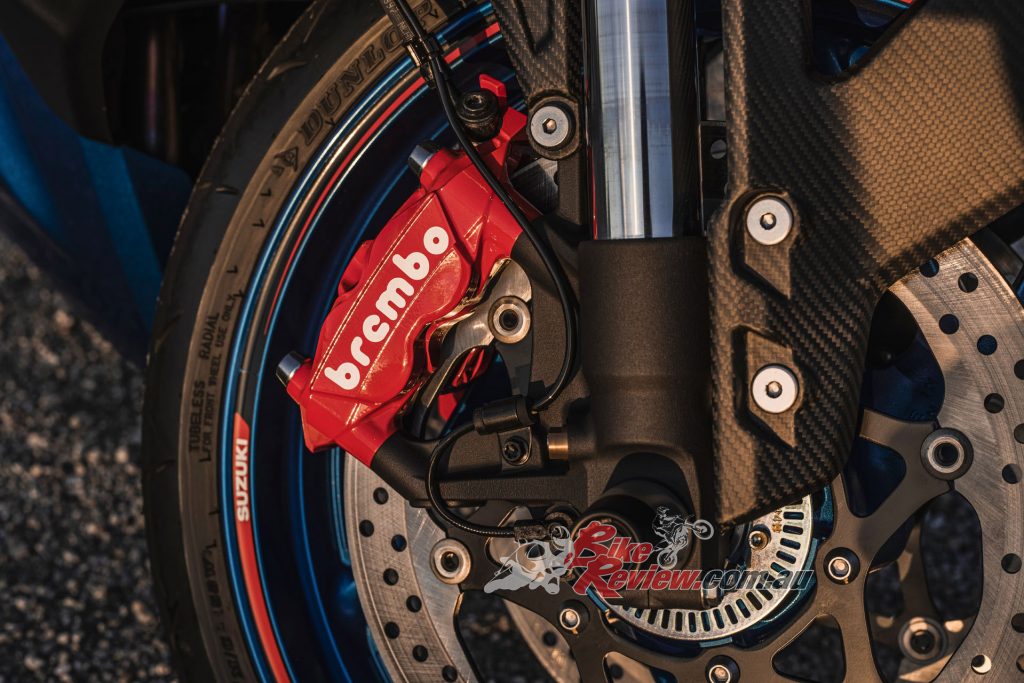 The GT is equipped with top-of-the-line radial-mount Brembo monobloc calipers. The calipers each have four opposed ø32mm pistons acting on a ø310mm floating-mount disc for strong stopping power. An antilock braking system (ABS) helps the rider stay in directional control even during hard braking. The system is programmed to monitor wheel speed and match stopping power to the available traction. The ABS control unit has a compact, lightweight design that contributes to the bike's nimbleness.
---
---
No effort has been spared in designing the GT to isolate the rider and passenger from vibration that might otherwise be transmitted from the engine or chassis. The GT adopts a new floating handlebar design that introduces rubber mounts in the top bridge and brackets to lessen the amount of vibration transmitted to the rider's hands.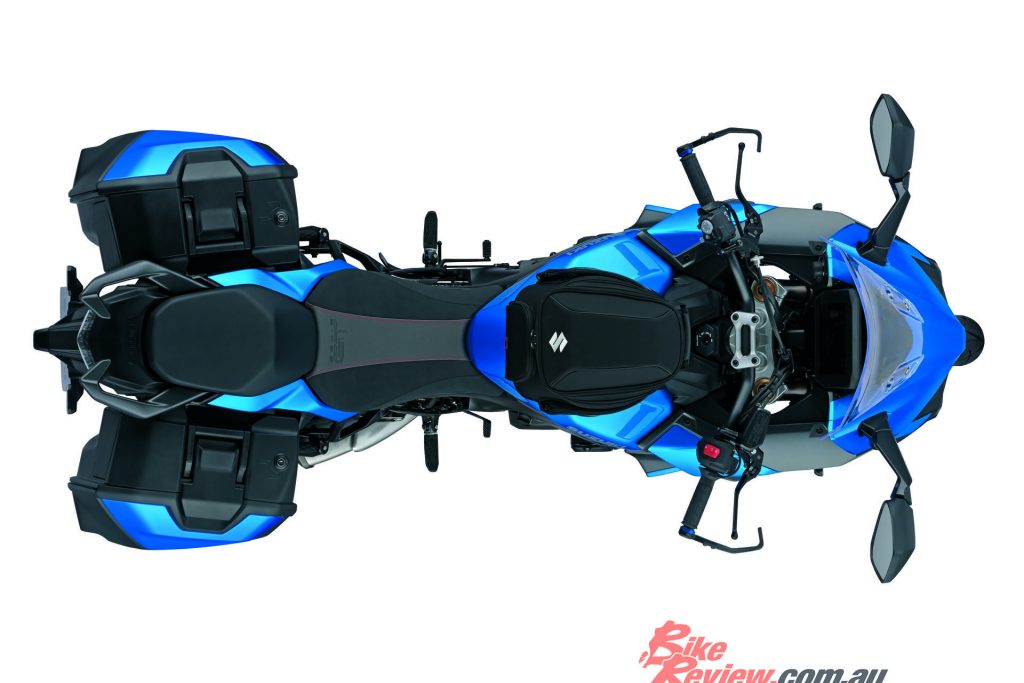 Special care went into designing the thickness, shape and size of the new rider and pillion seats, and both seats are covered in a new material that provides positive grip. New grab bars at the back of the pillion seat further contribute to passenger comfort. One additional example is the vibration absorbing rubber that covers the aluminium footrest pegs for both rider and pillion.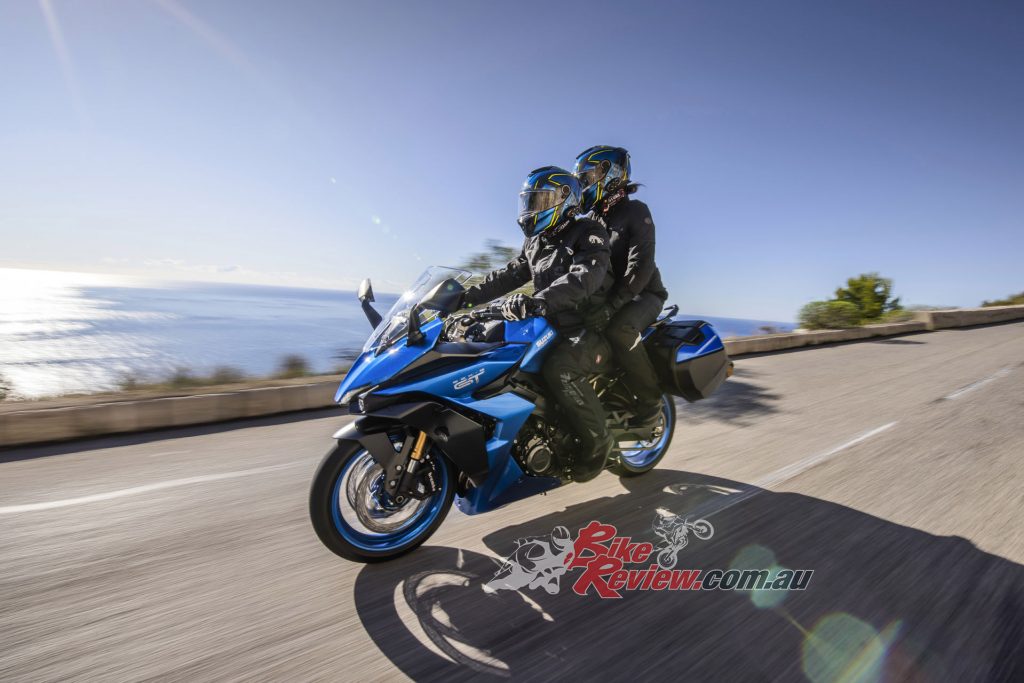 The mission to find the optimum riding position for touring led to angling the handlebar grips 14mm closer to the rider than on the previous GSX-S1000F. This enables the rider to have a more upright posture, which enhances comfort.
---
To be aerodynamically efficient, and to be easier to control and more comfortable, whether touring for long distances fully loaded with a pillion or popping out for an exciting solo blast…
---
The new tapered handlebars are also lengthened to achieve a 23mm wider grip placement. In addition to making the bars more comfortable to hold, this gives the rider greater control over steering while requiring less effort to steer the bike.
---
The GT is the first production Suzuki motorcycle to feature a full-colour TFT LCD screen. The new 6.5in screen has been developed as a large multi-information display for specific use on motorcycles, whereby the TFT LCD panel features an anti-reflective coating for improved visibility in bright light and a scratch resistance surface.
Smartphone connectivity that allows access to a variety of apps and functions that bring greater convenience, functionality, and fun to the ride. In addition to Day/Night display schemes and adjustable brightness, the screen's display features smooth tachometer movement and exclusive graphics.
---
---
The SUZUKI mySPIN app connects the rider's smartphone enabling it to transfer its display to the GT's large TFT screen where the contents of the phone can be viewed such as contacts, calendar, music, and map apps.
---
---
The app also has the capability to utilise a selection of supported third-party apps optimised for use by motorcycle riders and take advantage of additional services that bring greater convenience and fun to the touring experience.
---
Smartphones can be connected via USB, Wireless LAN or Bluetooth®, and charged using the dedicated USB outlet on the left side of the TFT LCD panel…
---
These include navigation, rider assistance, music streaming, tracking, route sharing, and weather information services. SUZUKI mySPIN is compatible with iOS and Android™. Smartphones can be connected via USB, Wireless LAN or Bluetooth®, and charged using the dedicated USB outlet on the left side of the TFT LCD panel.
The Suzuki Intelligent Ride System (S.I.R.S.) introduces a collection of advanced electronic systems that lets the rider easily optimise the performance characteristics to best suit their riding style and level of riding experience. S.I.R.S. brings greater confidence and enjoyment by allowing the GT to be more controllable and predictable whilst also being less fatiguing.
---
---
Suzuki Drive Mode Selector (SDMS) is designed to offer the rider a choice between three different modes that change output characteristics to match riding conditions or preferences.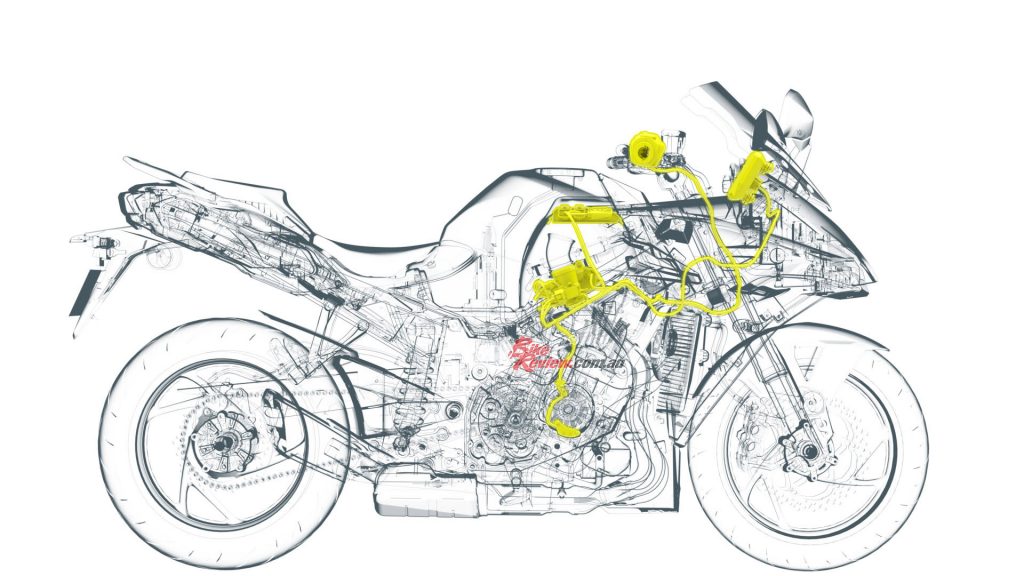 Mode A (Active) provides the sharpest response as the rider opens the throttle. Settings for torque characteristics are finely tuned to deliver the exciting acceleration that had earned the previous generation GSX-S1000F high acclaim. It is well suited for use when hitting the throttle hard, such as when participating in track day events or enjoying twisty roads in good weather.
Mode B (Basic) reaches the same level of maximum output but features softer response and a more linear power delivery curve as the rider opens the throttle. The settings are tuned to make the bike more controllable and instil confidence when accelerating, and to make it a good fit for a wide range of rider styles and road conditions in everyday riding.
Mode C (Comfort) provides the softest throttle response and gentler torque characteristics, delivering power in smoother linear fashion while still reaching the same level of maximum power output. The gentler throttle response and limited torque production as the throttle is opened makes more obedient and controllable when riding in wet conditions or otherwise slippery surfaces, or when the rider wants to relax and enjoy an easy ride home after a long outing.


---
---
Equipped with an updated version of Suzuki Traction Control System (STCS) with a wider selection of 5 mode settings (+ OFF). The finer incremental control over settings allows the new 5-mode traction control system to better fit a more diverse variety of riding conditions and styles.
---
A ride-by-wire throttle system provides finer control also allows optimum settings to best match each of the SDMS modes. The overall result is linear power delivery that responds faithfully to the rider's intentions, whether riding on the street or heading out to enjoy a spirited run, as well as improved controllability when opening the throttle while cornering.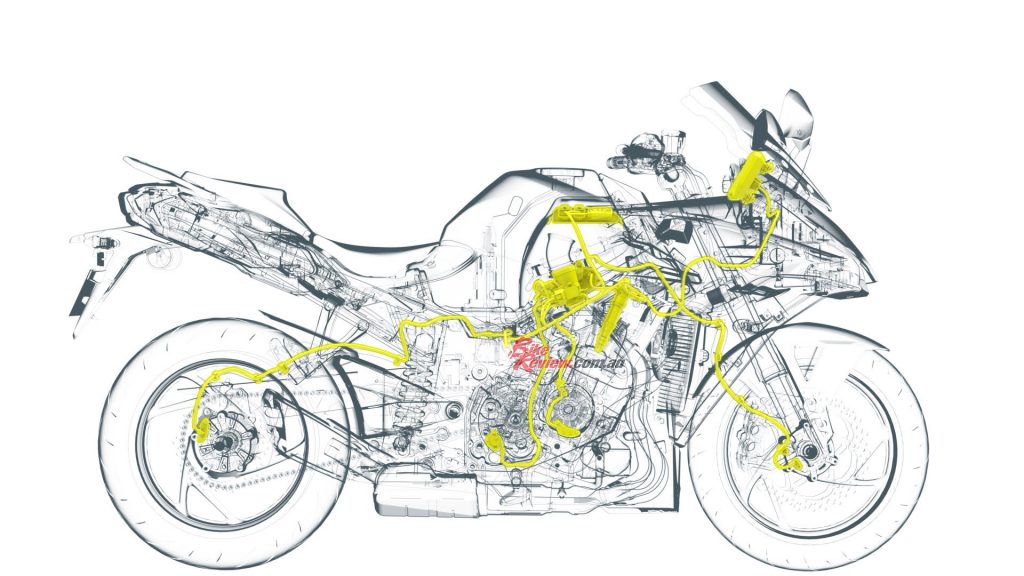 Cruise Control speed setting can easily be adjusted up or down using the (+/-) select switch on the left handlebar and confirm the current setting on the TFT LCD instrument screen by pressing the left handlebar switch's RES button. Cruise Control can be set at speeds between 30km/h to 180km/h while riding above 2,000rpm in second gear or higher.
---
---
The bi-directional quick shift system allows the rider to shift up or down more quickly and easily without the need to operate the clutch or throttle. When decelerating, the system automatically opens the throttle valves just enough to increase rpm and match engine speed to the next-lower gear ratio. The result of this hands-free automatic blipping function combines seamlessly with engine braking to create a highly satisfying experience when downshifting.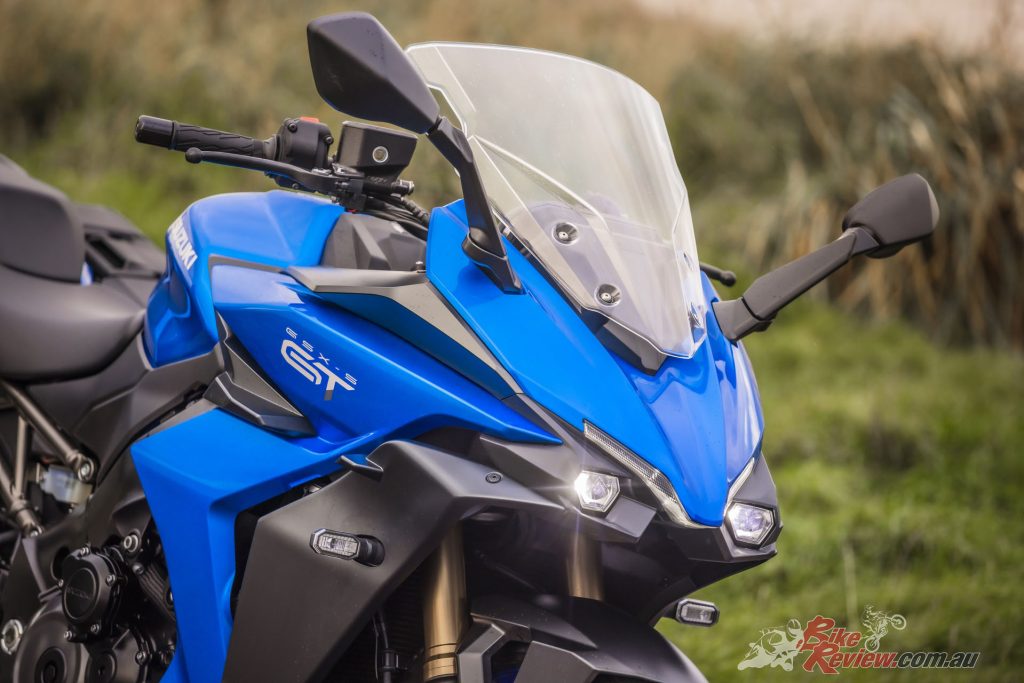 Suzuki's Easy Start System lets the rider effortlessly start the motorcycle with one quick press of the starter button. There is no need to continually hold the starter button down nor need to pull in the clutch lever when the transmission is in neutral. Other niceties include Suzuki's Low RPM Assist system which monitors and automatically raises the idle speed when taking off from a stop or when riding slowly through traffic to reduce surging and chances of engine stalls.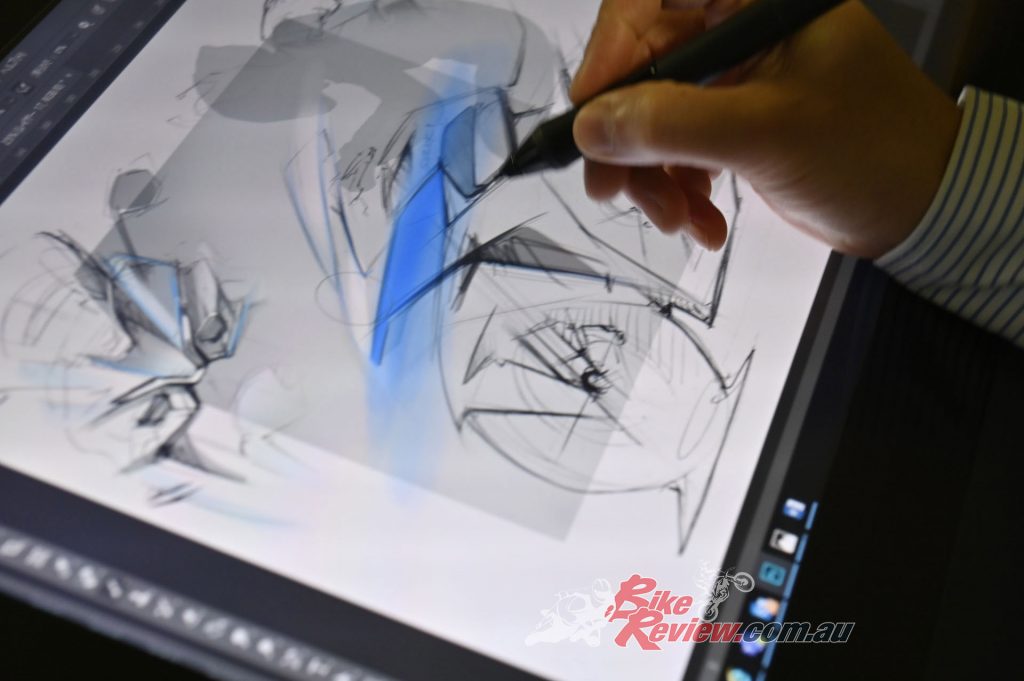 The goal of the new GT design concept is to visually express the performance potential, comfort, and pleasure of this true grand touring motorcycle. At the same time, it aims to convey the refinement and sophistication of a product designed to offer advanced functions such as the intelligent rider aids, safety systems and smartphone connectivity, to be aerodynamically efficient, and to be easier to control and more comfortable, whether touring for long distances fully loaded with a pillion or popping out for an exciting solo blast.
---
---
The GT's new front cowl, windscreen and mirrors are all meticulously designed to contribute to achieving the requisite level of aerodynamic performance. Each component was analysed early in the development process to identify any issues.
---
Repeated cycles of wind tunnel testing, analysis and refinement to ensure that all the pieces work together harmoniously…
---
That was followed by repeated cycles of wind tunnel testing, analysis and refinement to ensure that all the pieces work together harmoniously to maximise wind protection and make the rider more comfortable by reducing sources of stress such as exposure to the cold and elements. This reduces fatigue when touring at high speeds and frees the rider to concentrate on enjoying the experience.
---
---
While aerodynamic performance was a given, design priorities for the GT's new windscreen focused keenly on maximising wind protection to deliver relaxing comfort worthy of a grand touring riding experience. At the same time, the designers were also concerned with keeping the form as compact as possible and making the screen attractive. Development involved repeated rounds of wind tunnel testing and analysis, with the design begin refined at each stage until it achieved just the right overall balance to satisfy the development team's goals.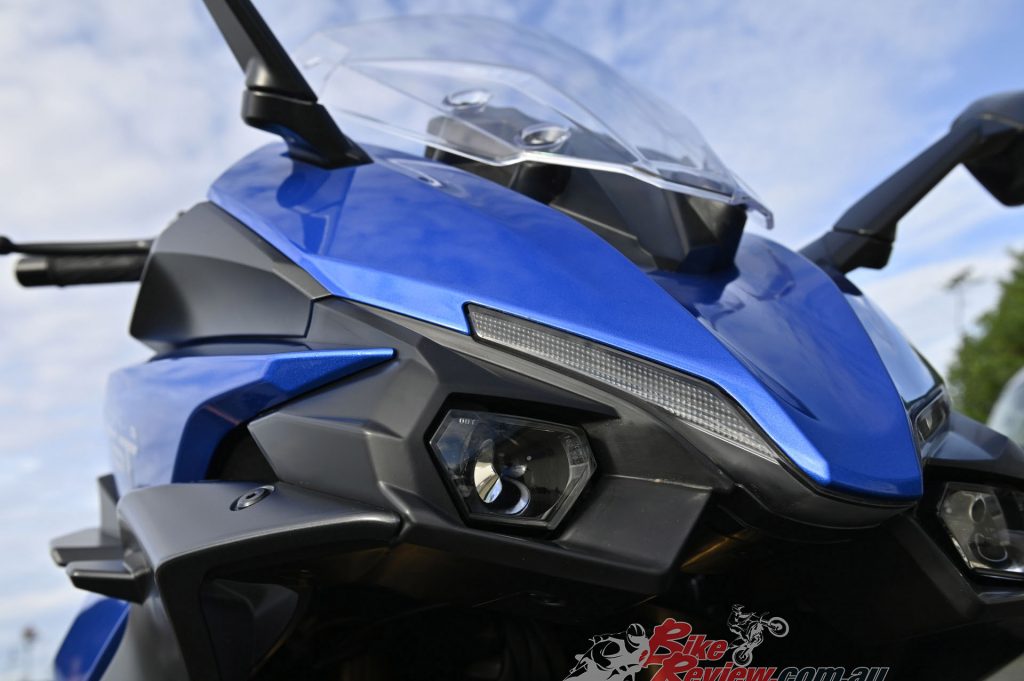 A pair of new LED headlights clearly illuminate the road and shoulders ahead. Their distinctive hexagonal shape and horizontal layout combine with the sharp nose of the cowl to create a look of advanced styling and a new face for Suzuki motorcycles. The rear combination light and new indicators use LEDs for high visibility and long life. With a clear lens covering the LEDs, the design of the rear combination light conveys a premium feel that emphasises the stylish lines of the compact tail section.
---
---
Fuel capacity has been increased thanks to a new attractive 19L fuel tank combined with the GT's excellent fuel efficiency to help extend riding range and reduce the number of refuelling stops.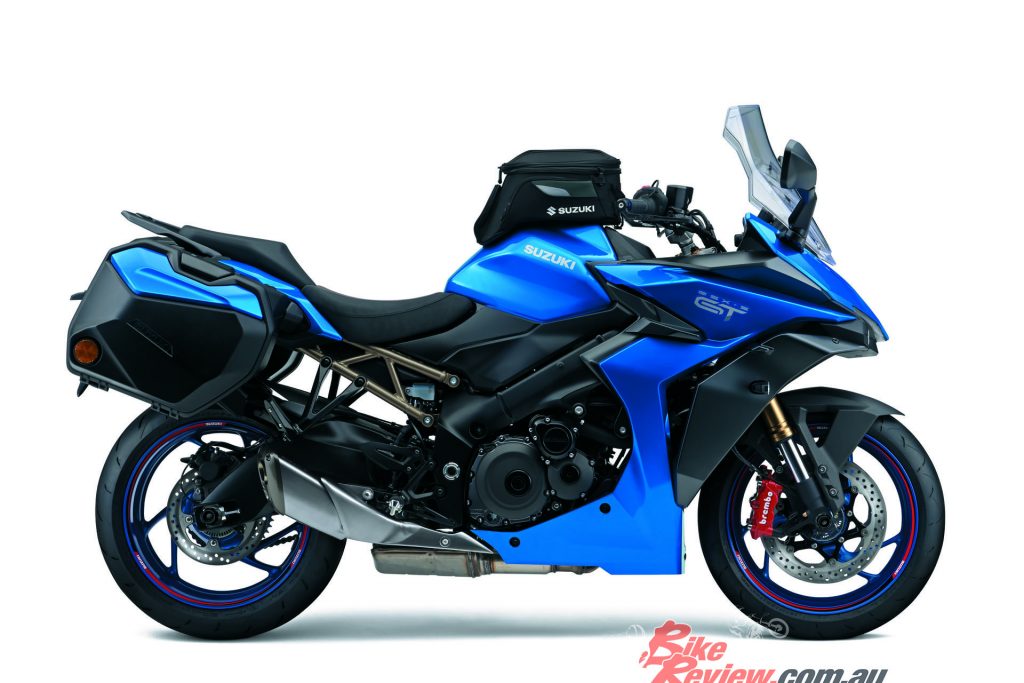 The MY22 Suzuki GSX-S1000GT is due to arrive in Australia during March 2022 and will be available in two colours – Metallic Triton Blue and Metallic Reflective Blue for a manufacturer's recommended retail price of $19,090 *Ride Away.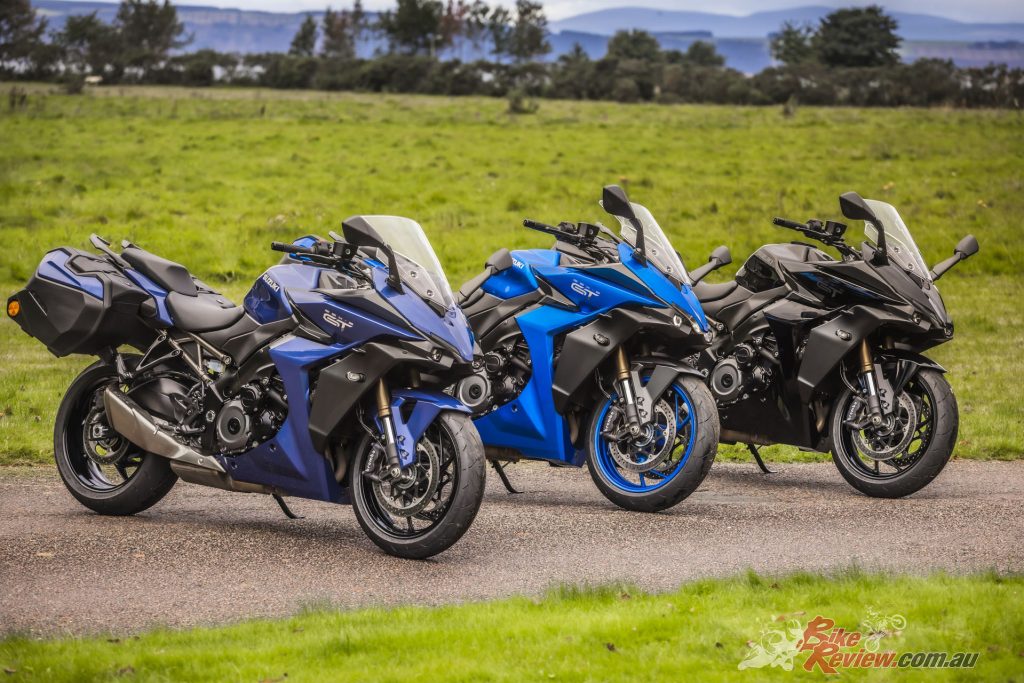 ---
*Manufacturer's Recommended retail ride away price shown includes 12 months registration (NT 6 months), 12 months compulsory third party insurance (CTP), stamp duty and pre-delivery charges.
---
2022 Suzuki GSX-S1000GT Specifications
Price: From $19,090 *Ride Away.
Colours: Metallic Triton Blue and Metallic Reflective Blue
Claimed power: 112kW@11,000rpm
Claimed torque: 106Nm@9,250rpm
Curb weight: 226kg
Fuel capacity: 19L
---
Engine: four-stroke, four-cylinder, liquid-cooled, DOHC, 999cc
Bore x Stroke: 73.4 x 59mm
Compression Ratio: 12.2:1
Gearbox: Six speed Clutch: Wet multiplate
---
Chassis: Twin-spar aluminium
Rake: 25 degrees, Trail: 100mm
Suspension: Fully adjustable 43mm KYB USD forks, Adjustable link-type rear suspension
Brakes: four-piston Brembo mono-block front brake calipers 310mm floating-mount dual rotors, single rear rotor Tyres: 17in six spoke cast aluminium wheels, 120/70-17 – 190/50-17 tyres.
---
DIMENSIONS:
Wheelbase: 1460mm
Seat height: 810mm
Overall length: 2115mm
Height: 1080mm
Width: 810mm
---
Instruments & Electronics: 6.5in TFT Screen with Bluetooth connectivity, LED Lights, Suzuki rider assist package, cruise control, quick shifter, Suzuki easy start system.
---
2022 Suzuki GSX-S1000GT Gallery
---
---
The Verdict | Launch Review: 2022 Suzuki GSX-S1000GT