This MC RR custom Ducati is an edgy take on a 1098 powered naked stuntbike. Words: Kris Hodgson Photography: Harry Jackson
The Ducati 1098 was quite the revelation when it was released in 2007, particularly when you consider that the 999 was quite contentious, mainly for throwing off some of Ducati's renowned features.
Hardcore Ducatisti were vindicated with the release of the 1098 which returned to the fold, boasting impressive performance and plenty of exotic components – particularly on the S model.
This cafe racered MC RR Ducati is owned by Steve Broberg who is proud to admit to his passion for V-twins, which started with his first Ducati, a 916 purchased in 1994. In the almost 20-years since he's clocked up 250,000km on board Ducatis and is in a unique position to build and ride a huge variety of bikes, having repaired hundreds of crashed and wrecked motorcycles.
Steve actually has a dealers license and runs MC Roadrunner (MC RR), allowing him to purchase bikes without RWCs and in the past focused on making custom seats, particularly for Harlies and cafe racers. Now he's instead focusing on creating high performance bespoke custom bikes for discerning motorcyclists, including fabricating his own custom bodywork.
With this bike, Steve had a very specific concept in mind with the 1098. This concept was a custom tail with Steve doing plenty of research into the various 1098 cafe racers creations around the world, to find out what the competition was up to and, "With full intentions of building one of the hottest looking 1098 cafe racers in the world – hoping to be recognised world wide," to use his own words.
Then adding, "While I had the tail design in my head for some time the powerful V-twin motor and trellis frame of the Ducati 1098 all fitted into my design criteria, which had started to keep me from getting a good nights sleep until I made my visions into reality!"
This Ducati 1098 S was bought at auction in March and had been crashed with various missing fairings, which with Steve's cafe racer concept and custom bodywork in mind wasn't a huge concern.
The first step was checking that everything was still running mechanically in the engine department, with the 1098's 160hp and 90ft-lbs of torque providing plenty of performance, with the bike very well spec'd from the factory in most regards.
Additions did include carbon-fibre components, including an eye-catching cam belt cover and Ducati Performance open clutch cover with a billet clutch pressure plate to give the now visible dry clutch a dash of red. Air intake tubes in carbon-fibre were also added and assist in giving the Desmodromic L-twin a more intimidating presence.
Steve then moved on to the chassis and peripherals, "I removed all fairings, road gear, lights, the battery and muffler and weighed it all up, all in all 22kg was removed from the bike," he explained, "Then I removed all the wiring, the rectifier and ECU and rewrapped the wiring loom, taking into account repositioning the rectifier and ECU behind the frame.
"From this point on every part that I fabricated and refitted I made as light as I could and weighed them for comparison before refitting."
The chassis also saw work, with the standard steel trellis frame modified, with the fairing mounts removed to keep it looking clean, with a number of new mounts needing to be fabricated to fit new components, like the headlights, dash as well as the existing ECU and rectifier in their new positions.
The rear sub-frame was further modified to suit Steve's custom tail unit, which involved cutting, lowering and bending it to suit the new MC RR tail design, as well as ensuring room for the 600g lithium ultra-light weight battery and number plate mounts.
The tail unit itself was a massive project all of its own explained Steve, "While this is just the second prototype bike I have designed and made my own panels for, it took nearly seven days to make the original plug good enough to take molds from," said Steve.
A plug is basically the handcrafted prototype of the bodywork you wish to make, which is then used to create the mold, which will eventually produce the finished product.
"The plug was all done by hand and made symmetrical by eye," explained Steve, "I've been shaping custom seats for years so this was much the same, but I made the plug from wood, cloth, fiberglass and bog."
Steve then fabricated the MC RR tail from fiberglass, and also fabricated a red boot stitched custom seat to match, with the combined weight of both staying under 2kg.
A number of other chassis modifications were undertaken, with the standard bottom clamp an Ohlins 1098S billet item, while the top clamp was a standard Ducati item which were joined by a set of fully adjustable 25mm riser clip-ons for a slightly more upright seating position, while still maintaining the aggressive cafe racer feel.
The Ohlins fully adjustable 43mm forks, steering damper and TTXR monoshock were all also kept, with the suspension modified to provide a more comfortable road ride and better stunting capabilities.
"I owned a 1098S back in 2008," explained Steve, "And I was fully aware the bike was very oversprung, especially with this bike being much lighter and me being only 75kg.
"It also had damping issues on the front end, with the forks bottoming out from wheelies and having traction issues under hard braking and stoppies, not to mention shaking your teeth out over rough surfaces and being hard to steer at lower speeds and in tight corners…
"To address these issues, I got my mate Jeff at King Springs to make a 395 pound spring for the rear to replace the stock 460 item, while up front I fitted springs from a Triumph Street Triple and spun up some spacers to suit.
"Then I replaced the 5W oil with 7.5W and reduced the air gap, dropping the ride height on the rear. The result was a transformation to an easy bike to ride and awesome handling."
The standard Brembo radial monobloc calipers have been retained with the original 330mm rotors, with the stock Brembo rear caliper and rotor likewise retained, with both receiving new Metal Gear sintered pads. Needless to say braking was already impressive thanks to the original components.
The standard wheels, which on the S are a set of forged and machined Marchesini items, save 1.9kgs over those found on the regular 1098 and are trick items befitting a top end cafe racer build, especially when displayed on the rear by the single-sided swingarm.
Maintaining the unimpeded view of the rear wheel also meant the original exhaust placement would be necessary, but with the two-into-two system modified by Steve into a two-into-one system with conical carbon-fibre silencer from a Ducati Monster.
The single muffler and bracket weighed in at just 2.5kg, reflecting Steve's focus on keeping weight to a minimum.
The license plate is held by a fabricated bracket to suit the MC RR sub-frame and tail, with mini-indicators bracketing the licence plate which is held snug up under the tail.
On the front-end Steve used a set of twin LED lights, with an 8W low and 18W high, providing better lighting than most conventional bike lighting systems, and minimising weight, with the LED lights carrying their own fans in order to stay cool while operating.
With the lightest battery possible also fitted Steve's got the lights set to a hidden isolator switch which can be used to turn off all the lights for starting the bike or during daytime riding, or with the devil eyes and halo lights switched on separately or all together. With the lower cranking amp (CCA) battery the danger is that with the lights on during starting the voltage will drop below 12V, which can cause issues with the ECU and gauges.
The front light assembly area actually just started life as a wind deflector race-plate that required lights to be street legal and weigh just 1kg between the lights and mask, while a set of Magezi mirrors on the 'bars provide rear vision and also incorporate a set of LED indicators for a clean final result.
A less welcome addition was drop knobs, with Steve explaining, "I hated adding the extra 450g for custom drop knobs that I spun on up my lathe made of engineering plastic, and I've also kept the standard folding footpegs in case of an accidental drop…"
When it came to aesthetics, Steve had a front guard in carbon-fibre to suit the Ohlins forks on hand from his extensive collection, with an aftermarket rear guard in the same material, that also protects the exposed side of the one-sided swingarm.
The paint preparation, stickers and decals were all applied by Steve himself, with Matt at Race Paint Technology in Nerang clear coating over his work, including the carbon-fibre which received stickers or wasn't glossy enough.
The decals are MC RRsignature logos, hand cut in vinyl with premade Italian colour stickers matching the Ducati's heritage.
"The tri-colour stickers were just hand cut vinyl and premade stickers which gave the look I wanted," explained Steve, "And I just had them cleared over for the finishing effect."
"The tank didn't need to be painted, I just removed the Ducati stickers, added my MC RR logo and hand cut the tri-colour stickers on the sides, Matt clear coated over the final product.
"All the colours and designs were tried and stuck in place and stared at before the final design was chosen, with the best looking colour and sticker combinations, with Bryce Miller Signs designing my MC RR logo and printing the stickers for this bike."
Looking at Steve's MC RR 1098 Cafe Racer it's a piece of motorcycling art as much as a representation of the performance available, and probably the most telling statement from Steve was when he said, "I am not a fan of excessive bling, but more to the point of good quality components that function."
The result is a bike which weighs 182kg, wet, fully fueled and ready to go, which with Steve's 75kg weight makes for some awesome power to weight.
The entire build took eight weeks including a few weeks of testing and suspension tweaking, or 240 hours all up, according to Steve, with the bike a prototype for bikes that Steve will be making for interested parties who can contact him directly for more details including pricing. A second 1098 is also currently being built, with Steve also working on a MC RR bikini fairing, adding that each of the bikes he builds will be different and unique.
Steve's happy to share the transformation this has made to the 1098, saying, "Throwing a leg over this bike, you'll immediately feel the lack of weight and compact fell, it feels like a 300cc learner bike. When you thumb the starter switch the 1098 comes to life and you know you're on a seriously light weight V-twin weapon. The single muffler gives an awesome crack as you twist the throttle, with that typical clutch rattle that Ducati owners love.
"As soon as the clutch is engaged it moves effortless, wheelying in first, second and third just off the throttle and landing is well damped and smooth thanks to the suspension modifications. In the twisties the bike changes direction effortlessly and rides the rough stuff without getting out of shape."
Villain is an amazing example of the stunning bikes built by Steve and MC Roadrunner designs, withthe ability to create special order customer versions for those looking for a reliable, light-weight high-performance machine, that is totally unique.
SPECIFICATIONS:
ENGINE
Stock Ducati 1098S, carbon-fibre belt cover, Ducati Performance carbon-fibre open clutch cover and billet clutch pressure plate, two-into-one exhaust, carbon-fibre conical Ducati Monster muffler, modified wiring loom
CHASSIS
Modified Ducati 1098S frame and sub-frame with custom mounts, Ohlins billet lower triple-clamp, adjustable 25mm riser clip-ons, Ohlins 1098S forks with Street Triple springs and spacers, Ohlins 1098 shock with Kings Springs custom spring, stock Brembo calipers, Metal Gear sintered pads, stock Marchesini forged aluminium wheels, stock Ohlins steering damper
BODYWORK
MC RoadRunner custom – tail, seat, tail-tidy, exhaust hanger, crash knobs, headlight and dash brackets, LED 8/18W high/low halo and devil eye headlights with custom race-plate wind deflector, ultra light weight lithium battery, carbon-fibre front guard, carbon-fibre swingarm and rear guard, MCRR decals and stickers by Bryce Miller Signs, aftermarket Magezi mirrors with integrated indicators, carbon-fibre air intakes, carbon-fibre frame infill panels, stock 1098 dash, relocated ignition, ECU, rectifier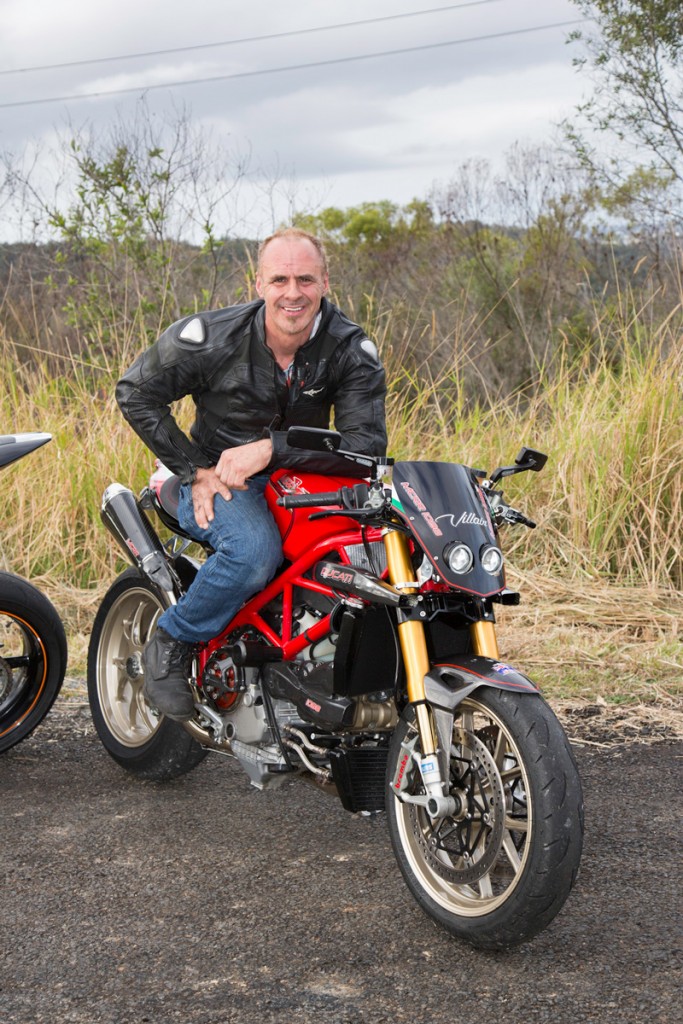 OWNER'S PROFILE
Nickname: Steve Broberg
Business: MC Road Runner, motorcycle builds, custom seats, motorcycle sales.
Ph: 0418 758 277,
mcroadrunner.com.au
What other bikes have you owned? To many to remember or mention, with over 250 owned in 40 years. In my teens it was the YZ range, to TT500s, to my first road bike at 21, a GPZ1100 B1. It was the first of many Kawasaki road bikes till I bought my first Ducati 916 in 1994. The 916 was the first Australian shipment and I got the first delivered to Brisbane.
Since then, mainly V-twin superbikes and streetfighters ad I used to do stunt shows on some oddball stuff like a Hayabusa, GSX-R1000, ZX-10R and Buell XB-12R.
I've built custom Ducatis, a show winning SR500 Caf racer and other streetfighters.
While I always come back to V-twins I like triples also. This decade my rides have been three Super Duke 990s, a 990 Super Motard R, several Triumph Speed Triples and Street Triples, a BMW K 1300 Carbon Edition, a couple of R 1200 Adventures, and currently still own the original Ducati 916 but with a 996SPS motor fitted, Buell XB12R, 1290 Super Duke, Hypermotard, MT-09 and several other dealer stock bikes that I ride that are also for sale.
What other bikes would you like to own? As I have a dealers licence which enables me to buy and sell whatever I chose, those bikes I like riding just get added to my collection. When I see or read about a bike, I'll own it when I want it, or build just what I want when I see the next craze.
What interests do you have other than motorcycling?
While motorcycles, stunt riding and bike building is my passion, I've flown ultra light planes assisted, in helicopters and recently went in a gryo-copter which terrified me. Plus I've jumped out of a plane at 12,000 feet thanks to my girlfriend who arranged it as payback for riding pillion with me.