Love 1980s big balls superbikes? Braced swingarms, oil coolers, sit-up-and-beg! Check out this amazing 2006 Kawasaki Zephyr 1100. Words: Jeff Ware Photos: Moriwaki Engineering
The Kawasaki Zephyr 1100 was a brilliant bike that really never took off the way it should have here in Australia or NZ, quickly replaced by the ZRX. However, if only we could have gotten our hands on the kit that this Moriwaki Zephyr is decked out in. What a stunner…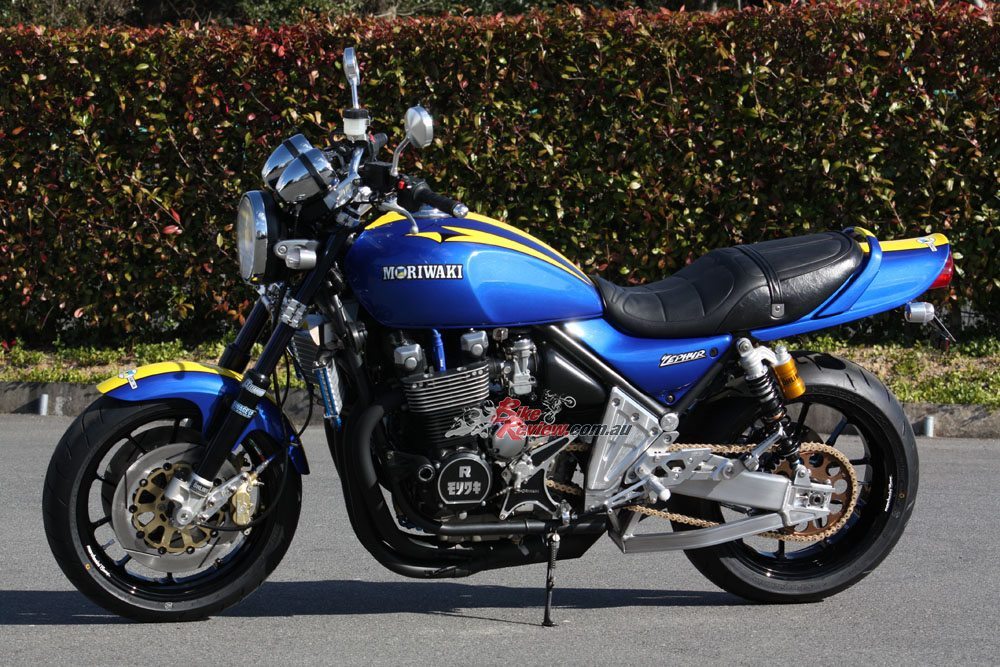 If you are mid-40s, loved early 1980s superbike racing and always dreamed of owning your own ballsy air-cooled superbike – this bike will make that dream come true…
I can't think of a tricker looking, more ballsy and tough looking nakedbike than this 1258cc big bore muscle bike – built by the company that so famously took on the world in the early 1980s with a naked, upright superbike – arguably the world's first superbike… and one that kickstarted the career of our own Wayne Gardner.
This bike was built in Japan by Moriwaki Engineering. Starting with a base 2006 Zephyr 1100 (JDM), the cylinders were sleeved and bored to take huge 80mm Moriwaki pistons, running a compression ratio of 11.5:1. That's grunt!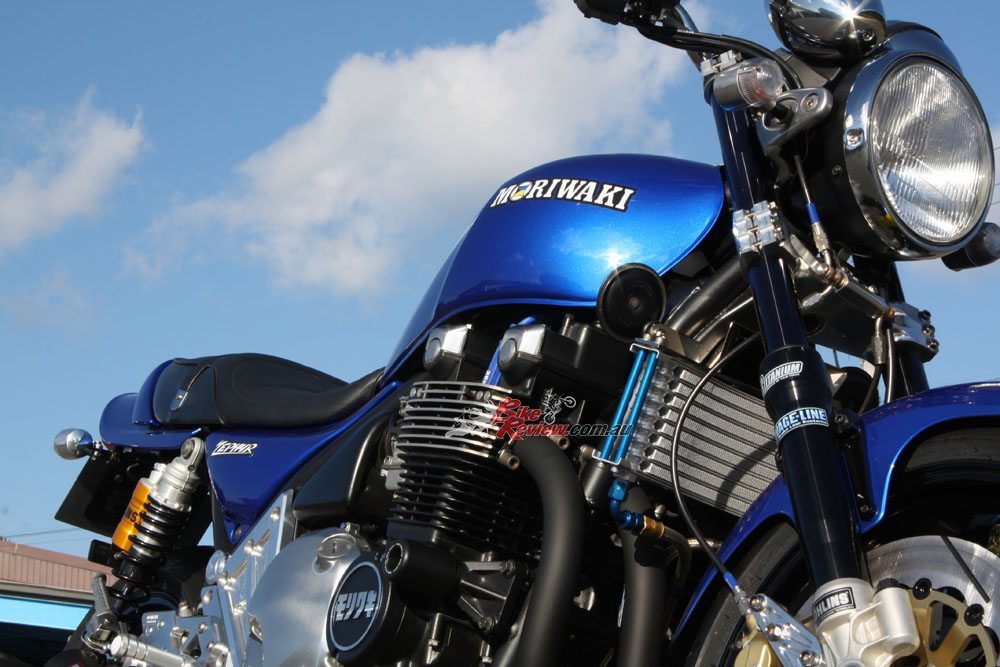 Stock carburettors (Keihin flatslides are available now but weren't at build time) are re-jetted to suit the hot looking hand bent large diameter Moriwaki Monster exhaust system and modified airbox. Standard camshafts are used… as Moriwaki deemed them fine for the job at hand.
---

---
The sump is replaced with a billet alloy Moriwaki oil pan and braided high-pressure oil lines supply oil to the air/oil-cooled engine. The engine also has a Moriwaki billet alternator cover, right-hand engine cover, oil cooler and air scoop under the steering head. A trick looking clutch slave-cylinder brace mount/countershaft cover is also fitted.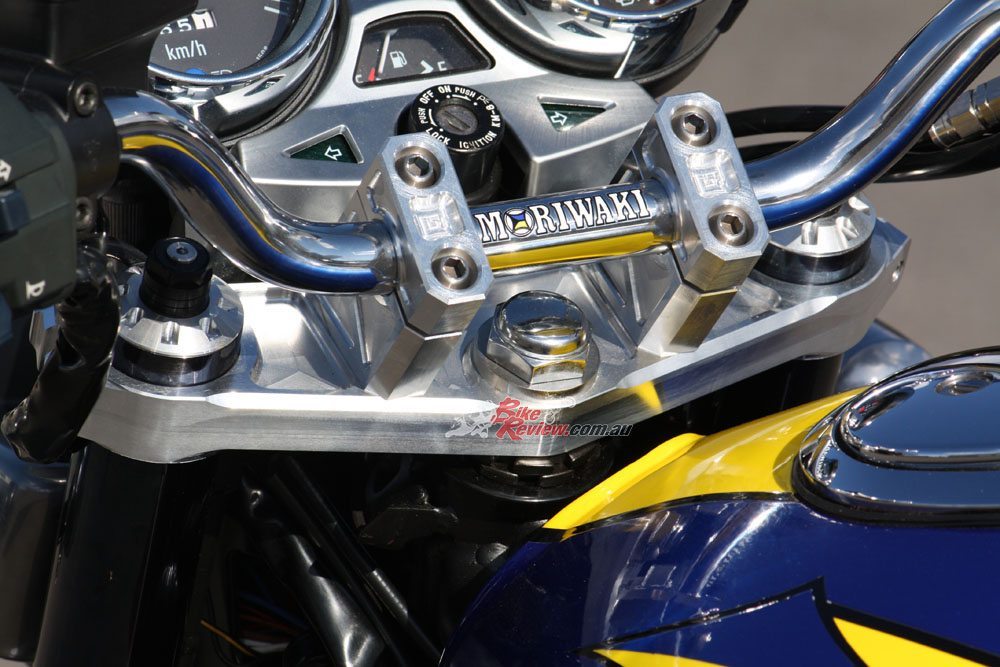 The Zephyr has never been considered a good handling bike in terms of sports riding so Moriwaki Engineering have well and truly fixed that. With decades of racing success with a huge range of machines, if anyone knows about handling it is these guys…
---

---
The forks are gorgeous Ohlins blacked out FS824K/KB 43mm inverted forks in Moriwaki billet triple-clamps, while the rear shocks are Ohlins S36PR1C1L items mounted to a seriously tough looking Moriwaki swingarm that is braced on the underside ala 1980s.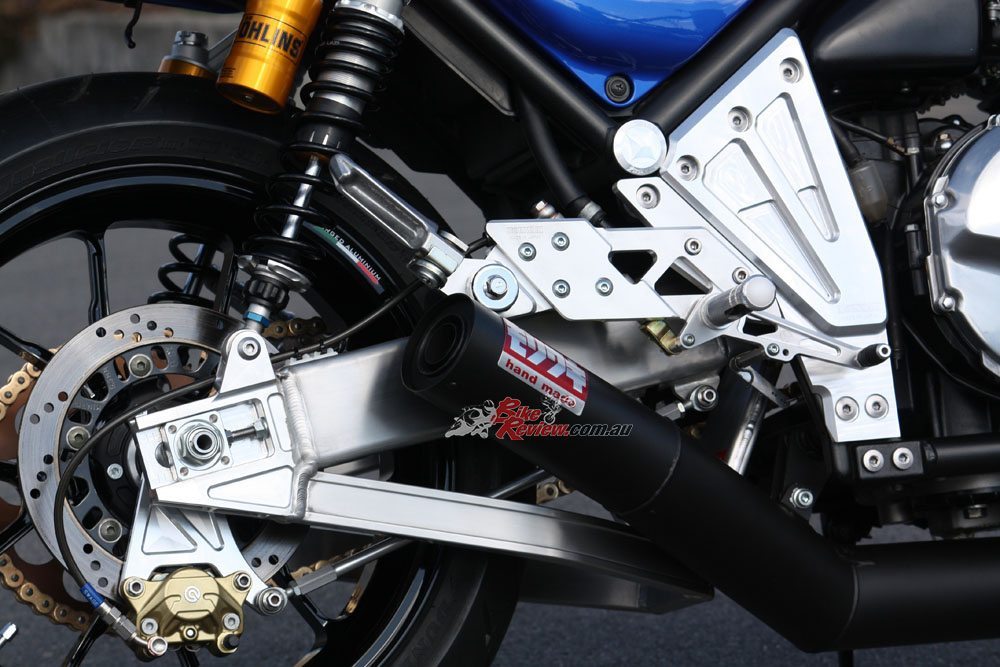 Marchesini Kompo-Evo forged alloy wheels wear Sunstar rotors and the bike is stopped by Brembo calipers and Plot Swage Kevlar lines. Dunlop 120/70 – 17 and 180/50 – 17in tyres are fitted.
---

---
To protect the bike, Moriwaki crash knobs are fitted and the stunning paintwork, a replica job of the original Moriwaki superbike, was done by Design Factory, Japan.
Neat frame hole plugs, Moriwaki rearsets, PIAA HID headlight, POSH blinkers and Moriwaki 'bar risers top off this stunning machine that has more drool factor than any Zephyr we have ever seen, plus it has the power and handling to match the looks…
---
Moriwaki Engineering Zephyr 1100 Gallery
MORIWAKI ENGINEERING 2006 ZEPHYR 1100 SPECIFICATIONS
ENGINE 2006 Zephyr1100, DOHC air-cooled in-line four-cylinder four-stroke 8-valve, 1258cc big bore kit with 80mm pistons (1062cc std), 80mm x 62.6mm bore x stroke, 11.5:1 compression (9.1:1 std), digital ignition, dual plugs per cylinder, five-speed gearbox with wet multi-plate clutch, Keihin CVK34mm carburettors, Moriwaki engine covers and air scoop, Moriwaki Monster exhaust system
---
CHASSIS High tensile double-cradle frame, Moriwaki billet triple-clamps, Moriwaki braced alloy swingarm, Moriwaki rearsets, Moriwaki frame plugs, Ohlins 43mm inverted forks, Ohlins twin rear shocks, Plot Swage brake lines, Sunstar rotors, Marchesini forged alloy wheels, Brembo brake calipers, AFAM sprockets, Dunlop Sportmax Q2 tyres
---
STYLING Design Studio replica paintwork, POSH indicators, PIAA HID headlight, Moriwaki fender eliminator, Moriwaki carbon-fibre front guard
---

---