New Model: 2020 Kawasaki Z H2, details, gallery & video, EICMA 2019
Kawasaki have once again set the bar another level higher with a 200hp, 100ft-lb, Euro5 compliant supercharged nakedbike...
The all-new model we have been anticipating from Kawasaki has been revealed, the amazing Kawasaki Z H2. The Z brand has a rich history that stretches back almost 50-years. Now with the arrival of the Supernaked Z H2 with its supercharged engine, the second chapter of Z history is about to begin. Before we get to review the bike, here is the info released by Kawasaki…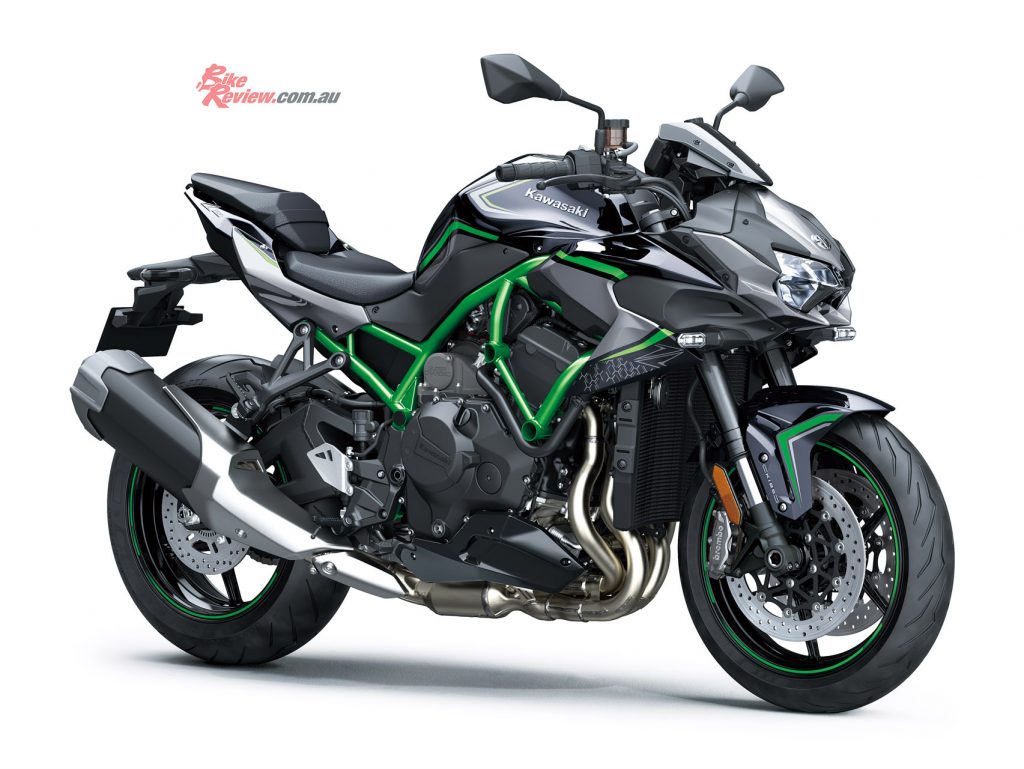 Kawasaki say that development came in the form of market feedback: "If you had a powerful naked model that was also easy to ride, you would be more likely to want to ride it every day, regardless of where you had to go." Towards that end, its supercharged engine – the product of KHI Group technology – was further advanced, and various equipment designed to control its power was developed. At the core, Kawasaki's advanced electronic rider support systems and an all-new trellis frame are joined by front and rear suspension with model-specific settings. In addition, each part down to the smallest detail was thoroughly investigated to maximise its functionality and minimise weight. From the relaxed, upright riding position and optimised dimensions that contribute to light handling, to the torquey low-mid range settings that facilitate riding in town, all were carefully considered to enable riding in a wide range of situations and conditions.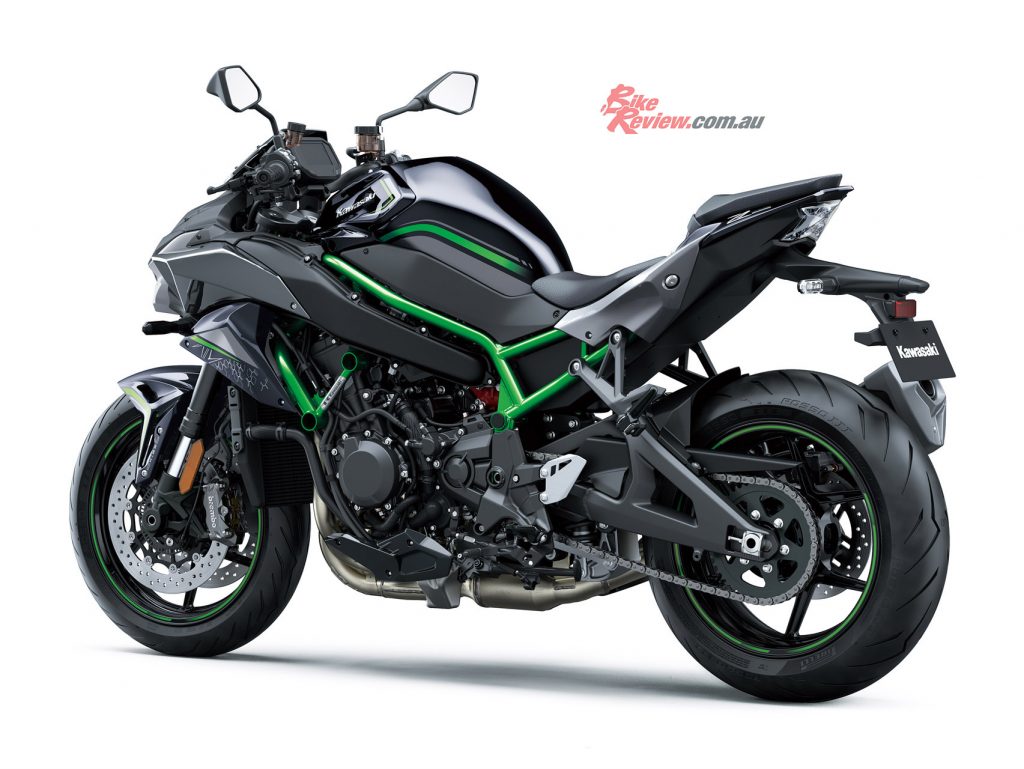 Z H2 HIGHLIGHTS
ENGINE
*          Balanced Supercharged engine with a maximum output of 147kW (200hp)
*          998 cm3 liquid-cooled DOHC 16-valve in-line four delivers consistent high performance
*          Intake/exhaust characteristics and FI settings selected to deliver strong low-mid range torque
*          Assist & Slipper Clutch enables light clutch lever operation and reduces back-torque when downshifting
*          Electronic Throttle Valves achieve smooth, natural throttle response and the engine's power delivery characteristics
---
CHASSIS
*          Newly designed trellis frame that ensures a balance of easy manoeuvrability at low and medium speeds, and stability at high speeds
*          Optimised dimensions contribute to both light and stable handling
*          SHOWA SFF-BP front fork with excellent shock absorption and damping characteristics making it easy to grasp road surface conditions
*          SHOWA rear suspension with smooth action and excellent damping characteristics
*          Brembo M4.32 front brake calipers boasting strong braking power and excellent controllability
---
ELECTRONICS
*          Integrated Riding Modes, which link KTRC and Power Mode to simplify setting adjustments
*          Bosch IMU, which monitors chassis orientation and provides feedback to enable even more precise management by the KTRC and KIBS systems
*          KTRC (Kawasaki Traction Control)
*          Power Mode Selection, which offers three output modes for riders to choose according to preference and conditions
*          KCMF (Kawasaki Cornering Management Function) oversees traction and braking management
*          KIBS (Kawasaki Intelligent anti-lock Brake System), uses high-precision control to regulate          hydraulic brake pressure to minimise interference during sporty riding
*          KLCM (Kawasaki Launch Control Mode), which helps to achieve efficiant acceleration from a    stop
*          KQS (Kawasaki Quick Shifter), which enables clutchless gear shifts
*          Electronic Cruise Control, which enables cruising at a set speed
---
DESIGN
*          SUGOMI design suggests the fierce character of a Kawasaki Supernaked
*          All-LED lighting (excluding US models)
*          Smartphone connectivity via Bluetooth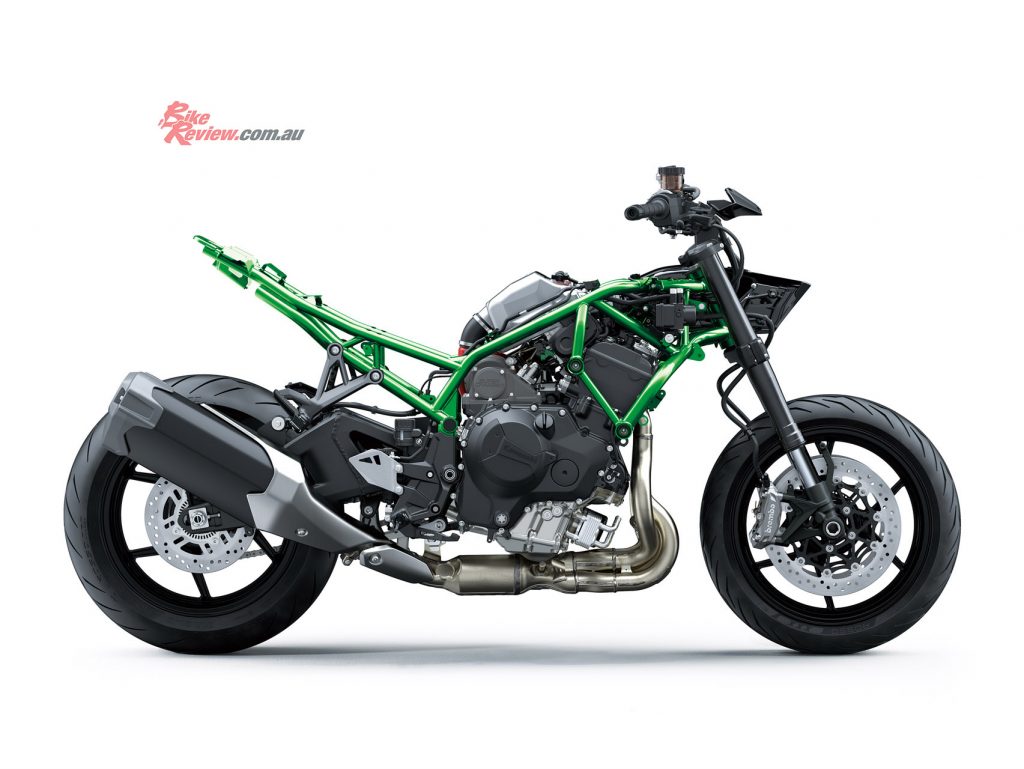 ENGINE
When displacement is increased in order to gain more power, this usually results in increased size and weight, which diminishes the merit of any power gained. The Supernaked Z H2 eliminates this problem by using a supercharged engine. It is claimed to produce intense acceleration unlike anything a naturally aspirated engine can provide.
The Z H2's Balanced Supercharged Engine is the product of Kawasaki Group technology, designed in-house not only by the Motorcycle & Engine Company, but also with collaboration from the Aerospace Systems Company, Energy System & Plant Engineering Company, and Corporate Technology Division. Kawasaki wanted the power of its supercharged engine to be manageable. As a result of this pursuit, the optimised engine-supercharger pairing offers smooth power delivery in all conditions, its wide power band delivering exhilarating acceleration at all rpm.
The Electronic Throttle Valves and FI settings are the prime contributors in ensuring the massively powerful supercharged engine has an easy-to-control character. In addition, short final gearing and optimised valve timing help realise smooth acceleration at low-mid rpm, and longer header pipes in the chamberless exhaust system further contribute to low-mid range performance.
Like on the Ninja H2, high supercharger efficiency means that an intercooler is not required. Although automotive engines with superchargers typically have separate lubrication systems, but Kawasaki's supercharged engines use a single lubrication system to provide cooling oil for the engine components, supercharger and transmission. This allows the elimination of duplicate parts like oil pumps, contributing to weight reduction.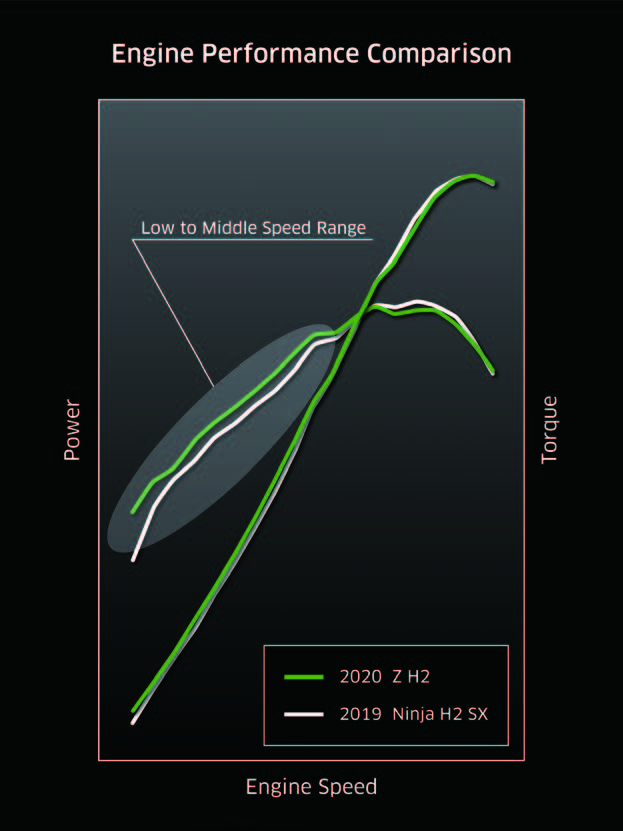 One of the keys to achieving the Z H2's impressive power is its ø69mm impeller. Formed from a forged aluminium block using a 5-axis CNC machining centre to ensure high precision and high durability, its complex shape features 6 blades at the tip, expanding to 12 blades at the base. To withstand high pressures and high temperatures not found in a naturally aspirated engine, cast pistons were selected. The cylinders have more precise circularity and cylindricity thanks to the use of a dummy head during the honing process, which allows low-tension piston rings that help minimise mechanical loss. Using a composite manufacturing method, the exhaust valves are made of two types of metals: an inconel material with excellent heat resistance and heat-resistant steel.
The intake chamber is made of an aluminium alloy, which offers excellent heat dissipation, and is able to handle the supercharged air pressure (approximately 2 atm). A diffuser and net located at the intake chamber inlet help to smooth intake airflow, and contributes to overall supercharger efficiency, which helps prevent engine knocking even without an intercooler.
The frontal area of the Ram Air intake is about three times the area of the supercharger entrance. The Ram Air duct was designed to take the fresh air to the supercharger in as straight a line as possible, contributing to high performance. Positioning the air cleaner just inside the Ram Air intake helps to achieve the ideal power characteristics for the Z H2, while allowing the supercharger housing to be prominently displayed.
Electronic Throttle Valves enable the ECU to control the volume of both the fuel and the air delivered to the engine. Ideal fuel-air mixture results in smooth, natural engine response and the ideal engine output. The system also contributes to reduced emissions. Further, being able to control intake air also enables more precise control of KTRC (Kawasaki Traction Control).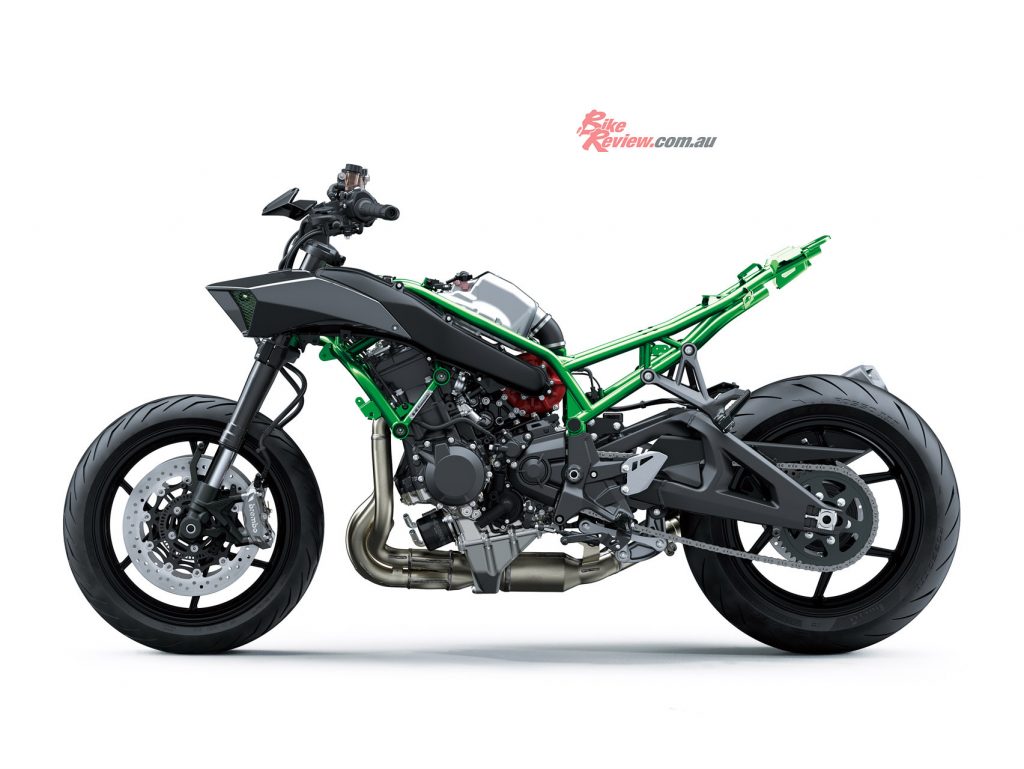 With upcoming EURO 5 emission regulations in mind, a newly designed exhaust system features a layout without an exhaust pre-chamber. This makes room for a large catalyser and a long collector section where exhaust gases from each cylinder can mix well. The long collector greatly contributes to low-mid range torque – a key feature of this model, while the silencer was kept as small as possible despite the lack of pre-chamber, greatly contributing to weight reduction of the exhaust system.
Designing the engine parts, supercharger, and transmission to all be cooled by engine oil helped realise a compact engine with a simple structure. Oil jets lubricate the supercharger chain at the contact points (two places) where the chain meets the upper and lower gears. In addition to the two oil jets, the supercharger drive train's lower gear has an oil passage. Centrifugal force draws oil out to lubricate and cool the chain and gear. Inside the engine, each of the four pistons has a dedicated oil jet, ensuring even cooling of the pistons. Transmission oil jets enable a compact transmission with high durability: one jet for every gear mesh position, and a jet for each of the dog-ring engagement positions ensure efficient cooling.
In addition, a liquid-cooled oil cooler helps to ensure the cooling performance required for the high-performance engine, maintaining stable operation even during high output. The large, curved radiator flows a large volume of air aided in part by the design of the radiator shrouds, which help to discharge the heated air. As a result, in spite of the high engine output of 200PS, only one radiator fan is needed, which also contributes to weight reduction.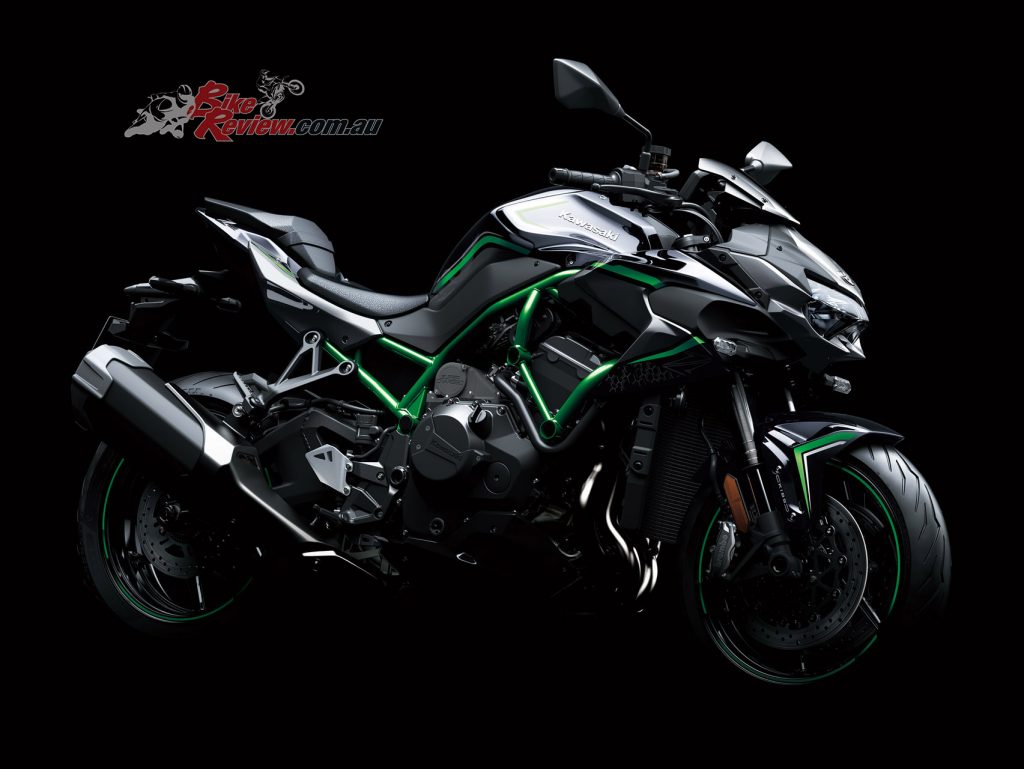 Developed based on feedback from the Kawasaki Racing Team, the dog-ring transmission has a special structure where the gears all stay in place. Only the dog rings move, sliding into position to engage the desired gear. Since the dog rings are much lighter in weight than the gears, the shifting effort is lighter and the shift touch is also good, enabling a shorter shift time, which facilitates quick acceleration.
The assist cam reduces the clutch spring load for lighter clutch lever operation, which helps reduce rider fatigue in city riding situations like stop and go traffic or traffic jams.
CHASSIS
The trellis frame combines pipes of high-tensile steel, each with carefully selected diameter, thickness and bend to obtain the necessary stiffness for that part of the frame. The result is a frame with both the rigidity to handle the high power of the supercharged engine and stresses at high speed, and the flexibility to deliver light, nimble handling. The optimised rigidity also makes it easier for riders to feel feedback from the road surface, which makes the Z H2 more fun to control. Another benefit is that the frame's open design also helps effectively dissipate heat generated by the supercharged engine more easily than would a typical aluminium frame.
The Swingarm Mounting Plate is fastened to the back of the engine, with the swingarm pivot shaft passing through the plate, essentially allowing the swingarm to be mounted directly to the engine. In addition, the Swingarm Mounting Plate acts as a cross member in the frame, contributing to rigidity and enabling weight reduction of the frame. The engine is mounted at an almost upright angle, contributing to the optimised position for the bike's centre of gravity, which gives easy and direct handling.
The chassis design was carefully considered to ensure excellent turning characteristics at low and medium speeds. Caster angle, fork offset and wheelbase were all carefully selected to ensure the ideal dimensions to deliver the light handling for which Kawasaki's Z Supernaked models are renowned. The chassis rigidity, optimised centre of gravity, carefully crafted riding position, and suspension settings able to accommodate low- though high-speed riding all contribute to the Z H2's nimble turning character as well as its excellent straight-line stability at high speed.
For this model, SHOWA's SFF-BP front fork is used. The fork's large-diameter piston provides firm bottoming resistance and sporty damping characteristics. Adjustable preload and damping allow riders to easily set up the bike according to their size and the riding conditions. New Uni Trak rear suspension and swingarm feature a SHOWA shock absorber unit. It offers excellent suspension action at all speeds, as well as firm bottoming resistance even under heavy loads. The double-sided swingarm offers both high rigidity and light weight.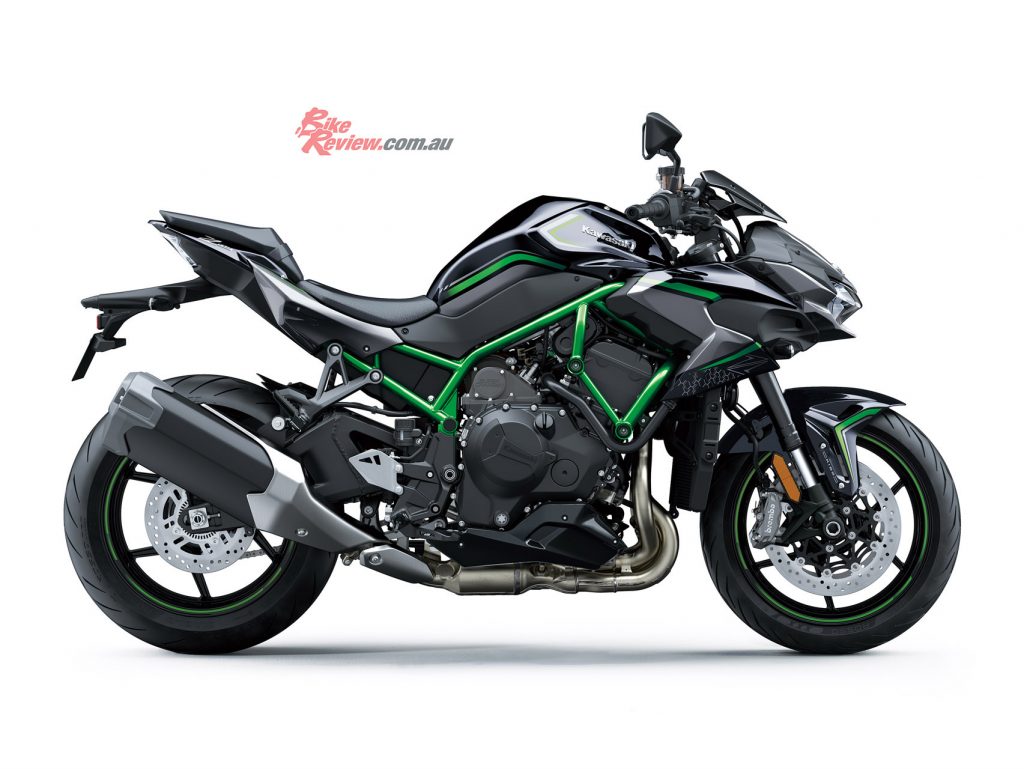 The front brakes are gripped by Brembo M4.32 monobloc calipers. Machined from cast aluminium blocks, their highly rigid one-piece structures boast strong braking force. The calipers are radially mounted, further contributing to their high performance.
The Nissin master-cylinder, fine-tuned with Kawasaki original settings, offers functionality perfectly matched to the Z H2's character, enabling riders to not only control deceleration from various speed ranges, but also to use the brakes to initiate weight transfer to change the bike's posture on corner entry.
---
ELECTRONICS
The Z H2's advanced electronics package includes numerous electronic control systems such as KTRC, KCMF, and KIBS, as well as an IMU that provides chassis orientation feedback to KIBS and KTRC. These rider-support systems offer the peace of mind to handle the power of the supercharged engine, while providing a wide range of information. In addition, Electronic Cruise Control and KQS further enhance riding convenience.
In addition, a choice of three Power Modes, and integrated Riding Modes that link KTRC and Power Mode are extremely easy to operate, allowing riders to focus on their ride.
Integrated Riding Modes:
Sport, Road, Rain, Rider (Manual)
All-inclusive modes that link KTRC and Power Mode allow riders to efficiently set traction control and power delivery to suit a given riding situation. Riders can choose from three settings (Sport, Road, Rain) or a manual setting (Rider). In the manual Rider mode, each of the systems can be set independently.
Enhanced Chassis Orientation Awareness:
The use of Bosch's compact IMU allows an additional layer of precision to be added to the already high-level KTRC, KLCM and KIBS base systems. IMU enables inertia along 6 DOF (degrees of freedom) to be monitored. Acceleration along longitudinal, transverse and vertical axes, plus roll rate and pitch rate are measured. The yaw rate is calculated by the ECU using Kawasaki original software.
The additional feedback from the IMU gives an even clearer real-time picture of chassis orientation than Kawasaki's sophisticated programming is able to predict on its own.
In addition to more precise management, feedback from the IMU enables KIBS to incorporate an additional function. Corner braking management assists riders in tracing their intended line through the corner. Bosch's latest IMU is highly compact and very lightweight, weighing only 40g.
KTRC (Kawasaki Traction Control)
Three modes cover a wide range of riding conditions, offering either enhanced sport riding performance or the peace of mind under certain conditions to negotiate slippery surfaces with confidence. Riders can choose from three modes. Mode 1 prioritises forward acceleration. Mode 2 offers a balance between acceleration performance and rider reassurance. Mode 3 provides rider reassurance by facilitating smooth riding on slippery surfaces. Riders may also elect to turn the system off.
KTRC conveniently remembers which mode was selected, so when the engine is started the mode will be the same as when the engine was turned off. The system will reset to Mode 1 if the system had been turned off, requiring the rider to consciously turn KTRC off via the switch at the left handle.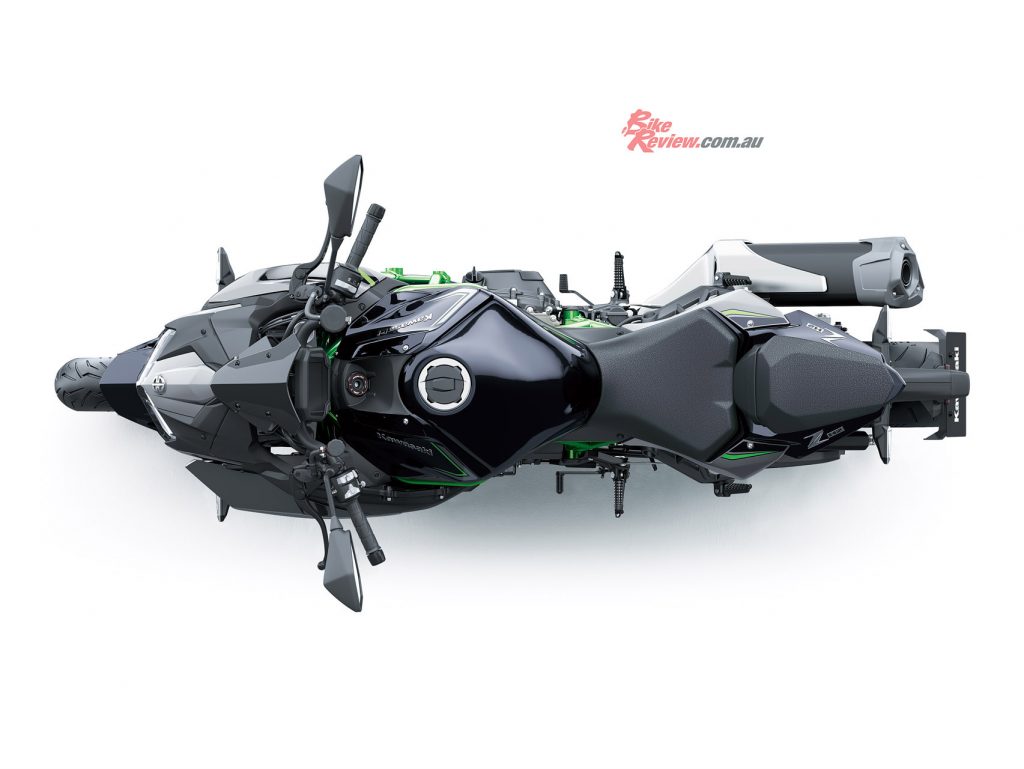 KCMF (Kawasaki Cornering Management Function)
The strength of Kawasaki's cutting-edge electronics has always been the highly sophisticated programming that, using minimal hardware, gives the ECU an accurate real-time picture of what the chassis is doing. Kawasaki's proprietary dynamic modelling program makes skilful use of the magic formula tyre model as it examines changes in multiple parameters, enabling it to take into account changing road and tyre conditions.
Using the latest evolution of Kawasaki's advanced modelling software and feedback from a compact Bosch IMU (Inertial Measurement Unit), KCMF monitors engine and chassis parameters throughout the corner – from entry, through the apex, to corner exit – modulating brake force and engine power to facilitate smooth transition from acceleration to braking and back again and to assist riders in tracing their intended line through the corner.
KIBS (Kawasaki Intelligent anti-lock Brake System)
KIBS, Kawasaki's original brake management system, uses high-precision control to regulate hydraulic brake pressure. During sports riding, it provides linear braking characteristics, enabling effective and stable braking with minimal intervention. When the brakes are applied while turning, KIBS' highly advanced hydraulic control is used to modulate brake force to assist riders trace their intended line through the corner.
KLCM (Kawasaki Launch Control Mode)
Designed to assist the rider by optimising acceleration from a stop, KLCM electronically manages engine output to minimise wheelspin and wheel lift when launching. KLCM should only be used under closed-course conditions; do not use KLCM during everyday riding.
KQS (Kawasaki Quick Shifter)
At engine speeds (rpm) above 2500rpm, KQS enables clutchless upshifts and downshifts. Complementing the powerful engine and dog-ring transmission, the quickshifter is a convenient feature that can be used not only for sports riding but also for city riding and touring. It enables quick upshifts and downshifts, facilitating smooth acceleration and deceleration.
Electronic Cruise Control
Kawasaki's cruise control system allows a desired speed to be maintained with the simple press of a button. Operation of the Electronic Cruise Control is conveniently activated from the left handle. Once the desired speed has been selected, engine output is adjusted automatically via the Electronic Throttle Valves to maintain speed when ascending or descending grades are encountered. The set speed can be adjusted using the "+" and "-" buttons. Operating the brake lever, clutch lever or rear brake pedal, or shifting gears causes the Electronic Cruise Control to be disengaged. Closing the throttle beyond the "zero-throttle" position is another instinctive way to disengage the system.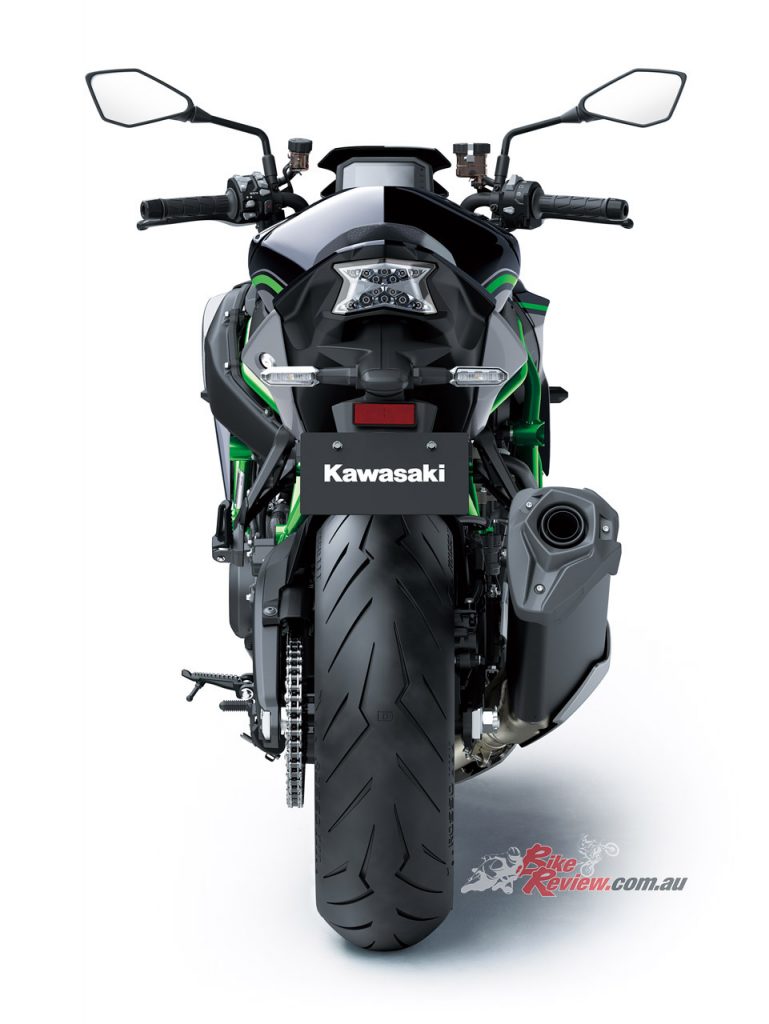 Instrument Panel
The instrument panel comprehensively displays various information on the full-colour TFT LCD screen. It also has functions that can help you manage daily vehicle operating status and schedule for long distance riding. Display functions include a digital speedometer, gear position indicator, shift indicator, odometer, dual trip meters, fuel gauge, remaining range, current/average fuel consumption, outside temperature, coolant temperature, clock, Economical Riding Indicator, IMU indicator, KIBS indicator, boost pressure and boost temperature.
Smartphone Connectivity
This model is equipped with a smartphone connectivity function, which enables connection via Bluetooth. Since the system can be accessed via Bluetooth technology, there is no need to connect cables, which means that convenience is dramatically improved. In addition to checking machine information and recording and downloading logs, settings such as Riding Mode can be prepared remotely. A Bluetooth chip built into the instrument panel enables riders to connect to their motorcycle wirelessly. Using the smartphone application RIDEOLOGY THE APP a number of instrument functions can be accessed, contributing to an enhanced motorcycling experience.
2020 Kawasaki Z H2 SPECIFICATIONS
Price & Availability: TBA
Colours: Metallic Spark Black/Black Graphite Grey/Mirror Coated Spark Black
Claimed power: 147kW(200hp)@11,000rpm
Claimed torque: 137Nm(101ft-lbs)
Weight: 239kg
Fuel capacity: 19L
Engine: Liquid-cooled, DOHC, 16v, inline four-cylinder four-stroke, supercharged, 998cc
Gearbox: Six speed, constant mesh, sliding dog-ring
Clutch: Wet multi-disc, slipper
Final drive: Chain
Chassis: High tensile steel trellis frame, Rake: 24.9°, Trail: 104mm
Suspension: KYB SFF-BP forks, 120mm travel, Showa shock, 134mm travel
Brakes: Brembo M4.32 calipers, 290mm rotor size, 226mm rotor, N/A caliper rear brakes
Wheels & Tyres: Cast alloy 3.50 x 17in (f), 6.00 x 17 (r), 120/70-17in, 190/55-17 tyres
DIMENSIONS:
Wheelbase: 1455mm
Ground clearance: 140mm
Seat height: 830mm
Overall height: 1130mm
Overall length: 2085mm
Overall width: 810mm
Instruments: Full digital multi-function TFT display
2020 Kawasaki Z H2 Gallery