The Triumph Trident 660 roadster offers LAMS riders a triple the fun alternative at a competitive price... We spent a few weeks smiling... Test: Jeff Ware Photography: HMC Photography
The Triumph Trident 660 is a retro-look, back to basics, stylish and fun machine that is a less expensive alternative to the current $14,900 LAMS approved Street Triple S. With the famous Trident name, it has a lot to live up to. We spend some time riding it to find that out.
Triumph introduced the mighty Street Triple way back in 2007 and it has been a hit ever since, with its supersport 675cc triple engine, upgraded to 765cc in 2017, not only proven in Moto2 but also in hundreds of thousands of garages all over the world.  The 660cc LAMS version came here and we last tested that way back in 2015 (see the shootout here) with the Trident 660 and current Street Triple S 660 engine identical geometry-wise to the original, but with dozens of refinements, it certainly has many years of development pedigree behind it.
---
---
The performance nakedbike class is where Triumph rule and there are loads of choices for fully licensed riders on the Triumph Australia website. Called the Roadster class by Triumph, there has never been too much lacking for those after the more streetfighter styled hyper naked: The Speed Triple 1200 RS, Speed Triple 1050, Street Triple S and RS, but now there is an option for those after a more retro themed less sporty nakedbike in the Trident 660, whereas before Triumph newbies were limited to a classic styled retro or the Street Triple S, a 660 version of the Street Triple with less power, lower specification brakes and suspension, more stable geometry but the same styling.
---
You can read more about the Trident in the tech breakouts below but it does have some great features for a LAMS machine. The frame is only steel but is a tubular perimeter frame and the wheels are cast alloy. The forks are Seperate Function SHOWA 41mm inverted items and the shock is SHOWA. The lights are LED and and tyres are Michelin Road 5. The bike comes in a full power (80hp) version overseas but we only get the LAMS model here.
---
---
As mentioned, there is a TFT display with the left switchgear tailored to suit easy smart phone and app TBT navigation via the My Triumph app, which is a free download from the App store and allows control of music, viewing SMS and accepting or rejecting call.
---
---
The engine features RbW technology and there are two Ride Modes, Road and Rain, as well as a traction control system that can quickly be switched off within the dash menu (while stopped) should you feel the need to do some wheelies! The rest of the bike is basic and built to price point, with no quickshifter (it's optional accessory though), cruise, or suspension adjustment bar rear preload.
Styling is, in my opinion, on point. The large logos look great, the colour options are spot on and I really liked the red highlights on our press bike. As nice as the rear looks, the pillion seat is more style than substance and you really would not want your pillion to slip off the back with the amount of rear tyre that is exposed, but that seems to be a common styling trend for a lot of Euro bikes these days. The dash is great looking, the headlight, taillight, badges, indicators and the finish are top notch.
---
---
So the Trident looks great, is priced OK, carries decent tech spec' and offers an alternative style to the rest of the LAMS brigade, but what is it like to ride? I spent a few weeks finding out and have to admit, it took time to grow on me but in the end I appreciated it for what it is and, more importantly, found the grin factor many other reviewers have raved about… Starting with the sound. It's wicked!
My first few days on the Trident were spent riding around town, using the bike as a daily rider, and it was a job that the little triple excelled at. The lowish seat height, super narrow tank and seat and the wide handlebars, combined with the footpeg position, give a commanding rider triangle for urban riding and would be great for the newer rider. The Trident is well balance and nimble steering at slower speeds, such as in traffic and around town, and generally easy to handle – although more steering lock for a tighter turning circle would be good and a little more power from the rear brake would help.
---
---
The engine makes impressive torque from walking pace and is just so friendly as a daily rider powerplant, as you can get lazy with downshifts and carry a taller gear, and just about drop to idle speed without stalling or going for some clutch. Speaking of which, the cable operated clutch is light enough but a tad grabby around town on take-up, which meant I found I had to use more revs than I otherwise would, to feed the clutch out slower and smoother.
---
These press units do cop a flogging though, so it may have been from previous hard use. Fuelling is pretty smooth low down without being perfect, so there is a bit of room for improvement there. Switches and mirrors, sidestand access and dash layout are all easy to live with. At night the headlight is fairly good, even on some of the dark National Park roads surrounding my hometown I didn't need to flick high beam on at night. The dash is easy enough to read at night also.
Getting out of town is what we all want to do and the Trident is a hoon machine at heart. The handling characteristics took me a bit by surprise though when I first hit the twisties. That ultra accurate low speed manoeuvrability that makes the Trident so easy to weave through traffic and negotiate the urban jungle doesn't translate to the same performance in the twisties…
---
---
With weight carried quite high and a lazy, stable rake angle of 24.6º plus a large amount of trail at 107.3mm, the Trident feels longer than its 1401mm wheelbase. Initial turn-in is really quick, then the bike resists leaning a little before rapidly falling on its side once it passes a certain lean angle. What this means is you have to be committed to the corner and have a lot of trust in the grip if you are having a go, as once in a turn the Trident likes to stay on the one line. For medium paced riding where you are not using full lean, the geometry makes more sense, and will suit new riders more than experienced riders.
---
---
It likes a long, arcing old fashioned line through a corner and although it is fun, has good ground clearance and can carry a lot of corner speed. If you are going to crank the bike right over, that initial drop into the turn can be quite heart-in-mouth and probably not so easy for newbies that might need to readjust their line after committing to the turn. On a slightly damp patchy road, I found I couldn't ride the Trident with total confidence as a result. On the dry roads I was happy to throw it at the corners more. It'd be interesting to ride one on alternative tyres, just to eliminate that factor.
The tighter switchbacks that don't need too much lean angle are a happy place for the Trident, when it can be flicked through corners and fired out, and as mentioned, the big long sweepers at full lean, it is just the middle zone where I found the bike a little difficult to ride. Remembering this is a LAMS bike, and not everyone is going to try and push it to the limit, but it's my job!
---
The Trident powerplant is super engaging, fun, thrilling and just has that grin factor that some motors seem to have tuned into them…
---
The brakes on the Trident are sufficient, however, they are more suited to the learner rider and I would imagine the full power version would need more braking power. Initial bite is gentle and there is not a lot of power there, with a hard squeeze needed. This is probably a good thing for the learner rider, however, once some experience is gained, a change in pad material will probably be a help.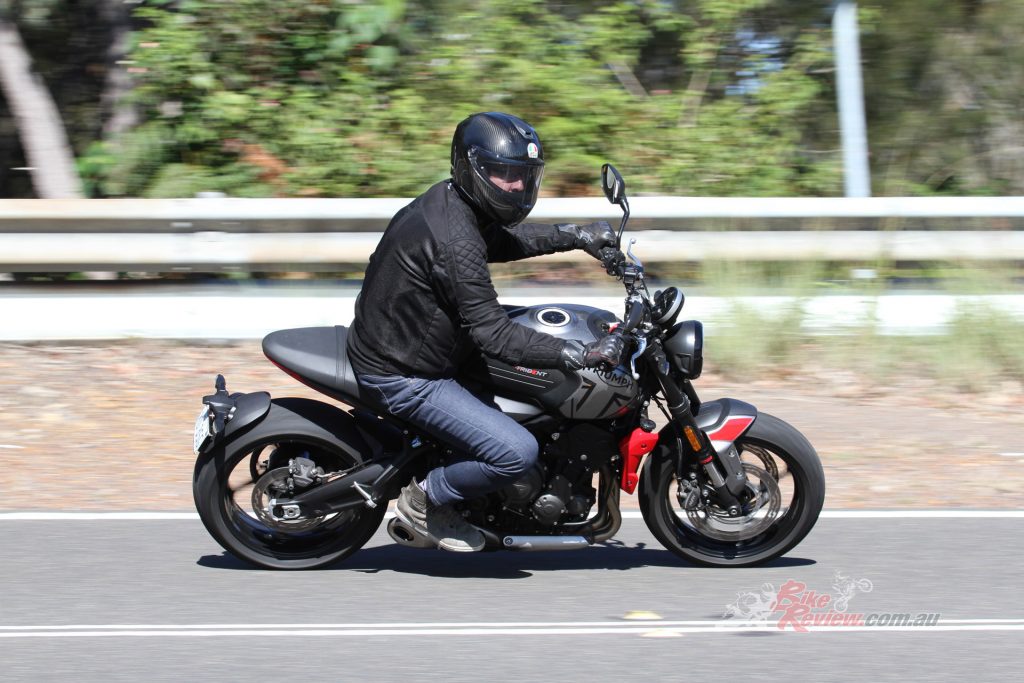 The suspension is quite good for what it is, basic spec stuff (on par with the competition). The forks are well sprung and valved, coping with everything I encountered during the test period. They hold up under hard braking, can handle a series of bumps and only felt underdone with the bigger hits. Out the back, the shock was fine for 80 per cent of the riding but when pushed that little further, the performance drop off is quick and there is a lack of spring control when pushing on, plus the bigger hits upset the back of the bike. Still, it'd get most riders through their LAMS period, no dramas.
The engine, as mentioned, is a cracker. It is the highlight of this bike and you quickly forgive any chassis shortcomings as soon as you wind the throttle on. Like pretty much every Triumph engine, the Trident powerplant is super engaging, fun, thrilling and just has that grin factor that some motors seem to have tuned into them.
---
---
It has a wicked note, torque on tap anywhere and just makes you enjoy the ride. The gearbox is good, with a positive shift (a quickshifter would be tops), and although it does flatten out up top when power and torque are sent to bed, the bottom-end and mid-range is ballsy. Switching TC off brings it alive more, but I spent most of the time in Road Mode and only tried Rain Mode a few times in damp conditions. I preferred Road, even in the wet, as the TC is less intrusive.
At first I wasn't sold on the Trident but a week or so in I began to. I actually really enjoyed my time on the 660. No bike is perfect and I could happily live with one as my only bike if that is what was available to me, without complaint. The LAMS market is competitive and hot, with some good mid-capacity nakeds in the price range of the Trident, so it has tough competition, but it is unique and has the main ingredient – fun factor. If you are interested in a Trident, you can find a Triumph Dealer Locator here…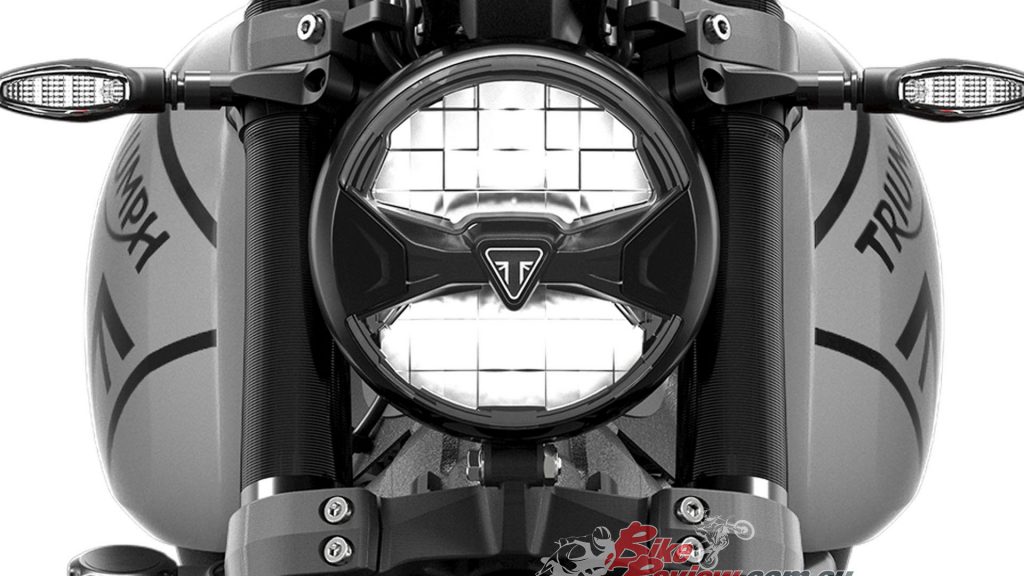 ENGINE
The Trident 660 engine has been developed specifically for the Trident with 67 new components across the powerplant versus the 675. The engine is a destroked version of the 675 Daytona motor, dropping from 52.3mm to 51.1mm. This contributes towards the power reduction from 123hp of the 675 down to 54hp@8,750rpm ensuring that LAMs riders can throw a leg over this bike too. Specifications are virtually identical to the 2014 Triumph Street Triple 660 LAMS engine and also powers the current Street Triple S. 
The new engine isn't just a destroked version of an older triple but features new parts such as: pistons, cylinder liners, head, cooling system, crank, crankcase, camshafts and more. The six-speed gearbox has gear ratios and a final drive optimised to suit the new mapping. The slip and assist clutch with a span-optimised lever make it easy for new riders to get used to the Trident.
---
---
CHASSIS
The combination of a wet weight of just 189kg, an all-new tubular steel chassis and an ergonomic set-up designed to suit both experienced and new riders, lightweight 17in alloy wheels and tapered aluminium bars, the trident should be more than easy enough for new riders to tackle. Triumph say the Trident's chassis and riding position has been designed to feel comfortable but also to be engaging for the rider – with a narrow width and a low 805mm seat height that allows most people to get their feet flat on the floor at a standstill. 
---
---
On the front the bike is equipped with Showa upside down separate function forks giving 120mm front wheel travel, while on the rear the Trident features a Showa preload adjustable monoshock rear suspension unit with linkage and 133.5mm of rear wheel travel.
---
Michelin Road 5 tyres are fitted as standard and a tyre pressure monitoring system is also available as an accessory so you can keep an eye on your pressures! To complete the Trident's set-up the braking is handled by basic two-piston Nissin sliding front calipers with twin lightweight 310mm discs and single piston Nissin rear caliper and oversized 255mm rear rotor.
STYLING
The distinctive look of the new Triumph Trident 660 is characterised by a host of features including a 14L fuel tank, with a new contemporary design style and Triumph's signature knee cut-outs. Lightweight cast aluminium five-spoke wheels, a new swingarm and clean and light rear design with a minimal number plate hanger integrated with the rear indicators.
---
---
The Trident is available in four colour schemes: Silver Ice & Diablo Red, Matt Jet Black & Silver Ice, Crystal White and Sapphire Black. Triumph logos can be found sprinkled across the whole bike, a nice touch to add a premium feel to their bike. In addition, on the side of the tank, an aluminium Trident badge with diamond machined detailing finishes off the bike nicely.
---
---
The Triumph Trident is equipped with an all-new colour TFT screen integrated with a crystal clear 'white-on-black' LCD display. The instruments, when implemented with the dedicated My Triumph Connectivity System accessory module, can also provide turn-by-turn navigation, GoPro control and phone and music control, all via Bluetooth, using the handlebar mounted switch cubes. 
ELECTRONICS
The Trident comes fitted as standard with three new technology features: with two riding modes, adjustable traction control and ride-by-wire. The 'Road' and 'Rain' riding modes enhance control and safety through the electronic adjustment of both the throttle map and traction control. The adjustment of the throttle map is made possible by the ride-by-wire technology that provides crisp and precise throttle response. The power of the 660 Triple engine is managed by the switchable traction control, integrated in both riding modes, and this can also be disengaged directly through the instrument menu.
---
---
2021 Triumph Trident 660 LAMS Specifications
Price: From $12,690 R/A
Warranty: Two Years Unlimited KM
Colours: Silver Ice & Diablo Red, Matte Jet Black & Matte Silver Ice, Crystal White and Sapphire Black
Claimed Power: 39.8kW@8,750rpm
Claimed Torque: 59Nm@5,000rpm
---
ENGINE
Liquid-cooled, 12 valve, DOHC, inline three-cylinder four-stroke, 660cc, bore x stroke 74mm x 51.1mm, compression ratio 11.95:1, EFI Multipoint sequential electronic fuel injection with electronic throttle control, Stainless steel 3 into 1 header system with low single sided stainless steel silencer, wet, multi-plate clutch, six-speed gearbox.
---
CHASSIS
Frame Type; Tubular steel perimeter frame
Rake: 24.6º Trail: 107.3mm
Suspension: Showa 41mm upside down separate function forks (SFF) (f), 120mm travel, Showa monoshock RSU, 133.5mm travel, with preload adjustment (r).
Brakes: Nissin two-piston sliding calipers, twin 310mm discs, ABS (f) Nissin single-piston sliding caliper, single 255mm disc, ABS (r).
Wheels & Tyres: Cast alloy, 17 x 3.5in (f), Cast alloy, 17 x 5.5in (r), 120/70 – 17in (f), 180/55 – 17in (r).
---
DIMENSIONS
Wheelbase: 1401mm
Overall Length: 2020mm
Width: 795mm
Height: 1089mm (without mirrors)
Seat Height: 805mm
Wet Weight: 189kg
Fuel Capacity: 14L
---
Dash & Electronics: TFT Screen with smart phone connectivity, traction control, ride modes, Blutooth connectivity, My Triumph connectibity app available for Nav, Music and more.
---
The Verdict | Review: 2021 Triumph Trident 660 LAMS