For those looking for a day and night visor solution to their Shoei helmet, such as the NXR or X-Spirit III, or most recent addition to the line-up, in the RYD, there is an answer other than switching visors. Shoei offer their Transitions Adaptive Sheilds for these models, with the visor adjusting itself according to light levels.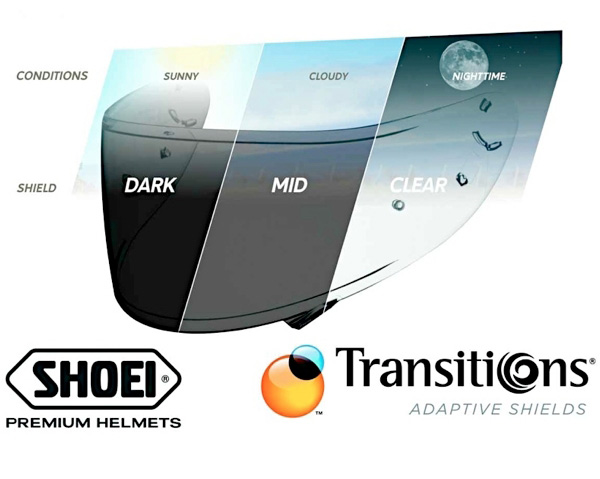 All motorcyclists know how important clear, crisp vision is. Traditionally, riders deal with changing light conditions by carrying two shields (one clear, one tinted) with them at all times, on helmets not equipped with internal visors, with a pair of sunglasses a possibility but rarely comfortable.
Transitions Adaptive Shields eliminate the need to carry multiple shields, and actually enhance vision by seamlessly adjusting to optimised darkness levels with the changing light. It's not just a on/off feature, instead the visor darkens to suit conditions.
Best of all the shield will also take a Pinlock EVO, meaning no issues with fog in the cool weather.
We'll be testing out the new Shoei RYD helmet shortly, equipped with a Transition Adaptive Shield, so check back for all the details on both.
Shoei Transitions Shields – How they work
When Transitions Shields are exposed to UV light, trillions of photochromic molecules in the shield begin to change structure. This reaction is what causes the shields to darken. The superiority of this brand's technology lies in their exclusive patented formulas.
The molecules constantly and smoothly recalibrate so the optimal amount of light reaches your eyes whether you're in bright sunlight or under cloud cover.
Transitions Optical has been an industry leader in photochromic technology for 20 years and is known worldwide for its photochromic prescription eyeglasses: Transitions lenses. Driven by innovation, the company has continually improved its core clear-to-dark product by optimum lens durability and performance.
UV Protection: Blocks 700 per cent of UVA and UVB rays
Full activation in two minutes*
Impact resistant
The Australian importer of Shoei Helmets is McLeod Accessories, for further information see McLeodAccessories.com.au or visit your local motorcycle store. The Shoei Transitions Adaptive Shield is available for $269.95 RRP.