RJAYS have an awesome range of rainwear to keep you dry in this wet season. Check out all the options Cassons in stock have for Australian customers at affordable prices below....
Dying for a ride but the weather has other plans? RJAYS have you sorted with their range of wet weather gear. Everything from head to toe can be made waterproof with the 2022 RJAYS range and you don't even have to break the bank for it! Check it out below…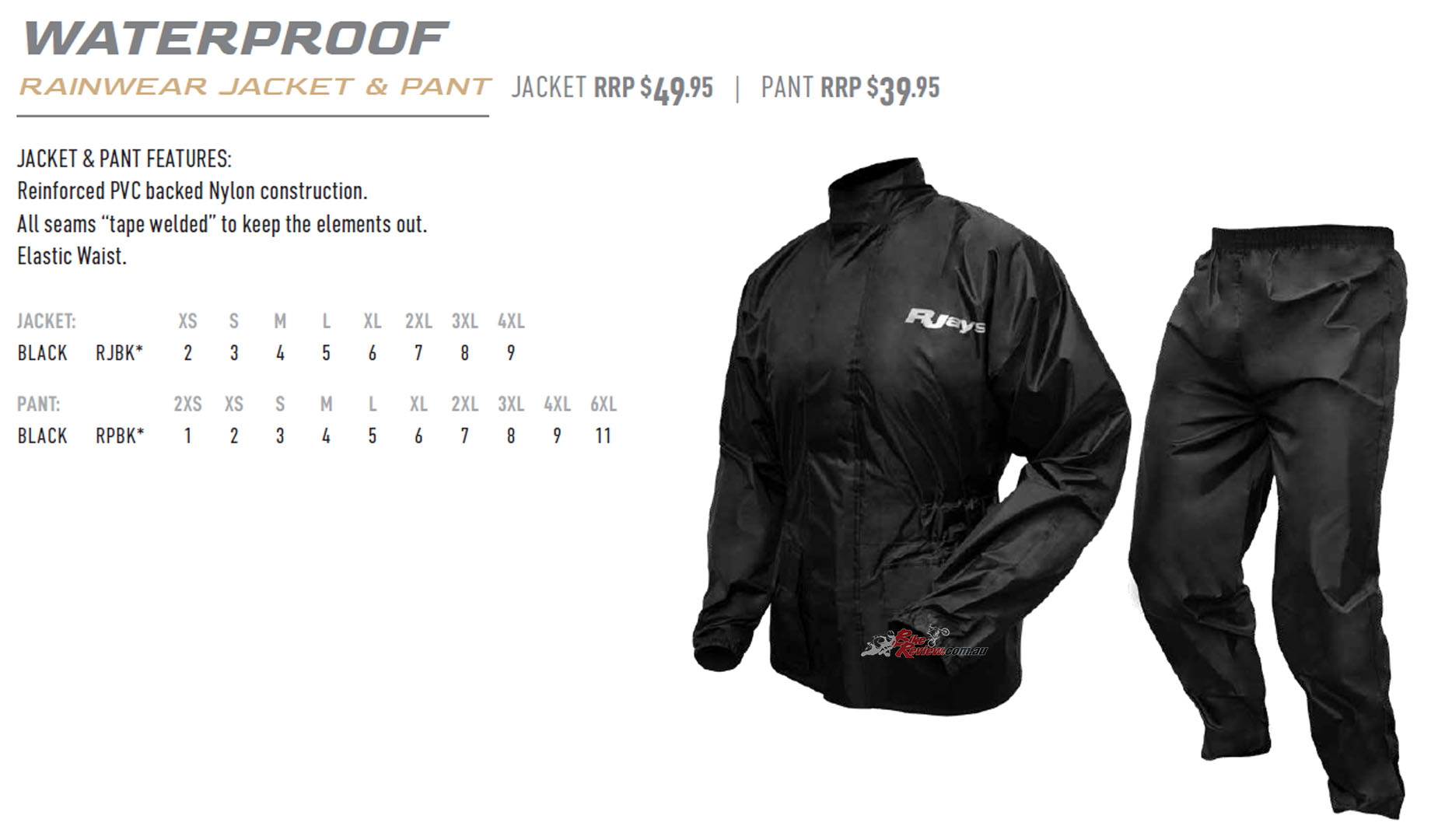 ---
Check out the 2022 RJAYS Australian catalogue here…
---
Waterproof Jacket and Pant
Coming in at an RRP of just $49.95 for the jacket and $39.95 for the pant, this combo means you don't need to go out and buy a new jacket and pair of pants to stay dry. Reinforced PVC nylon construction, tape welded seams and an elastic waist mean you'll stay comfortable and dry all day!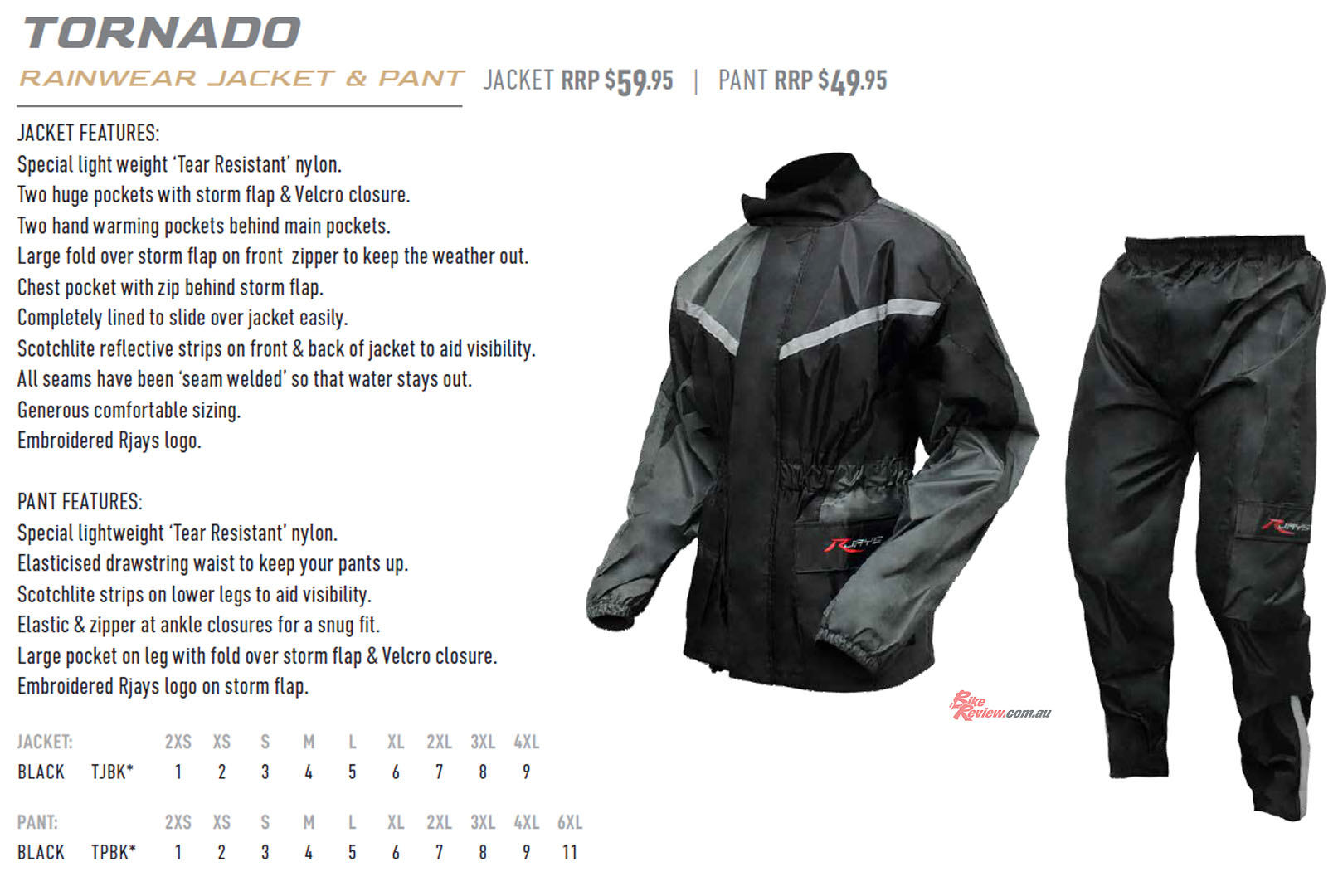 Tornado Jacket and Pant
The Tornado combo is another affordable combo to keep you dry. Coming in at an RRP of just $59.95 for the jacket and $49.95 for the pant, there's a long list of features that make this duo look great and feel comfortable. Check out all the sizes above.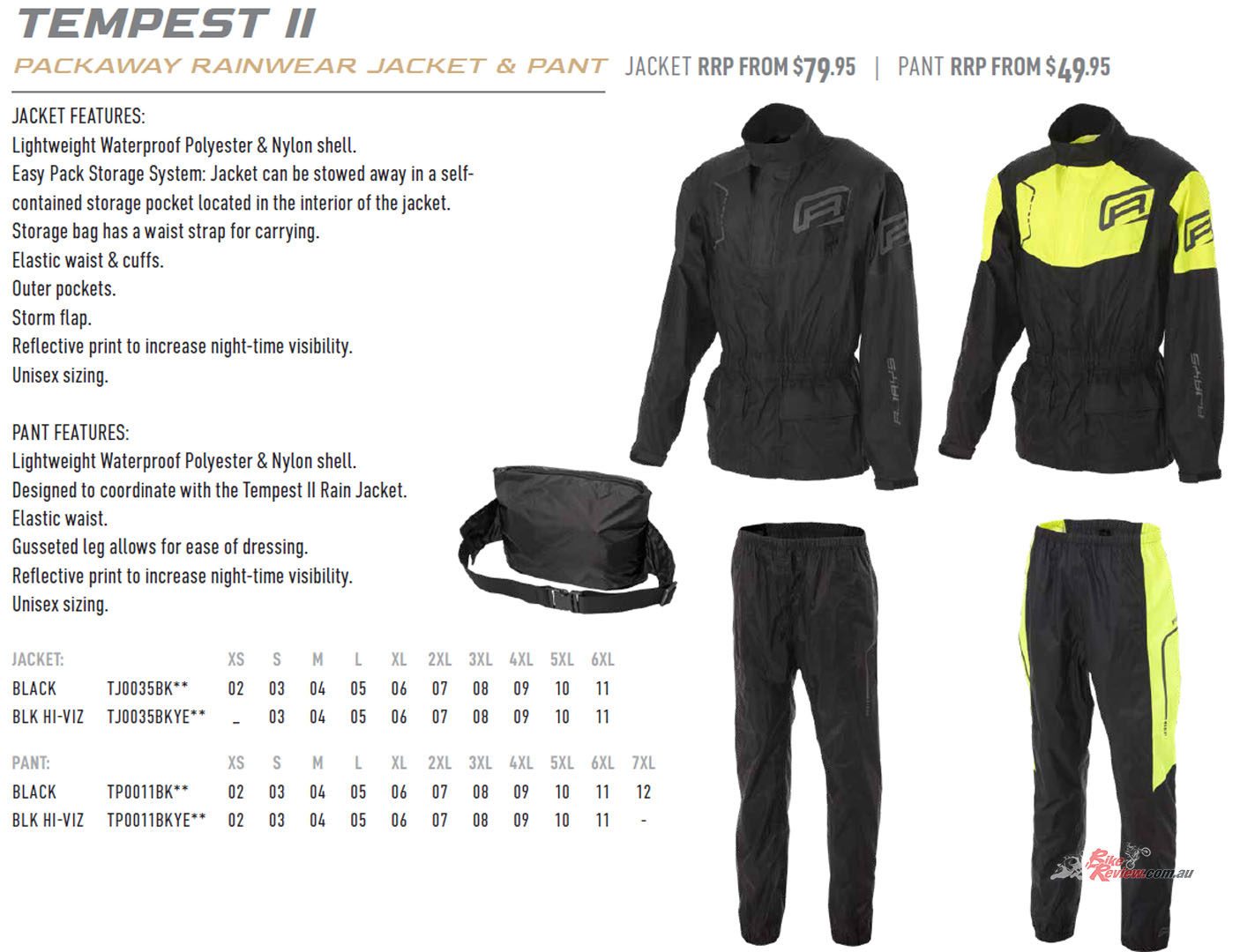 Tempest II Jacket and Pant
The Tempest II rain jacket has a lightweight, waterproof polyester and nylon shell, the jacket can be stowed away in a self-contained storage pocket located in the interior of the jacket. There is enough space to also store the matching pants. The jacket also features an elastic waist and elastic cuff for a snug fit. You can pick up the Tempest II for $79.95 in Black or $89.95 in Hi-Viz while the Rain Pants have an RRP of $49.95 in black and $59.95 in Hi-Viz.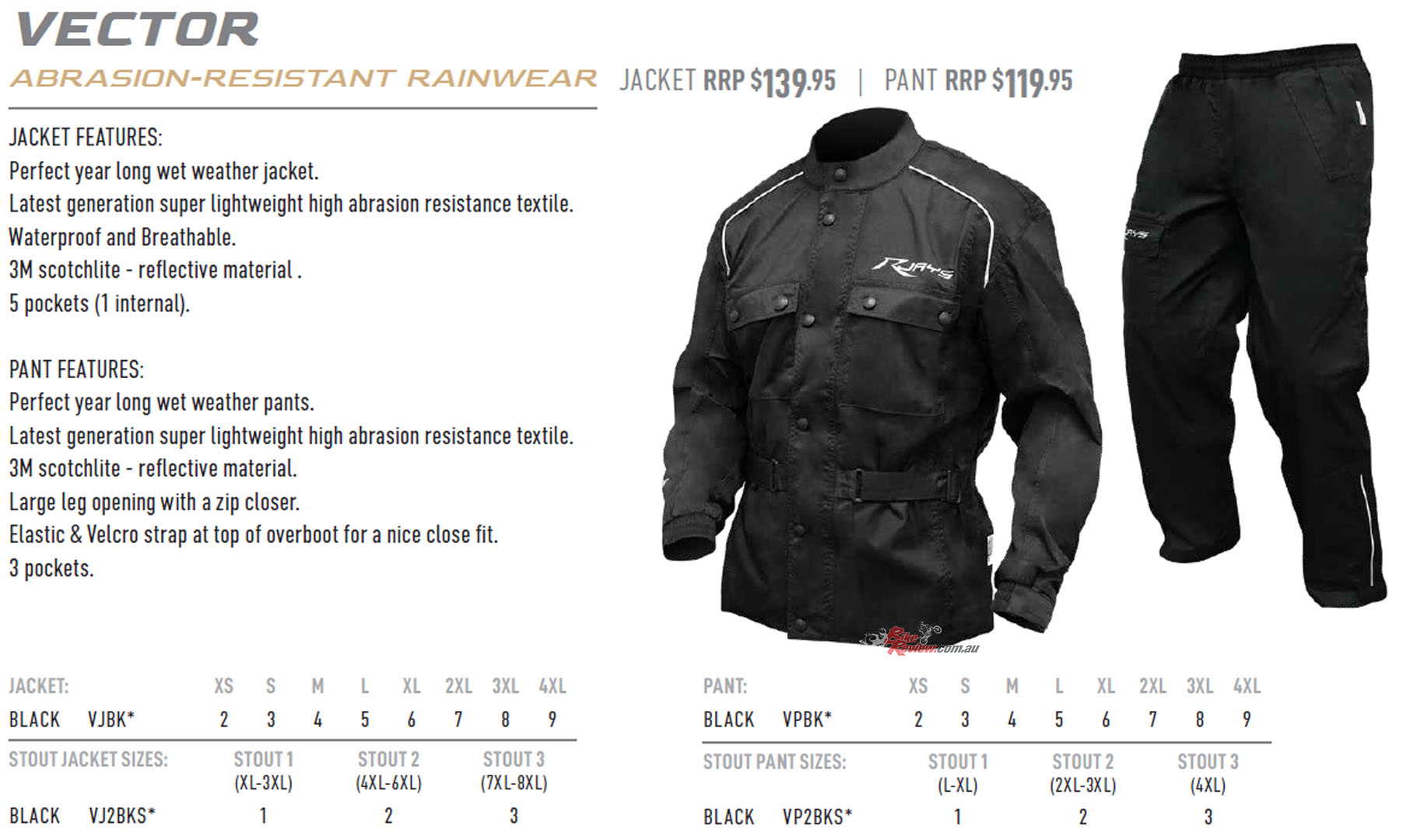 Vector Jacket and Pant
Priced at $139.95 for the jacket and $119.95 for the pants, the Vector riding gear sits in a very comfortable part of the market and can be worn all year round. You can get them in a range of sizes from XS-4XL as well as Stout sizes.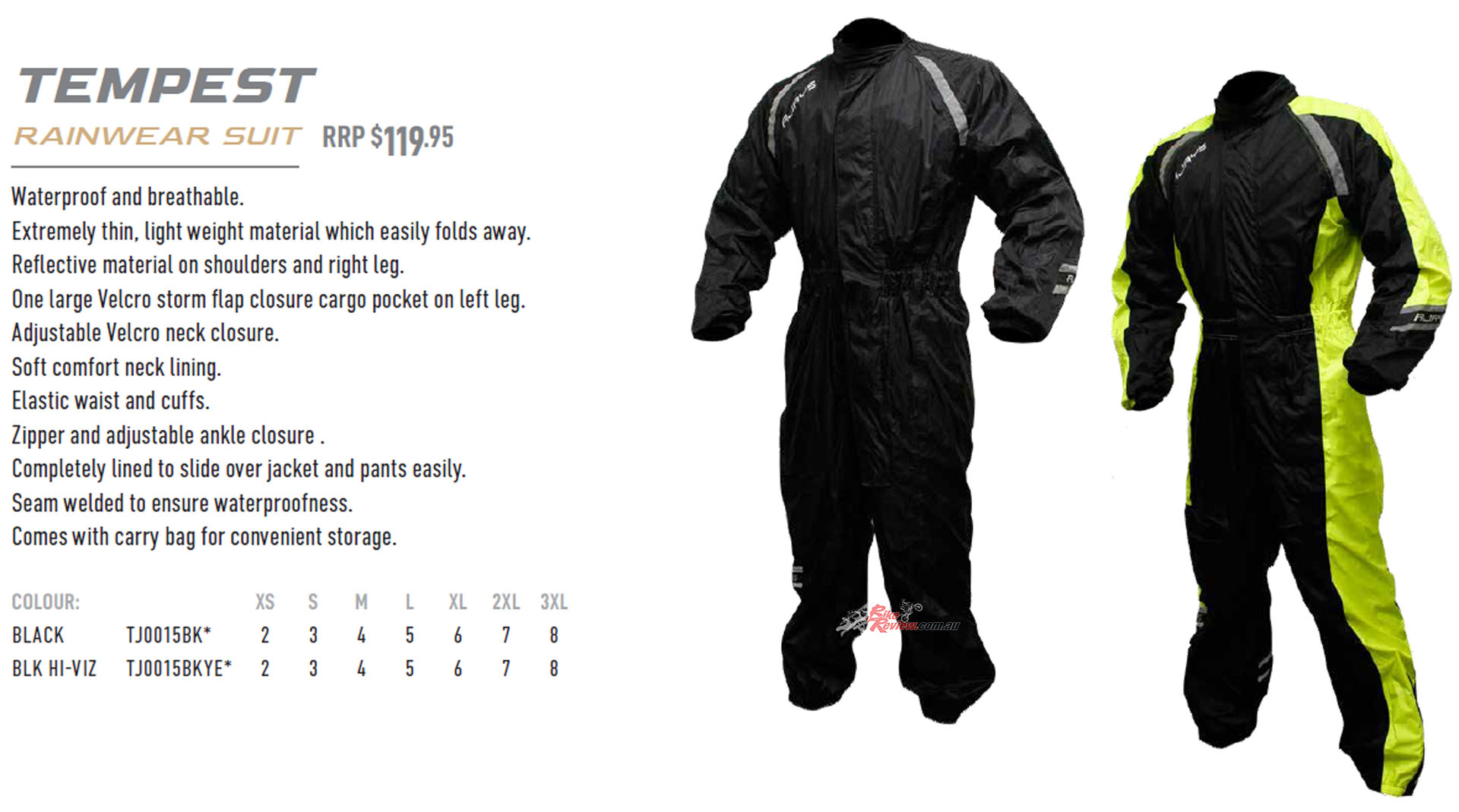 Tempest Rain Suit
The Tempest Rain Suit follows the same design as the Tempest II but in a one piece constructions. This suit can be easily folded up into the carry bag and quickly put on for those sudden downpours. You can pick a suit up for an RRP of $119.95.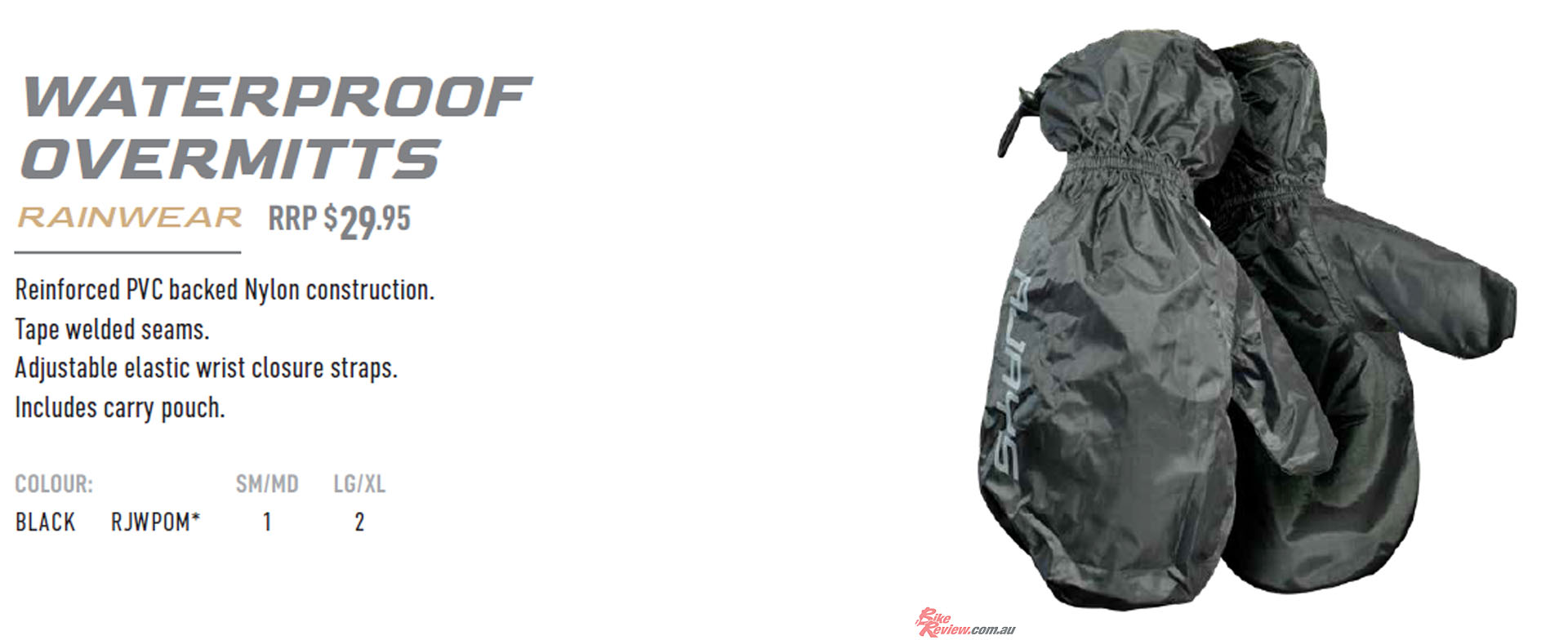 Waterproof Overmitts
RJAYS haven't forgotten how uncomfortable it is when your gloves get soaked. They've designed a pair of mitts that will fit right over your riding gloves and keep your hands dry. You can pick up a pair of RJAYS Waterproof Overmitts for an RRP of $29.95.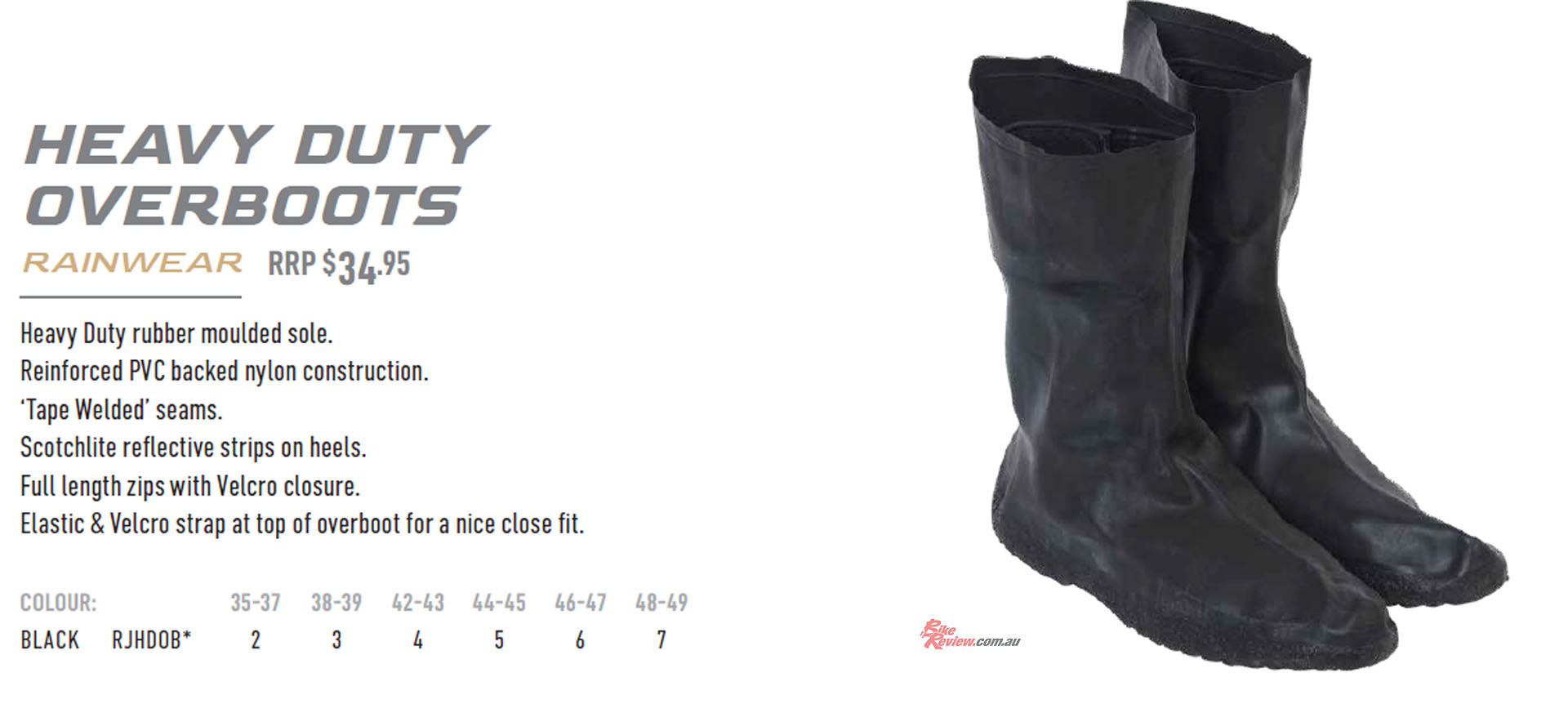 Heavy Duty Overboots
Last but not least, RJAYS have designed a pair of strong Overboots to keep the water from getting into your boots. Doing off-road riding? No worries, RJAYS have also added a heavy duty rubber moulded sole to keep your feet on the footpegs. You can pick them up for an RRP of $34.95.
---