Barton geared up for a second MotoGP Wildcard appearance
Motorcycling Australia has announced that for the second year running Suus rider Matt Barton has been selected to compete as a Moto 3 Wildcard in the 2016 Michelin Australian Motorcycle Grand Prix this October at Phillip Island Grand Prix Circuit.
 
At only 20 years old Barton will compete representing his title sponsor Suus, and will once again be looking to gain further international exposure as he looks towards his future next year over in Spain.
 
As bikes line up on the grid for the annual MotoGP event at Phillip Island Grand Prix Circuit this October 21-23. This aspiring professional racer will join the international competitors and shares his excitement and is now more confident knowing what to expect.
 
"Being a two-time Wildcard is better than being a one-time Wildcard rider and it's pretty exciting to be taking to the track again this year. Coming in to 2016 I am in a very different position to where I was last year," he started.
 
"Just from the experience of last year it has given us a bit more of an insight as to how to come in to it this year, and how to structure and approach the event when we are there. With all that in mind it should give us a better end result.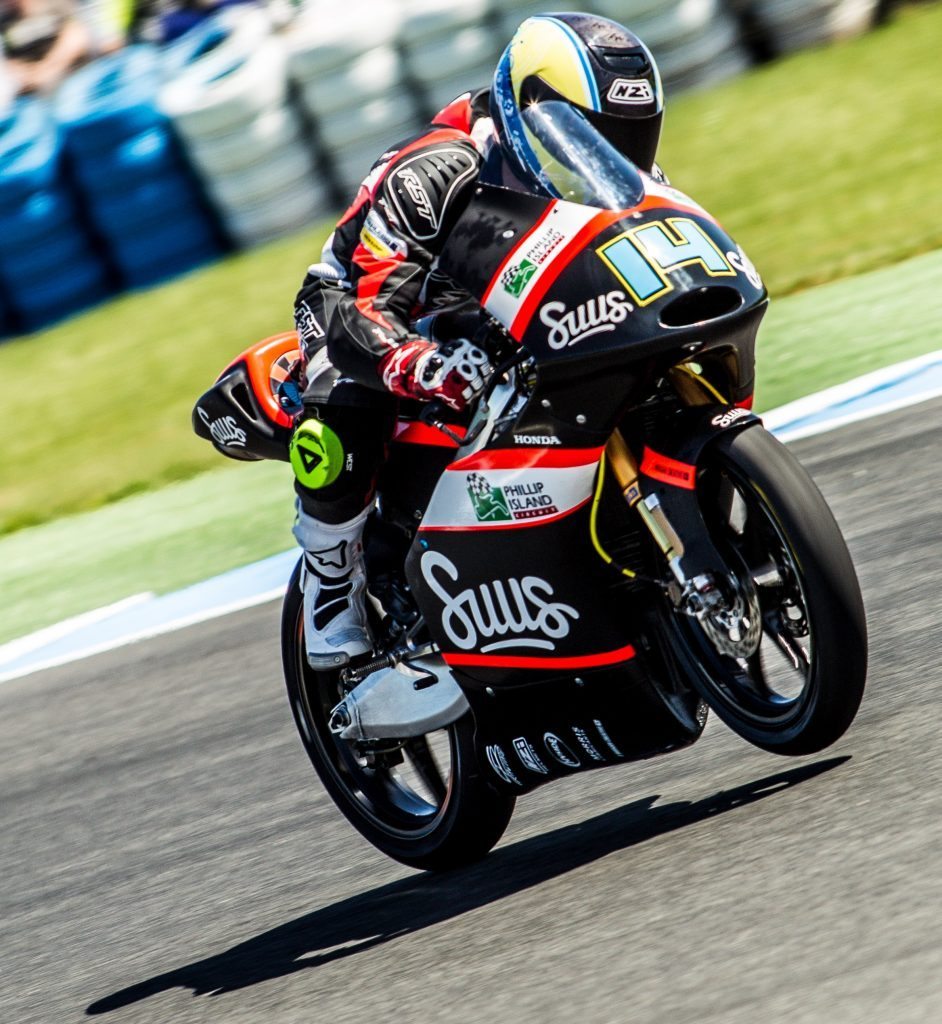 "We have really shifted our preparation focus this year in general, I haven't been doing the ASBK but that was purely financial. We will do the Wildcard at Phillip Island and then we are hoping to go over to Spain and do the final round of the CEV, and will leave all the bikes over there ready for next year.
 
"This year was purely the case of spending the time finding funding and spending the time preparing myself and preparing all other aspects that will be going in to the next couple of months at the end of this year.
 
Barton shared that with a new trainer he has slimmed down and is more physically fit, compared to last year.
 
"I have been training with a new trainer – Stevenson Strength and Performance. I have dropped five kilos since the start of the year but I have become stronger, faster and more Flexible. My reaction times have also improved, physically I am in a better position," he said.
 
"Time off the bike is not really what you want, but in recent times we have seen that I am able to jump back on and continue to perform from the few test we have done in the last couple of months," he finished.
 
As every racer knows sponsors make a huge difference to the financial support of racing motorbikes. Barton explains how thankful and excited he is to once again be racing with his title sponsor Suus.
 
"As soon as Suus Customs found out we were doing the Wildcard again they jumped straight on board as the title sponsor. They have been such a great help, and we have a launch event of the Suus Honda Team MotoGP this October which I am really excited about," he concluded.
 
For more information on the Suus Honda Team MotoGP launch on Staurday the 15th of October head to www.suus.com.au.
 
To keep up to speed with everything happening with Wildcard rider Matt Barton stay tuned to www.ma.org.au, like MA of Facebook and follow @Motorcyclingaustralia on Instagram. You can also follow Matt Barton on his Instagram page @mattbarton24.
 
Image – Ollie Ward