Brad Binder blasts to second Moto2 win for KTM this year
Brad Binder (Red Bull KTM Ajo) blasted to his second win of the season and second win in succession at MotorLand Aragon, managing to fend off Jorge Navarro (HDR Heidrun Speed Up) over the final few laps to turn the tables on the man who just beat him to the Moto3™ race win at the venue in 2016.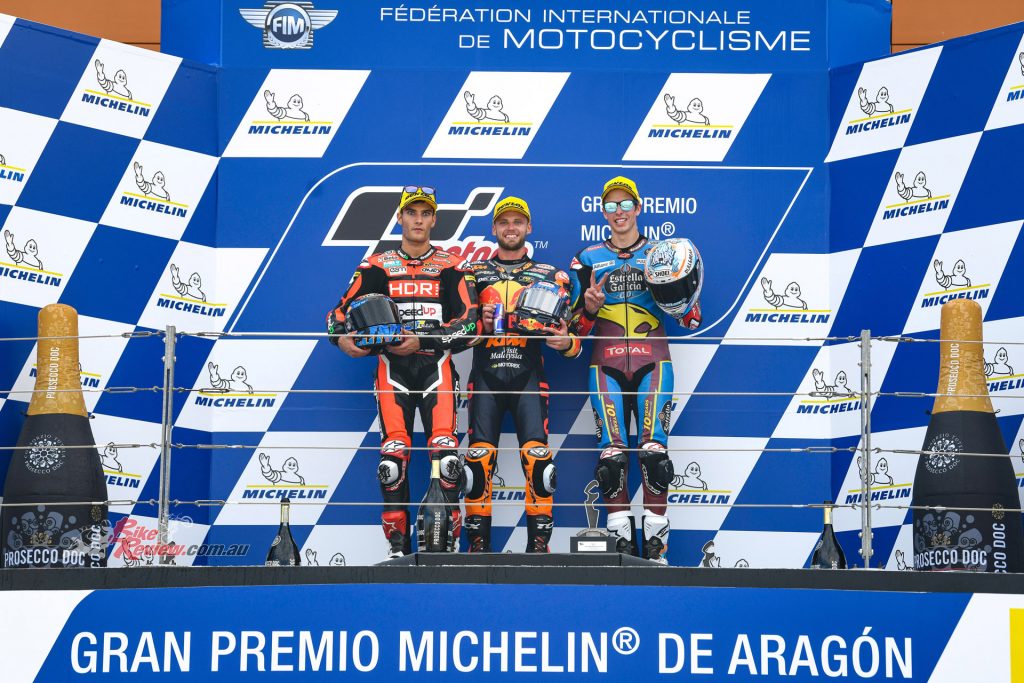 Another man with form at the track, Championship leader Alex Marquez (EG 0,0 Marc VDS), completed the podium and extended his lead after a crash out of contention early on for key rival Augusto Fernandez (Flexbox HP 40).
After a magnificent getaway, Binder grabbed the holeshot from third on the grid, with Luca Marini (Sky Racing Team VR46) also getting a great start to launch himself into P2 and demote Marquez and Fernandez. Binder wasn't hanging about on the opening lap either as he started to stretch away, but a huge twist in the title race then unfolded at Turn 9. Tucked in behind main Championship rival Marquez, Fernandez lost the front and slid out of contention on Lap 1, the Spaniard remounting but his hopes of a third win on the spin gone and damage limitation the new goal.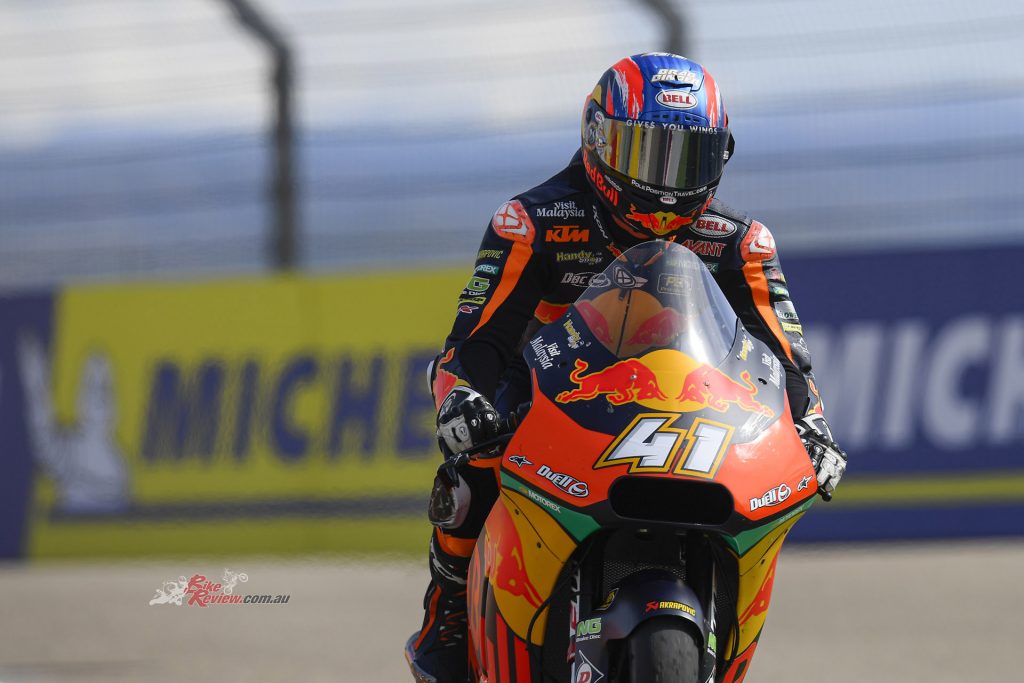 By the end of Lap 1, Binder held a 0.7 advantage over Marini and Marquez, with Tom Lüthi (Dynavolt Intact GP) and Navarro also in hot pursuit as the top five made a break at the front. Marquez and Marini were embroiled in a great scrap for second, with Navarro then setting two consecutive fastest laps to get past Lüthi and state some intent.
With Marquez and Marini swapping paint, Binder was racing clear and his lead had reached the two second mark by Lap 11. That was as slight contact between Marini and Marquez went down at Turn 5, as well as an overeager Navarro running wide at Turn 12.
Soon after, Marquez attacked Marini again at Turn 1 and the two headed wide, the Italian holding position but the Championship leader then putting a daring move up the inside at Turn 4 – striking back to perfection. The number 73 was then in the driving seat to try and close Binder down, with Navarro following Marquez through a lap later at Turn 12. By then, the South African's lead had started to fade as two seconds became 1.5 seconds before, with five laps remaining, the gap was down to just over a second. Marquez and Navarro were locked together and homing in on Binder, but the South African was keeping his cool out front.
With three to go, Navarro pounced at Turn 1 and got the job done, then faced with a handful of laps to try and hunt down the race leader. The Speed Up was closing and the gap dipped below a second before Binder also ran wide at Turn 16 on the penultimate lap, leaving him with just a four-tenth cushion as he headed over the line to start the final lap.
In the end, 'stay calm, ride clean' proved enough for Binder as he kept it all together around the last lap, crossing the line just under eight tenths ahead of Navarro. Marquez settled for third and a good haul of points after running a few more risks earlier in the race, gaining some good ground in the Championship to sit 38 points clear of Navarro.
Marini held onto P4 despite late pressure from Sam Lowes (Federal Oil Gresini Moto2), who takes his second consecutive P5 after another solid weekend. Lüthi couldn't keep tabs on the top five in the latter stages as the Swiss rider took P6 away from Aragon, although he now sits just two points behind Fernandez and six off Navarro in the overall standings. American Racing KTM's Iker Lecuona took seventh on home turf; his best finish since his P4 at Round 2 in Argentina. Lorenzo Baldassarri (FlexBox HP 40) finished just under a second from Lecuona in P8, with Jorge Martin (Red Bull KTM Ajo) and Xavi Vierge (EG 0,0 Marc VDS) completing the top ten at their home race.
Rookie Fabio Di Giannantonio (HDR Heidrun Speed Up) beat fellow rookie Nicolo Bulega (Sky Racing Team VR46) to P11 as Remy Gardner (ONEXOX TKKR SAG Team), Stefano Manzi (MV Agusta Temporary Forward) and third rookie Marco Bezzecchi (Red Bull KTM Tech 3) completed the points.
Brad Binder: "Today was good. The strategy went out the window after three laps, the plan was to sit behind the guys and try and wait until the end, but I saw I had a small gap so I was like 'ok, I'll just do my absolute best every single lap and try and limit the mistakes'. I knew the end of the race would be terribly hard for me, and I was struggling, really struggling in the last five laps but I have to say a huge thank you to my team, they did an unbelievable job and the bike was insane at the beginning of the race. I think we did a great job today and I can't wait for the next races to come."
Race results: (full results click here)
1 – Brad Binder (RSA – KTM) 39'45.177
2 – Jorge Navarro (SPA – Speed Up) +0.787
3 – Alex Marquez (SPA – Kalex) +2.876