DNA Air Filter for MY19/20 CB500F/CBR500R/CB500X
This DNA High Performance Filter is a high quality, next generation multilayer cotton gauze, oil impregnated air filter. DNA claim that it can last the life of the vehicle! Strict quality control for construction & materials are just some of the factors that allow us to offer a Lifetime Warranty!
Precision & unique design solutions like the Full Contour design (FCd) which expands the active filtration area up to +80%, the factory glued, high quality EVA foam seals, to ensure a correct & secure sealing and easy filter installation, are just some features that DNA claim make this the best air filter.
Air boxes are reverse engineered using Faro & Microscribe 3D Arms. CAAFT (computer aided air flow testing). In-House dyno testing on every single product.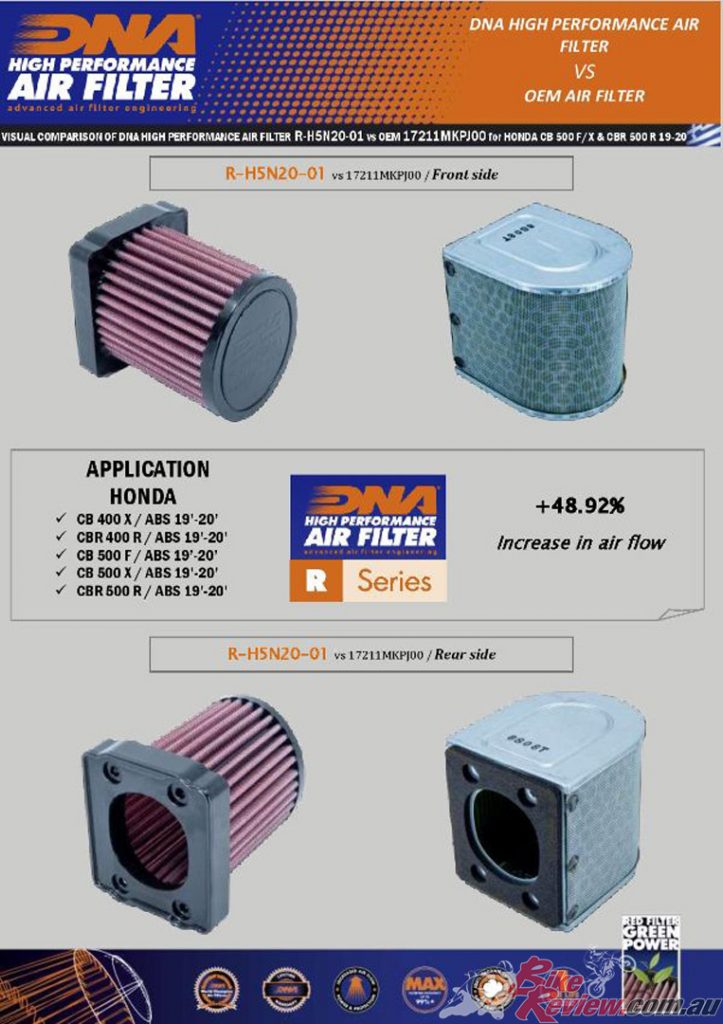 Search no more for the best combination of power & protection! DNA claim their High Performance Air Filters trap all the dust particles that flow towards the filter, even the finest (down to 5 microns), ensuring that the only thing that passes the filter is just clean & fresh air!
Increased air flow means increased engine power & torque: up to +12 hp increase (common for some applications), resulting in crisp throttle response and better control. Translate this as increased dynamic safety that you will discover from the very first moment you use DNA products.
Click here to see the Nick replace his stock filter with a DNA airfilter on his CBR500R!
---
This filter features DNA®'s Round Design.
Installation of this new DNA Air filter is very easy; simply follow the installation instructions included
in the workshop manual.
The filtering efficiency is extremely high at 98-99% filtering efficiency (ISO 5011), with 4 layers of
DNA Cotton.
The flow of this new DNA filter is +48.92% more than the stock filter!
DNA air filter flow: 77.84 CFM @1,5"H2O corrected @ 25°C
HONDA stock filter's flow: 52.27 CFM @1,5"H2O corrected @ 25°C
CAN BE COMBINED WITH STAGE 2 KIT TC-H5N20-S2
This DNA High performance OEM replacement filter suits the following motorcycles: CBR500R 2019/2020, CB500X 2019/2020, CB500F 2019/2020
Other models also fitted with OEM part no. 17211MKPJ00
---
---