New colours for Peugeot's 2020 Django scooter range
Peugeot's neo-retro Django now comes in a new range of colours for 2020. Choose between the 50cc for $3,990R/A, or upgrade to the 150cc – with more power, ABS and fuel injection – for $5,290R/A! Each of the Peugeot scooters come with a two year unlimited km warranty!
Peugeot say there's no escaping its nostalgic charisma. It's claimed that the Django neo-retro scooter will take you back to simpler times and the festive Parisian streets of the 1950s!
Designed for modern life, this scooter has a neatly integrated and lockable dual-compartment glove box with a 12-volt power socket for charging devices on the go, plus a helmet-size underseat compartment. It's low seat height and spacious, flat floorpan make it comfortable for riders of all sizes while its minimal overall weight and compact size make it easy to manoeuvre.
---
---
And for 2020, the scooter now comes with all new colours, including Satin Rouge Cherry, Dragon Red/Milky White, Mad Black, Mad Grey, Deep Ocean Blue/Mad Grey and Ink Black.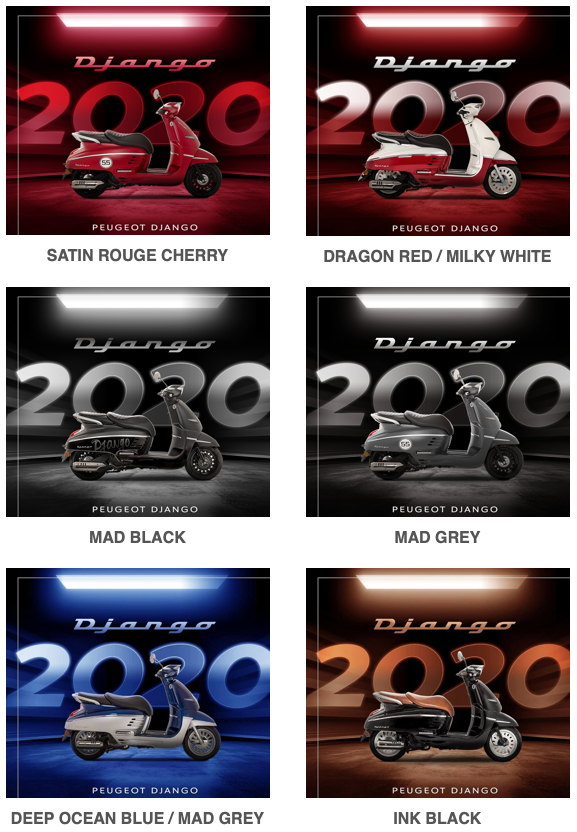 Make sure to read our full review on the Peugeot Django 150 scooter here.
For more information on Peugeot's neo-retro scooter range, click here. Each scooter comes with a two year unlimited kilometre warranty which means that riders can ride with confidence!
---

---