The 2019 Peugeot Django 150 is a modern retro with iconic 1950s Parisian styling and 2019 power, efficiency and running gear... Review: BikeReview, Mike Cameron . Photography: JPMedia
We recently reviewed the Peugeot Django and came away impressed. There are two kinds of scooters – those that have stayed true to that iconic European tradition with iconic/classic styling and everything else, which ranges from small capacity futuristic underbone type machines through to large capacity tourers.
The Django 150 sits on the iconic side of things, with classic styling and a great dash of colour aboard the lower bodywork. Peugeot call it neo-retro but I think it's just retro, complete with 12in wheels and a single-sided swingarm/power assembly.
It's got to be one of the most eye-catching scooters I've laid eyes on, even if I lean towards the more futuristic and higher power versions personally. A 150.6cc single powerplant produces 7.5kW or in the region of 10hp in typical scooter form – which is to say full automatic.

Snap that throttle open in traffic and you'll outpace the typical inattentive driver, but that's about it and that'll mean going WoT when the lights go green. You'll have your work cut out for you if you're trying to outpace someone in a sports car off the line of course. But why would you?
In my time on the Django 90km/h seemed a pretty comfortable speed unless you've got a nice downhill run and plenty of room, and steep enough sections will see that top speed decrease to the 60km/h mark regardless of how you wring that throttle. Maximum is just over 110km/h.

It handled a run along the Old Road up to Gosford with relative ease, but on the steep uphills as mentioned it was limited on speed, while the highway is strictly off limits. I'd stick to roads of 80km/h at most personally, which does cover anything but a highway or freeway, realistically speaking. Which is acceptable for a 150 scooter and acceleration is zippy for sure.
The 12in wheels also offer a nimble and quick turning ride character, but at top speeds stability does suffer, and in rough conditions at high speeds the suspension is on the harsh side. For general conditions though, it's a well sorted and easy to ride machine and as a suburban commuter the Django ticks all the boxes and is fairly typical of this engine capacity, with simple brakes offering good stopping power, although ABS is front only but certainly better than nothing.

The Django is also a larger form scooter for a 150, which extends to underseat storage that'll fit a half face helmet, or possibly a full face if you're lucky. The 770mm seat height is as low as you'd want and there's a surprisingly compact amount of room in the footwell, which encourages sliding back on the seat. There's also some glove-box space for smaller items, and the usual shopping hook hanger that sits between the knees.
With room for two, power will be a consideration but again if you're buying a 150cc scooter that's part of the package. A total weight of 140kg on the specification sheet actually seems heavy for this machine, which with low 'bars is easy to roll around and feels light once on board.
The plastic bodywork construction and overall build quality is also a strong point, with a simple dash with analogue speedo and digital display, and a stylish headlight cover.

A competitive price of $4,290 + ORC and standout looks certainly make for an attractive offering.
Overall the Peugeot Django 150 does everything it's intended to do and features eye catching styling plus is a fun urban scooter.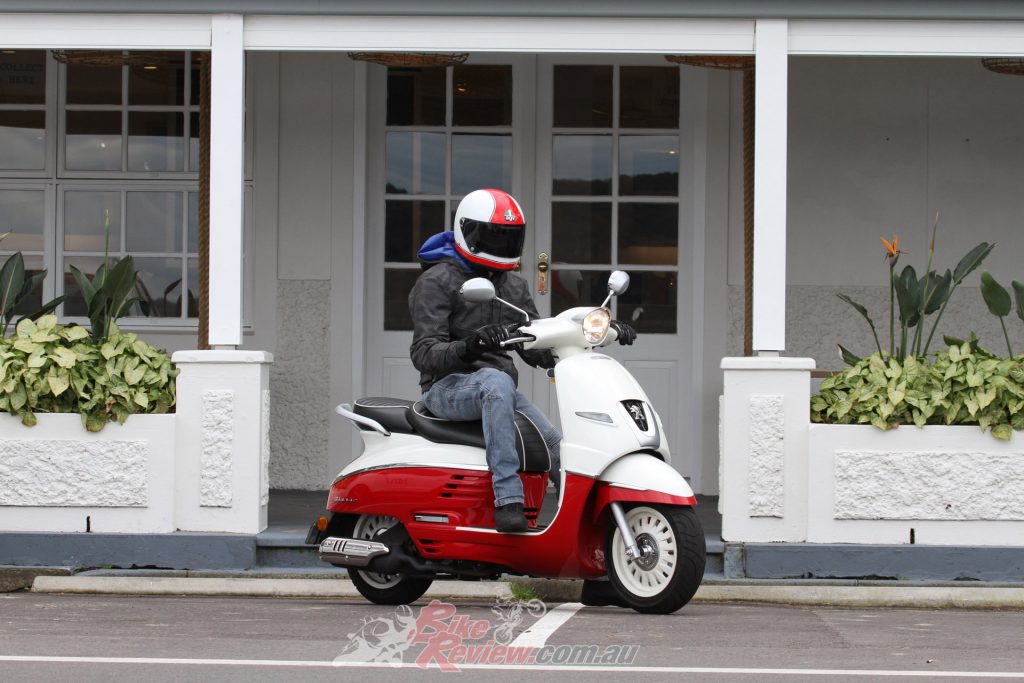 Second Opinion: Learner Perspective
Navigating the crowded, congested roads has for many of us become part of our daily grind. With more of us choosing to live in the busy capital cities, alternatives to the car or public transport for our commute to work are often not far from mind.
I had the opportunity to ride one of Peugeot's new offerings, the Django 150 scooter, putting it thru its paces in its natural habitat, City peak hour traffic and urban commuting. So I hung up my humble bicycle for a motorised scooter to make my daily commute from the suburbs to the city.
The Django blends classic styling with some modern tech and that moulds it into a really neat looking package. The handling is nimble, albeit slightly on the firm side for my pothole ridden commute, probably actually bottoming out. Anyone who has been down Anzac Parade in Sydney since the light rail construction would know what I mean. With an efficient four-stroke engine delivering smooth acceleration, it gets up to 60km/h with minimum fuss.

Most of my riding was in built up areas where you are traveling between 40-70km/h. This is where the Django shines. I took it out for a short run on the motorway, which it managed OK, but really it was taking it out of its comfort zone at full revs and throttle to do 110km/h. If your commute takes in regular motorway jaunts this 150cc scooter isn't the bike for you anyway.
The dash is an LCD screen display with trip computer and analogue speedometer. Indicators are LED and have an irritating beep warning like a truck reversing. Beneath the seat is a luggage area for your gloves and helmet, plus a lockable glove box with a 12-volt power for outlet charging your phone.
I found the ergonomics comfortable enough for my 180cm frame. The seat is very plush and the mirrors provided adequate visibility. The indicator switch is in a slightly different position than what I am used to, which early on had me searching around for it.
After one of the driest and warmest Autumn's I can remember, the day after I got the keys to the Django a classic winter East Coast low parked itself off the coast, with the temperature plummeting and the sky opening for three days straight. This gave me a chance to test the ABS with a few wet weather emergency stops and it performed well. It's great seeing safety features like ABS appearing on scooters at this price point, especially with so many LAMS riders opting for them as a foray into life on two wheels.
After 10 days of urban riding I had covered 175km and when it was time to fill the tank in readiness to hand back, it took right on 5L to fill. That makes this 150cc scooter easy on the wallet with low running costs – Mike Cameron.
2019 Peugeot Django 150 Specifications
Price: $4,290  + ORC RRP
Claimed Power: 7.5kW[10hp]@N/A rpm
Claimed Torque: 9.2Nm[6.7lbs-ft]@N/A rpm
Dry Weight: 129kg
Fuel capacity: 8.5L
Engine: 150.6cc SOHC fuel injected air-cooled two-valve single-cylinder four-stroke, 94mm x 71mm bore x stroke.
Gearbox: CV belt drive.
Clutch: Automatic.
Chassis: Steel underbone frame.
Rake: N/A
Trail: N/A
Suspension: Telescopic forks and adjustable (two-way) shock
Brakes: 200mm rotor (f), 170mm rotor (r), ABS
Wheels & Tyres: 12in with 120/70-12in tyres both ends
DIMENSIONS
Wheelbase: 1350mm
Seat height: 770mm
Ground clearance: N/A
Overall width: 710mm
Overall Length: 1925mm
Overall height: 1190mm
Instruments: LCD Display.
2019 Peugeot Django 150 Gallery
The Verdict | Review: 2019 Peugeot Django 150 Scooter