Pirelli's Diablo Scooter tyre are available for the new Honda Grom, offering great performance and mileage.
Link International has announced the recommended fitment for the new Honda Grom MSX 125 from Pirelli, the Diablo Scooter tyre for sports and sport touring.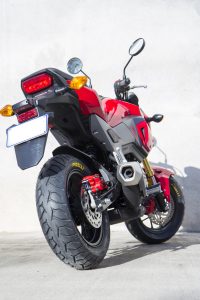 The Diablo Scooter tyre is ideal for high-performance scooters used in city traffic and also for longer rides.
The Diablo Scooter tyre offers superb handling and response thanks to the enhanced profile.
It also features a specifically designed carcass to optimize contact patch and offer high-speed stability.
Other advantages also include regular wear and long mileage thanks to its pattern design, with excellent wet and dry grip thanks to the moto derived compound.
Honda Grom Specific Sizing:
Front Tyre
120/70-12 51P TL
DIABLO SCOOTER FRONT
Part # 61-182-28
$75.00 RRP
Rear Tyre
130/70-12 62P TL REIN
DIABLO SCOOTER
Part # 61-166-12
$79.00 RRP
For the full range of Pirelli tyres see: LinkInt.com.au