Product Review: AGV SportModular Helmet First Impressions
Jeff has been using the AGV SportModular carbon-fibre helmet for a few weeks now. Here are his first thoughts and some info on the new lid...
I recently took delivery of a new much anticipated AGV SportModular helmet and since posting the odd social media brag about it I've had quite a few readers asking for a full review already!
Well, I've been wearing it for two weeks, so I thought I'd touch base and offer my initial impressions for now and get back on here with a full review in a month or so…
The SportModular is a first for AGV and they wanted to do something different and this certainly is next level. It is 100 per cent carbon-fibre, meaning the chin piece is full carbon. This is an amazing achievement in itself.
Safety, Comfort and Lightness were the key words AGV engineers had in mind with this lid and it was built using the strict internal AGV Extreme Standards testing, ensuring it exceeds global safety expectations. In doing this, the SportModular meets the same safety levels of AGV's MotoGP helmets, bringing that level of safety to the streets…
There are three shell sizes and the there are three position vents on the chin, top and a three position rear spoiler that also acts as a heat extractor. The shell was wind tunnel developed and at 130km/h has a dynamic weight of zero, meaning it is neutral or the same as it is at O km/h – 1295 grams.
The DD ring chin strap retainers are Titanium and there is an internal flick down sun visor.
Vison-wise, there is a whopping 85-degrees screen and 190-degrees panoramic (that is also the human range limit). The visor is quick and easy to release and is a lock-in button type for safety reasons.
The shape of the base of the helmet is designed to minimise collarbone injury in an accident and to keep rider fatigue at a minimum during long touring days at speed into the wind.
Internally, there are three liner sizes, and the crown can be reversed for winter or summer. The bottom edges of the liner are water resistant to prevent water splashing up into the helmet. The Ritmo and Salimar materials used are also water-drawing inside the helmet, meaning your head stays as dry as possible. The chin vent also blasts air up towards the inside of the visor, like a car windscreen defogging system.
So far after two weeks, I'm impressed with the AGV SportModular. The SportModular was really nicely boxed, something I appreciate as it adds a touch of class and luxury to a high end product. It comes in a really nice stitched helmet cover and is well wrapped.
The box is better quality than usual and AGV throw in an owners kit that includes the Pinlock, some AGV stickers (my kids took those real quick) and owners handbook and warranty info as well as the silicon oil for the visor ratchets.
I've used it in all conditions – cold, rainy foggy mornings, glaring sunset afternoons, commuting and touring style riding. So far so good. The strong points for me are first and foremost, the weight, or lack of. It took me a day to just accept the lightweight and get used to it as initially, it does feel like you are not wearing anything solid enough!
However, I soon appreciated it as my usual end of ride or end of day sore neck and headaches were virtually gone. When I put some of my other lids on now, they feel heavy… The SportModular has many good points. It is really quiet but still well ventilated, so there is not too bad a compromise there between airflow and noise. No earplugs needed so that is a plus as I prefer riding without them.
The Pinlock works well in fog and I have had no issues there, although I have removed the chin guard as I found that was directing hot air up and causing fog, which would immediately go but was still distracting. The chin guard also cause me some discomfort under my chin. Maybe I need to cut back on the beer and fried foods!
The visor is crystal clear and the drop down visor great. I do find the activation button for the drop down visor tough to find in gloves. It is located under the side of the jaw section of the chin area and hard to feel with the winter gloves on.
I'm not a big fan of centre-lock visors, all of them are harder to open and close than traditional ones, but the added safety is worth it as they are less likely to open or come off during a crash and therefore you get better eye and face protection from debris. They also make a quieter lid.
The button on the SportModular is large and can quickly be located with winter gloves on. There is a step open of a few mm for fresh air, or if you hold the button in and slide the visor open you get full range. I find the latter a bit tricky while on the move though…
Vision is fantastic unlike some modular helmets I've used and the ventilation system seems good, however, I have only ridden on cold days and played around with the settings, so we will see how an Australian Summer test goes later in the year. The DD Ring chin strap securing is welcome, you can't beat it, and the rings are Titanium, which is trick.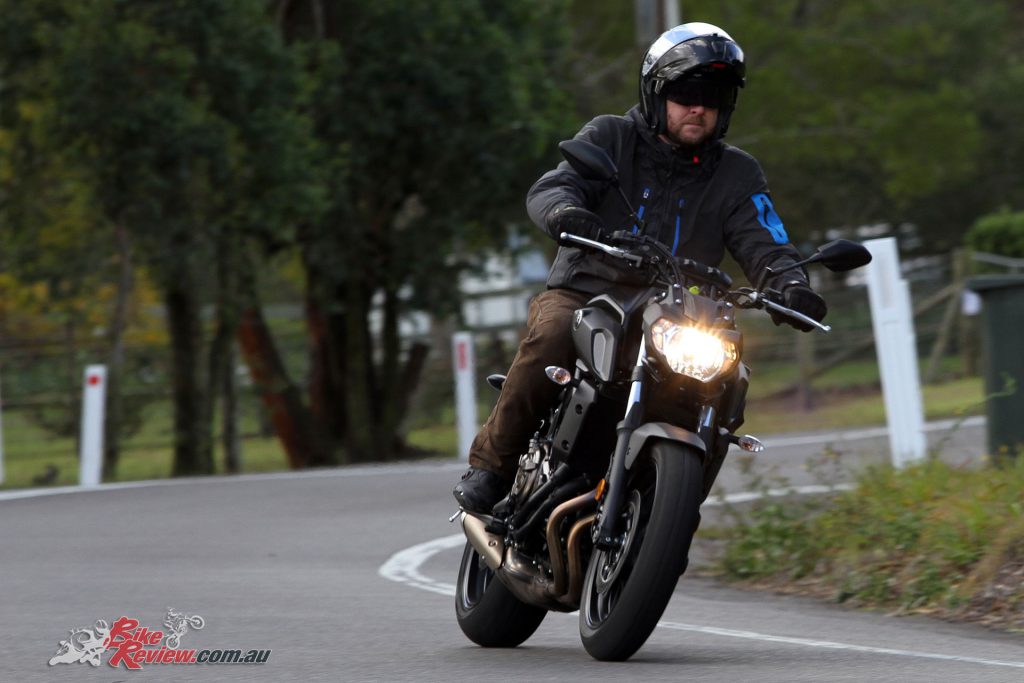 The crown of the lining is reversable for Winter or Summer, completely washable and very comfy.
Styling is awesome in my opinion. When the sun hits that carbon-fibre, it is as trick as MotoGP!
Price is from $899 RRP.
So far so good, so stay tuned for a full update once I've done another month or two in the saddle.