Five's '16 RFX1 gloves are all new for 2016 and are a great track and all rounder glove. Review: Kris Hodgson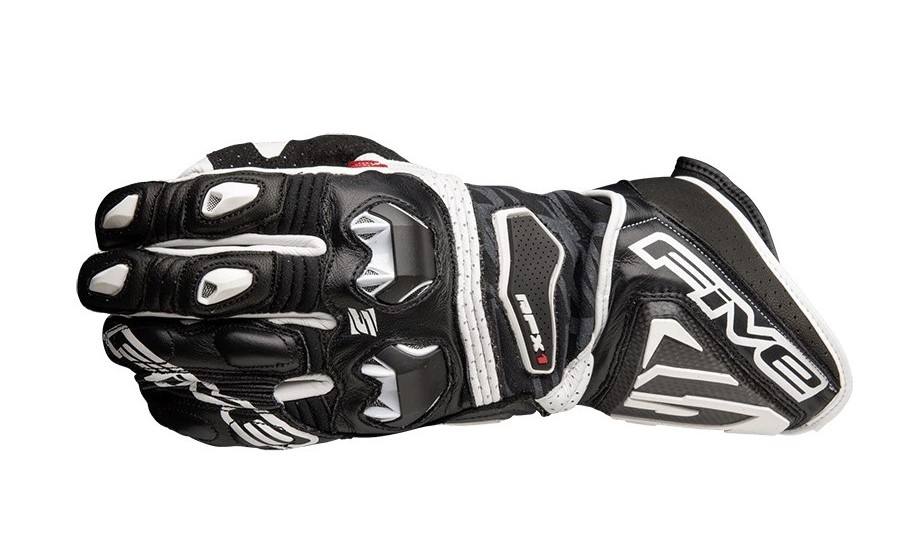 A good set of gloves is extremely important on a motorcycle, if you come off your hands are an area which is exceptionally easy to injure and you don't want to find out just how much you rely on one or both of your hands.
We just received these Five 2016 RFX1 gloves to test out and they are one of the race gloves offered by Five, and have been redesigned for 2016.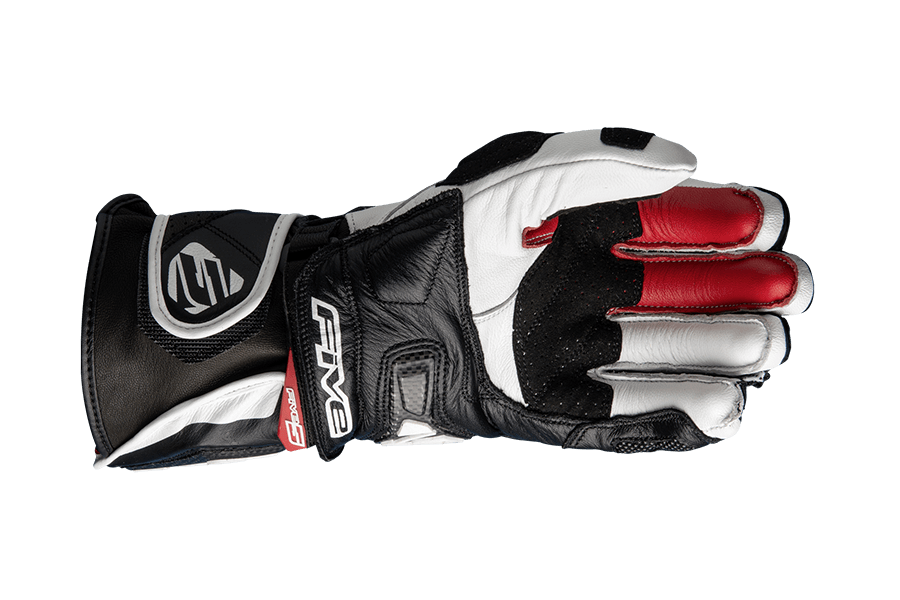 Features include full grain leather, with carbon reinforcements and Kevlar lining, including Stretch Kevlar on the palms and top of the hand. Ventillated PU knuckle shells and perforated leather sections insure that the glove breathes, while a carbon-fibre forearm protector gives rigidity to the glove up past the wrist. The last two fingers are also linked to help prevent breaking (or tearing off) your little finger in a crash, and the gloves are held on/in place by two Velcro areas, one at the wrist and one behind the wrist on the gauntlet end of things.
The little finger side of the gloves also has additional protection in the form of reinforcement along the little finger, and armour on the edge of your hand, with the gloves protection focused on the areas most likely to be in contact with the ground in an off.

Five RFX1 Glove Impression
The first thing I noticed about the RFX1 gloves is the fact that they are relatively light and once worn don't feel as heavy as most race/track specific gloves. The armour over the knuckles comprises two pieces with vents, giving good fexibility and protection, with stretch areas along the backs of the fingers meaning that making a fist isn't uncomfortable, and holding the throttle/grips is easy and natural.
The gloves are a snug fit and the Large size is perfect for me, with just the right finger length to ensure I'm not pinching my finger tips when riding. The Velcro wrist adjuster does a good job of holding the glove in place and is protected by a leather flap, while the Velcro adjuster situated on the gauntlet section (lower forearm) is good quality, but doesn't allow a heap of adjustment. I've got skinny arms so I wouldn't mind the Velcro strip on the glove being a bit longer to let me tighten that area up a bit, but it will depend on your arm size and whether you are wearings summer or winter gear. They also aren't waterproof (obviously) so you won't want to be wearing these gloves in the wet.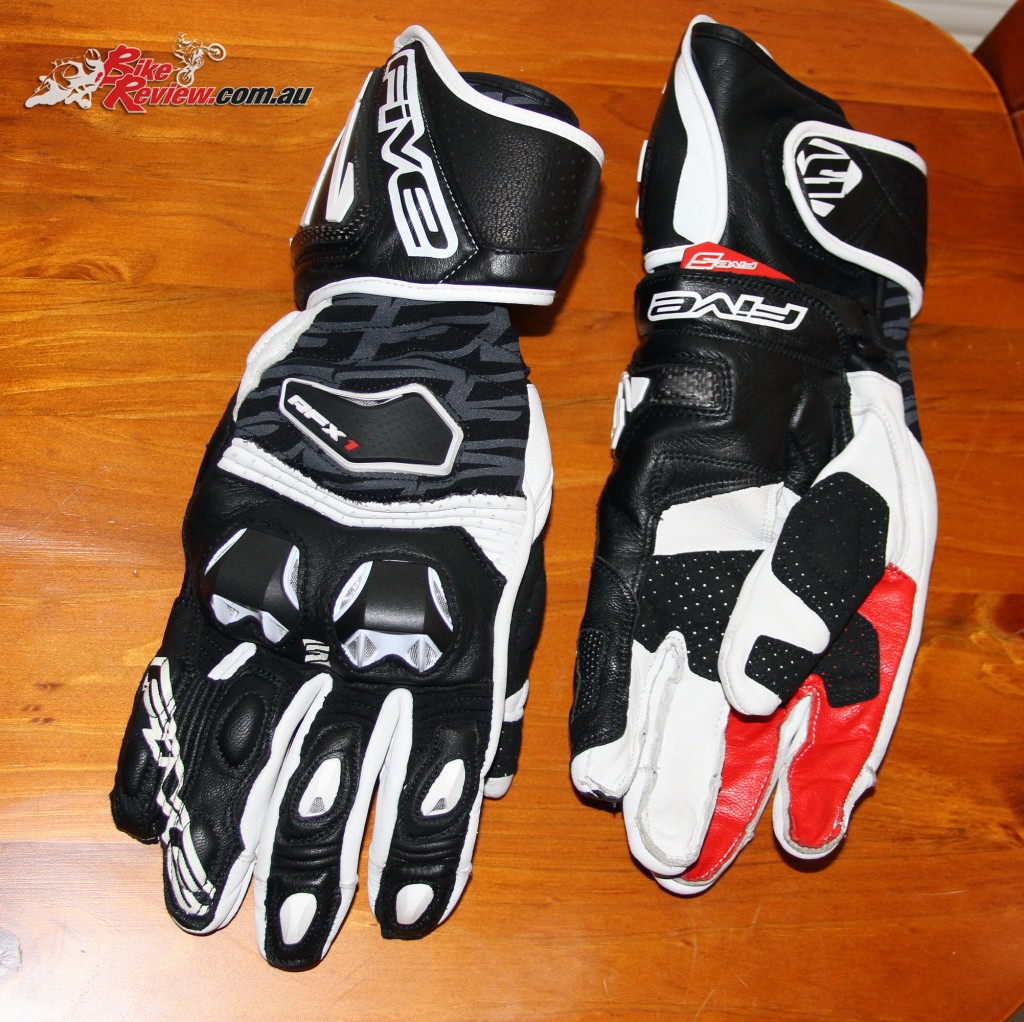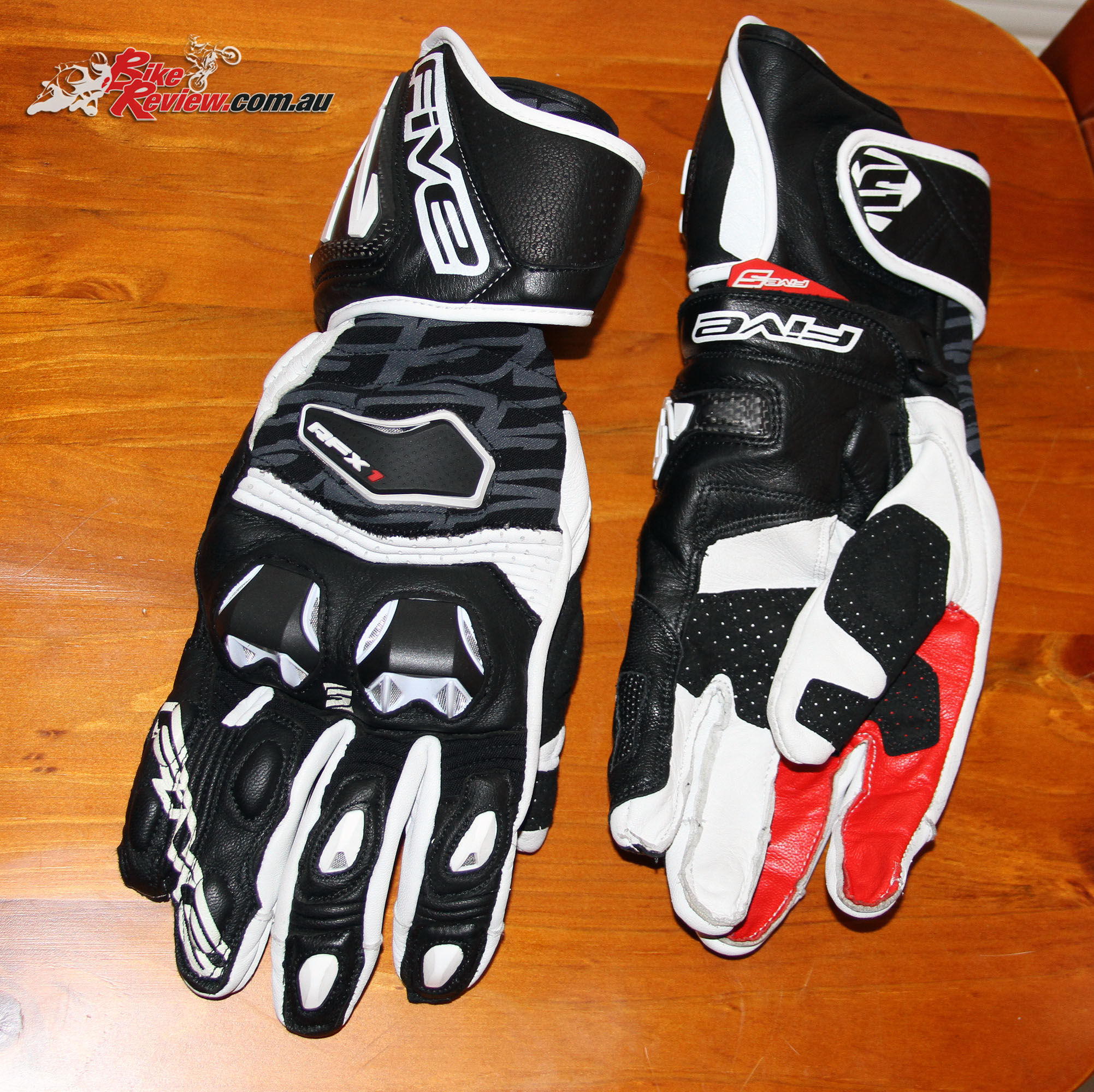 Riding around, especially for long periods is where the RXF1's really shine, they are comfortable and breathe well, and feel like a much lighter glove, despite being designed for the track. From a comfort perspective they are more like a light weight summer glove, than a track gauntlet. That is of course without skimping on safety and protection.
Without deliberately crashing I can't say how well they'd hold up in that circumstance, but the quality and workmanship of the gloves is good.
We'll provide an update after we've had an opportunity to put more kilometres on the gloves and more time with them at the track.
The Five '16 RFX1 is available in Black White and Black Blue, in sizes S-XL, check your local Five stockist.
Special Thanks: Moto National Accessories. motonational.com.au
The Verdict | Product Review: Five RFX1 Gloves