Over the past months, Jeff has been using this high quality Intuitive-Cube phone and camera mounting system on his Interceptor, along with some accessories. Check it out...
The Intuitive-Cube phone and camera mounting system is now available throughout Australia via National distributor Moto National Accessories. With a huge range of product for two-wheelers, we went for the Handlebar A+ mount + Universal Holder set-up…
I'm always needing my iPhone for GPS and I also like to know if I'm urgently needed for anything while out riding. With four kids, you just never know when or where you are going to be needed so as much as I like the freedom of riding, I need to be contactable at all times. The same goes for my job, being an editor and publisher means I am on call 24/7. With that in mind, and with no modern tech on my own bike, I realised I needed a phone mount… As I was shopping around, the opportunity came to review the Intuitive-Cube system and some of the optional accessories.
---
---
There are loads of options available for motorcycles and bicycles and a range of phones and cameras. Check out the Intuitive-Cube Australia website for all of the products and prices available. MNA supplied for review a Mount A+ Black 20 – 32mm ($74.95) with a 3-Axis Shock Absorber ($24.95), X-Guard GoPro Adaptor ($24.95), Infinity Adaptor ($14.95), Infinity Adaptor Mount ($19.95), X-Guard Splash Proof Bag ($49.95), Universal Holder ($44.95) and a Drop Proof Holder ($14.95). Total RRP for the set-up $269.60, however, if I was specifically buying for just my iPhone SE, I would have only gone for the Mount A+, the GoPro adaptor, and the Drop Proof Holder and Universal Holder (total $159.80).
---
---
Fitting was a cinch. There were a lot of boxes to open up and unpack, all with instructions and all well packed in quality, secure and solid packaging. I decided on the left side of the Interceptor handlebars and I fitted the Mount A+ on the 3-Axis Shock Absorber, which just requires the removal of the holder from its bar clamp, then bolting the bar clamp and damper together with the pre thread-locked hex bolt supplied, then bolting the holder back on, this time to the top of the damper unit.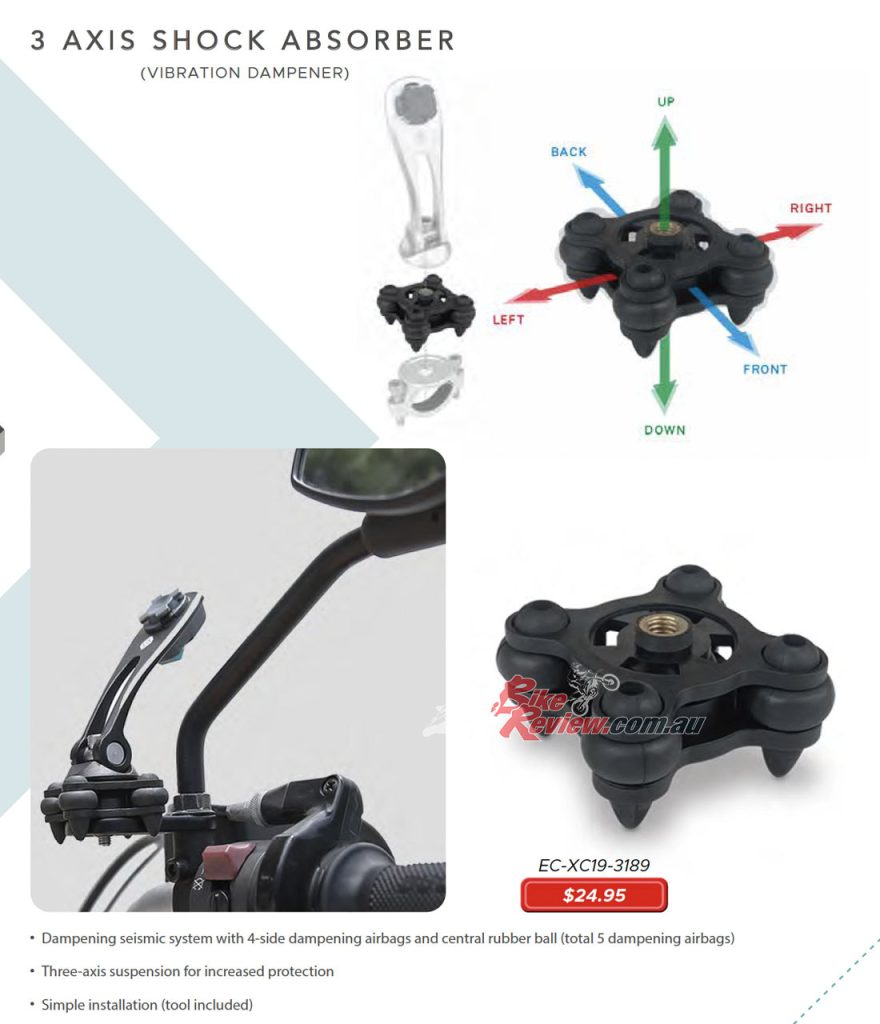 The complete assembly can then be positioned wherever you like it on the handlebar(s). The arm of the mount can be rotated 360-degrees and forwards and backwards then tightened via the 5mm centrally located Allen-key bolt, so finding a good spot for your phone or camera is easy.
---
---
With the fitment done in five-minutes, I had a muck around fitting the phone holders and camera mount on and off the mount to get a feel for the Infinity Lock system, which is a push and twist four-point lock with a push-button release tab that locks the phone or camera into place.
The system was a little fiddly the first few times I used it, trying to get the opposing sides of the locks/mounts to line up and which way to turn it, but after a few days, it became natural and the movement freed up as well, so from that point, fitting and removing my phone became very easy.
---
I used the Splash Proof Bag on my first trip, as it was raining. The Splash Proof Bag is huge (phones up to 6.7in), and is made to stop rain, mud and dust from damaging the phone. There is a large foam backing area (with ventilation to prevent overheating) and waterproof zipper. The front plastic cover prevented the touch screen working on my phone, but visibility is excellent. I found/find it great and use it a lot, with the only issue I've had is when putting a wet phone inside, it will quickly fog up, so ensure to fit your phone totally dry and then leave the holder closed if you can, until you are out of the rain.
My iPhone SE is small, I chose it specifically so it is easy to fit in motorcycle jacket internal pockets, which are almost always too small. The Universal Holder will suit all phones 4.7in to 6.5in and is super sturdy in construction. I haven't used the Drop Proof cover, as I am yet to need to use the Infinity Adaptor on an X-Mount but I will update this review when I have a phone suitable or if I buy an alternative phone cover for my phone (I use a leather closing one that holds cards too), and I use the adaptors, which stick on (I'll keep them aside).
Similar to the phone mount, the GoPro Adaptor fits easily, however, with the 3-Axis Shock Absorber fitted there is too much free movement to get steady footage, so after a few trips fitting and removing the damper, I have ended up completely removing it as there are minimal vibes anyway, and now my phone is also more steady, particularly when in the huge Splash Proof Cover… I'll keep the damper aside for any future bikes that have more vibes than my Interceptor.
I've only had one small issue, when the arm started to move at high speed, over a very bumpy road. I re-tightened the main centre bolt and it has not happened again. Aside from that, it has been faultless.
There are plenty of less expensive holders out there and some similarly priced. The Intuitive-Cube is premium but remember, we tested accessories too. The basic set-up of an X-Case and holder could be for example $39.95 for an iPhone 12 X-Case and the holder at $74.95, totalling $114.90. Definitely a product worth checking out…
---
---
Visit the Intuitive-Cube website to view all of the range and prices now available here in Australia thanks to Moto National Accessories…
---
The Verdict | Product Review: Intuitive-Cube phone and camera holder