We attended the world-launch, Aussie launch, did an off-road test and now it's Pommie's turn to see how the Harley-Davidson Pan America handles the Aussies twisties... Photos: Metzeler/H-D
In this segment there's no denying that Harley really wanted to visually set itself apart from the competition. Love it or hate it, you can't mistake the Pan America for anything else. I didn't get the chance to ride it off-road, but check out how it handled my favourite twisties…
The Pan America Is a big heavy bike at 252kg wet weight, but that's about the same for all of these big adventure/touring style bikes, however the Pan America seems to keep its weight reasonably low in the frame, helping keep its centre of gravity down.
---
Read our test of the Metzeler TOURANCE NEXT 2 hoops here…
---
The Pan America's steering feels slower than some of its rivals, meaning cornering on the road does require some muscling around to get the big Harley from one lean angle to the other, but this is half the fun and I'm sure Harley engineers didn't really have tight twisty canyon riding at the forefront of the design brief when they had their pencils out, but it's well capable if you're prepared to put in the effort.
---
---
I did however have the sports touring style Metzeler TOURANCE NEXT 2 tyres fitted, so this was providing me with plenty of confidence that they weren't going to break traction on the grippy smooth tarmac anytime soon. I felt I could use all the power the Harley V-twin had to offer. Speaking of power, the engine on the Pan America is a gem, the 1252cc motor chucks out 112Kw@8750rpm and has an impressive torque figure of 127Nm@6750rpm, which is just where you want it for driving off the bends.
The V-Twin motor is the star of Harley's first attempt at an adventure bike and really amplifies the riding pleasure. However, I would have liked to see a quickshifter as standard or even an option, this feature would enhance the riding experience especially when you really want to get into some fun spirited riding and is also a great benefit for off-road stuff too, saying that I had no issues with the gearbox and smooth clutch action.
---
---
Pulling the Pan America up are four-piston Brembo radial-mount monoblock calipers gripping a pair of 320mm rotors, they do a pretty decent job of stopping the Pan America with the help of the cornering equipped ABS. The bike offers a pretty good feel at the lever and I have no complaints on how the bike behaves under heavy braking.
Like all modern adventure bikes, you get a whole host of electronics to play with to make your riding even more comfy on a long haul and also a lot safer for the rider, especially in bad weather. I didn't get a chance to go through every setting, because it was just a quick test, but the Pan America comes with various modes such as Road, Rain, Sport, Off-road and Off-road plus, along with a host of semi-active suspension options. You can read about these in depth in one of Jeff's Pan America tests. 
---
---
I had a flick through engine modes to see if they made a difference in the way the bike responded, which they do. For example, when I flicked it in Rain Mode, it really dulls down the throttle response and mutes the power, making it a lot less snappy and safer if you were to ride it in the rain or slippery conditions, but I chose Sports Mode and this really brought the bike to life and unleashed all 112kW.
Accelerating hard out of the corners is really fun, especially once you get the bike more stood up when you can get hard on the gas and the Pan America really gets going, revving all the way to the 9500rpm redline, the engine is also pretty smooth for a V-twin, which is nice.
At first I was not a fan of the look of the Pan America, but that's just personal choice, however, it did grow on me somewhat and you can't deny it's different from the rest of its competitors, but the question is, is it better?
---
Check out Jeff's off-road test of the Pan America here…
---
I wouldn't say it's better, because it's going up against the likes of say a BMW GS, which has been evolving and improving over decades, but for a first attempt at an adventure bike I think they have done an excellent job, it's fast, smooth, very comfy, brakes well and has plenty of tech to keep you safe, plus the Americans are loving it, because it's the biggest selling adventure bike in the US!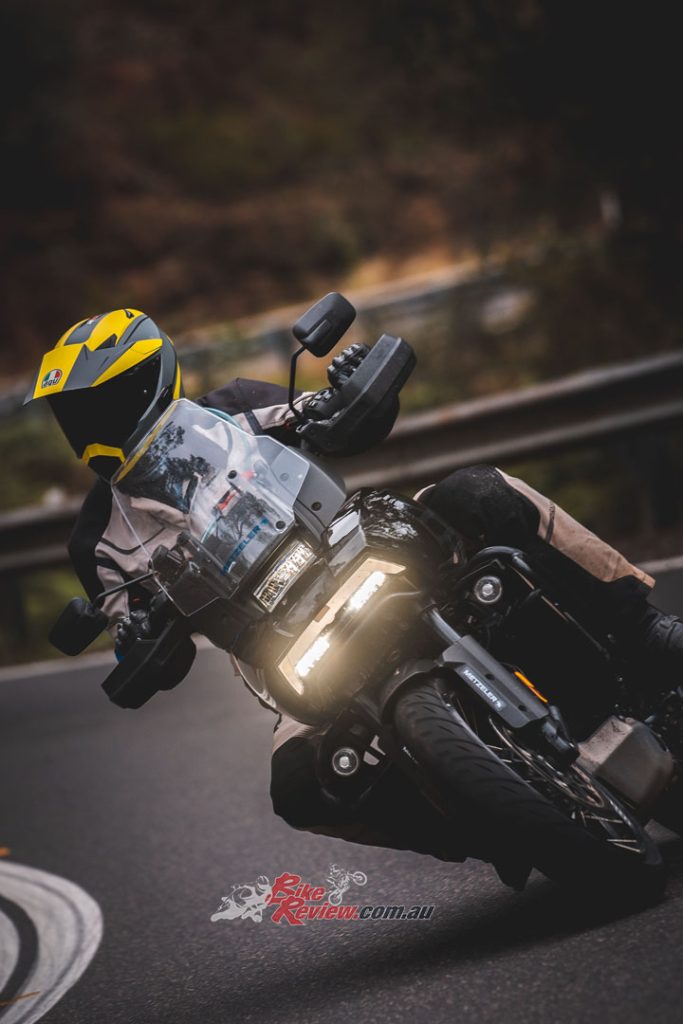 ---

2022 Harley-Davidson Pan America Special 1250 Tech Talk
The Pan America 1250 and Pan America 1250 Special models are powered by the new 150hp Revolution Max 1250 engine, a liquid-cooled 1250cc 60º V-Twin designed to offer a broad powerband. To minimise overall motorcycle weight, the Revolution Max engine is integrated into the bike as the central member of the chassis. The bike is also packed with technology…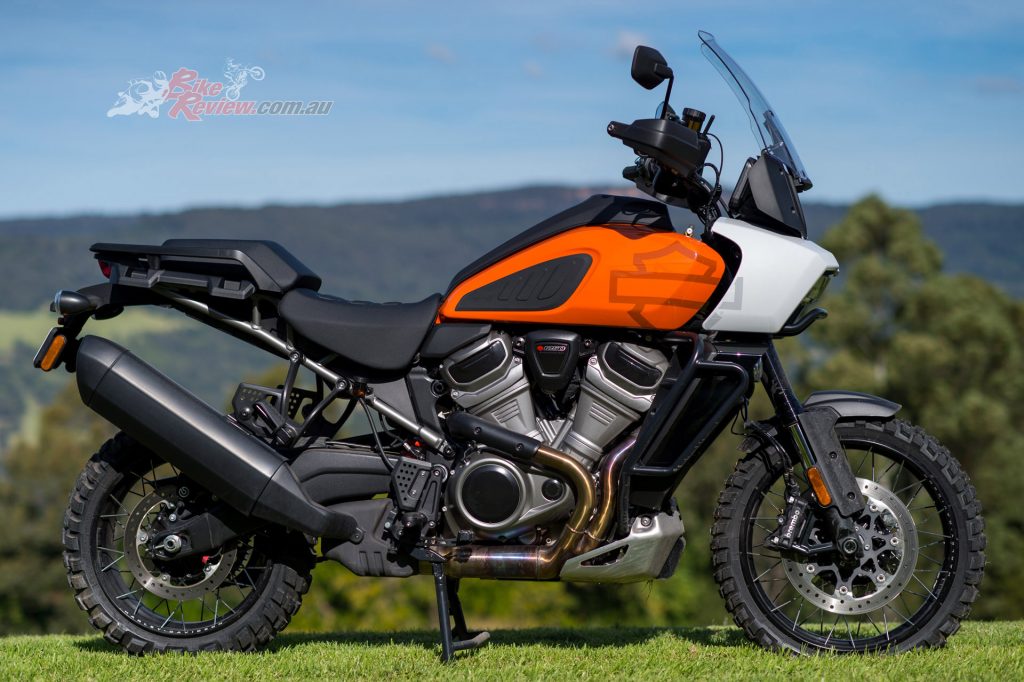 REVOLUTION MAX ENGINE
The amazing V-twin engine that powers the Pan America is completely new from the ground up, designed and built entirely by Harley-Davidson in the USA. It is a 60º Vee angle externally, to keep the engine short and thus assist in optimum chassis geometry and weight balance. Internally a 30º crank pin offset of the main journals create a 90º firing order. The two cylinders are offset slightly to accomodate the crank offset, and the result is a firing order that has flat tractable pulses, experienced gained by H-D in many decades of flat track racing.
---
---
The engine is lightweight thanks to the use of high end light materials and the use of FEA design optimisation in creating castings, minimising mass. The camshafts and gearbox shafts are hollow, while the single-piece aluminium cylinders are Nickel silicon carbide-surface galvanic coated. Rocker covers, camshaft covers and primary cover material is magnesium. Liquid-cooling is employed while a liquid-cooled oil cooler keeps oil temperature stable. The complex and effective cooling system meant that Harley were able to build the engine to tight tolerances, for better efficiency and performance, due to having great control of material expansion and contraction.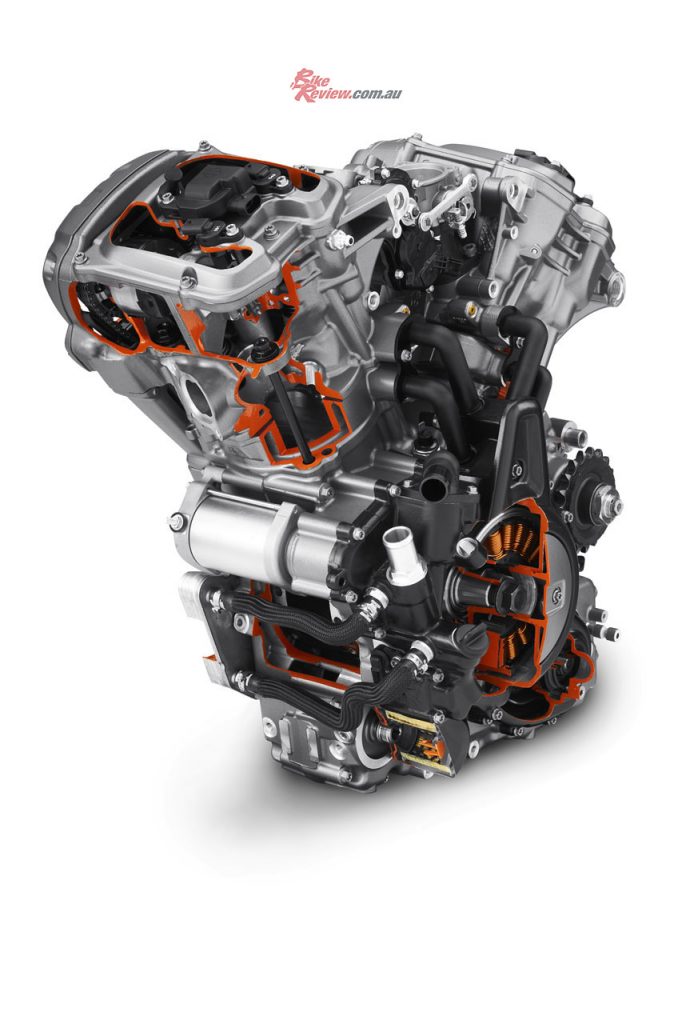 The pistons are 105mm forged alloy items with machined crowns and chamfered skirts for ring fitment ease. Compression ratio is a whopping 13.1:1 but the engine can tolerate 91 octane pump fuel due to the advanced electronics and knock sensor technology. The pistons have a low friction coating and low tension rings, reducing friction, while the top ring groove is anodised. Oil jets are aimed at the bottom for the pistons to aid cooling.
---
Above the pistons are the advanced cylinder-heads. The EX valves are sodium filled for heat dissipation, while the heads are cast from 354 aluminium and are super strong, as they form part of the chassis mounting point. The DOHC are chain driven and feature variable timing and can rotate independently advancing or retarding cam timing through a potential range of 40º.
---
---
This is achieved via computer controlled solenoid plungers that controls ported hydraulics within the cam sprockets. It is a seamless system and broadens the powerband offering low-end grunt while allowing top-end hit and improves fuel efficiency. Valves are operated by hydraulic lifters and small rocker arms, making the top-end maintenance free in terms of valve clearance adjustment. Dual spark plugs per cylinder are fitted for emissions reasons more than anything, while the dual down-draft throttle-bodies are positioned between the cylinders under an 11L airbox with internal velocity stacks. The airfilter is a washable conical item.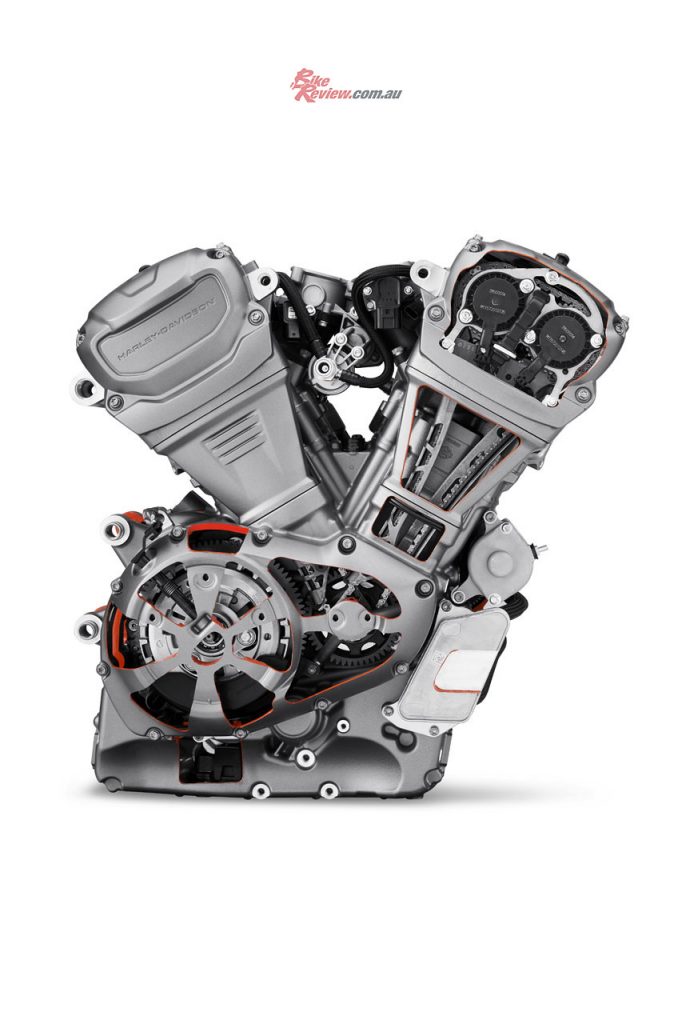 The engine is a dry sump unit but the oil tank is integrated internally in the sump area. This system minimises fluid friction losses and there is a triple oil-scavenge system that evacuates oil from the crankcase, stator cavity and clutch cavity. The oil feed pump is fitted with a large debris screen and the system creates crankcase negative pressure for increased power and minimal blow-by.
Oil is delivered to the main bearings and conrods via the centre of the crankshaft with a low delivery pressure of 60-70psi. There is a primary and a secondary balancer fitted, the primary balancer is a spiral shaped, chain-driven item in the crankcases and manages vibration from the crank pins, pistons, conrods and the offset imbalance. The secondary balancer is in the front head between the camshafts and complements the primary balancer.
The cable-actuated wet multiplate slipper clutch features eight friction plates and is driven by a noise vibration harshness reducing scissor primary drive gear. The six-speed gearbox cluster shift system rides in roller bearings while the selector shaft bushes are teflon coated. The gearbox is a compact semi-dry cluster built to be as durable and light as possible. The engine produces 150hp and 94ft-lbs and revs to 9500rpm. Final drive is my O-ring chain. The exhaust system is 304-series stainless-steel and the two-into-one system is designed for optimum performance and ground clearance.
RIDER AIDS
The Pan America models are equipped with technology designed to enhance the riding experience, including multiple electronically controlled ride modes plus Cornering Rider Safety Enhancements. This broad collection of technologies is designed to match motorcycle performance to available traction during acceleration, deceleration and braking.
---
---
Pre-programmed ride modes for the Pan America 1250 models include Road, Sport, Rain, Off-Road and Off-Road Plus. Each Ride Mode consists of a specific combination of power delivery, engine braking, Cornering Enhanced Antilock Braking System (C-ABS) and Cornering Enhanced Traction Control System (C-TCS) settings. The rider may use the MODE button on the right-hand controller to change the active ride mode while riding the motorcycle or when stopped, with some exceptions. There are also two Custom Modes one for road and one for off road.
TFT DASH
All instrumentation and infotainment functions are displayed on a tilting 6.8-inch TFT touchscreen. The non-reflective glass cover makes it easier to view in most lighting conditions. The touchscreen function is disabled when the motorcycle is in motion, but the rider can use hand controls to manage many functions of the screen display when the motorcycle is moving.
---
---
The display supports infotainment generated by the rider's Bluetooth-equipped mobile device, including music and calls. Navigation is supplied by the free Harley-Davidson App for iOS or Android.
SHOWA SEMI ACTIVE SUSPENSION
The Pan America 1250 model features premium passive front and rear suspension that is fully adjustable for pre-load and compression/rebound damping. The front suspension is provided by a SHOWA 47mm inverted cartridge fork. Rear suspension is a SHOWA Piggyback reservoir shock with adjustable hydraulic preload. The rear suspension incorporates a linkage system which provides a progressive feel through the stroke and maintains a comfortable, compliant ride on-road, while providing superior support for off-road conditions.
---
---
The Pan America 1250 Special model available here is equipped with the upgraded electronically adjustable semi-active front and rear suspension. Utilising data provided by sensors on the motorcycle, this suspension system automatically controls damping to suit the prevailing conditions and riding activity. These suspension components are provided by SHOWA, while the control software was developed by Harley-Davidson.
---
The Vehicle Loading Control system senses the weight of the rider, a passenger and luggage to select optimal suspension sag by automatically adjusting rear preload. Unladen seat height is 850mm in the low position and 875mm in the high position.
BREMBO BRAKES
Harley-Davidson and Brembo also collaborated on an all-new braking system for the Pan America models that is designed to provide the rider with great braking feel and performance. A new radial monoblock four-piston (30mm) caliper takes full advantage of the material characteristics to increase stiffness while reducing overall weight. Dual front brake rotors are 320mm in diameter; single rear-brake rotor is 280mm diameter. A new front brake master-cylinder offers adjustable lever response.
---
---
ADAPTIVE RIDE HEIGHT
The final factory installed option is the Adaptive Ride Height. Harley-Davidson is the first to offer this technology in the motorcycle industry, and Adaptive Ride Height (ARH) is an option for the Pan America 1250 Special model only. Adaptive Ride Height unlocks confidence you can feel in different scenarios by enabling a lower seat when the bike is at rest, without compromising ground clearance.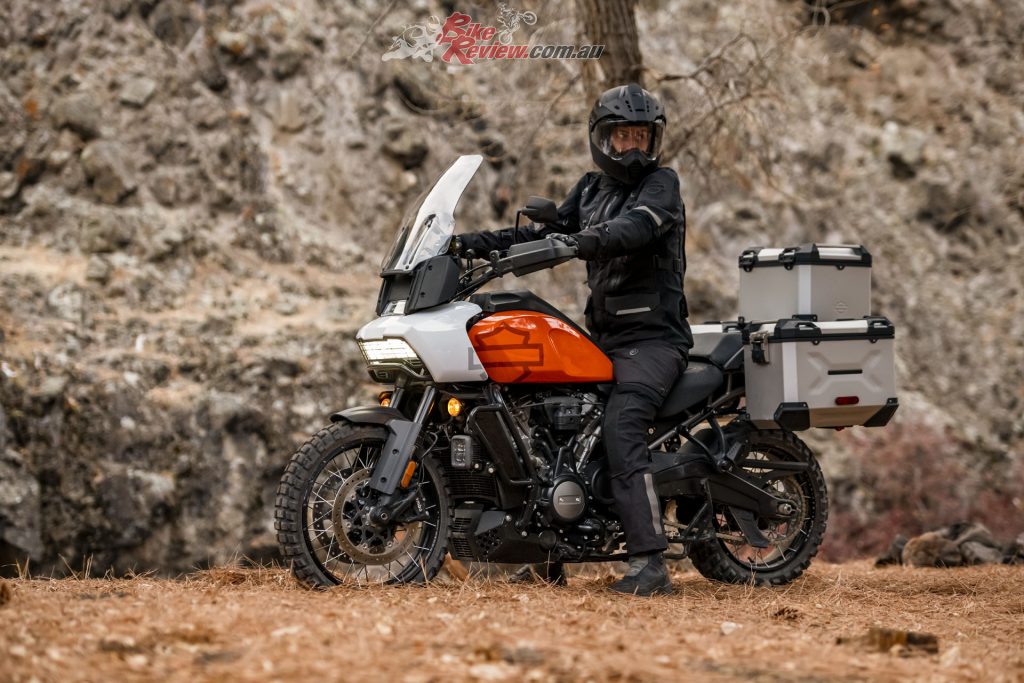 ---
2022 Harley-Davidson Pan American 1250 Special Specifications
Price: From $33,495 R/A
Colours: Vivid Black; Gauntlet Gray Metallic; Deadwood Green; two-tone Baja Orange & Stone Washed White Pearl.
Warranty: Two-years unlimited km
Claimed Fuel Consumption: 5.5L/100km
Claimed Power: 112kW@8750rpm
Claimed Torque: 127Nm@6750rpm
Wet Weight: 253kg
Fuel capacity: 21.1L
Maintenance: 1600km, then every 8000km
---
Engine: Revolution Max 1252cc, Electronic Sequential Port Fuel Injection (ESPFI), 105 x 72mm bore x stroke, 13.0:1 compression ratio, two-into-one exhaust, offset crank with 90º firing order, 60º V angle, variable cam timing, chain drive camshafts, liquid-cooling, dual plug heads.
Gearbox: Six-speed Clutch: Wet multi-plate slipper type, cable actuation.
---
Chassis: Alloy and steel trellis with engine as stressed member, forged alloy main section.
Rake: 25° Trail: 108mm
Suspension: Semi-Active front and rear suspension with Adaptive Ride Height as an optional extra, 47mm SHOWA front, SHOWA Piggyback reservoir shock with adjustable hydraulic preload rear. 191mm travel both ends.
Brakes: Front: Radially mounted four-piston Brembo calipers, 320mm rotors; Rear: floating, single piston Brembo caliper, 280mm rotor. Cornering ABS with linked brakes.
Wheels & Tyres: Cast Alloy or Tubeless laced wheels, 19 x 3.0in with 120/70 – 19 (f), 17 x 4.5in with 170/60 – 17 (r) Michelin Scorcher Adventure 50/50 tyres.
---
DIMENSIONS
Wheelbase: 1580mm
Seat Height: 830mm – 875mm
Overall Length: 2265mm
Overall Width: 965mm
Overall Height: 1510mm
Lean Angle: Over 42º
Ground Clearance: 210mm
---
Instruments & Electronics: All instrumentation and infotainment functions are displayed on a tilting 6.8-inch TFT touchscreen dash. Rider aids include linked cornering ABS, traction control, hill hold, rear lift mitigation/engine braking, rider modes.
---
The Verdict | Quick Spin: Road Test, Harley-Davidson Pan America Special