The bike that could have been a great little racer, the YZ450F based Yamaha YZ450GP racer… Test by Jeff Ware, Photography by Keith Muir
I'm a fan of small racebikes and always have been. I love 250 two-strokes, 125 two-strokes – even though I don't fit on them – and loved my own little RSX550 racer and just about any bike with high corner speed.
Sampling the YZ450GP came at a good time. I had just spent a day on a track on an RGV250, which brought back fond memories. I had also spent some time racing my own SXV550 powered RS250, now sold, so I was able to place the 450 well among that lot.
Riding the above meant I would be able to compare the 450 against old 250 proddie bikes, 250s and the larger 550, all bikes it would be competing against in terms of where it sits as a racebike.
YRD (Yamaha Racing Development) the company headed by John Redding and responsible for the YRD team in ASBK and FX along with Yamaha Motors Australia got together back in 2013 and created the machines with the goal of getting newbies to the track and hopefully to road racing.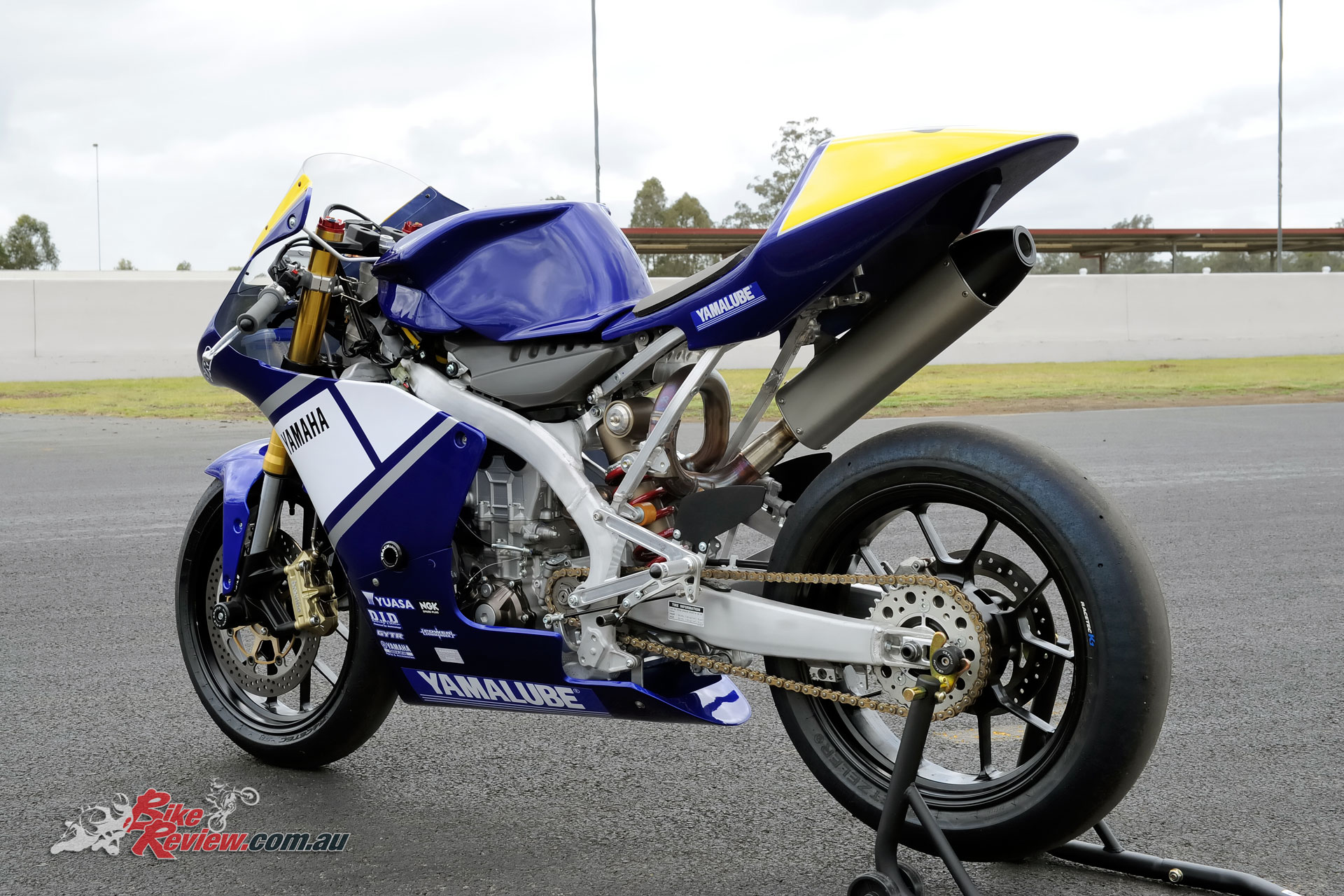 The interesting thing is, like many of these classes, older more experienced riders were interested too – those after some easy show up, race, wash the bike and go home handlebar banging fun…
At $16,625 there is no denying this is a decent outlay for a novice rider. But when you consider the bike can be converted back to a YZ450F at any time, that it is brand new and that a superstock 600 will cost you far more than that once decked out, it's not a bad outlay.
The other positive is that if you throw the bike down the track, which you will if you are a newbie no doubt, it will tumble and crash much better than a heavy 600 or 400cc inline four.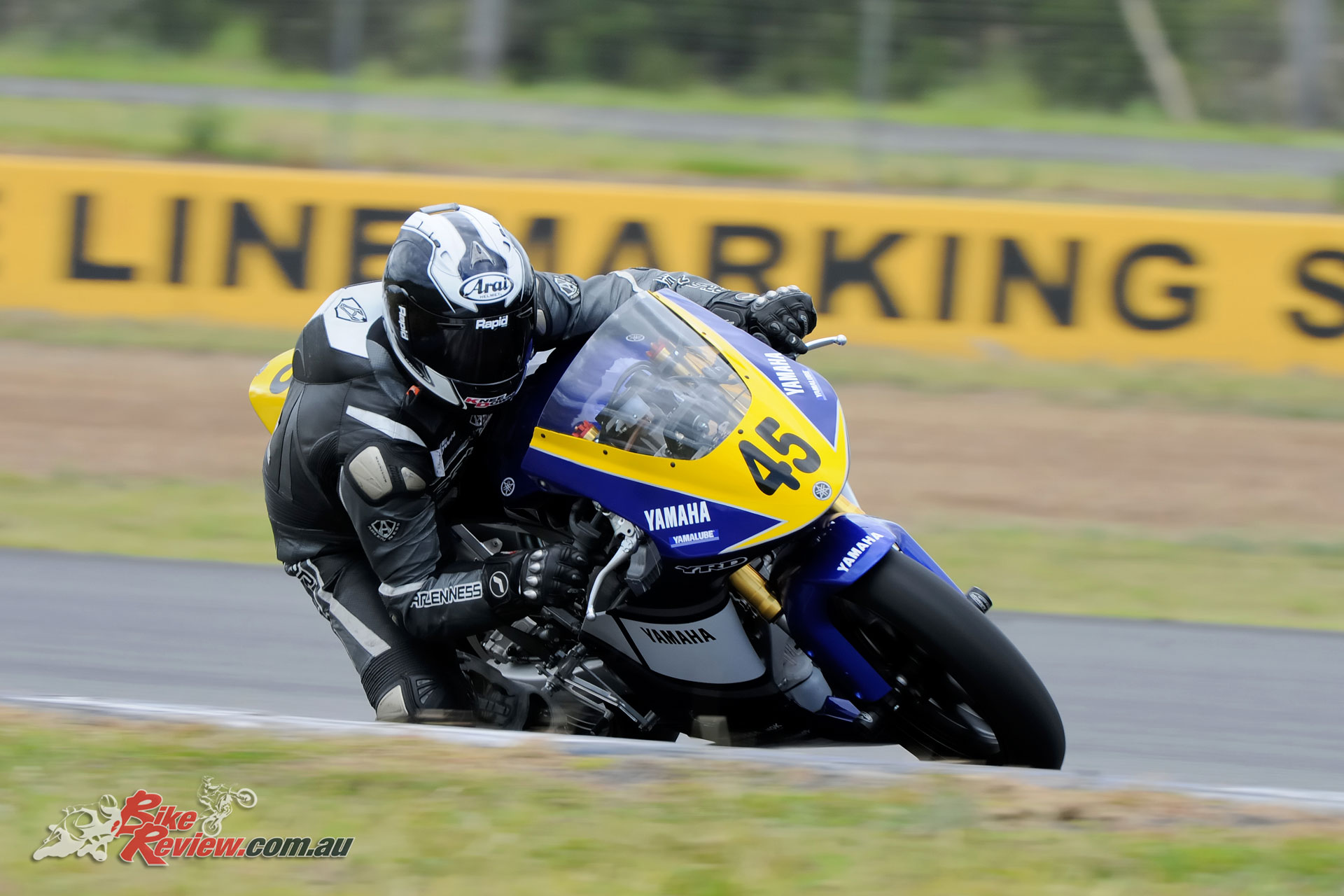 I rode the 450GP at a special journalist test day the team put on at Queensland Raceway.
Before riding the 450 I had a good old perve. Yep, I could definitely do with one of these babies sitting in the shed near the beer fridge…
I rode the little weapon before lunch, knowing I'd already be pushing the power-to-weight ratio to the max. The spread on offer for midday was going to be too tempting for this editor and I'd be a few extra kilos by 2:00pm…
Hopping on the bike the first impression is the height. Despite a shortened shock and alternate linkages, plus the road racing forks, the bike is tall and thin. Saying that, the screen is tall and the seating position is somewhere between sitting in the bike and on the bike.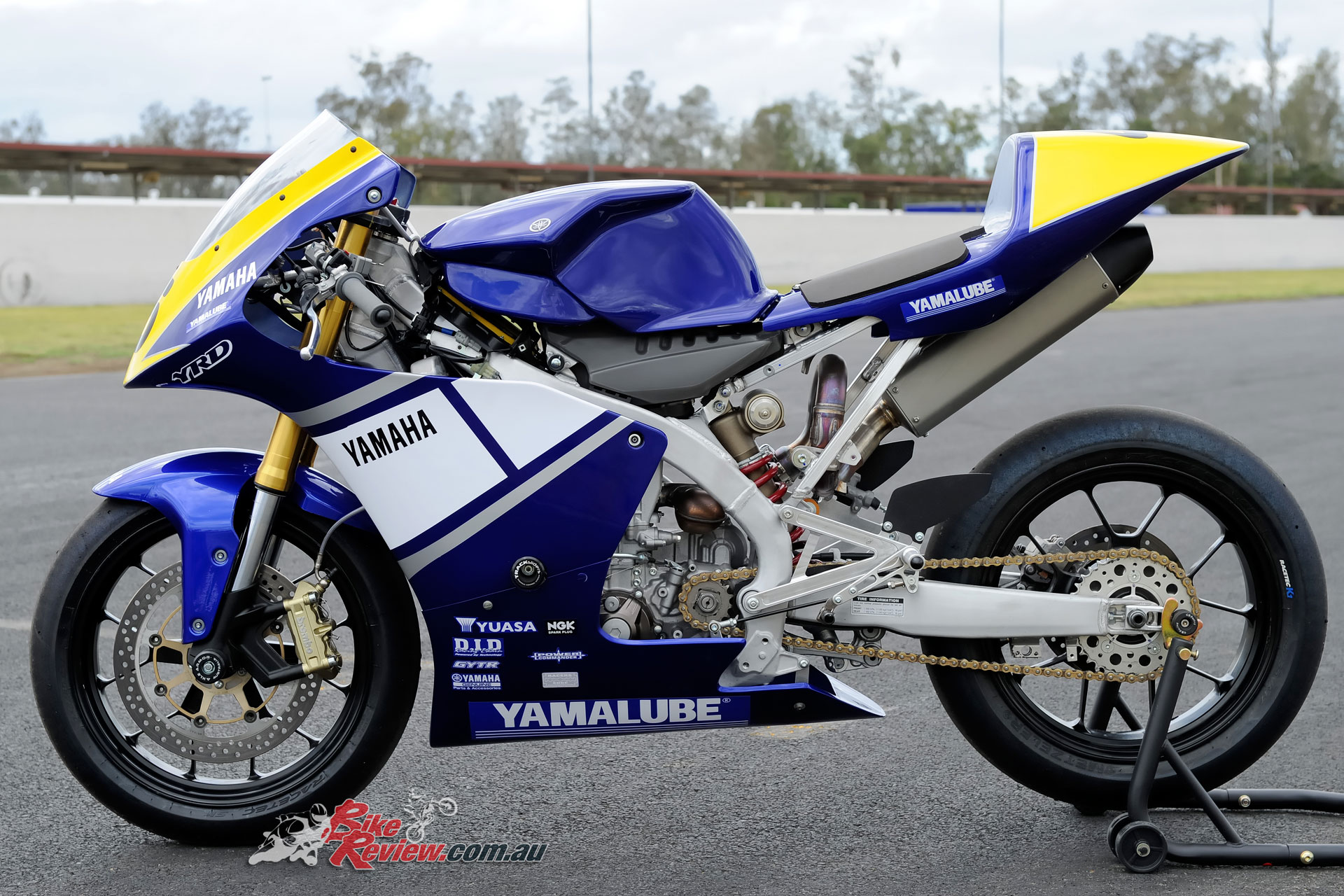 The footpeg position and handlebar position is great and there is actually plenty of room on the YZ450GP so the bike will suit a wide range of shapes and sizes. A slightly lowered rear sub-frame would improve the riding position for road racing.
Rolling out onto the track the single-cylinder 450, with road racing tall gearing, chugs along and needs a good slip of the clutch as to be expected. Heading out onto the track it only takes a few corners before I'm comfortable on the bike and start to push. For a dirt bike, it definitely has a good road racer feel and I'm surprised at how good it is.
Fundamentally, it does everything a road racer should – it turns in accurately and quickly, carries fantastic corner speed and is really stable on the brakes. When pushed harder, a few things that a dedicated road racing chassis do better present themselves. The YZ450GP bike is tall and the transition from upright to full lean is quite a big arc that takes time – again, lowering the seat height by modifying the sub-frame without changing geometry would help.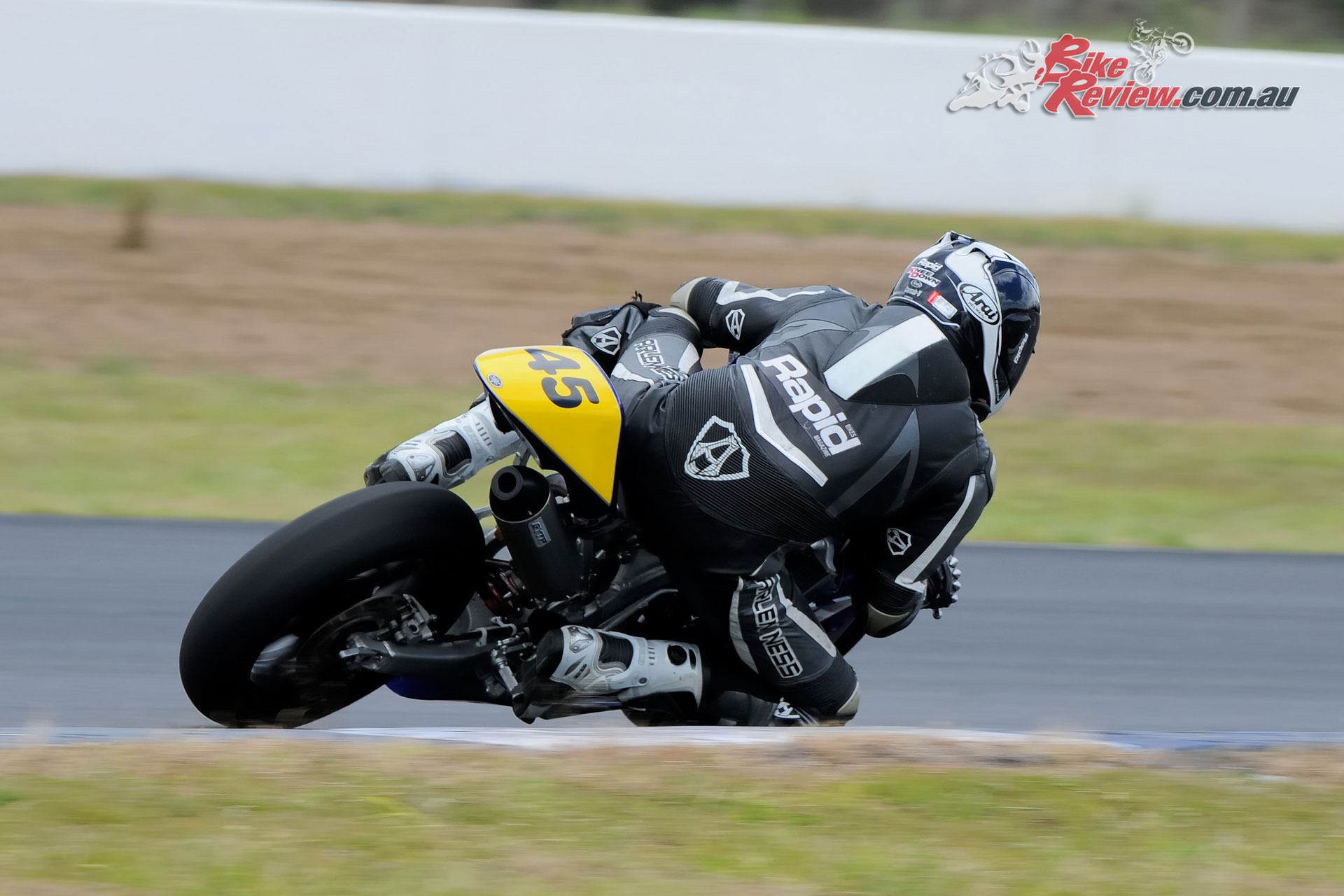 I would also have the handlebars lower than where they were. Keeping the bike on it's side through the middle of turns requires rider input where a road race chassis will happily sit low and corner. I think this is all to do with height more than anything – perhaps fuel load and riding position. Still, these are set-up issues that can be worked with and to be expected with an MX frame with such a high steering head and flat swingarm.
Braking stability is a real strong point and the Marzocchi forks and modified rear shock are fantastic – well set-up from out of the box and no need to change much. I would soften the front a little as I like a lot of front-end feel with these high corner speed fun machines.  The Brembo brake set-up is sensational and you'd be hard going to get under this bike on the anchors. The bike is also very stable over the many bumps at Queensland Raceway.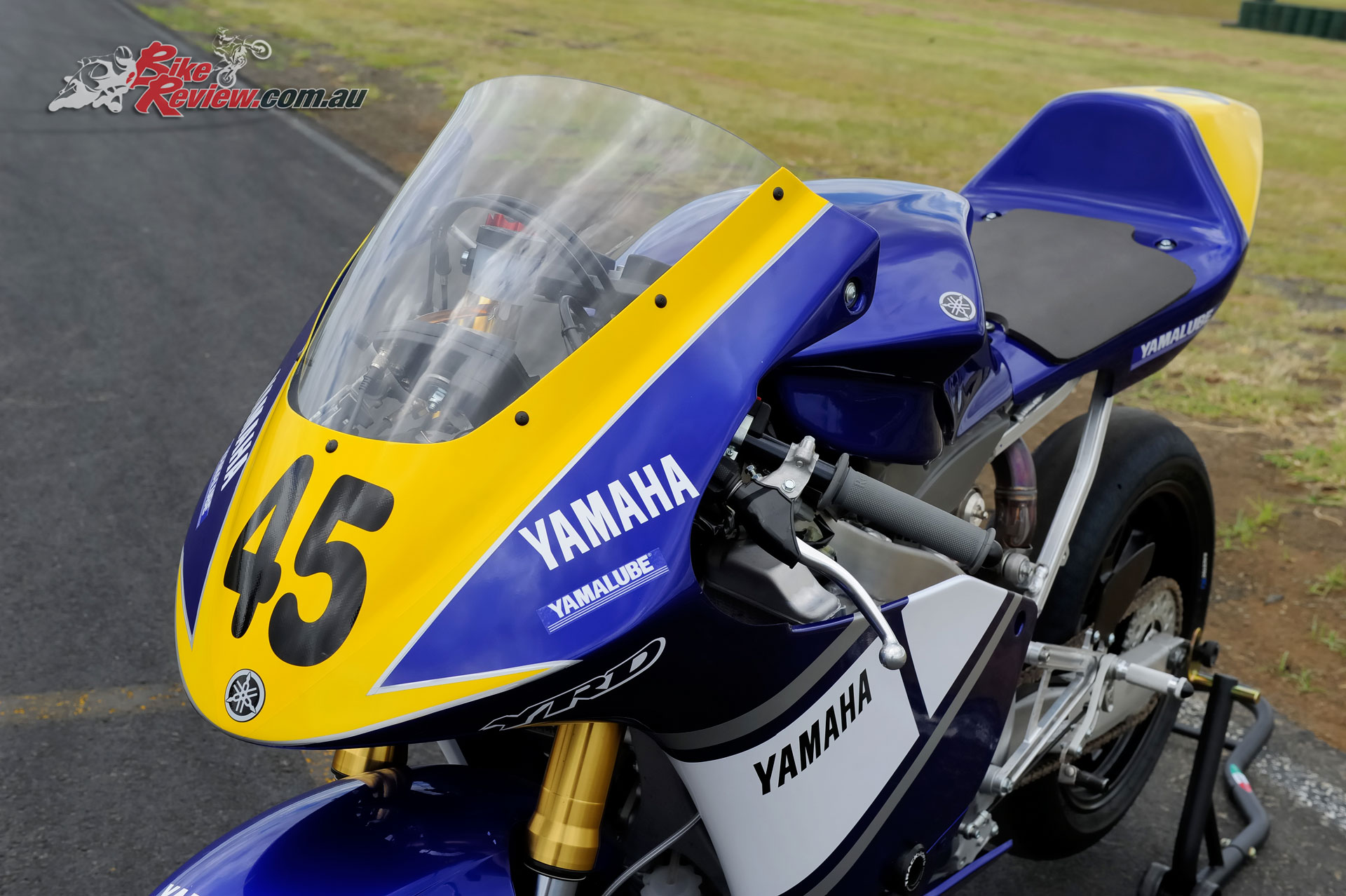 Tucking in on the chute is easy even for a big bloke like me and the YZ450GP bike feels like a true road racer in that respect. The five-speed gearbox ratios are never going to be perfect for road racing but it is possible to keep that sweet single on the boil with pretty rapid progress.
Top speed at this particular track was not that quick – the bike was topped out in fifth gear for the full length of each straight. Wakefield Park, Broadford, Winton, any tight track will suit this machine.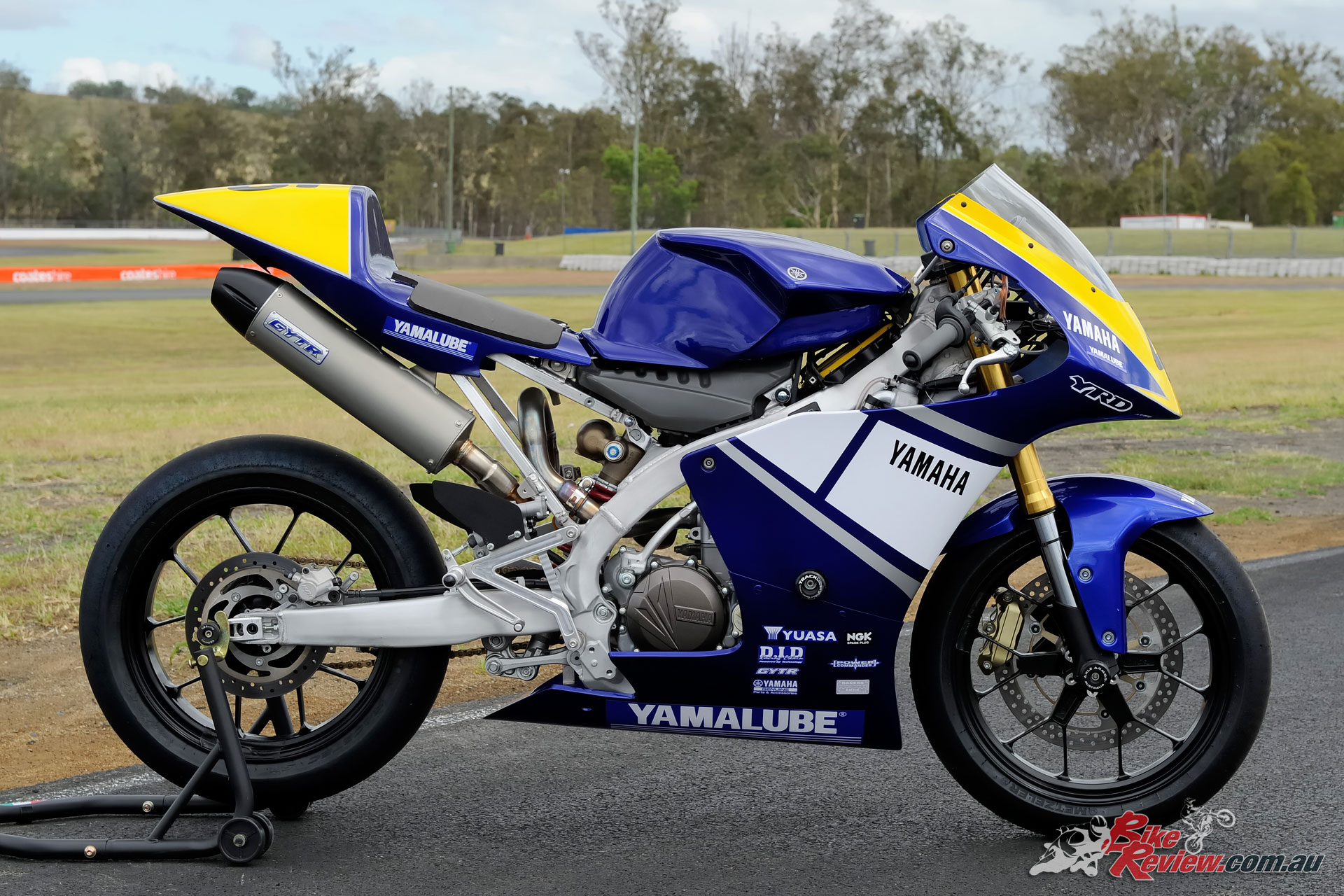 The engine was happily pulling the gearing so another 1000rpm would help. Vibration was an issue and to me this would need to be addressed as I could not comfortably race with that much vibration limiting rider feel for any engine problems. I'm sure some modified engine mounts would not be hard – and that is what racing is all about anyway, constant development…
Custom Yamaha YZ450GP Racer Specifications
POWER: N/A
TORQUE: N/A
WET WEIGHT: 120kg approx
FUEL CAPACITY: N/A, RS250 based tank
ENGINE: Liquid-cooled single-cylinder DOHC four-stroke, 450cc, 97 x 60.8mm bore x stroke, 12.5:1 compression, dry sump, fuel injection, TCI ignition, five-speed gearbox, wet clutch, oil cooler fitted, 16/38 final gearing.
CHASSIS: Bilateral bean frame, alloy, Marzocchi triple-clamps, Beon rearsets, Beon handlebars,
Wheelbase: Approx 1400mm
Rake: N/A, Trail: N/A
SUSPENSION:
Front: Marzocchi forks, 43mm, MUPO cartridges by SW Racing.
Rear: Stock shock shortened, re-valved with heavier spring fitted, by SW Racing
BRAKES:
Front: Brembo rotor, Brembo radial caliper, Brembo master-cylinder, stainless-steel braided brake line
Rear: Beon rotor, stock caliper
WHEELS & TYRES:
17 x 3.5in (f), 17 x 4.5 (r),165/55, 125/80 x 17in slicks
INSTRUMENTS & BODYWORK: Beon bodywork kit, YRT paint, Mychron 4 dash.
Yamaha YZ450GP Racer Gallery