Boy racer dream. RGV v NSR 30-years later... Here's our Suzuki RGV250 versus Honda NSR250 review. Test by Jeff Ware Photography: Richard Collins, Heather Ware, Kris Hodgson
It's no secret that I'm a big fan of two-strokes. Sure, I own a few four-strokes and most of my racebikes have had valves and cams but my roots are firmly planted in two-stroke territory.
My first dozen or so bikes were oilers and I went from D to A grade racing RGV250s in the mid 1990s. Believe it or not, I'd not ridden an RGV since 1996 so when this offer came up I was absolutely stoked. I knew it was going to be a highlight of my riding and journalistic career so far.
So much so that I decided to lock in a day at proving ground to really make it special. Two riders and two of the coolest bikes ever on the World's most exclusive private testing facility – pure boy racer nirvana. Now there's a band that comes to mind when I think back to my RGV days…
I was acting like a kid three days before Christmas in the lead up to the test, hanging to feel 19 again, getting that powerband rush, inhaling the luscious two-stroke fumes…
Rocking up on a perfect sunny day to find an immaculate RGV250 and an equally stunning NSR is a mindblowing experience. Close to six kilometres of tarmac perfection, brand new tyres, fresh kneesliders and full fuel tanks meant the day was going to be serious fun – not to mention an absolute blast from the past. If only I could have found my Tumbleweed 1992 tour shirts to wear.
---
---
Once static photography duties were out of the way both owner Jamie and myself were hanging to ride – I'm actually more excited than I was when I rode all of the World Superbikes at Portimao. That just shows how much of a lasting impression bikes can have during our early riding years.
RGV250 versus NSR250 – The Ride
Memories of riding my RGV are still fresh and as I fire the red and white scream up the past 23-years vanish. This could easily be 1994, when I first jumped on my M model RGV to ride home. Or 1993, when I was a first year apprentice and the bike shop I worked in (Willing MC) had a second hand red L model RGV in the showroom that I used to lust over every morning tea break. It's a real thrill for me. Hell, in 1989 I remember having an RGV brochure as the cover of my school folder…
The familiar rasp of the RGV pipes overlayed by that unmistakeable 'blender full of nuts and bolts' sound an RGV engine makes at idle turns to a crisp deep braaaaap as I open up the 34mm Mikuni slides and launch off towards the esses. I instantly feel at home on the RGV but I was 65kg last time I rode one – far from the 95kg old man I am now – so I don't quite feels as compact. In fact, a picture of a Gorilla humping an orange springs to mind…
---
---
At 128kg dry, the RGV is incredible light, nimble and gives a true sportsbike experience – in fact, after a lap I'm already satisfied that it's the best bike I've ridden around here after the TZ250 I rode here once. I've yet to jump on the NSR, however…
Keeping the sweet 90 twin between 8000 and 11000rpm is a buzz and really, the bike screams. I forgot just how fast these things were and I'm also impressed with the pull from mid-range that the single stage powervale L model has off the slower turns.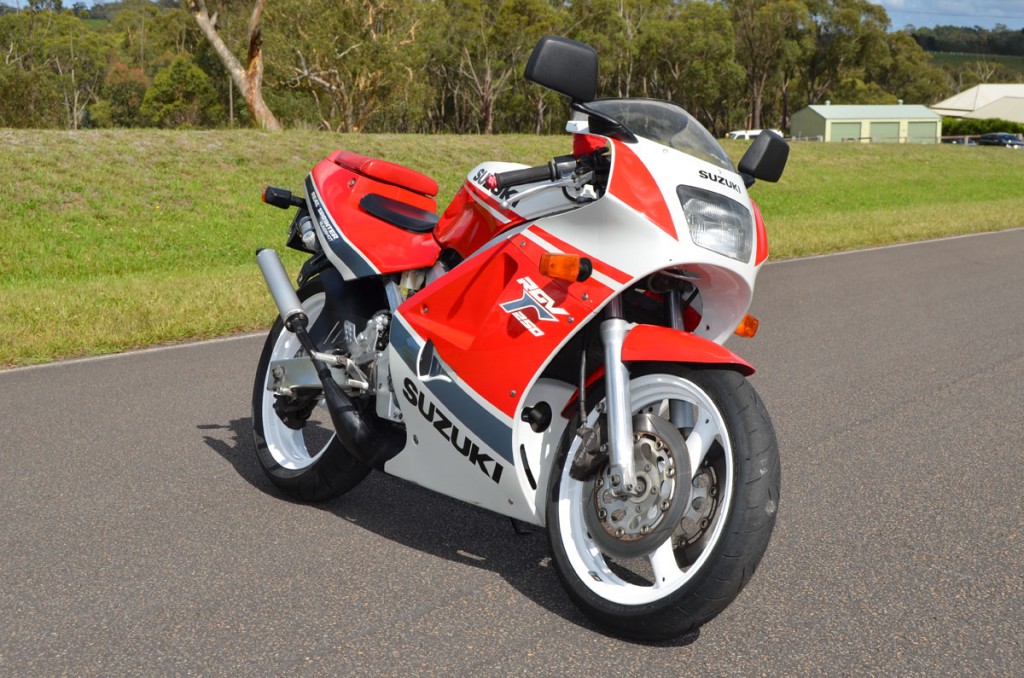 The brakes are stunning and the chassis is a dream. Even the 27-year-old shock is coping well.
I decided to ride both bikes in quick succession then swap back again for a longer test. I'm impressed with the RGV and as I park the RGV after a short stint and jump on the NSR, I'm buzzing.
The MC21 NSR is one sexy machine and I was really looking forward to riding it. I've heard so many stories about the sublime geometry and top end kick. Just looking at the bike I felt like a factory Honda 250 GP rider!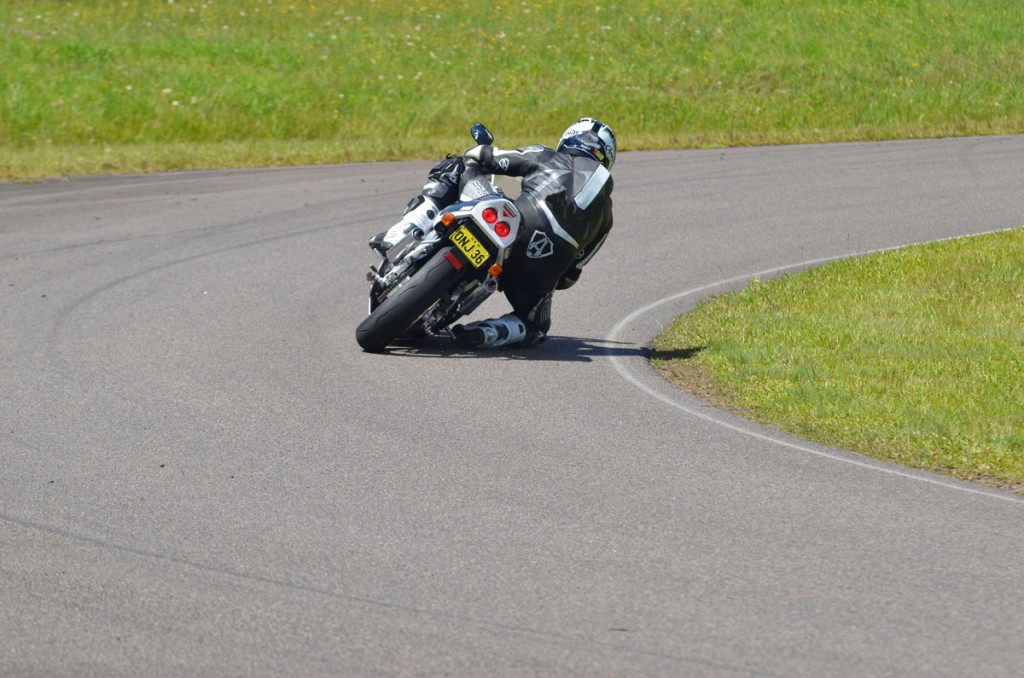 With a lot more technology than the RGV, including an ECU similar to that on the RC30 and geometry borrowed from the RS250 and NSR250 GP bikes, I knew the NSR would be good.
The bike uses a PGMIII ECU that is coupled to a throttle position sensor and gear position sensor. With those inputs plus rpm, the ECU monitors and controls the powervales and ignition timing to give optimum performance. Very trick stuff for 1990!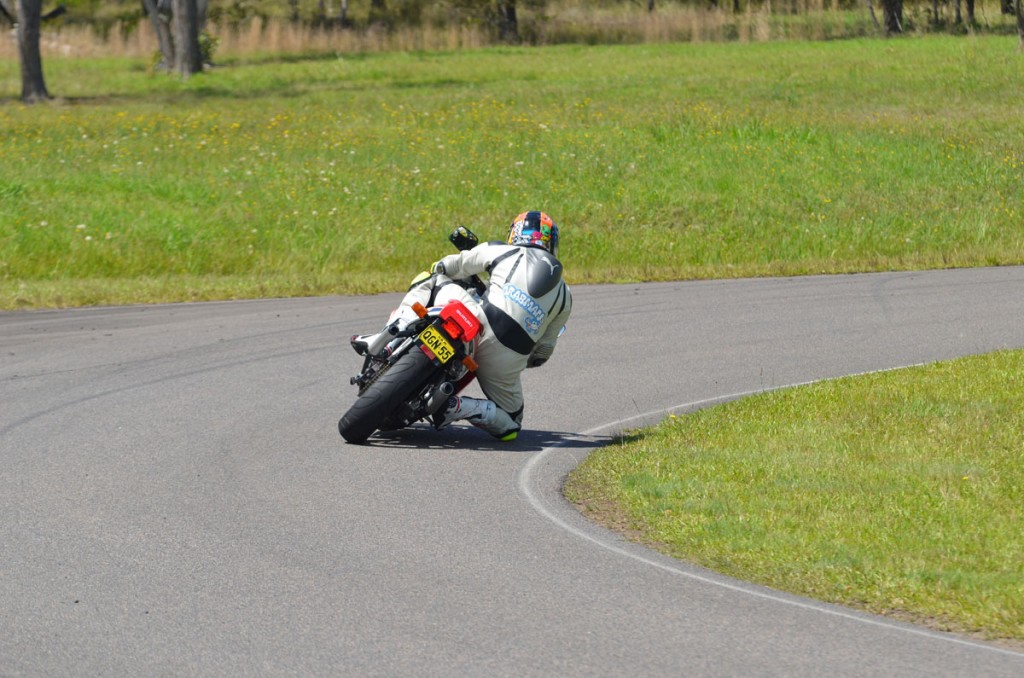 Hopping on the NSR revealed a more compact ride that feels more like a true GP bike. Mechanically the Honda is quieter and the throttle is crisper than the RGV. The rattle of the dry clutch really gets me grinning – seriously – no modern bike can replicate this kind of buzz…
The NSR chassis is simply sublime. The front end is so planted that I feel as though I'm holding the front axle. Feel and feedback from the front tyre is more confidence inspiring, the chassis reacts just as fast as the RGV to steering inputs but it does so a more refined and stable way and the brakes are stunning.
In every level of handling and chassis performance the NSR is 15 per cent better than the RGV. The engine has better peak power than the Suzuki but surprisingly doesn't quite have the same pull off the slower corners, which means overall on a tight circuit, the RGV would probably make a faster, although messier, lap time than the hi-tech NSR.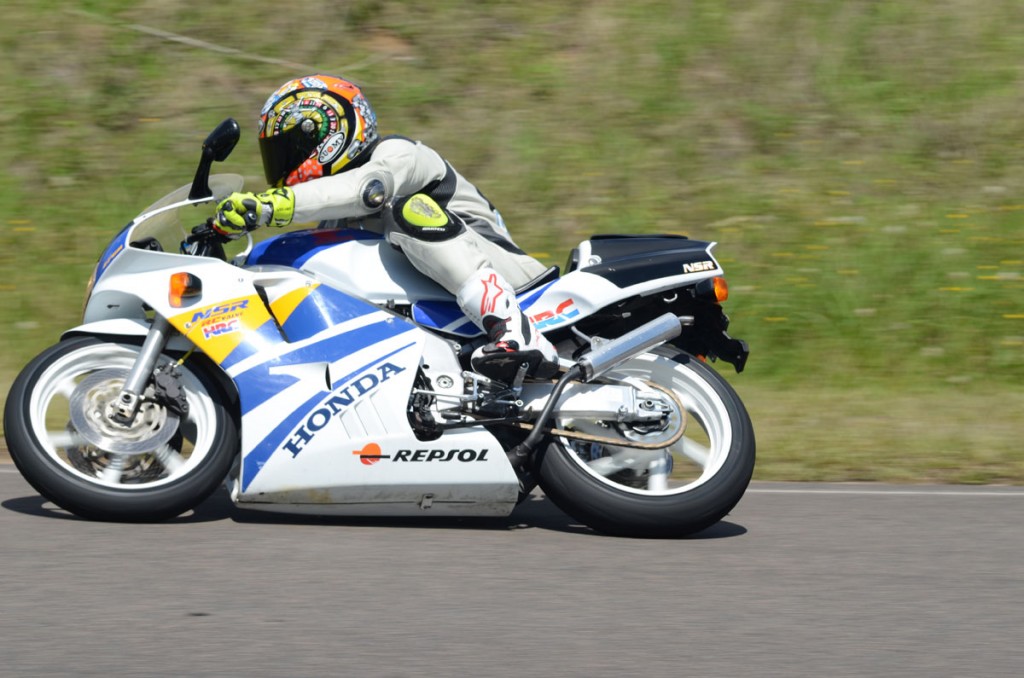 Back on the RGV and I'm really getting stuck in now. Jamie and I are fanging around together and swapping bikes back and forth. Both are sensational and running perfectly. We've done dozens and dozens of laps and neither bike has missed a beat.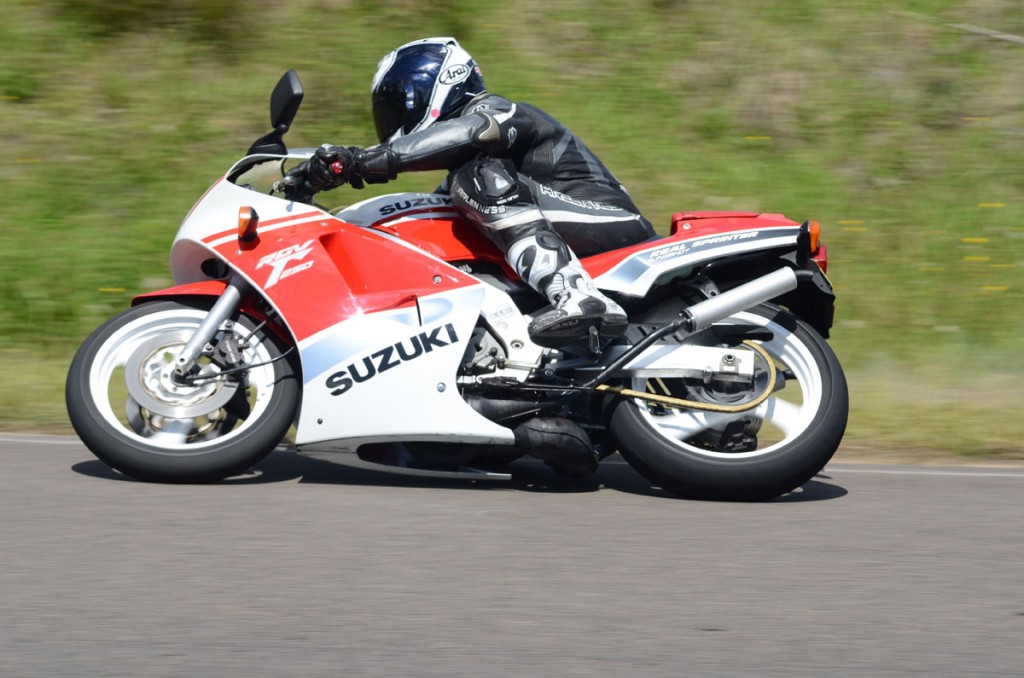 Pushing the RGV hard comes naturally to me. I'm scraping my entire leg – toes, ankle, calf, shin, knee through the turns as I lean the bike over to impossible angles, carrying great corner speed as the bike gently two wheel drifts about a foot to the outside between the apex and the exit of each turn.
It's a graceful 'crab' walk I remember from my proddie days – the absolute limit of an RGV. It felt good to get there and feel so in control and comfortable even at 37 years old. Just shows how good these little bikes are…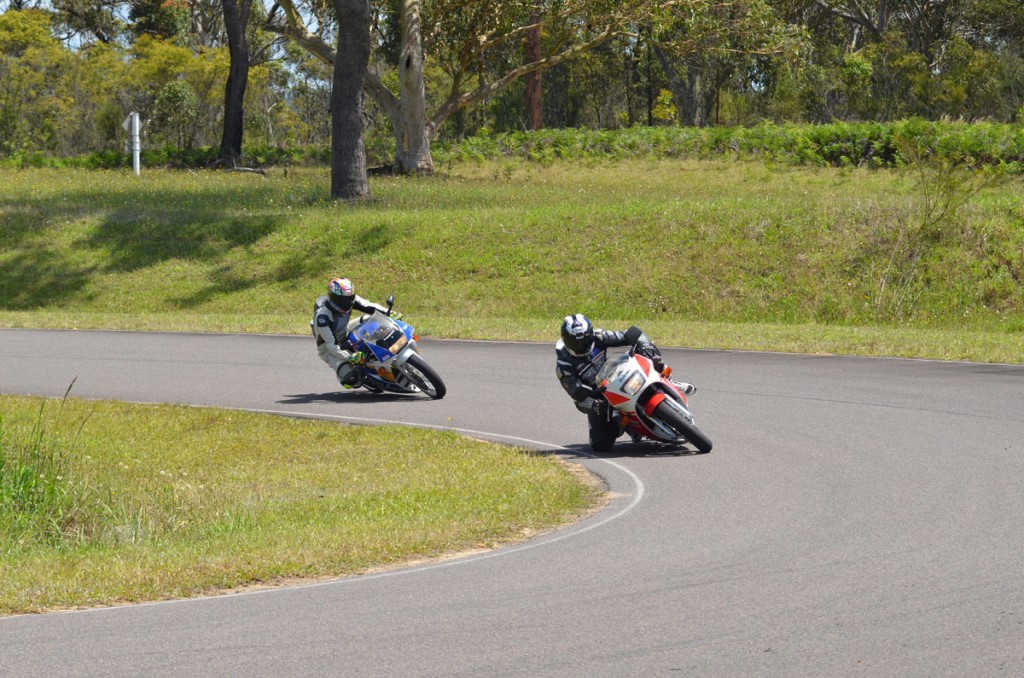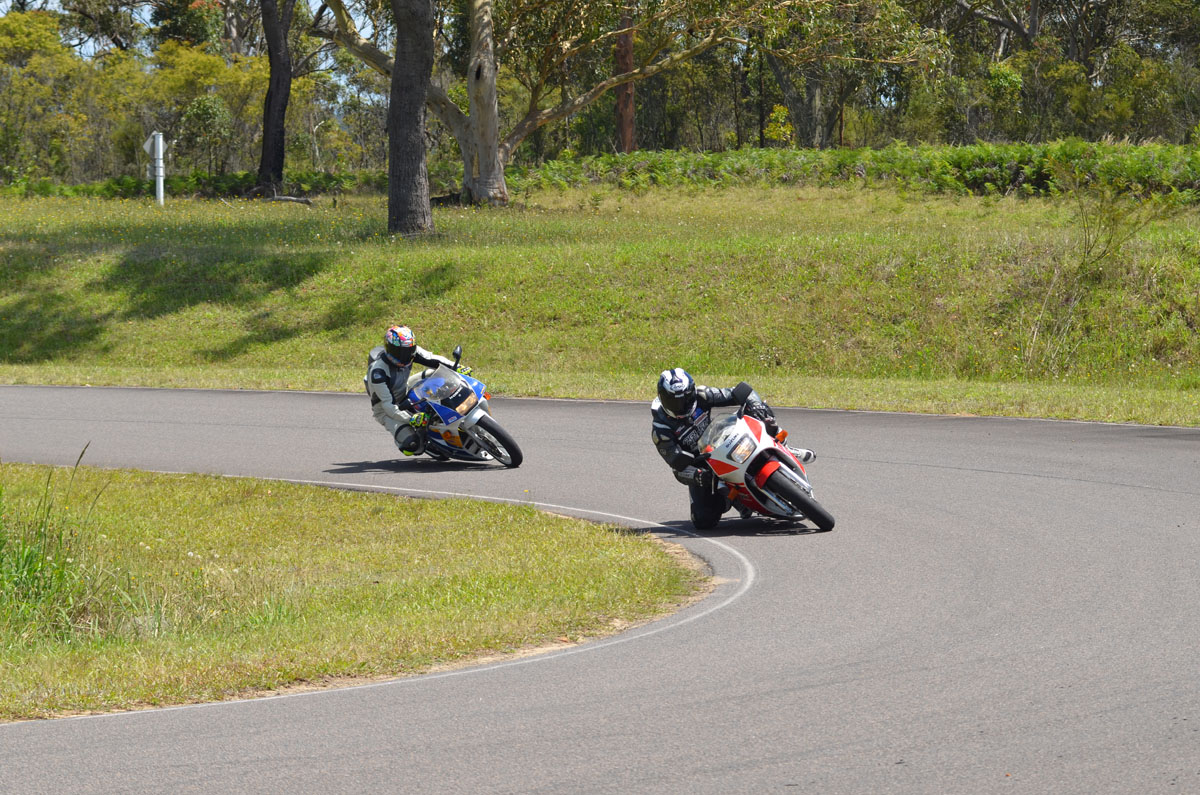 Back on the NSR it's slightly different. A faster, sweeping line through the corners with equally insane lean angle. But the mighty Honda geometry means the NSR makes more use of the sticky hoops, with more mechanical grip and no sliding aside from the odd front end tuck into the slow esses, easily caught by digging the knee in. That's the beauty of these old lightweight two-strokes. Try that on a modern heavy four-stroke and you're on your arse…
---
---
The NSR is more compliant in quick changes of direction and the suspension settles faster than the RGV set-up when flicking from full lean angle to full lean angle. Both bikes are stable on the brakes but the NSR is slightly more composed and has more brake feel, so can be braked harder and a little deeper.
Engine-wise I prefer the RGV. Despite the technology and top end, the NSR gearbox is a difficult shift and the lack of response at 8000-9000rpm gives the nod to the RGV.
Chassis-wise the NSR has it all over the Suzuki but both bikes are better than most modern machines. They really are from an era where us punters truly did benefit from grand prix racing. Long live the race replicas…

SPECIFICATIONS: 1990 Honda NSR250R
Claimed power: 34kW[45hp]@9500rpm
Claimed torque: 33Nm@8500rpm
Dry weight: 132kg
Fuel capacity: 16L
Engine: Liquid-cooled 90 V-twin two-stroke
Bore and stroke: 54 x 54.5mm
Displacement: 249cc
Compression ratio: 7.4:1
Fuel delivery: Crankcase reed valve induction
Ignition: CDI PGM-II
Exhaust: Dual HM KV3H SANKEI 2284 mufflers
Ratios: 2.846, 2, 1.578, 1.333, 1.190, 1.083
Final ratio: 2.667 (40/15)
Clutch: Wet multi plate, with coil springs
Final drive: Chain
Frame type: Twin-spar aluminium frame
Swingarm: Alloy Gull-Arm swingarm
Wheelbase: 1340mm
Rake: 23
Trail: 87mm
Front suspension: Telescopic oil filled damper with spring preload adjustment.
Rear suspension: Gull-Arm with external coil and damper, variable spring preload with Albach spring.
Front brake: Dual floating 276mm rotors with cast aluminium four piston calipers.
Rear brake: Single 220mm rotor with cast aluminium single piston sliding caliper.
Front wheel: Six-spoke aluminium Enkei, 110/70, 17in
Rear wheel: Six-spoke aluminium Enkei, 150/60, 17in
Front tyre: Pirelli Diablo Supercorsa
Rear tyre: Pirelli Diablo Supercorsa
Seat height: 770mm
Overall height: 1060mm
Overall length: 1975mm
Overall width: 655mm
Ground clearance: 135mm
Instruments: Analogue dash
Extras: TIGA rearsets, carbon-fibre rear hugger and heel guards, Hel braided lines.
---

SPECIFICATIONS: 1990 Suzuki RGV250
Claimed power: 43.3kW[58hp]@11000rpm
Claimed torque: 37Nm@10800rpm
Dry weight: 128kg
Fuel capacity: 17L
Engine: Liquid-cooled 90 V-twin two-stroke
Bore and stroke: 56 x 50.6mm
Displacement: 249cc
Compression ratio: 7.5:1
Fuel delivery: Mikuni VM34SS carbs
Ignition: Suzuki Pointless Electric Ignition
Exhaust: Dual mufflers
Ratios: 2.454, 1.625, 1.235, 1.045, 0.916, 0.840
Final ratio: 3.066 (46/15)
Clutch: Wet multi-plate
Final drive: Chain
Frame type: Deltabox frame
Swingarm: Box-section alloy
Wheelbase: 1375mm
Rake: 25.75
Trail: 98mm
Front suspension: Telescopic oil damped five-way adjustable forks, 120mm travel
Rear suspension: Full floating oil damped seven-way adjustable shock with Albach spring, 140mm travel
Front brake: Dual 300mm rotors with four-piston calipers
Rear brake: Single 210mm rotor with two-piston caliper
Front wheel: Three-spoke alloy wheel, 110/70, 17in
Rear wheel: Three-spoke alloy wheel, 140/60, 18in
Front tyre: Bridgestone Battlax BT003F
Rear tyre: Bridgestone Battlax BT090R
Seat height: 755mm
Overall height: 1065mm
Overall length: 2015mm
Overall width: 695mm
Ground clearance: 120mm
Instruments: Analogue dash
---
SPECIAL THANKS
Craig White WRP (see ad this issue), Will Scott, Trevor Lusby, Two-Stroke Race Lab in Greece, Crab Shack Skate Shop, Ross Greentree, Keith Greentree,
---

NSR TIMELINE
1983 MVX250 – The three-cylinder MVX was Honda's first attempt at two-stroke road bikes. The MVX had ATAC, an early powervalve system. Downfall was the crappy VT250 chassis…
1985 NS250R – The MC11 was made in 1985 and was the leading edge two-stroke 250. It was the first V-twin stroker proddie and had Astralite wheels, nicasil barrels and an alloy frame. 45hp@9500rpm and awesome looking!
1986 NSR250 – The MC16 was the first ever NSR. Everything was completely new. Initially only available in red, a blue version was released after six months. It had three-spoke wheels, a box section alloy frame and swingarm, was 20kg less than the MC11 and had RC exhaust valves.
1988 NSR250R – The MC18 was completely revised from its earlier brothers. It had high swept, six-spoke wheels. The MC18 is considered the closest of the NSRs to the RS250 racer.
1990 – NSR250 – The MC21, the bike tested here, took the world by storm in 1990. It used the PGMIII ECU from the RC30 with TPS and GPS to give the ECU optimum control over ignition and the powervalves. It also had a new frame and the famous Gull Arm swingarm. Both wheels were 17in and the rear 4.5in wide. SP versions were released in Cabin Racing colours (Nobu Aoki in All Japan raced for the team) and had a dry clutch (as fitted to our test bike) and a close ratio gearbox. An SE version was introduced in 1991 with different wheels.
1994 – NSR250R – The MC28, similar in spec to the MC21 but with the single-sided swingarm. It also had PGMIV, activated by a 'Smart Card'. Each plastic card offered different levels of performance mapping. In reality, it was a clever system marketed by the Japanese but really was designed to restrict the bike to meet strict Japanese pollution laws. It was heavier and slower than the MC21.
The NSR continued unchanged until 1999. JHA then bought the remaining stock from Honda, which ran out in 2001.
---

RGV TIMELINE
1983 – 1987 RG250 Gamma. An alloy framed parallel twin-cylinder water-cooled two-stroke that out-performed the RZ250 in almost everyway but was never as popular. 1983 model had only a bikini fairing. By 1987 the RG250 was fully faired.
1988 – RGV250J – the RGV hit the world by storm as Suzuki pushed the bike into many markets where the NSR was not available, instantly taking the 250cc two-stroke race replica market by storm. The bike was a no compromise production racer with lights. A 90 V-twin engine making 67hp@8500rpm, 128kg dry, 32mm Mikuni carburettors, single stage powervalves, 300mm twin rotors and Showa suspension went with the stunning GP styling.
1990 – RGV250L – the L model had new fully adjustable rear suspension, 34mm carburettors and new colours.
1991 – RGV250M – the M model was a major update, with a banana swingarm, new forks, new shock, two-stage powervalves, 17in wheels, revised exhaust pipes with dual exit on the R/H side for more ground clearance, weight was up 10kg to 139kg but the bike would become the most famous production racer in Australian history.
1993 – 1997 RGV250P – the P model had new colours and graphics, a 70 angle between cylinders, 15mm longer wheelbase, new braced swingarm, revised powervalves and second/fourth gear ratios.
---
---
The Verdict | Review: RGV250 versus NSR250 Retro Two-Strokes
We take the two most iconic two-stroke racer rep proddies made, the RGV and the NSR, and head to a private testing ground to punt them head-to-head in true 1990s style…