Review: 2017 Husqvarna FE 250
Check out our full review of the 2017 Husqvarna FE 250, stay tuned for the FE 350, FE 450 Enduro Models... Test: Jeff Ware
The 2017 Husqvarna range was launched to the Australian motorcycle press late last year in the picturesque hills behind Lithgow, NSW. During a full day of riding we were able to sample the two-stroke TE 250 and 300 (report here) and the four-stroke FE 250, 350, 450 and 501.
Unfortunately an injury put me out of testing the 501 but I did spend plenty of time on the 250, 350 and 450. Here is my Husqvarna FE 250 review. 
The Husqvarna FE 250 has been a great seller in Europe for years and after riding the bike at the Aussie launch late last year, I can see why. Just like small capacity cars rule the streets, the European roads tracks and trails are also full of small capacity bikes.
There are loads of benefits from rego to tax and insurance but for me, most of all, the fun factor is the winning ingredient. I've always been one of those riders that prefers to take a bike for a ride and take it to its and my limit, trying different ways to get more speed or fun out of the ride.
As much as I enjoy mega power big bores, for shorter stints, I generally feel like I'm the one being taken for a ride. For that reason, I had a blast on the FE 250 and found it very appealing as a rider making a comeback to off road after having just spent 17-years as a tarmac only motorcycle test journalist.
It is also a pin sharp, serious enduro weapon that the expert rider will appreciate. I guess I just love 250s and the benefits handling-wise that lightweight brings.
The FE 250 has been refined for 2017 and you can read about the detailed changes that Husqvarna engineers made by reading the technical breakouts below.
In short, the chassis has been tweaked with some frame flex changes for feel and grip, the suspension has been upgraded at both ends, the bodywork and ergonomics are revised to give a better ride experience.
The engine is also basically new, with revised shaft layouts for optimised mass centralisation and a shorter stroke for a more responsive engine, along with engine management refinements including gear specific mapping, rider switcheable maps and even a basic traction control system.
There are lots of changes crammed into this quarter-litre beauty that combine to make it a truly sweet bike to ride and one you could ride all day long…
2017 Husqvarna FE 250: The Ride
The FE 250, like the rest of the 2017 range, feels fantastic from an ergonomic point of view and amazingly it is only 2.6kg more in weight (measured without fuel) than the TE 250. That is damn good engineering and just shows how far metallurgy has come in the past decade.
You have camshafts, valves, a large cylinder-head and valve seats and a camshaft, tensioner, guides and still only 2.6kg more than the two-stroke version of the same chassis. Amazing stuff…
The FE 250 fired into life instantly with the press of a button. I selected the standard map of two available and headed off. Like of the TE, the clutch pull is light and take up is in the middle the last quarter of lever travel.
I short-shift through the first three gears and I'm surprised at the pull that the bike has got being so oversquare but it has instant throttle response and pulls the taller gears no problem as I climb up in the more open single trails. Even though I had just jumped off a two-stroke, and any four-stroke would feel grunty, the FE 250 was surprising.

In saying that, it only took about 1km before the engine was encouraging me to rev it and act silly, as it is just so responsive and has a great top-end. It loves to rev.
This bike is fast, don't worry about that, and is as rapid if not more rapid between corners than the TE 250, at least with me on it, and with the rpm right it hooks up and fires off turns like a trooper.
With the wide lower ratios, tall final gearing and high rpm ceiling of the DOHC four-valve engine, holding a gear between turns is no problem and on our loop I was mostly in second and third gears aside from the uphill single track, where I used first.
There was plenty on hand for lofting the front wheel over logs with a tug on the 'bars and the fuelling was really good thanks to the revised mapping of the Keihin EMS. The revvy nature of the engine, which really is a work of art if like me you are into engine design, compensates for the bottom end taken away with a conrod ratio and short conrod that is designed for mid range and high rpm. So really, it is a win-win in terms of power curve.
I switched maps from standard to aggressive and in all honesty aside from some more initial throttle response off closed throttle I could not feel a great deal, although with this bike I was basically riding it in the middle to top-end of the rpm range quite frantically at almost all times so more time on the bike and some different areas to ride would reveal more to me about the mapping.
Still on the engine, the gearbox shift is silky smooth both up and down, clutch action is nice with good feel and modulation when needed into slippery turns or getting drive or rpm ideal off turns. Modulating engine braking into turns is easy with the clutch feel but generally on our test loop the bike could be run into turns with pretty fast entry speed at least at my slower pace and no rear wheel hop or issues on downshifts that four-strokes can have.
The traction control system had me a bit confused, I have to admit. With the FE 250, in slippery conditions the rear wheel would still spin if the engine was loaded up a bit, for example second gear but low rpm, open the throttle and it would spin unhindered.
However, at higher rpm and speeds there were times when the engine power flattened out slightly and wheelspin could have been reduced. I still can't be certain I was feeling it, and it is possible that the algorithm that calculates how much wheelspin at certain throttle positions and gears and rpm may not be suited to less experienced enduro riders like me who might put the engine in situations it would normally not be in while in the hands of Husqvarna's development riders.
I overheard faster guys raving about it so I'm sure in certain conditions it could help with lap time for fast racers, both enduro and MX, where it is already employed. Still, it is cool to have it as an option!
Chassis-wise, like the TE, the FE is an absolute sweet handling bike. Although it is, as mentioned, only 2.6kg more than its two-stroke sibling, the FE 250 handles quite differently, due mainly to the rotating mass of the crankshaft and camshafts, along with of course the way the torque acts on the chassis and suspension when the throttle is opened.
The FE has that exciting, nimble and go where you look ability that a small bore lightweight bike will give you in the bush, all while retaining a confidence-inspiring stable, sure-footed characteristic that I found endearing.
In all situations from standing single trail to the faster grass track section, standing downhill, sitting climbing uphill, mud etc I felt comfortable and natural on the bike.  All of the controls in the standard position worked for me but I would like the 'bars higher particularly with the high footpegs fitted.
The steering of the FE 250 is quick but accurate and once in a turn it remains on line even over bumps and undulations, which are dealt with by the new suspension.
The forks were a bit soft for my fat ass and braking hard, even if I grabbed the lever gently, they would dive through the stroke quite quickly but that is an easy adjustment I did not do as I ride the bikes standard generally at launches.
The shock performed well with good control both ways and although I would have like it, along with the forks, a little more supportive that is too easy. Both ends are top quality and that can be felt immediately, as can the quality of the brake set-up.
The FE 250 I rode a few times had stunning brakes, while the TE did not so I put that down to run in or hours or glazing not just four-stroke engine braking effect. I could not fault the FE 250 brakes, they had great initial bite – just right not too aggressive but not too wooden, as well as loads of power for modulating into turn.
The rear brake was also easy to use the way I wanted to and even though I was struggling with my brand new boots, I could still make use of the rear brake thank God as I cook the things I use them so much!
What I liked about the FE 250 was that it worked well over the entire loop, whether on the sharp bumps of the rocky single trail section, the muddy open switchbacks with undulations, the grasstack section with almost no bumps or the climb up the hill with a mix, the overall damping control meant the Metzeler Six Days tyres remained on terra firma at all times.
The FE 250 is a grand less than it was last year, despite all of the improvements. At $12,490 it is really good value for a high-end European enduro bike that has all the good bits already and nothing to add.
Before you decide on a 450 or bigger, try and swing a leg over a 250. You will be surprised and you might be faster on it too! A great little enduro weapon.
2017 Husqvarna FE Enduro Range Chassis
Following a similar geometry to the 2016 Husqvarna enduro models, the 2017 frames feature a new design and flex characteristics. The 6mm wider and 2mm lower steel tubes offer 20 per cent higher torsional rigidity for improved stability and agility, while longitudinal stiffness is reduced by 30 per cent for better bump absorption and suspension functionality.
New laterally mounted head-stays increase handling agility while reducing vibration. As standard the frames are fitted with protectors and a new engine guard. Weight is reduced by 0.6kg.
The hollow, cast aluminium swingarm is designed to offer optimum stiffness and reliability at the minimum possible weight. Husqvarna engineers have machined the rear axle in order to allow for the chain adjuster markings to be seen from above for easy maintenance.
The black-anodised CNC machined triple-clamps offer an offset of 22mm. They are expertly crafted using superior techniques and materials to provide high levels of quality and reliability. A two-way handlebar adjustment also comes as standard and allows for customised ergonomics.
Developed by WP Performance Systems specifically for enduro riding, the WP Xplor 48 forks are a completely new feature in the MY17 Husqvarna enduros. They feature an open cartridge layout with a spring in each leg and split damping functions. Compression is adjusted from the left side and rebound on the right via easily reachable clickers situated on the top of the tubes. A standard pre-load adjuster allows for easy pre-load adjustment without the use of tools.

The composite sub-frame showcases pioneering technology and innovation. Featuring a three-piece construction, the composite material is made up of 30 per cent carbon-fibre. Featuring carefully calculated rigidity, the sub-frame enhances overall ergonomics. Weighing only 1.4kg, it is 1kg lighter that the previous design.
All models feature a new, lightweight fuel tank made of translucent plastic so the fuel level can be checked quickly and easily. The capacity varies between the 2-strokes (10L) and the four-strokes (8.5L). All fuel tanks feature a quick release fuel cap for quick refueling, while four-stroke models are fitted with an integrated fuel pump and fuel level sensor.
The new WP DCC linkage shock weighs only 3.7kg and is 0.36kg lighter than the previous version. A pressure balancer inside the shock improves damping resulting in greater rider comfort and handling. The corrugated outer contour of the reservoir increases cooling. The component is also fully adjustable and matched to a linkage system with a specific geometry to deliver the best possible traction and bump absorption.
The ODI lock-on grip on the left side does not require gluing, while on the right, the vulcanised grip features an integrated throttle mechanism. The assembly has easy free-play adjustment and, by changing a cam, throttle progression can be altered on all four-strokes.
New bodywork and graphics are featured on the 2017 enduro models. Offering completely new ergonomics, the bodywork enhances control and comfort allowing the rider to perform at their best for longer periods of time. The seat has a low profile design and a new high grip seat cover, which keeps riders planted under hard acceleration or in slippery conditions.
The radiators are by WP Performance Systems using high strength aluminium. CFD (Computational Fluid Dynamics) is utilized to channel air through the radiators more efficiently and provide optimal cooling in all conditions. The cooling system is integrated into the frame increasing heat dissipation by channeling coolant through the frame while eliminating the need for additional hoses.
Additionally, the radiator protectors do not only protect against flying debris but also act as a brace divert any energy from an impact around the radiator and into the frame. Cooling fans are fitted on all four-stroke models standard.
The new airbox is designed with precisely positioned inlet ducts aimed at preventing air deformation and ensuring maximum airflow and protection. The airfilter is accessible without tools. Easy maintenance is guaranteed by the Twin Air airfilter and filter cage design that features a simple fail proof mounting system for safe and accurate filter installation.
Featuring an enduro-specific design the new self-cleaning footpeg mounts prevent the build-up of dirt collected in deep ruts or muddy terrain. The footpegs are also positioned 6mm higher than in Husqvarna's motocross models to further increase ground clearance over rocks and deep ruts.
High quality Brembo calipers and controls combined with GSK rotors deliver superior stopping power. The rear brake caliper feature a 24mm piston (26mm on previous models). A 10mm longer rear brake lever provides better modulation and feeling while braking.
The 2017 enduro range features new Metzeler MCE 6 Days Extreme tyres.

2017 Husqvarna FE 250 Engine
The 2017 Husqvarna FE 250 engine, the smallest of the four-strokes, is designed to be more powerful, lighter and more compact than the previous model – as are the 350, 450 and 501 variants of the same engine.
The new engine is 20mm shorter and 700 grams lighter than the 2016 engine, weighing in at 27.6kg including starter motor. Power delivery has been refined throughout the 12,800rpm range.  
The 78mm cylinder has a CP forged piston of box type, and a compression ratio of 12.8:1.
The head has been revised and the new camshafts are 150 grams lighter, reducing frictional and torque losses. The four titanium valves (32.5mm IN, 26.5mm EX) are actuated by 30 per cent harder DLC coated finger followers and the camchain, guides and sprockets are revised to reduce frictional losses.
The new crankshaft is stiffer and features a 6mm shorter stroke giving a freer revving engine response and the crank and main bearings have a service interval of 135 hours. A multifunctional balance shaft reduces vibes and also drives the water pump and timing chain.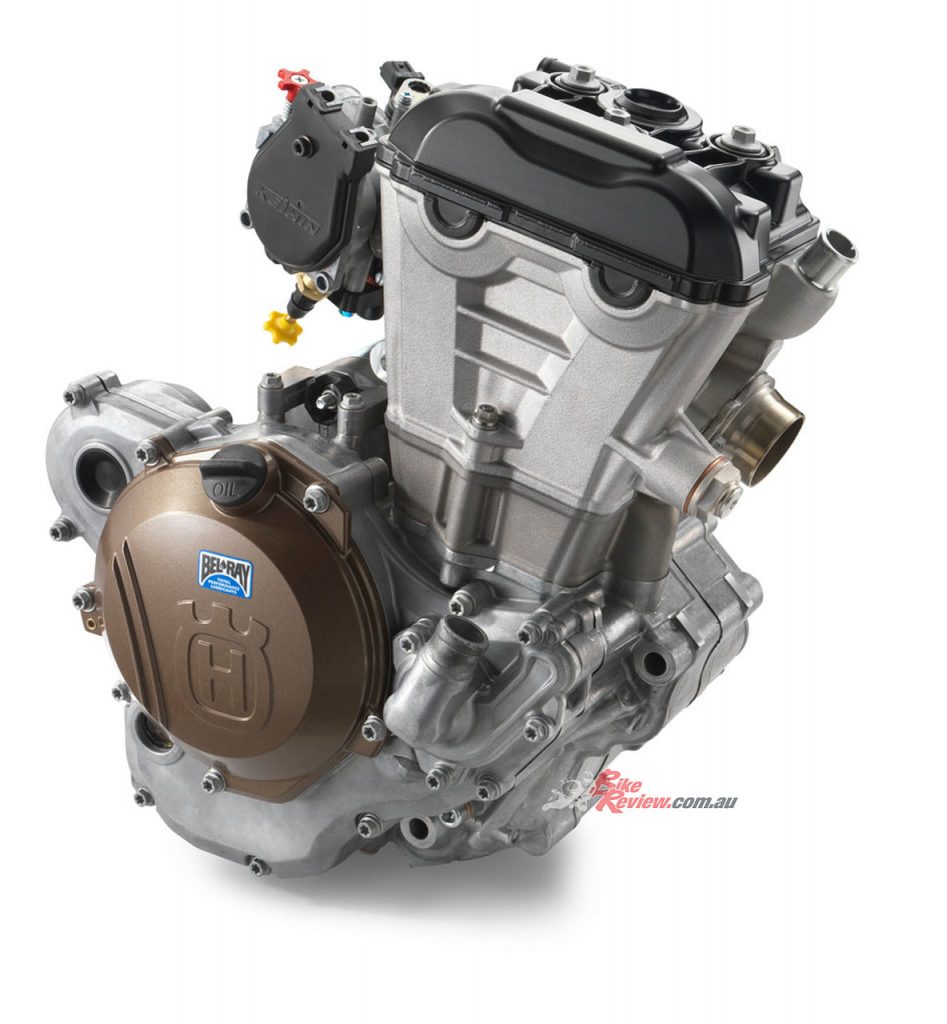 The cases are new and reposition shafts to optimize mass centralization. The clutch shaft has moved 11.1mm back and 26.9mm up, making the engine 20mm shorter in total.
The gearbox is a new six-speed unit with wide-range enduro gearing. The shift fork is coated in a low friction coating and a new gear position sensor allows the engine management system to run a specific map for each gear.
The FE 250 engine features a DDS (Damped Diaphragm Steel) clutch. This clutch has a single diagram spring rather than multiple coil springs, making the clutch feel lighter, while the basket is CNC machined steel unit rather than alloy, and actuation is via a hydraulic Magura master and slave cylinder.

SPECIFICATIONS: 2017 Husqvarna FE 250



Price: $12,495 + ORC
Claimed power: N/A
Claimed torque: N/A
Dry weight: 105.8kg
Fuel capacity: 8.5L
Engine: Single-cylinder DOHC, four-valve four-stroke, Keihin EMS and EFI.
Gearbox: Six-speed.
Clutch: DDS wet multi-plate.
Frame: Cnetral Double Cradle ChroMo steel with carbon-fibre reinforced sub-frame.
Rake: 63.5°, Offset: 22mm.
Suspension: WP Xplor 48mm forks, 300mm travel, WP monoshock, 330mm travel, both fully adjustable.
Brakes: 260mm/220mm rotors, Brembo calipers and master-cylinder.
Wheels & Tyres: D.I.D 1.60 x 21in, 2.15 x 18in, Metzeler 6 Days 90/90-21, 140/80-18.
Dimensions:
Wheelbase: 1495-2005mm.
Seat height: 970mm.
Ground clearance: 370mm.
The Verdict | Review: 2017 Husqvarna FE 250
Sleek, refined and versatile…