Review: 2018 MV Agusta F3 675 RC Road & Track
MV Agusta's F3 675 RC is a true racer rep that offers an exceptionally polished motorcycle with incredible performance track and road. Track Review: Jeff Ware, Road Review & Images: Kris Hodgson, DavidH.
Every now and then there are those riding days that make us motorcyclists smile and remember why we love bikes so much. Bikes can be expensive, they're dangerous, inconvenient but man, can they be good fun or what? My recent ride on the MV Agusta F3 675 RC was definitely one of these rides.
Pin sharp, fast, high tech, exquisitely finished and as stylish as they come, the F3 675 RC is the ultimate supersport track bike with lights…
I only did a 50km road ride on the bike, a spin through my local twisties, a freeway run for 20-minutes and a few fast country roads before arriving at our proving ground for loads of fun laps for an afternoon of doing my best to wear out a set of brand new Pirelli hoops.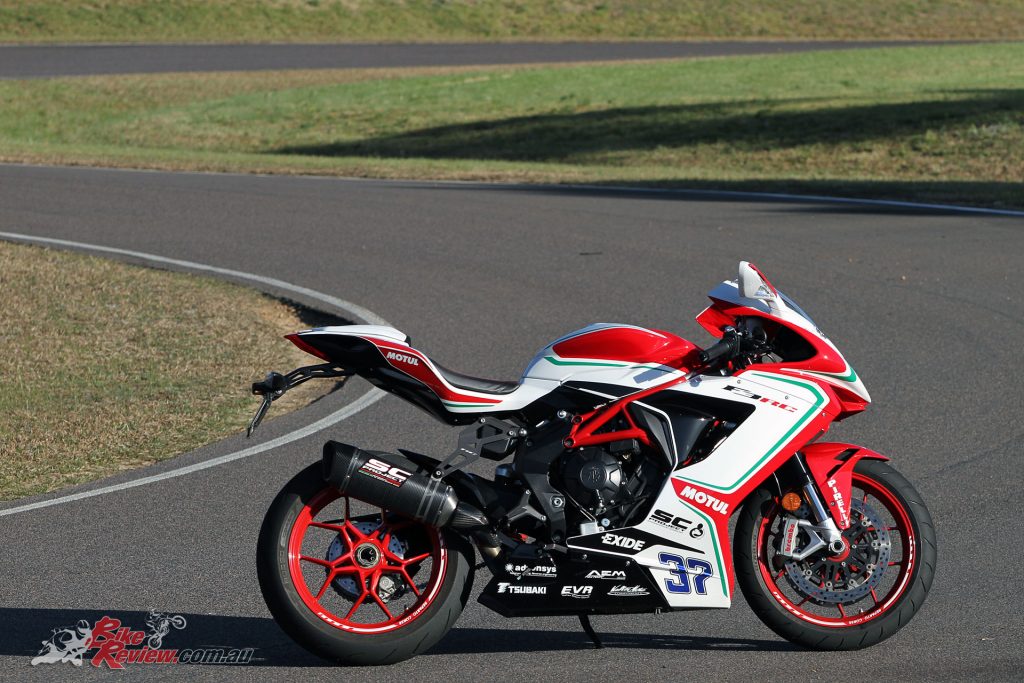 THE RIDE – MV AGUSTA F3 675 RC
First impressions last and there are not many bikes around that have blown me away in the flesh like the RC did as Kris and David rolled up to Pie in The Sky with the bike. Walking around it with a cuppa, I could not believe how stunning it is. The paint is perfect, the colour scheme so awesome and the finish and fit second to none. It truly is a head turner, one that has the performance to match…
I hop on and fire the bike up. Holy crap, it is so loud! It has to be the loudest road going bike I've heard… too loud, yep, there is such a thing if you ask me. Setting the Mode to Normal, I adjust the levers and head off for the first 35km of twisties, the infamous Old Road, now days bumpy and mostly covered in a crap surface.
The TC and ABS are a welcome back-up as I push through the road I cut my teeth (and skin) on throughout my teenage years, the razor sharp chassis offering pinpoint accuracy and the surprisingly torquey (in supersport terms) triple pulling out of corners a gear lazier than usual as I get used to the bike.

Once I settle in and push on, exploring the top end of the glorious 675, things take on a rapid change. It's a nervous ride in the bumpy sections and definitely a bike that needs full focus and experience. The reward through the twisties is a bike that gives as close to racebike experience to the road rider as you are likely to get. It is sharp, snappy, on edge and does everything a normal sportsbike does, but does it 30 per cent faster on the chassis front, including stop! The brakes are something else…
With the reverse quickshifter and insane exhaust note the true road racer experience is achieved with the RC. This is not your relaxed Sunday morning cafe in the hills run type bike. This is for the adrenaline addict after a weekend fix before the stop for social chit chat and coffee…
After a freeway run where the deafening exhaust note ensured no cars came near me and a fast run through some smooth tight twisties, I arrive at our proving ground (for the full in depth on road test read Kris and David's opinions). With a flick over to Sport I head out onto the smooth hotmix to cut laps on the RC.
I start with the TC on the highest level, working my way back over a period of laps to test the system, which is fantastic and seamless in operation. I settle for TC2 for the balance of my test. ABS has a Race setting plus road settings but I find ABS2 is fine even during really hard braking from high speed into the esses and other hairpins.
Lapping on the 675 RC is really good fun and my racing background means I am appreciating the finer points of the geometry, which is definitely on the edge. Stability is good and the Marzocchi / Sachs suspension combo really quite good overall. In fact, I don't touch a clicker at all.
Whether carrying corner speed, in part thanks to the faultless two-way quickshifter and high amount of engine slip into turns, or squaring off corners with hard braking and a point and shoot style, the RC allows it all and goes where I look, something that is really important in a bike with good, confidence-inspiring, maneuverable chassis geometry.
The front brakes have excessive lever travel at the lever, which is initially off putting, but the feel and bite are up there with the best once the initial braking moment is overcome. The rear brakes, they were not working at all on our press bike unfortunately.

The RC turns with pinpoint accuracy, falls to full lean with progression but that racebike swiftness, so I find I have to ride like I am racing and be ready that millisecond earlier than on a normal roadbike…
Once on the side of the tyre the bike tracks fantastically and there is great edge grip feel at both ends. We were riding on road tyres and I was getting close to the grip of production race rubber…
The engine? What can I say… As I rip through the gears the sound of the triple howling is intoxicating (watch the video) and that is up or down gears… The power delivery in Sport is smooth, linear and a thousand times better than the last F3 I rode, which actually sent me and another one of our experienced team off track here a fair few years ago…
The RC throttle is good and the engine power and torque curves fabulous, giving pull off corners yet an incredible top-end that seems to go on and on forever, a bit like my reviews!
On that not, I'll sign off by saying that the MV Agusta F3 675 RC is one hell of an expensive supersport bike but it is also one very, very special machine and if you have the cash and the want, there is no reason to deny yourself of the experience. Just look at the bike. It is stunning, even at a standstill…
 F3 675 RC Second Road Opinion – Kris
Having tested MV Agusta's F3 800 a number of years ago, I was keen to get my hands on the F3 675 RC, even if it was just for a city commute and a few hours out testing a variety of Australian roads. The bike is absolutely stunning in race livery and as a Reparto Corse limited edition offering very exclusive and also quite pricey.
As a dual injector per cylinder MV Agusta, fueling is light years ahead of the single injector per cylinder models, although the F3s all feature the extra injectors and with good reason. They are weapons and the F3 RC only further exemplifies that.
Picking the RC I rode across Sydney and was impressed with how well fueled the bike is, even for traversing conditions which are certainly not the bike's preferred hunting grounds. Feathering the clutch to take off sees the engine massively bog down if you roll on the throttle at the same time, but if you just release into first the bike will happily putter along essentially at idle until you open the throttle. Certainly something I hadn't experienced before but an easy quirk to live with.
The race exhaust is obnoxiously loud, not road legal and left me feeling like I'd perforated an ear drum at one point. It was cool for five minutes, than drastically cut down on enjoyment. It's optional fitment however, and works with the race ECU for boosted performance.

The F3 675 RC itself however is compact, relatively comfortable and thrilling to tide. On the 675 it's really hard to understand why you would need the 800. It's incredibly punchy, with that trademark taut power delivery that's found across all the RbW triples. The quickshifter makes quick work of any gear changes but does prefer being at a sporty riding speed, while gears are tall and really rewarding after about 6000rpm, where power is instantaneous.
Rolling off the throttle the transition onto engine braking or the slipper clutch is smooth and linear, and again the duel injectors and MVICS system ensure absolute confidence and none of the harshness or choppiness that some RbW systems can exhibit.
Handling is simply sensational, with the Marzocchi forks and Sachs shock providing good performance in general conditions, but the shock struggled out Wisemans Ferry way over big bumps, where it was commonly propelling me out of the seat and more rarely pushing the front out of line. It's fully adjustable, but unfortunately with very limited time I couldn't mess with those settings. With that said, the bike handles like it is on rails on smoother roads, with telepathic and incredibly light steering that responds to the most nuanced of inputs.
Brakes offer incredible performance on the front, with great bite and modulation, while there was so much travel in the rear that it felt like there was no brake at all. Moving your toe onto the lever so your foot was vertical with your full weight on it had it working, but even as someone who uses very minimal rear brake it was a bit off putting.

Overall the 2018 MV Agusta F3 675 RC is just a stunning machine, it's clearly more suited to the track, but it's still a rewarding, amazing machine to ride on the road. I wouldn't own one as a daily ride, but as a collectors piece that would see road and track use I wouldn't blink. The only hurdle there is the price, but when you're looking at something as special as an RC, it's to be expected.

2018 MV Agusta F3 675 RC Second Opinion – DavidH.
So first of all let's get the visuals of this motorcycle commented on. One word really – stunning. This machine really is motorcycle art and just like a Brutale, the aesthetics are a major component of the bike. Excellent panel fit combined with a beautifully styled fairing, shapely seat unit and a superb colour scheme make for what I consider the best looking bike on the road.
So how does it perform in the real world? On the road this bike reinforced my belief that there is no reason for a sportsbike with a larger engine unless you are a very large build. It is small, light, steers brilliantly, accelerates at an unbelievable rate and stops just as well as it accelerates. And most importantly, it is balanced. This motorcycle is brilliant in its dynamics. It handles superbly on smoother roads, and slightly less so on bumpy roads.

There is however a number of caveats – you need to be relatively slim and fairly supple to slip on, to be willing to experiment and adjust the ride modes, suspension and controls to suit you and your riding style and even where you ride. I found small differences in setup can make a large change in your riding experience, so the time invested will be well rewarded.
I had the bike in Normal mode most of the time, as the characteristics are perfect for the bike on the road. Rain mode is flat, while Sport is more suited to the track or smooth surfaces, but can lead to rodeo like performances on bumpy roads where its direct connection between the throttle and power can cause stability problems.
Normal mode supplies torque and instant acceleration from 5000rpm and up, while Sport modes appears to offer even faster acceleration in the mid and high rpm ranges and generally feels 'meatier'. On the road, Normal was excellent, with enough torque and acceleration for those after huge amount of fun and throttle response is linear all the way to 16,000rpm, although above 6000rpm things seem to happen a lot faster.
The ability to control the throttle response so finely throughout the range means that curves and fast flowing road sections are a pleasure to ride. Out in the mountains your grin becomes permanent – as long as the roads are reasonably smooth.
The ergonomics requires you to adopt an aggressive position, both for comfort and control. When moving at speed, the full racing crouch that this encourages allows you to get your forearms down parallel to the road for optimal control of the front end without loading the wrists, forearms or handlebars unduly.
The 675 RC is a bike that has that innate ability to go exactly where you point it, allowing seamless transitions from one direction to another and line adjustments to be made instantly. The suspension works well generally, but as I said before, you must set it up to suit your weight and riding style, even in some cases the roads you are riding. The rear shock may require fine tuning to work in unison with the front-end, as I found the rear causing bump steering of the bike on really rough surfaces by pushing the front off line.
Balance is the term that springs to mind when thinking about the handling. From when you first hop on to when you finally get off, it just seems so finely balanced – side to side, front to back. You don't need to ride balls out to enjoy it either, the 675 RC works across the whole sport riding experience, from wide open sweepers through to tight technical sections of road, and it just loves interconnecting straights. It is rare in that it seems to function in the same manner when attacking a section of road uphill or downhill, no pushing of the front on downhill curves.
To top it off it is also comfortable for anything up to a tank full of fuel on what passes for roads in NSW. The Pirelli Rosso Corsas obviously play a part in this, with their consistent grip from shoulder to shoulder and their reasonable warm up time. The front tyre steers beautifully and the tyre profiles work perfectly for very linear tip in, and acceleration back onto the centre of the tyre.
The F3 675 RC belongs on the track or out on a never ending winding road. This is a bike that will be beckoning to you to get out of the garage (or living room) and go for a ride on a warm summer evening, or even a crisp winter morning.
Is it perfect? No way, but the F3 675 RC will give you immense pleasure in owning and riding. It is without doubt motorcycle art, but also a first class example of a truly dynamic motorcycle that is greater than its constituent parts.
2018 MV Agusta F3 675 RC Specifications
PRICE: $28,590 Ride Away
Warranty: Two-year, unlimited kilometer, two-year roadside assistance
Colours: Red/Pearl RC White/Green
Claimed power: 94kW[128hp]@14570rpm
Claimed torque: 71Nm[52.4ft-lbs]10900rpm
Dry weight: 173kg
Fuel capacity: 16.5L
Engine: Liquid-cooled, three-cylinder, four-stroke, 12-valve, DOHC, 675cc, 13:1 compression, 79mm x 45.9mm bore x stroke, MVICS, six-injectors, Mikuni RbW, ride maps, TC, EAS
Gearbox: Six speed, cassette style
Clutch: Wet, multi-disc slipper clutch
Chassis: ALS Steel tubular trellis frame, aluminium alloy single-sided swingarm, Rake: N/A, Trail: 99mm
Suspension: Marzocchi 43mm USD forks, rebound, compression and preload adjustable, 125mm travel, Progressive Sachs shock, rebound, compression and preload adjustable, 123mm travel
Brakes: Bosch 9+ ABS with Race Mode & RLM, dual 320mm floating front rotors, Brembo radial Monobloc four-piston calipers, 220mm rear rotor, Brembo two-piston caliper
Wheels & TYRES: 10-spoke aluminium alloy, 3.50 x 17in, 5.50 x 17in, 120/70 – 17, 180/55 – 17, Pirelli Rosso Corsa
Dimensions:
Wheelbase: 1380mm
Seat height: 805mm
Overall length: 2060mm
Overall width: 725mm
Instruments: Digital multifunction display
Racing Kit Parts:
SC Project exhaust silencer; Power unit for SC exhaust silencer carry-over (with special mapping and traction control for race mode); Anodized aluminum mirror caps kit; Billet aluminum Brake/Clutch levers; Billet aluminum Foot peg kit; Fiberglass rear seat cover; "Sport"License Plate holder; Dedicated bike cover; Rear paddock stand; Rear sprocket Z43; Certificate of origin.

MV AGUSTA F3 675 RC GALLERY
The Verdict | Review: 2018 MV Agusta F3 675 RC Road & Track