We put Kawasaki's premium sports-touring machine to the test in real Australian conditions, with a look at the full electronics package and all day riding! Review: & Images: BikeReview
While the adventure-touring segment is receiving plenty of accolades at the moment, as people get adventurous, there's plenty happening in the sports-touring segment as well, especially when there's no doubt many riders jumping on the adventure bandwagon who'll never do much more than an unsealed road.
There's nothing wrong with that of course, but it does beg the question whether something like Kawasaki's highly versatile Versys 1000 SE would be worth a look in, instead of defaulting to an adventure option.
Boasting Kawasaki's arguably 'next-gen' electronic suspension system with a super-fast 10ms sample rate and an integrated electronics system on the SE, this is Kawasaki's premium sports-tourer, as well as a motorcycle I'd be happy doing the daily commute on.
There's a host of standard rider aids and systems which make the Versys 1000 SE an eye catching machine, from traction control, Ride modes and cornering ABS, through to cruise control, bi-direction quickshifter and cornering lights, to name a few.
The other big draw card in my mind is the phone connectivity, not meaning your motorcycle works like a mobile entertainment system, but so your smartphone via an app can retrieve, edit and update the electronic settings on the bike, as well as take advantage of the phone's GPS system.
It doesn't get any easier than modifying your fully customisable Rider mode when you're stopped for a coffee or break, so it can be updated when the time comes to set off again, and you'll be able to annoy your mates no end bragging about this feature. "You've got to be AT your bike using the switchblocks to make those changes… wow, that's so 2018 mate!"
There's all day comfort thanks to generously proportioned ergonomics and a comfortable, plush seat, which does mean the reach to the ground isn't the lowest at 840mm, especially being relatively wide across the seat. For me at 180cm and on the long-legged side there was no issues here though. The tall and larger bike proportions are integral to that all-day comfort.
A tall screen offers incredible levels of wind protection, and an air-vent in the centre removes that negative pressure cell that some bikes exhibit. It is also adjustable, while there's handguards as standard fitment, with heated grips as fitted to this bike an optional extra.
Our test bike also had the genuine Kawasaki top box and pannier set-up, which demonstrates what's possible as far as storage is concerned, and while expensive options, the quality is undeniable – sharing the ignition key and having colour matched panels. Removal is easy, with a seamless mount system on the panniers and an additional mounting bracket the only additional requirement. Going for a sportier weekend run all I had to worry about was somewhere to put the panniers where they wouldn't get scratched, removal was 30-seconds a side, max.
We also had the Kawasaki spotlights and crash protection fitted, with the bike decked out in full touring regalia. As an everyday rider I'd go the topbox, as you can chuck a helmet and jacket in there securely and walk away unencumbered with gear. See the accessory breakout below for a run-down of what was fitted and the cost.
Moving the bike around by hand is a bit of a chore and I found it much easier to do all that on board, but once you've started the bike up and are powering along it's a stable, well-balanced and smooth machine, even crawling through traffic.
I started off with Road mode, which offers full power, with traction control on the mid-range setting, and 'Normal' electronic suspension support, while you can set the rear preload according to rider, rider and luggage, rider and pillion, etc. This is an ideal mode for the around town commute in traffic, while switching to Sport stiffens the suspension up to match, and also offers a lower level of traction control intervention.
Truth be told apart from sampling Road and Rain in various conditions, I spent most of my time in Sport mode. Rain offers the Low (L) power setting and highest traction control intervention, with the electronic suspension set to soft, which is ideal if the conditions really deteriorate. At speed on the freeway I did find this setting a bit soft one-up.
Rider mode allows full customisation of these settings to the rider's needs, essentially allowing you to further refine a mode that may be distinct from the presets, ideal for your specific riding needs or conditions, or simply for playing around with the possibilities.
It's worth noting there's just Full and Low power modes, as well as three levels of traction control (KTRC) plus off, while electronic suspension can be set into Hard, Medium or Soft, with compression and rebound both adjustable +-5 in Rider mode. While it's an extensive electronics system, alongside the KIBS (ABS), cornering lights, TFT dash, KQS (quickshifter), etc. there's no endless levels of (confusing) adjustability. Realistically I think that's a strength on a sports-touring machine.
Powering the Versys 1000 SE there's a traditional 1043cc in-line four-cylinder powerplant, with 75lbs-ft of torque and just shy of 120hp, which while not that impressive on paper these days, belies an amazingly smooth and extremely fun engine. Acceleration is rocketship like, not necessarily the craziest, but there's an inevitable pull of acceleration that feels like you're breaking orbit.
Push those rpm higher and while the exhaust note is nothing to write home about you'll get a wicked induction scream, alongside that impression of endless rpm to explore before power tails off. These features combine to make for an intoxicating rush when you get to let loose, as well as being utterly addictive. Clear your weekends for riding if you're grabbing one of these machines!
A KQS quickshifter also offers some luxury, working in both directions, however the shift action itself feels mushy, with Kawasaki explaining this is a contactless quickshifter. That does mean there's less of a solid shift feel when changing gears, due to the spongy action of the linkage with quickshifter attached. It's not bad, it's just different.
The clutch action is also easy and not too taxing, and I found myself using it as much as the quickshifter, while a slip and assist clutch ensures that really aggressive downshifting won't break traction, which is less of a concern on an in-line four like this.
All this combines to create a level of performance that is engaging for regular road speeds and is obviously super capable of doing much more. Fuel economy at our frantic testing pace was also surprisingly good, if not in the realm of proper highway touring. Total fuel capacity is in the region of 21L as well, allowing for an impressive range, which in the right conditions would probably top out at about 500km, although I'd be looking for a pit stop at 350-400km.
The electronic suspension is an interesting addition and one thing I often find with these systems is that if you're used to traditional suspension it can be quite an experience coming to terms with the electronics. Where traditional system can be harsh, wallowy and a variety of other issues, it is predictable if nothing else, while electronic systems are far more dynamic, especially with adjustment available at the press of a button.
With some kilometres under my belt I could really appreciate the KECS on the Versys 1000 SE, when it's working well it's amazing, with great stability on the brakes and ideal compression and rebound damping through that longer stroke suspension.
Having a fang in Sport mode was the obvious choice for a 'Hard' (sporty) set-up, while for the more open bumpy country roads I did find the more forgiving Road mode an occasional better choice. There's no doubt if you were doing 800-1000km in a day you'd be enjoying Road, but the ability to sharpen up the whole bike with Sport can't be underestimated. On top of this you've got the electronic preload adjustability via a switchblock button for the rear, while in comparison the front requires manual adjustment.
Those front brakes are awesome. I had some great fun 'testing' the braking potential by grabbing a handful to see just how quick I could decelerate – on a clear section of road with no other vehicles nearby. Obviously the well supported front fork system makes a big difference here, with minimal dive and great stability.
The one area I did find the Versys 1000 SE a handful was in the hairpin/super tight corners and roundabout situations where that tall front-end required quite a bit of muscling, while in the more typical flowing conditions it was just a hoot to ride, and ride hard. U-turns aren't an issue by any means, but I just found myself slowing more than usual for the really tight stuff, which may just come down to familiarity with the bike, front-end and tyres.
Overall the Versys 1000 SE looks great in my opinion, especially with the panniers removed, while offering an exceptional overall package. The electronics are all well integrated and user friendly, especially from your smart phone, while there's touring comfort and everyday ridability.
The SE is the only version made available in Australia and at $22,499 + ORC the bike is a premium product but a good ride on the Versys 1000 SE will give an insight into just that. You're benefiting from all the modern technology on an already great machine. Plus that nifty self repairing paint in a deep metallic 'Emerald Blazed Green'!
It's advice I'm increasingly given as electronic suspension becomes more prevalent, but you really do need a decent test ride to both test out the different settings, but also to get into the swing of how it operates if you're used to a traditional system, so go organise a test on the Versys 1000 SE today and make sure you get enough time to get a proper feel for it!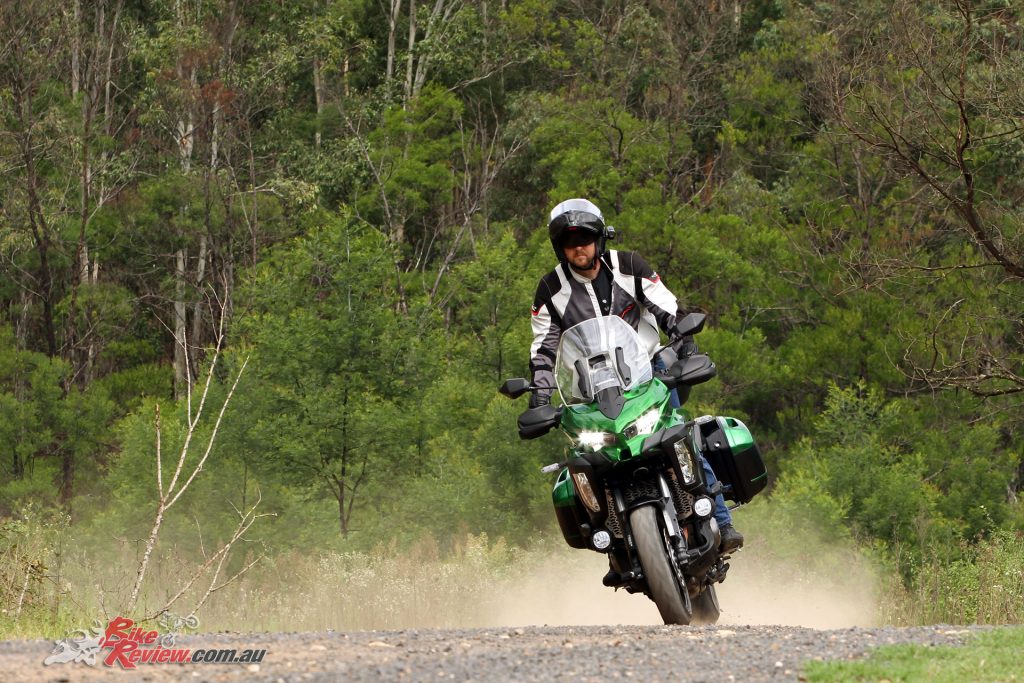 SECOND OPINION – JEFF WARE
I had a great time riding the Versys 1000 SE for a day tagging along to help Kris with the photoshoot and to take Eri for a ride out to St Albans.
Even with a pillion, the Versys 1000 is a great handling bike. It's designed for two and there is plenty of room for rider and passenger, as well as good grab rails and footpegs for the passenger, along with a generous seat. With the panniers and top box loaded with camera gear as well, the bike is certainly heavy and needs a lot of muscling around, particularly in the tighter corners and switchbacks, where it became quite tiring on the lower back and stomach muscles. We were punting along at a decent rate, though, and the road was over 50km long! Still, the Versys 1000 is not for the inexperienced rider. It needs to really be told where to go… Once you do, you are rewarded with a good handling tourer that can be ridden hard, taking in anything from smooth twisties to big mid-corner bumps. We were even touching the footpegs down two-up on the faster turns. It was top fun. And all in comfort!  
The electronic suspension worked well over the range of conditions I rode the bike in, although at times the rear damping was not doing a great job controlling the shock, as the rear would kick back on the rebound. The forks are soft, however, this gave a more comfy ride and the trade off wasn't that much when pushing on.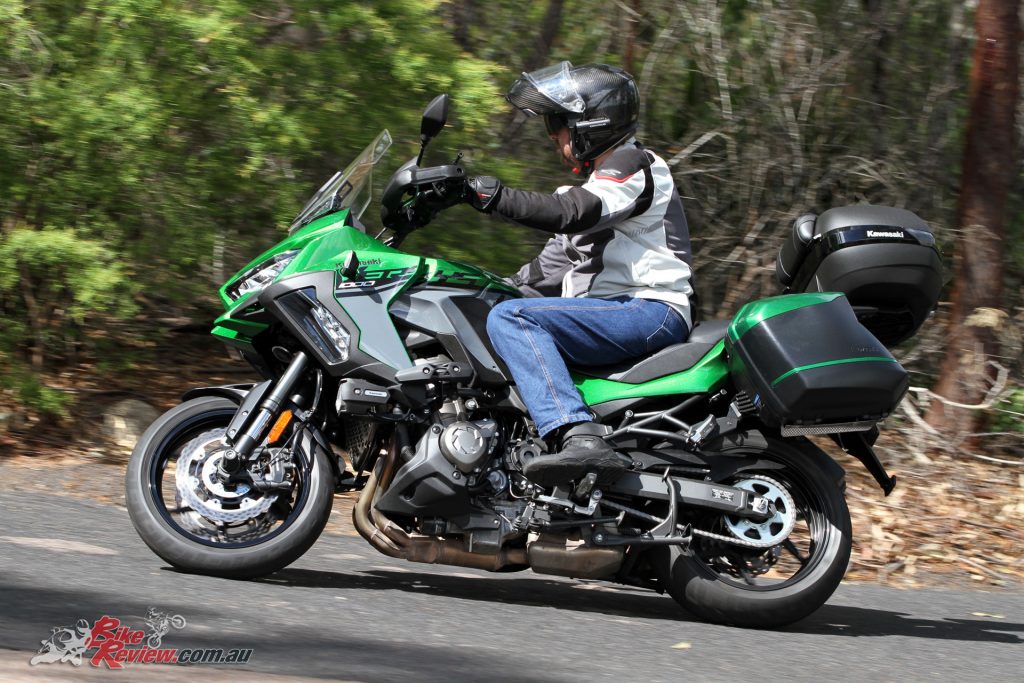 The top-heaviness when loaded up does make it a challenge to get from full lean to full lean but once the big 1000 is on its side, it tracks through a turn on rails.
The brakes are nothing short of sensational. They do an incredible job pulling the weight up and have sportsbike feel and power. Sensational.
Clutch action is light and smooth and the rear brake has good feel, so low speed riding is easier to execute with that combo.
The engine is a cracker, a real torque-house that pulls from right off the bottom and doesn't flatten out until it gets close to redline. There is no top-end to speak of but the mid-range is impressive. It's hard to believe it's an inline four to be honest. The gear ratios are wide to take advantage of that torque, however, the quickshifter was a little on the dull side and never truly felt it drove home a positive shift.
I personally love the styling and finish of the Versys 1000 and with more time would have liked to explore the dash and vast electronics but I chose to leave it the way Kris had set it up for Eri and I to pillion on for the day.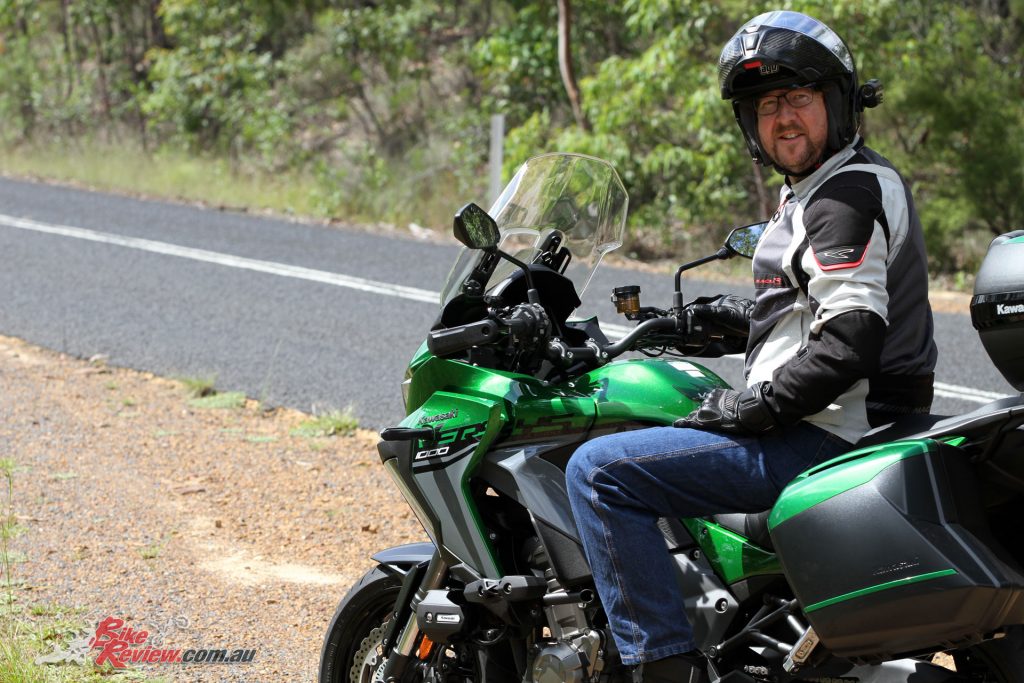 2019 Kawasaki Versys 1000 SE Tech Talk
Kawasaki's 2019 Versys 1000 arrives in Australia this year with just the SE model imported, meaning a host of additional features included but without the option of a cheaper standard model.
The highlights of the 2019 Versys 1000 SE include the full colour TFT LCD screen and high end electronics package with smart phone connectivity and management via 'Rideology The App', Kawasaki Electronic Suspension (KECS), plus the Highly Durable Paint in Emerald Blazed Green with Pearl Storm Grey and is self repairing with lighter damage.
The liquid-cooled in-line four-cylinder powerplant generates 120hp and 102Nm of torque, with the addition of Electronic Throttle Valves (RbW) allowing the inclusion of cruise control, as well as Kawasaki Traction Control (KTRC), Riding Modes and the Kawasaki Cornering Management Function (KCMF), with a Bosch IMU and four 38mm downdraft throttle-bodies.
The Integrated Riding Modes offer three presets and a Rider mode which can be manually adjusted to control the various electronic systems, with smartphone connectivity and the 'Rideology The App' allowing riders to make easy changes via their phone, as well as tweaking settings then pushing those settings to the bike.
As mentioned cruise control is featured standard, as is the KQS or Kawasaki Quick Shift system, which allows seamless up and down shifting without the clutch, but which operates above 2500rpm.
Kawasaki Electronic Suspension can also be set via the mobile app, with the 43mm forks offering KECS controlled compression and rebound damping on the front, with manually adjustable preload, while the rear offers compression and rebound damping with electronically controlled spring preload.
For those not using a phone and the app, a full colour TFT LCD dash offers two display modes and a black or white background option, as well as including auto brightness, and is controlled via the quite busy switchblocks, but in a relatively user friendly manner.
Brakes are dual four-piston radial-mount calipers on the front with 310mm petal rotors, while a 250mm rear is slowed by a single-piston caliper, with both backed up by Kawasaki's Intelligent Braking System (KIBS), which now includes cornering functionality.
The total wet weight is 256kg, with a 840mm seat height and an option for a lower seat accessory to reduce that further to 820mm. The wheelbase is 1520mm, with a rake of 27 degrees and trail of 106mm, with suspension travel of 150/152mm front/rear.
Wheels are 'lightweight' 17in items, clad in Bridgestone Battlax Sport Touring T31 rubber in 120/70 – ZR17 and 180/55 – ZR17 sizes.
The Versys 1000 SE as tested by BikeReview.com.au also included a number of accessories including the Top Box Kit ($660.22 RRP) and Back Rest ($72.00 RRP), Panniers with necessary accessories (1884,93 RRP), plus the pannier protective film ($90.00 RRP), as well as Axle Sliders ($139.45 RRP), Frame Slider Kit ($275.45 RRP), Radiator Guard ($121.51 RRP), Fog Lights ($704.19 RRP), Heated Handgrips ($369.56 RRP), Tank Pad ($97.00 RRP) and Helmet Lock ($177.80 RRP).
2019 Kawasaki Versys 1000 SE Specifications
Price: $22,499 + ORC
Warranty: Two-year, unlimited kilometre
Colours:  Emerald Blazed Green / Pearl Storm Grey
Claimed Power: 120hp[88.2kW]@9000rpm
Claimed Torque: 102Nm[75.2lbs-ft]@7500rpm
Wet weight: 256kg
Fuel capacity: 21L
Engine: Liquid-cooled, parallel-twin, four-stroke, DOHC, 649cc, 83 x 60mm bore x stroke, 10.8:1 compression, KCMF, Bosch IMU, KTRC, Riding Modes
Clutch: Assist & Slipper Clutch
Gearbox: Six-speed
Chassis: Aluminium twin-tube frame, five-piece cast aluminium construction, steel pipe trellis sub-frame
Rake: 27.0 degrees Trail: 106mm
Suspension: 43mm inverted fork with KECS-controlled compression and rebound damping, manual spring preload adjustability and top-out springs, 150mm travel, Horizontal Back-link BFRC lite gas-charged shock with piggyback reservoir, KECS-controlled compression and rebound damping, and electronic spring preload adjustability, 152mm travel
Brakes: Kawasaki Intelligent anti-lock Brake System (KIBS aka ABS), dual 310mm front petal discs, four-piston radial-mount monobloc calipers, radial master-cylinder, 250mm rear petal rotor, single-piston caliper
Wheels & tyres: 'Lightweight 17in wheels', 120/70 – ZR17, 180/55 – ZR17, Bridgestone Battlax Sport Touring T31
DIMENSIONS:
Seat height: 840mm
Wheelbase: 1520mm
Overall length: 2270mm
Overall height: 1530mm
Overall width: 950mm
Instruments: TFT LCD screen, two display modes, black or white background options
Standard fitment on SE: Kawasaki Quick Shift (KWS), LED Cornering Lights, Electronic Cruise Control, Hand Guards, Highly Durable Paint, Large windscreen, Smartphone Connectivity (syncs to Rideology the App)
The Verdict | Review: 2019 Kawasaki Versys 1000 SE