KYMCO's new adventure crossover scooter, the DT X360, is in Australia! Zane took one for two weeks to see how it would stand up to on and off-road riding... Photography Impact Photography
Since I was on my LAMS license for the first few years of my journalism career, I always got the scooters to test. Most of them were made for the same thing, to get around town, so I was keen to get acquainted with the KYMCO DT X360, made for parts unknown to scooters…
Close Motorcycles up in Redfern sorted us out with a brand spanking new one. An initial walk around the scooter proved KYMCO has got their styling sorted. Come to think of it, I believe this was my first Taiwanese motorcycle I've ever tested. I was impressed with the overall look as I have always believed that Taiwanese, Korean and Chinese motorcycles have come a long way over the past decade. Just take a look at CFMOTO, the value for money you get with those bikes is insane…
---
---
The DT X360 is essentially a Downtown 350i with a few bolt-on modifications and an all new look, it's great to see that they've changed the overall appearance of the bike completely compared to its counterpart, the headlights, taillight and side panel have all been redesigned and given an eye catching orange paint job. Honestly I think it looks pretty trick with the knuckle protectors and muddies. It gives it this rugged appeal which I hoped had function and not just form…
---
---
Check out our Downtown 350i review here…
---
Daryl at Close Motorcycles made sure to give me the round down on what I would consider too complex of a starting sequence. The DT X360 uses the dreaded keyless system that no one asked for. You have to hold the start button down until it beeps, then you turn the knob to the start location, ensure the kill switch isn't set to off, then you squeeze the brakes and hold down the start button.
Not too sure what was wrong with just putting a key in and turning it, but onwards to the future I suppose. Unlike the Yamaha "Max" range I rode, which also uses a keyless system, I was informed that you can't put the keys to the DT X360 under the seat otherwise it'll lock them in there. There is a non lockable storage spot under the handlebars but I didn't trust that I wouldn't walk away from the scooter with the key still there. I was also far too scared to possibly immobilise the bike by testing if it would lock the keys under the seat.
---
---
All the "boomer" talk about progressive key systems out of the way, I cranked over the 321cc, liquid-cooled, fuel-injected, four-valve single-cylinder engine, kicked the stand out and took off. I'm convinced that just about anyone could ride this thing, the CVT transmission and single-cylinder powerhouse make for a smooth combo at any speed.
Leaving Close Motorcycles was a great opportunity to check out how the bike handled city traffic. I found it super easy to lane split with, it's a fairly narrow machine and had no issues with getting through traffic, given cars aren't trying to block you. The DT X360 has wider handlebars compared to the 350i Downtown, so you are second guessing your width a bit when riding between cars, but at 780mm, it's no issue at all.
The engine is bustling with torque despite its size, making 30Nm@5750rpm it had more than enough to blast off the lights in front of any car, allowing you to get out in front and out of the way with ease.
---
The engine is bustling with torque despite its size, making 30Nm@5750rpm
---
Heading down the freeway and the KYMCO is more than compliant, it would've been awesome to have a cruise control system as the scooter just glides along the road, no rattles, coughs or complaints from the 321cc at all, just a few typical single-cylinder pops coming off the throttle…
I used the DT X360 to get around for a week before I decided it was time to see if it could really handle going off-road. The verdict, not really but possible. I was a bit nervous to take it on loose gravel at first, but the dual sport tyres tackled it with no worries. Obviously, you're not going to be hitting mach-10 on gravel roads with a 14-inch wheel at the front and a 13-inch at the rear but it's nice to have the extra traction off road.
---
---
I had the TCS switched off while on the gravel, no word of a lie, I actually started to have fun hooning it around corners. It's not an overly heavy bike at all but with the rider and engine weight focused at the rear, when you wanted to get it to kick it out, it would start drifting. It didn't feel out of control at all. 
I don't have much to compare it to as it's not often you take a scooter off-road. However, when I was a photographer, Fonz gave me one of their electric scooters (check out our Fonz NKD review here) to get around the outside of the track on, if you've ever been to Phillip Island its like an enduro course in some spots. I didn't crash it but the thing was punished by the end of one MotoGP weekend. So, I was convinced that the KYMCO would have the same reaction to hitting ruts at speed, I was pleasantly surprised to see that it remained entirely intact for the whole off-road part of the test, nothing rattled or came loose, not even the mirrors!
---
"I was pleasantly surprised to see that it remained entirely intact for the whole off-road part of the test, nothing rattled or came loose, not even the mirrors!"
---
In the pursuit to see what the DT X360 couldn't do, I decided it was time to see how it handled something tougher. I took it down a slow trail and promptly got bogged in some wet clay/sand. The dual-sport tyres were no help in this situation as the downfall of a scooter being an off-road vehicle became clear. All the weight is at the rear, when it comes time for the tough stuff, it'll just sink and the 13-inch rear wheel will be of no help to your situation. Weighing in at just under 200kg, I had to get some help to pull it out. Once it was out we were good to go again.
---
---
Looking at the 37mm forks with 110mm travel at the front and twin shocks with preload adjustment and 108mm travel, it was clear that KYMCO really needed to give the setup more travel to justify its "adventure crossover" title. On the road it was already pretty stiff, but when it came time to take it off-road, it wasn't ideal at all. Looking over the photos from a photoshoot we did on a dirt road and you could see the rear wheel coming off the ground mid corner on small bumps. Some sort of suspension upgrade would've been nice.
The TCS that was added to the Downtown a few years ago has made its way onto the DT X360 too, I assume it worked really well considering I didn't feel any slips or intervention from it during the entire two weeks I had with the bike.
General ergonomics of the scooter are awesome. It isn't on the level of its bigger brother, the AK550, but for a mid class scooter it feels amazing. The DT X360 has the usual choice between two leg positions. I spent most of the test with my legs up, cruising around, only occasionally putting my legs in the lower position when coming to a stop. When I took it for a quick spin off-road, I had a go at standing up, it felt at home and the 'bars feel equally as comfortable in the stand up positioning as they did in the sit down. As far as ergonomics go, this thing is an awesome tourer.
---
---
The seat is seriously comfortable, I've sat on couches that are worse than the DT X360 and their only job is to be comfortable! There's plenty of space for a passenger and they're welcomed with handles mounted over the tail section. Under seat storage is a bit of a bummer, there's enough space for an open face lid (KYMCO actually show two lids under the seat in the Downtown 350i media shots) but it is a struggle to get it closed with a full face under there. I know if I had something with under-seat storage, I wouldn't want to be carrying my lid around off the bike.
---
---
The handlebars are plenty comfortable while the knuckle protectors had been setup to have some play in them in the event of dropping the bike in the dirt, they actually thought it through instead of just bolting them on as a gimmick. The windshield sits too low and didn't do a great deal. KYMCO sort of took a weird step back with it, they raised the seating position compared to the Downtown but cut the windshield smaller!
---
---
The brakes are not spectacular and it feel like the ABS had a little too much intervention. It didn't shutter but it just didn't feel like the brakes were awake so to speak. I'll give them the benefit of the doubt due to the bike being brand new and the pads may have needed to be bedded in but a 260mm disc with a three-piston felt like it should've performed much better.
Talking about coming to a halt, the centre-stand was one of the best I've felt on a bike. Riding so many different machines, the centre-stand is often something that "stands" out to me, some bikes are nerve wracking and difficult to get on the centre-stand, but the DT X360 popped on it with ease and I even had no issue chucking it on without shoes on my feet. This meant that the side stand didn't get too much use but felt fine when I was too lazy to park it on the centre.
---
---
The KYMCO features a simple LCD dash, it's a bummer they didn't opt for the TFT dash with turn by turn navigation seen on the 2021 Downtown 350i, it would've made me see some more value for money with the DT X360. Other nifty gadgets include two USB ports (one hidden under the logo in the centre of the handlebars) and plenty of buttons to push. I will admit, when I was riding home, I noticed that my hazard lights were on and I couldn't work out why. I soon realised that there is almost no resistance on the switch for them and it's in the prime position to accidentally click on while riding. I did this at least twice every time I rode…
Nearing the end of my time with the DT X360, I headed out for one last ride through to twisties to specifically focus on how the tyres handled the road. Grip was plentiful and there was essentially no road noise from them.
KYMCO were mindful of the fact that you're not going to be spending most of your time off road and allowed for comfort and ridability with the adventure tyres. I would be interested to see how much less wear they put up with compared to the tyres mounted on the Downtown as this may be something to consider if you're looking at purchasing.
---
---
Overall, I had plenty of fun zipping around on the KYMCO DT X360. It's an interesting concept I would like to see built on a bit more. As is the same with the first of everything, there are a few things to improve on before it can truly granted the title of "off-road capable" but it's still an improvement over a standard scooter on gravel roads and is not as bike-like as the Honda X-ADV. 
Pricing starts at $8790 plus on-road costs, sitting just under some of the limited mid range "Maxi" scooters we get in Australia like the Yamaha XMAX, BMW C400 and Suzuki Burgman 400. The most important thing to look at is the fact that the Downtown 350i is $1300 cheaper than the DT X360 and you get more gadgets on it like the TFT and navigation! I'm not too sure where the $1300 went but if you're not planning on taking it off-road, I'd consider the Downtown and saving that $1300 for a very exorbitant lunch, maybe even a glass of wine? 
Editor's Note: If you are reading this article on any website other than BikeReview.com.au, please report it to BikeReview via our contact page, as it has been stolen or re-published without authority.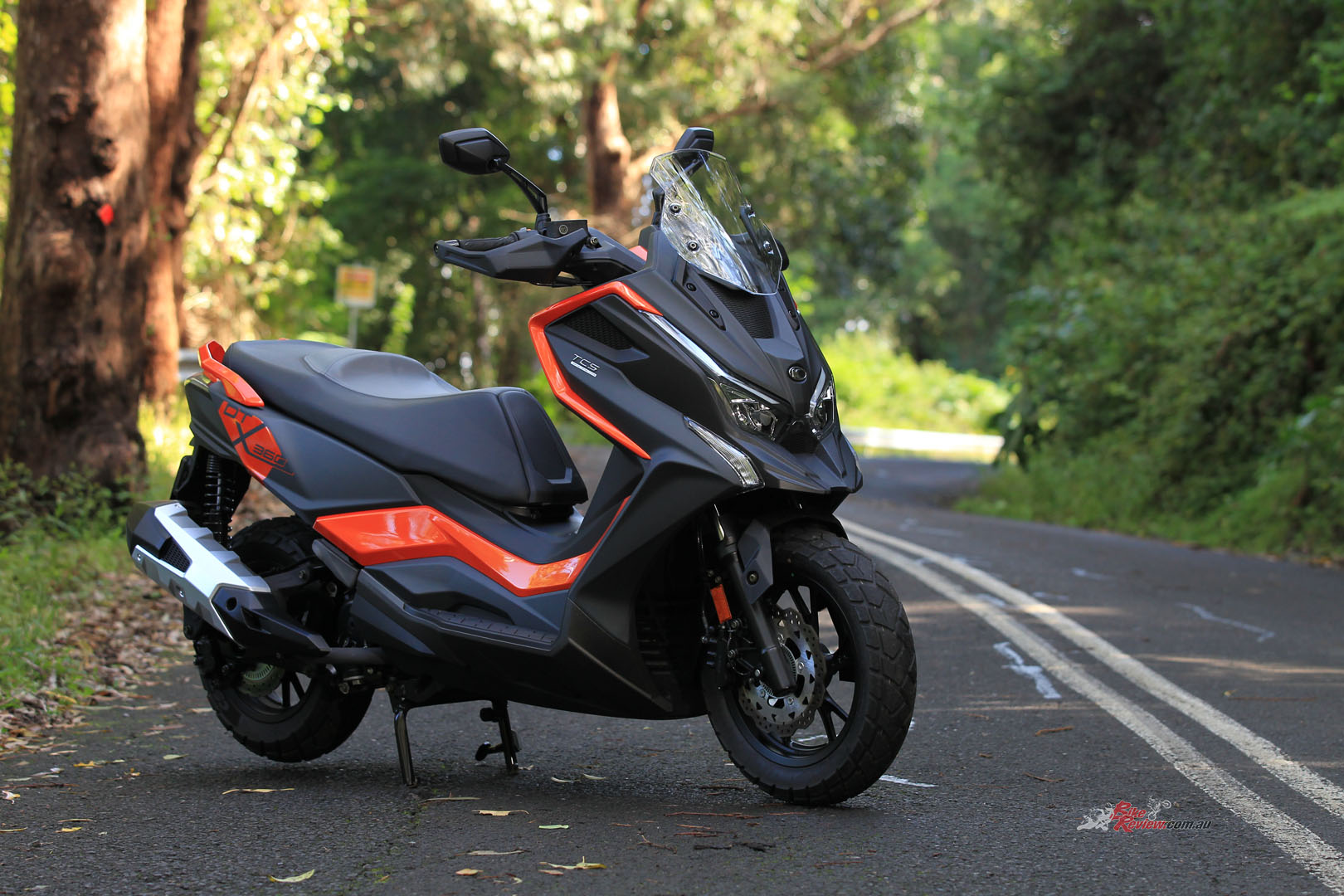 ---

Tech Talk
Kymco's DT X360 adventure crossover scooter arrived in Australia back in February, based on the excellent Downtown 350i platform but with the wherewithal to take on light off-road terrain thanks to its dual-purpose tyres
The DT X360 produces power and torque figures of 21.2kW and 30Nm from the punchy 321cc, liquid-cooled, fuel-injected, four-valve single-cylinder engine. Twist and go CVT automatic transmission inspires rider confidence and allows for easy operation.
On the DT X360 the electronic fuel injection is mapped to deliver an even low down power while maintaining consistent fuel economy. KYMCO haven't released the ideal km/100L but we managed around 4L/100km, meaning you're getting around 300km from the 12.5L tank. The engine has also been built to Euro 4 emission standards…
The front end is sorted by some 37mm forks with 110mm of travel while the rear has dual five-position adjustable rear shocks. Stopping power comprises twin 260mm floating discs with three-piston calipers up front while a twin-piston caliper bites a 240mm disc at the rear, both front and rear run through Bosch's 9.1M ABS system, which is the lightest anti-lock braking system in the industry, at only 0.7kg.
---
---
Standout features on the DT X360 include wider handlebar to assist in maximising leverage, especially on unpaved surfaces, while the higher seating position (800mm, compared to 775mm on the Downtown) maximises rider visibility. A double glove compartment is at the ready convenience for small, quick-access items. Furthermore, a large underseat storage which KYMCO say is enough to accommodate two open face helmets.
---
---
Electronic highlights include traction control (which can be switched off when stopped), keyless ignition, all-LED lighting, a full-colour LCD digital screen and two USB ports. 
---
The retail price for the DT X360 is $8790 plus on-road costs, available in an orange and black livery. The DT X360 is now on sale at Kymco scooter dealers. To find your local Kymco dealer, head here.
---
2022 KYMCO DT X360 Specifications
Price: $8790 plus on-road costs
Warranty: Three Years.
Colours: Black/Orange
Claimed Power: 28.4hp (21.2kW)@7250rpm
Claimed Torque: 30Nm@5750rpm
---
ENGINE
Liquid-cooled, four-valve, SOHC single-cylinder, 321cc, bore x stroke 75.3mm x 72mm, compression ratio 10.7:1, Electronic Fuel Injection(EFI), CVT Gearbox
---
CHASSIS
Frame Type; Steel tube
Front suspension: 37mm fork, 110mm travell, Rear suspension: Twin shocks with preload adjustment, 108mm travel.
Wheels & Tyres: 14-inch (f), 13-inch (r) 120/80-14 (f), 150/70-13 (r)
Brakes: 260mm discs with three-piston floating calipers, Bosch ABS. 240mm rear disc with twin-piston caliper, Bosch ABS.
---
DIMENSIONS
Wheelbase: 1545mm
Overall Length: 2165mm
Width: 780mm
Height: 1290mm
Seat Height: 805mm
Wet Weight: 194kg
Fuel Capacity: 12.5 litres
---
Dash: Full-colour LCD digital screen and two USB ports
---
The Verdict | Review: 2022 Kymco DT X360 Adventure Scooter