The Ducati Scrambler 1100 Sport PRO sits on the top shelf in the Scrambler lineup. With updates for 2020 and 2021, the top dog is even better... Review: Simon Harris Photos: Heather Ware
The name is a bit of a mouthful, but what a treat it is to be handed the key to the big kahuna of Ducati's Scrambler range. Attitude and taste combine nicely in this compact but thick-set profile. It provides a wonderful impetus to bin the full-face for an open and start grinning…
The Scrambler range, which is practically a brand within a brand, was rebirthed in 2014 after a 30 year absence. It's curious and kind of nice that some manufacturers of both bikes and cars care enough to resurrect some of their older and perhaps more iconic machines for us to enjoy today. They may only be spectres of their initial incarnations, but certainly can pluck at the heartstrings of dreamers yearning for simpler offerings and reveries.
---
---
Having said that, this bike looks absolutely nothing like an original Scrambler in its essence, really. It is bold, brawny and menacing – perhaps the gruff, tattooed pugilist grandson of the original beach combing semi-crosser hippie Scrambler. There is little doubt in my mind that the designers have come up with a winner on the aesthetics – it is appealing to both boys and girls in a way that perhaps transcends expectation of a bike that is allegedly 50-odd years old (what is that in metric?) in spirit.
Gone is the classic bright yellow paint, brushed aluminium trim, twin bazooka exhaust and posture aware handlebar. Nay. It is blackness and ghostly "1100" decals, flattish 'bar with tasty bar-end mirrors and a 2-1-2 cannon exhaust offset to one side in glorious, contrasting stainless. The rear of the bike is stubbier than its most recent predecessors due to the new exhaust can configuration and the number plate holder morphing into one of those weird and miniature, dare I say it, mudguards.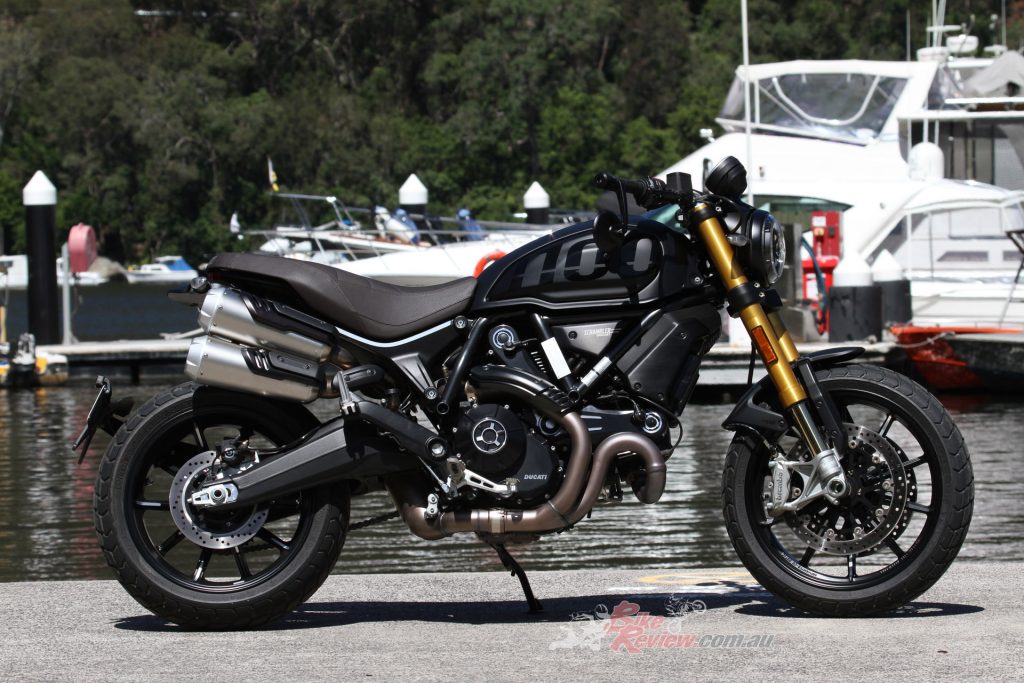 ---
It is bold, brawny and menacing – perhaps the gruff, tattooed pugilist grandson of the original beach combing semi-crosser hippie Scrambler…
---
Up front, a battle ready crossed headlight is haloed by an LED running lamp. A main stand-out against other 1100cc stable-mate Scramblers (but perhaps not all) is the Ohlins suspension at both ends, that each provide a lengthy 150mm travel that enables the bike to be traversed over a variety of surfaces. Bolted to the forks is a first-class set of big-time Brembo stoppers that look just right inside that 18in front wheel.
---
---
The engine is the venerable 1079cc two-valve air and oil-cooled, pulsing vee-twin. It's fairly lazy state of tune makes everything so easy in using the available thrust. Thrust that sees maximum torque arriving comfortably below 5000rpm. The 'box is six-speed and the gearing feels low for the grunt on hand, which gives you ample opportunity to elevate the front axle and also provides a terrific turn of speed when you want / need it.
---
---
A difference between this and the smaller capacity Scramblers is the trio of ride modes that alter overall power output or power delivery – "Active' being the full monty. The ABS is lean sensitive and there is Ride-by-Wire control and dynamic safety electronics that includes the inertial platform that provides traction control and wheelie mitigation. These are adjustable and customisable also.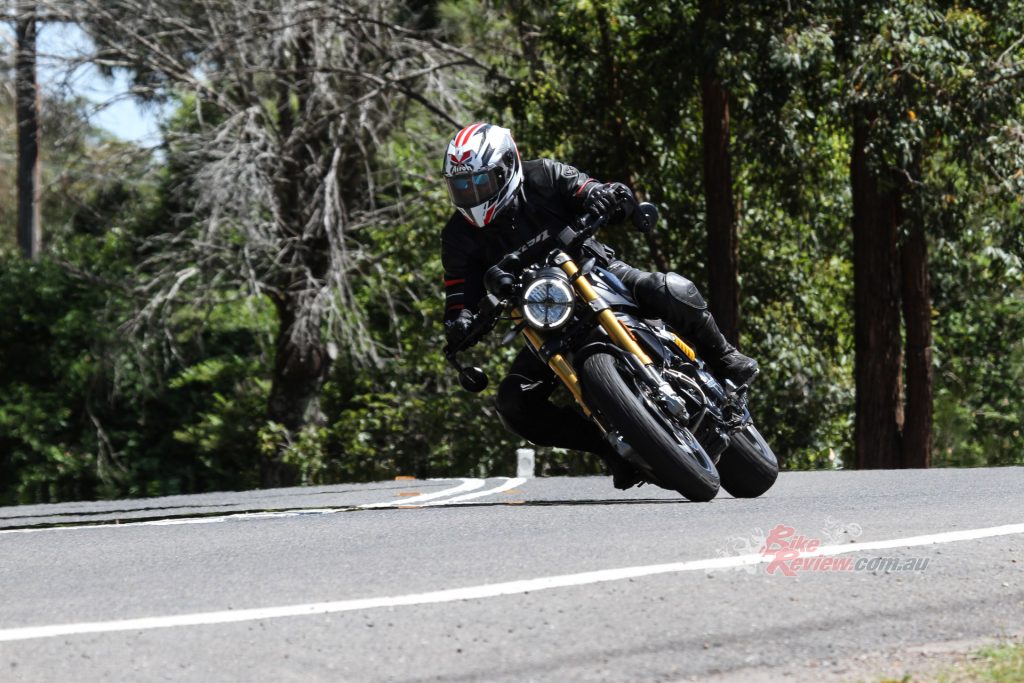 THE RIDE
I picked up the bike from Ducati HQ in Sydney and was pleasantly surprised in how sweet the machine looks when viewed directly. Not only the looks, but the immediate sense of comfort when sitting on it and feeling its balance and proportions. The pattern stitched seat remains plush and broad, but a bit of a slippery dip forward for your pillion if they are reluctant to use the hidden hand-holds. Not to worry – it's really about you, exploring the Scrambler "Land of Joy". And what a land it is. Fire up the big twin and the symphony of the two-valve desmo remains, proud – oh land of joy, bring me home!
---
---
For a big capacity machine, this bike is handy for people of most statures, with an accessible seat height and comfortable distances between body and limb extremities. The gearbox is smooth in change and the controls light, with you feeling engaged and at home pretty much immediately. Admittedly, I have ridden the 800cc Scrambler previously, which was highly user-friendly – this machine is no different in that it makes the riding experience so easy.
---
---
Skirting through city traffic in 'City' mode presented no problem and even though the 'bars appear wide, the bar-end mirrors make threading the stationary and moving queues pretty simple. These were mounted upside down on our press bike and Jeff almost crashed the first time he did a U-turn on the bike as the mirrors hit his knee well before full lock! Looks cool, not so cool for taller riders it seems.
Pushing through traffic in 'Journey' mode is easy, and any set of stop lights can see you 100 metres ahead of the pack in two blinks of an eye when green lights up. Careful to utilise the DTC here to keep two tyre patches in contact with the road. As a commuting machine, you can do pretty well for an 1100 on the Scrambler – light in steering control and agile, with a mass of sub-190kg dry.
Motorway travel is not so riveting as you might imagine, being fully exposed. The big Scrambler, like other Scramblers, is not pitched toward long haul riding in a comfort sense, but will certainly get you where you want to go. On more tedious sections, you can rest an arm on the handlebar or tank and shift around on the broad seat to suit. You can take comfort in that dealing with slower vehicles is just a slight twist of the wrist away to make them history.
---
When it comes to wilful abuse of corners and tyres and sense, the Scrambler makes itself readily available…
---
You can cover 250km or more on a tank in this scenario, no problem. For the more adventurous, the bike is likely capable of moderate dirt roads and comes equipped with suitable multi-terrain rubber and reasonable suspension travel. To be honest, I did not venture off the tarmac during my stint and cannot comment on the bike in this environment; Jeff, however, has taken the 2018 Scrambler 1100 off road and found it exhilarating.
---
---
For jollies, I took the bike out on some nasty B-roads and some sections with corners that, like an unseen voice in your ear, beckon you to dare yourself. And when it comes to wilful abuse of corners and tyres and sense, the Scrambler makes itself readily available and is a cornering machine of some repute. You may think that the chassis geometry and 18in front wheel err on the slow side, but the ergonomics and handlebar make up for this easily, so you end up with a bike that is very stable in straight lines, but also excellent when pivoting from upright to lean and holding a corner radius.
There is good ground clearance on offer and the stock Pirelli tyres are up to the task, with repeated dedication required to get them to start squirming. This is surprising in that the big Scrambler can be hustled like a much smaller bike – the low starting weight, narrowness of the engine, and the big pistons pretty much aligned with the centreline of the bike, in conjunction with the handlebar leverage make pulling the bike from side to side easier than you might imagine.
---
---
The Ohlins suspension is as close to faultless as I can recall. Frank from Ducati ANZ said that the bike had been set-up for someone of about my mass and, boy, does it work well. The suspension has an innate ability to absorb small bumps and undulations practically without them being noticeable – very supple. Larger bumps have an effect, but the damping provides a level of control over the spring that is impressive, so you do not experience jolting or wallow when leaned over.
Smooth corner carving is a hassle-free affair with the solidarity of tyres, suspension and chassis combining to make a very stable but easily controllable bike. I opted to keep the bike on 'Active' mode for most of the time and had DTC at standard settings, which provided the necessary fluctuations to keep the rear from slipping too much and the front wheel under control. This was good as it enabled me to fully concentrate on cornering and opening that RbW throttle wide and quickly on corner exit without hesitation.
---
---
The brake specification says it all, really. You know it is going to work, and it does, with feel and power and with ABS that is sensitive to braking when on the lean. For a top shelf model, however, a radial type master-cylinder would be more appropriate for the brake specification. The bottom line here is that, no matter what your capability is, the bike has features that will not only enhance your experience, but help keep you safe as well.
---
---
The LCD dash does what it has to, but is quite uninspiring. The tacho is almost impossible to read, but thankfully you only need to feel the engine to know what is going on down there. For a flagship model, a bit of creativity here would be welcome here. Being of advanced age to some, a reflection back to the analogue era would be so welcome to those of us with brains that work better with dials than in the digital world. Come on, Ducati, you know you can do it. Incidentally, with a quick revving, torquey big twin coupled to short gearing, how about a quick-shifter option?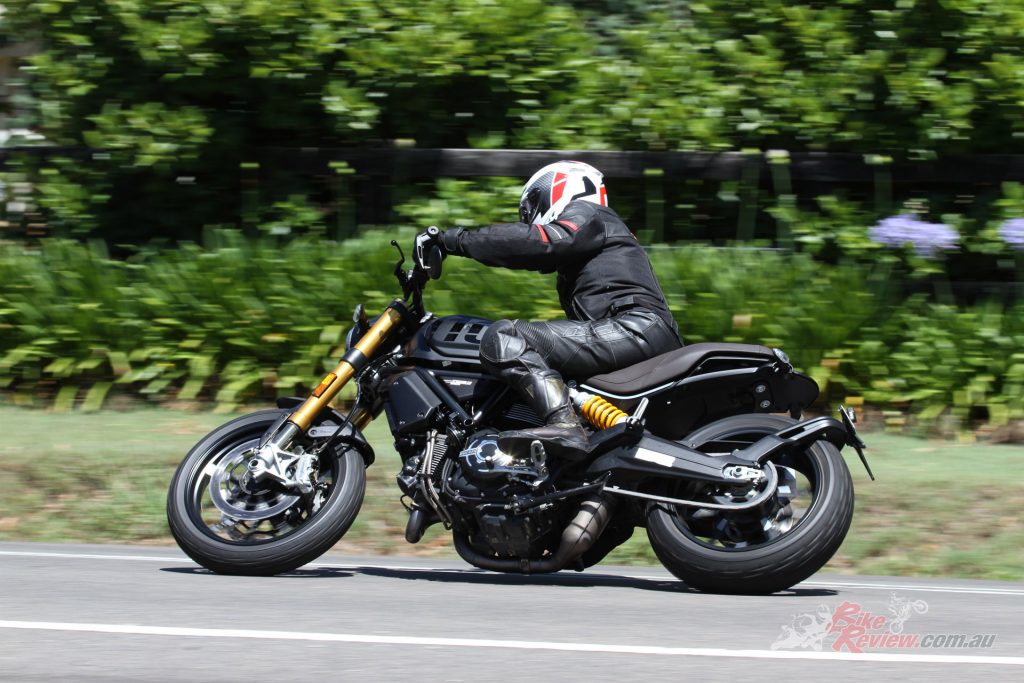 CONCLUSION
Essentially, some of us may think that the Scrambler 1100 Sport PRO is an exercise in style, which it is to a degree, but it is also much more than that. It offers more than just a projection of lifestyle choice, but as a motorcycle, the entire gamut of what motorcycling is about in terms of dynamics, freedom, enjoyment and thrills. You can find your local Ducati dealership here.
---
---
For the price, it is reasonable value. It certainly fits the brief for riders that want more than the smaller Scramblers and includes smarts and performance that takes it to the next level. I honestly enjoyed every moment on the big Scrambler. In fact, I considered reporting it as nicked for a while, so I could steal some more time on it. It is that kind of bike – moreish. For us riders in Australia, Ducati's Scrambler does not have a "Made in Italy" badge…that is very sad for a lifelong Ducati owner like me.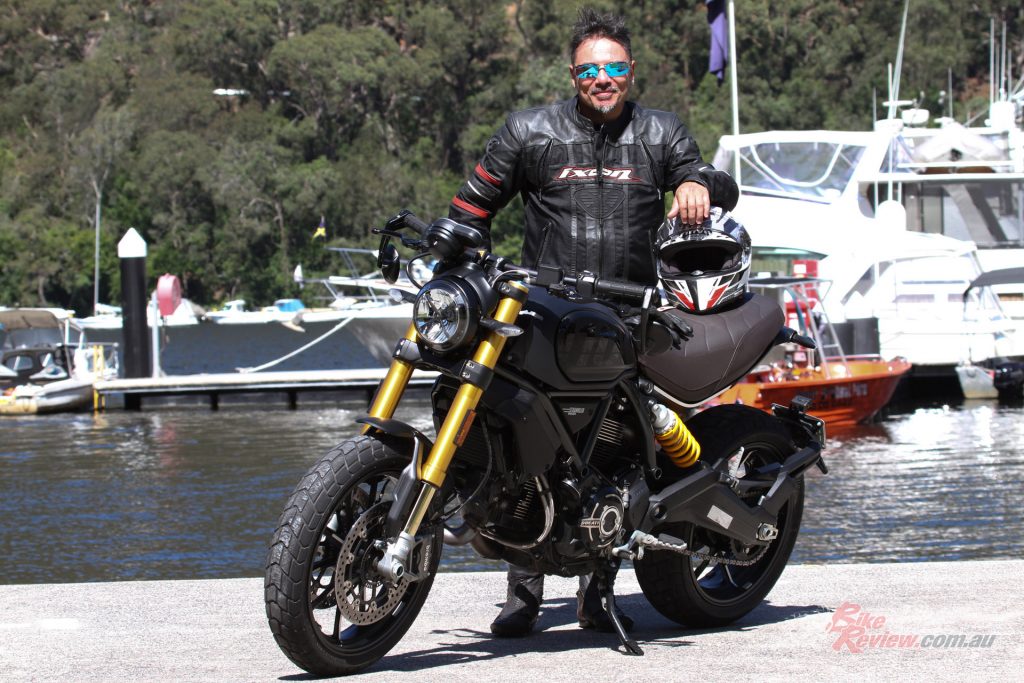 ---
---
2020 / 2021 Ducati Scrambler 1100 Sport PRO Specifications
Price: $21,100 RRP Ride Away
Claimed Power: 63kW[86hp]@7500rpm
Claimed Torque: 88Nm[65ft-lbs]@4750rpm
Dry Weight: 189kg
Fuel capacity: 15L
Warranty: 24-month, unlimited kilometre
Service Interval/Valve Clearance check: 12000km
Colours: Matt Black
---
Engine: Air-cooled, L-Twin, Desmodromic, two-valves per cylinder, 1079cc, 98 x 71mm bore x stroke, 11:1 compression ratio, twin stainless steel mufflers, EFI, 55mm throttle-body, RbW Gearbox: Six-speed Final drive: Chain; Front sprocket 15; Rear sprocket 39 Clutch: Wet multiplate clutch with hydraulic control, self-servo action on drive, slipper action on over-run.
---
Chassis: Frame: Tubular steel Trellis frame, aluminium double-sided swingarm
Rake: 24.5°
Trail: 111mm
Steering lock: 33°
Suspension: Ohlins fully adjustable 48mm USD forks, Ohlins monoshock, pre-load and rebound adjustable, 150mm travel
Brakes: Bosch Cornering ABS, dual 320mm semi-floating front rotors, radial Brembo Monobloc M4.32 four-piston calipers, conventional master-cylinder, 245mm rear rotor, single-piston caliper
Wheels & Tyres: 10-spoke in light alloy, 3.50 x 18in, 5.50 x 17in, Pirelli MT60 120/80-18, 180/55-17.
---
DIMENSIONS:
Wheelbase: 1514mm
Seat height: 810mm
Overall height: 1290mm
Overall width: 920mm
Overall length: 2190mm
---
Instruments & Equipment: LCD Dash, Riding Modes (Active, Journey, City); Ducati Safety Pack (Cornering ABS + DTC); LED light-guide; LED rear light with diffusion-light; Steel tank with interchangeable aluminium side panels; Machine-finished aluminium belt covers; Under-seat storage compartment with USB socket.
---
---
2020 / 2021 Ducati Scrambler 1100 Sport PRO Gallery
---
---
The Verdict | Review: 2020/2021 Ducati Scrambler 1100 Sport PRO