With the Aussie Speed Triple media launch off due to COVID, we turn to Alan Cathcart for a comprehensive road & track test from the UK... Review: Alan Cathcart Pics: Kingdom Creative
Triumph Motorcycles owner John Bloor, and son Nick who heads the company these days, are known for being discreet let-the-product-speak-for-itself industrialists, who largely disdain the kind of marketing hype that some of their marketplace rivals so eagerly embrace.
But still, you'd have thought that even in the midst of all 2020's pandemic-posed problems, they'd have wanted to celebrate the fact that the motorcycle which back in the mists of time – well, 1994, actually – all but dead-heated with Ducati's M900 Monster in inventing the stripped-out sportbike streetfighter sector, had smashed through the 100,000 sales barrier. Yes, folks – that's how many Triumph Speed Triples have been built in the past quarter century-plus of sweeping streets and terrorising traffic-lights, while making such a key contribution to Triumph's bottom line in doing so.
But despite a substantial makeover in 2016, the Speed Triple has since been seemingly sidelined by the ongoing power struggle (literally!) between its various rivals, with 200 bhp-plus outputs – first from Kawasaki via its supercharged H2, then MV Agusta and now Ducati – seemingly the entry pass to being counted as a contender capable of serious streetfighting.
---
"We focused on providing significantly more power while substantially reducing weight, in order to provide much greater all-round performance than before." – Triumph Chief Engineer, Stuart Wood.
---
So while still meeting Euro5 compliance, the 2021 Triumph Speed Triple 1200 RS is the most potent and most torquey member of that family yet built, and to power it Wood's R&D team has created a completely new clean-screen larger-capacity transverse in-line three-cylinder motor measuring 90 x 60.8mm for an 1160cc displacement, versus the previous 79 x 71.4mm model's 1050cc unit. This delivers 177.5bhp/132.4kW at 10,750rpm, a major step up from before on an engine redlined at 11,150rpm, 650 revs higher than previously. And on top of that, peak torque of 125Nm/92 ft-lb comes at 9,000rpm, a significant increase from the outgoing model's 111Nm/82 ft-lb at 7,500rpm.
---
---
That makes the new Triumph retailing in AUS for $27,700 R/A, with a two-year unlimited KM warranty and 16,000km service intervals, capable of trading power stats as well as prices with KTM's mental 177 bhp 1290 Super Duke R, and the bike so many people reckon is the best value-for-money real world motorcycle currently available for purchase, the 173bhp/129kW Aprilia V4 1100 Tuono (not the turbo-priced Factory version), both retailing at almost the same list price as the 2021 Speed Triple.
---
Check out all of our Triumph reviews here…
---
Available Triumph colours are Sapphire Black, with red and silver graphics, or Matt Silver Ice, with black, silver and yellow graphics – but I must say I think it's a strategic error Triumph doesn't have something much brighter and more in-yer-face as a third option for this badass, bellicose bike. A 21st century equivalent of the Nuclear Red (aka metallic pink!) or Roulette Green hues of the old 955cc Speed Triple would be more appealing to many potential customers, than these two rather prosaic monochrome colour schemes.
That's a particular shame because the all-new styling of the 1200 RS quite definitely recaptures the aggressive attitude and muscular presence of the Gen-1 Speed Triple, but with purer, cleaner and sharper-looking lines topped off by those sinister-looking snakeye headlights that seemingly stare at you with unrequited malice as you circle the bike, before hopping aboard the 830mm high seat.
---
---
This is just 5mm taller than before, with the footrests the same height as on the outgoing model, but tucked in more tightly for extra ground clearance necessitated by the quite extreme lean angles the 17-inch Metzeler Racetec RR K3 tyres will deliver, without the fat 190/55 rear mounted on a six-inch rim heavying up the steering unduly. That's because the 1200 RS has a 13mm wider one-piece taper-section handlebar delivering extra leverage in tighter turns, as well as a more dominant and purposeful riding position, with just the pair of quite effective bar-end mirrors and the five-inch TFT dash up front.
This is as minimalist a motorcycle as ever its predecessors were, just the way it comes off Triumph's production lines in Thailand. But the 35 dedicated accessories on offer do include a fly screen to deflect some of the windblast, as well as the very welcome three-stage heated grips on my test bike in the coldest April for 70 years in Britain!
---
"A big step forward comes from the seat design, which is cleverly shaped to be long yet slim, and extremely well padded – this bike is a contradiction in terms: a comfortable streetfighter!"
---
The way the seat narrows where it meets the fuel tank means that most riders of whichever sex will be able to put both feet flat on the ground at stop lights, and despite the meaty oversquare cylinders of its in-line triple motor, this doesn't seem to be an unduly wide bike. It's a triple that thinks it's a twin.
This spacious riding position is both improbably relaxing, and dynamically effective – it gives you more room to move around the bike in turns, with no need to hang off too far to get it to steer, because the sense of slimness conveys the impression that this 198kg fully fuelled motorcycle is lighter and more agile that you were expecting. The new Speed Triple is a bike with intuitive handling, and if you don't believe me, go and ride one at your friendly local Triumph dealer, then tell me I'm wrong! The obvious analogy is with the 765cc Street Triple's light, precise steering, compared to the more bulky, heavier-seeming outgoing Speed Triple.
THE RIDE
The chance to discover this for myself came in an action-packed day aboard the 1200 RS chasing multiple BSB/British Superbike race-winner Dan Linfoot along 210km of English country roads in the Lincolnshire Dales and Robin Hood Sherwood country, ending up with 25 laps of the Donington Park GP circuit in the fading April sunshine – brrr! As hands-on introductions go they don't come much better than this – and within the first half-hour of riding I'd come to realise not only just how refined but also how smooth and welcoming the new Speed Triple 1200 RS is to ride.
Thanks to a 12 per cent reduction in powertrain inertia, the engine is even more responsive and picks up revs notably quicker than the old model – it feels sharper, and sounds sharper, too. Thanks to the all-new freer-breathing intake and three-into-one exhaust system, this is rather improbably (given Euro5 restrictions) the best sounding Speed Triple yet produced, with a visceral intake roar and trademark deep-throated triple exhaust howl. It's great to listen to this mechanical cantata from the hot seat, and this explains why there's no aftermarket exhaust can in that 35-strong list of accessories!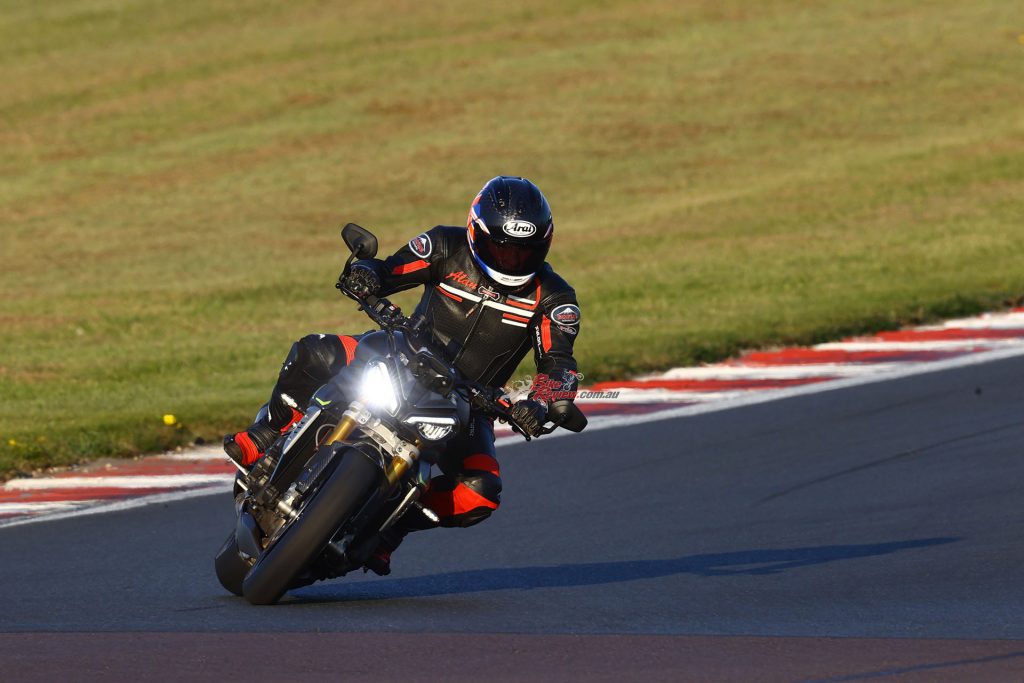 While the 1200 RS now makes the kind of top end power that those who focus only on numbers will deem makes it worthy of attention, where it really scores is in its meaty yet super-controlled torque delivery – the 2021 Speed Triple is a musclebike that's easy to master. You can rev it right out to the five-figure zone if you really want to, in which case the single gear-driven counterbalancer at the front of the engine will continue to suppress any undue vibration.
But using the exceptionally sweet-shifting six-speed gearbox to keep the engine operating in its 4,000-8,000rpm sweet spot will deliver impressive acceleration coupled with a great sense of control – though you'll need to make sure to really hold on tight, because the acceleration is pretty mind-altering once you really get the motor revving in a lower gear. Maybe it's best to think of it as a super scooterone – a maxi-scooter with attitude, where you just twist and go super fast, using the higher gears to ride the torque curve in taking advantage of the Triumph motor's vast reserves of grunt.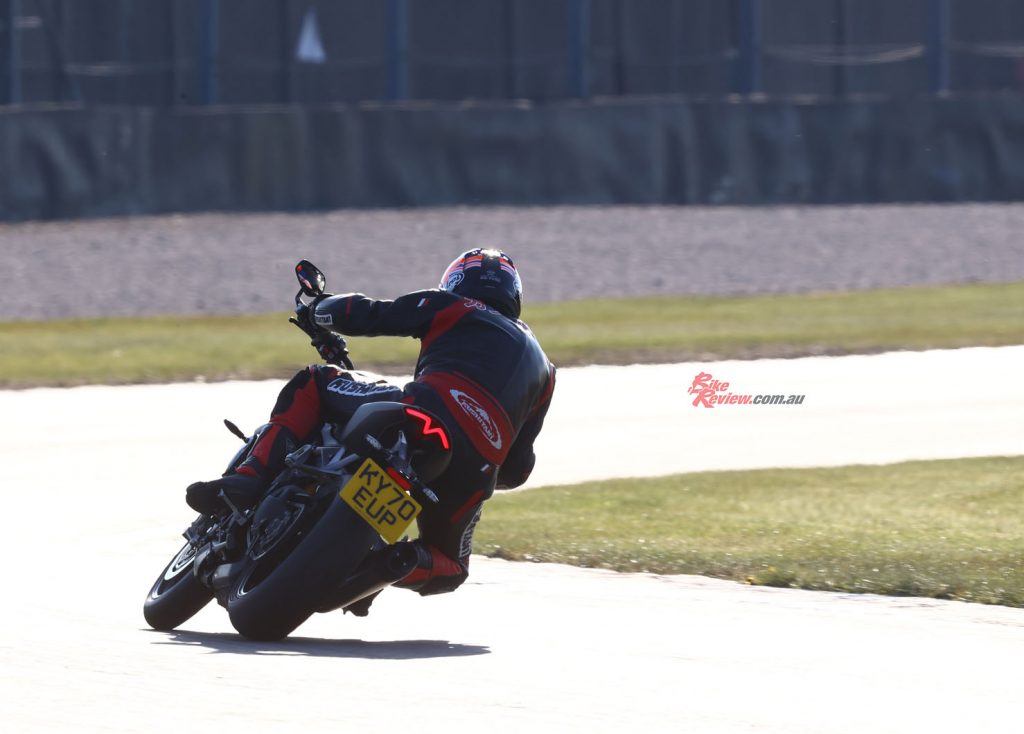 But be prepared to have to pay the penalty for this in fuel consumption – Triumph claims fuel economy of 5.6 l/100km, but my high-speed dash with Dan through Robin Hood Country saw the fuel light illuminate at bang on 160km, so figure three-quarters of that claimed consumption figure if the light was correct. But on the last Speed Triple I rode four years ago the fuel warning light was hopelessly pessimistic, and lit up when I had 8L left to use, so maybe that was the case here.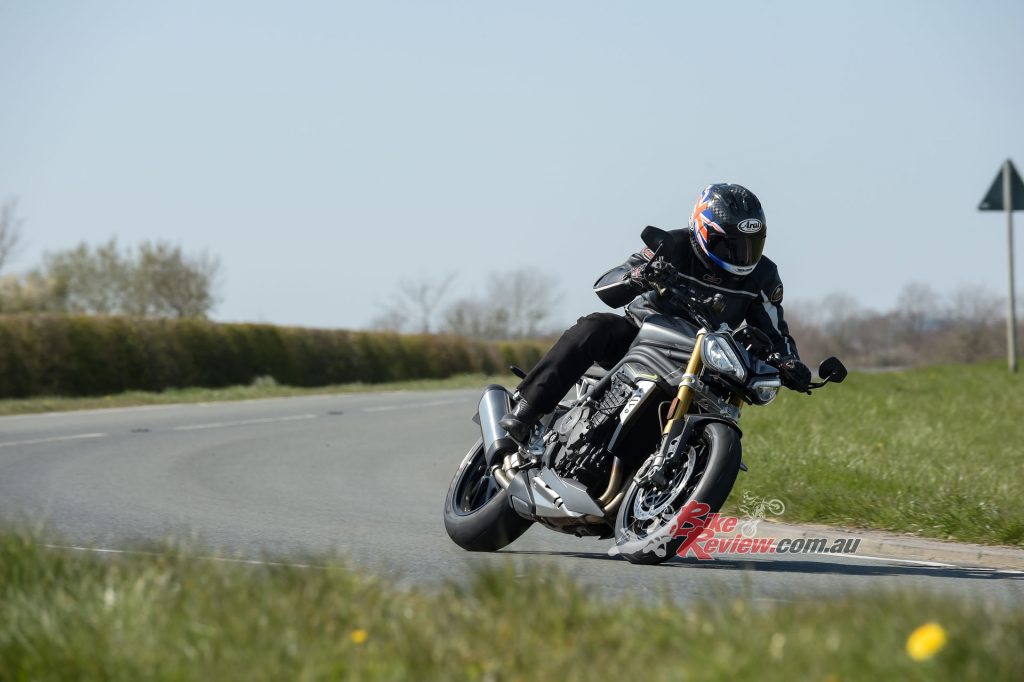 But when you do opt to change gear, the up/down quickshifter is absolutely faultless – it's ideally set up so that you need just the right amount of pressure from your toes to shift gear. It's not over-sensitive and there's no sense of harshness, not even a click as you go through neutral shifting between first and second gear in either direction, as on most other bikes. Like I said – refined is the word that best describes riding this new Triumph: however improbably, it's a musclebike with good manners. That extends to the pickup from a closed throttle exiting a turn, which even in Track mode is controlled and predictable, never snatchy or unduly fierce – this is obviously a motor where great attention has been paid to mapping the fuel delivery.
---
---
Triumph has included an updated version of its so-called 'slip-assist' clutch on the new Speed Triple, but it's a ramp-style slipper clutch by any other name, which retains enough engine braking still dialled in to help the superb Brembo Stylema radial brakes stop you hard and late when you squeeze the adjustable lever, while ensuring good stability in stopping hard from high speed. The cable-operated clutch has a pretty light action, which was a welcome surprise considering how much torque it has to deal with. But this meant riding in rush-hour Grantham traffic on the way home was no chore – your hand doesn't get tired working the clutch repeatedly.
This new version of Triumph's streetfighter holds a line very well on the brakes, which means you can trailbrake into the apex of a turn with impunity – it won't sit up on you so that you miss the apex and head for the hedges, and the pickup when you get back on the throttle again is measured and controlled. Nice. It also holds a line well round fast 120km/h sweepers, but the main difference with the outgoing model is the way the revised riding stance makes the new one seem more responsive in the way it steers in slower, tighter turns, where it's easy changing direction via the good leverage from the wider handlebar.
---
---
The only disappointment during my high-speed road ride was the stiff settings of the Öhlins suspension. On the old Street Triple RS also equipped with the Swedish suspension you could use heaps of turn speed thanks to the way the fork just ate up any bumps you encountered while cranked hard over, plus ride quality was pretty good by streetfighter standards. But the Öhlins package on the new 1200 RS model is much less compliant, so that you're far more aware of imperfections in the road surface – the whole setup is geared towards track use, as I found in my Donington Park sessions.
There, the smooth track surface produced none of the road shock I'd felt in my previous four hours of road riding, which in some faster bends with road rash in the apex had the handlebar dancing in my hands. But at the end of the day it's the significant step up in engine performance coupled with innate rideability that makes the new Speed Triple 1200 RS so much fun to ride – especially to the evocative background soundtrack of its trademark intake roar and exhaust howl.
---
"It just felt as if the bike was oversprung at both ends, so that I always felt concrete sealing joints or other surface imperfections though the handlebar and seat. Pity – but it handled brilliantly on track with no changes in settings front or rear!"
---
The great-sounding triple motor's extra performance inspires you to ride it hard, holding third gear for mile after mile along winding country roads, flicking from side to side effortlessly through the curves without any need to shift gear to tackle anything between a 40km/h hairpin and a 120km/h sweeper.
The Triumph Speed Triple 1200 RS isn't a bike for criss-crossing continents, and certainly not for riding very far or long two-up, even with the improved passenger accommodation on this new version. Instead, it's for boulevarding to the beach via the twisty coast road, for heading into the hills via the odd mountain pass or two, or for simply getting from A to B via the scenic route as fast as possible, taking no prisoners with any other two-wheelers you find along the way. This more refined Triumph Speed Triple is a bike you'll be looking for excuses to go out and ride, and for the kind of roads which demand to be hustled along, using its great grunt and poised handling to best advantage.
---
TECH TALK
To produce the most powerful and most torquey Speed Triple yet built, the same Triumph Motorcycles engine team which developed its 765cc Moto2 powerplant currently to be seen – and heard! – in action at a GP circuit near you, have created an all-new larger-capacity 12-valve three-cylinder Euro 5 compliant engine, with a 120° crank and offset chain drive to the DOHC.
Measuring 90 x 60.8mm for an 1160cc displacement (up from the previous model's 79 x 71.4mm 1050cc unit), this delivers a claimed 177.5bhp/132.4kW at 10,750rpm, a massive 49.5bhp/37kW more than before from an engine redlined at 11,150rpm, 650 revs higher than previously. Moreover, the extra dose of torque amounting to 125Nm/92ft-lb peaks at 9,000rpm, a significant increase from the outgoing Euro 4 model's 111Nm/82 ft-lb at 7,500rpm.
---
---
This has been achieved thanks to the entire powertrain being completely re-designed, with every single component re-engineered for increased performance and reduced mass, claims Triumph, making the new engine a significant 7kg lighter than before at 89kg, including the trio of throttle-bodies.
That's thanks to a lighter crank, hollow camshafts, various magnesium castings, a 60 per cent lighter lithium-ion battery resulting in a massive weight savings of 2.3kg alone, an all-new more compact, stacked six-speed close-ratio gearbox with lighter gear pinions, and a new slip/assist 10-plate clutch (albeit still cable-operated) with two fewer plates than previously thanks to a radical new friction compound, which Triumph says both helps minimise mass and improves clutch feel.
Compression ratio has been raised to a hefty 13.2:1 (was 12:1) via forged pistons and an all-new cylinder head, with revised porting and altered combustion chambers delivering a more efficient package. Among the engine's many leading edge components the valve train now features F1-type finger followers, the four valves per cylinder all have springs made from oval-section wire, and there are twin-tip sparkplugs with dual electrodes for increased durability at higher engine speeds.
This lighter and physically smaller motor has been installed in an all-new cast aluminium twin-spar chassis that's also 17 per cent lighter at 9.1kg, with the centre of gravity lower down within the same 1445mm wheelbase as before, and the weight distribution slightly further forward thanks to a longer swingarm, whose pivot is set 10mm higher than previously.
---
With a fully fuelled 15.5-litre fuel tank resulting in a kerb weight of 198kg, the new bike is 10kg lighter than the previous model, although that had a two-litre larger tank, so figure an 8.5kg weight saving. This delivers the highest power-to-weight ratio in the Speed Triple's history, says Triumph, so over 25 per cent greater than the previous model's, and nearly double that of the original 1994 Speed Triple.
The new frame carries fully adjustable Öhlins suspension delivering 120mm of controlled wheel travel both front and rear, with the 43mm NIX30 upside down fork set at a 23.9° rake with 104.7mm of trail, and a TTX36 twin tube monoshock with variable rate link worked by the cast aluminium single-sided swingarm. While the new bike only comes in RS guise, so there's no cheaper R version with less costly albeit less effectively damped Showa suspension, the Öhlins package fitted to the new Speed Triple is not the more adaptable but also costlier electronic semi-active system.
Brakes come courtesy of Brembo, and in keeping with the high end Öhlins suspension the twin 320mm floating front discs are gripped by the Italian company's range-topping Stylema Monoblock four-piston calipers, operated via a radial master cylinder with a separate reservoir. There's a single 220mm rear disc with twin-piston Brembo caliper.
A new lightweight design of black painted V-spoke cast aluminium wheels carry Metzeler Racetec RR K3 rubber, a 120/70 ZR17 up front and 190/55 ZR17 rear, the latter on a 6.00in rim. These are Metzeler's highest specification tyres approved for road use, but additionally, Pirelli Diablo Supercorsa SC2 tyres can be fitted to the new Speed Triple 1200 RS as a factory approved track option.
---
---
There's also been a step change in the Speed Triple's electronic package developed in conjunction with Keihin and Continental, with a new six-axis IMU enabling four-way adjustable lean-sensitive traction control, with integrated anti-wheelie control, both switchable. Also included thanks to this IMU is two-stage Cornering ABS (Road and Track) with the IMU continuously monitoring roll, pitch and yaw acceleration rates, to calculate lean angle and ensure the optimum braking force for any situation.
The system is adjustable through the all-new five-inch TFT dash and left-hand switch cube, and offers two selectable levels of intervention, Road and Track. Triumph says the new enhanced Track mode has been specifically designed to be as unobtrusive as possible, and virtually imperceptible during fast track riding, while still there to assist when needed. The ABS and TC settings are linked to the riding modes, but can also be adjusted independently if desired, or switched off altogether.
---
---
Both the TFT screen itself, as well as the user interface, are completely new, designed to allow the rider to apply more on-the-go adjustment compared to the outgoing model's electronic package, such as changing riding modes or TC settings while on the move. The new TFT display's configuration shows speed, revs and gear selected on its default display, but you can create space for any additional info or menus just by sliding the tacho to the side, in which case it'll squeeze itself into a distorted but strangely still readable elliptical contour that Salvador Dali would have been proud of!
Included as standard are the distinctive new full LED lighting, self-cancelling indicators, cruise control, a full keyless system for the first time on any Triumph model for ignition, steering lock and fuel cap, and the My Triumph Connectivity System. This allows Speed Triple owners to access turn-by-turn navigation via the free My Triumph app, as well as GoPro control, phone control and music operation, all controlled via the switch cubes and TFT screen.
---
2021 Triumph Speed Triple 1200 RS Specifications
Price: From $27,700 Ride Away
Claimed Power: 132.4kW@10,750rpm
Claimed Torque:125Nm@9,000rpm
Wet Weight: 198kg
Fuel capacity: 15.5L
---
Engine: Liquid-cooled, 12 valve, DOHC, inline three-cylinder, 1160cc, 90.0mm bore, 60.8mm stroke, 13.2:1 compression. Multipoint sequential electronic fuel injection with electronic throttle control.
Gearbox: Six-speed, X-ring chain, wet, multi-plate, slip and assist clutch.
---
Chassis: Aluminium twin spar frame, bolt-on aluminium rear sub-frame
Rake: 23.9° Trail: 104.7mm
Suspension: Front – Öhlins 43mm NIX30 upside down forks with adjustable preload, rebound and compression damping, 120mm travel. Rear – Öhlins TTX36 twin tube monoshock with preload, rebound and compression damping, 120mm rear wheel travel.
Brakes: Front – Twin 320mm floating rotors, Brembo Stylema monobloc calipers, OC-ABS, radial master-cylinder with separate reservoir, span and ratio adjustable. Rear – Single 220mm rotor,  Brembo twin piston caliper, OC-ABS. Rear master-cylinder with separate reservoir.
Wheels & Tyres: Front – Cast aluminium, 17 x 3.50in, Rear – Cast aluminium, 17 x 6.00in. Front Tyre – Metzeler RaceTec RR K3 120/70 ZR17, Rear Tyre – Metzeler RaceTec RR K3 190/55 ZR17.
---
Dimensions:
Length: 2090mm
Width (Handlebars): 792mm
Height Without Mirrors: 1089mm
Seat Height: 830mm
Wheelbase: 1445mm
---
Instruments & Electronics: TFT Dash, Two stage ABS, Traction Control.
---
2021 Triumph Speed Triple 1200 RS Gallery
---
---
---
---
The Verdict | Review: 2021 Triumph Speed Triple 1200 RS