The BMW R 1250 RS Exclusive is packed with features, power, torque and style. Time for some rapid sports touring... Review: Jeff Ware Photography: Luci Luci
We've been testing the BMW 1250 ShiftCam Boxer range since last year, with reviews on the GS and GS Adventure, R 1250 RT and R 1250 R. The final 1250 ShiftCam ride is a bike that could well be mistaken for being designed for Australian conditions…
That versatile sports touring motorcycle is the R 1250 RS Exclusive. We did a big loop up on the Queensland Sunshine Coast Hinterland to put the RS to the test. Based on the exact same platform as the R 1250 R, the RS has been tweaked for touring comfort with a longer wheelbase and overall length, revised steering geometry, LED headlights and an upper fairing. It is marginally heavier than the naked R version at 243kg versus 239kg.
---
---
The two are so similar in specification but quite different bikes to ride. From a styling point as well, the R is your tough nakedbike ready for fun, while the more reserved and sensible looking RS is more your set and ready to take on some big miles in comfort type motorcycle…
Both bikes are refined in design and finish in typical BMW quality, the RS having the edge in terms of overall luxury look, thanks to the deep paint finish on the fairing. The rack spoils the look of the bike in my opinion but would of course prove too handy to remove given the tourability of the bike and the luggage options available.
---
---
Sitting on the RS, the first thing I notice is the low seat height. Like the R Exclusive, the RS is fitted with the low seat option for this test. Not an issue for shorter riders and an easy fix by opting for one of the taller seat options available. So for me at 187cm, the seat to footpeg distance is very cramped. Everything else feels comfortable, the handlebars are wide, with a slight sporty bend backwards, a very slight slope and the traditional BMW heated grips. The switchgear is standard BMW equipment including the awesome scrolling Multi Controller. The levers are adjustable and everything falls easily to hand, no surprises and no need to look down to navigate them when on the move…
THE RIDE
By the first kilometre or so from our departure point, Coastline BMW in Noosa, I'm blown away by this new Boxer ShiftCam motor. Just mucking around between sets of traffic lights, the rev-happy engine has really taken me by surprise. That smooth low-end and mid-range torque is still there but as the revs climb past 5000rpm, heading into 6000-7000rpm, the revs climb rapidly and I can feel the urgency in the motor that was completely missing before. The extra capacity helps punch as well, so the motor responds to throttle inputs instantly and with force. It really is grin-inducing and silly fun already…
The TFT display is trick. There are miles of features and the connectivity is brilliant. Whether you need to make and take calls, follow your GPS route or just listen to your favourite tunes, it is all very easy. The Multi Controller, I call it a scroll wheel, makes life easy. Around town I'm able to play with it all at the few sets of lights we encounter. Once out on the road I find it too distracting, but that is just me and many people will appreciate the new technology available, particularly those who rely on their phones a lot for business calls, or just like to listen to music while they ride.
As speeds increase and suburbia vanishes in the mirrors, I settle in for some touring riding. Mucking around with the adjustable screen, I can't find a suitable height. At the top, the wind blast hits the top of my lid and causes buffeting. On the lowest height, the wind blast to the visor area is harsh and noisy. If I owned one of these, I'd either want a screen an inch higher on the top setting or an inch lower on the bottom setting, and leave it at either end – but, this is with the lowest seat option on this bike…
---
---
In Road Mode the RS is a pleasure to ride in this situation, while the ESA makes the ride plush and comfortable over the rough Aussie country roads. The way the RS floats along at cruise speed is brilliant and aside from the legroom on this particular example, I could ride all day and leave the worries of the World behind… Knowing a twist of the wrist and scroll of the Multi Controller can transform the ride into a much angrier and sharper beast as soon as the winding road warning signs appear…
Switching to Dynamic Mode (options are Dynamic, Road, Rain) and ESP Road but with the rear preload maxed out (I hope I got that right!), the RS came alive. Throwing the big chunk of steel and alloy around is a lot easier than the appearance and specification would suggest. It has slower and more stable steering than the R version, partly due to the fairing and weight, partly due to the 'bar width and trail figure. However, it loves long, banked, sweeping old-school riding, which I also find really fun and rewarding as opposed the the point and shoot style many modern bikes require in order to reach full potential. This one is proper old school sports touring fun, with all the mod cons to make life easy.
Where the RS is really rewarding, at least for me, is in situations of multiple direction changes, such as in the shot above, where I find I can just throw the RS at each turn and it goes exactly where I point it, digs deep and settles quickly into the middle of the suspension stroke. It just feels great. The forks, I can't say a bad thing about. The shock struggled at times to control the heavy unsprung mass once it got some momentum over a series of bumps but aside from that, it is quality and well developed kit.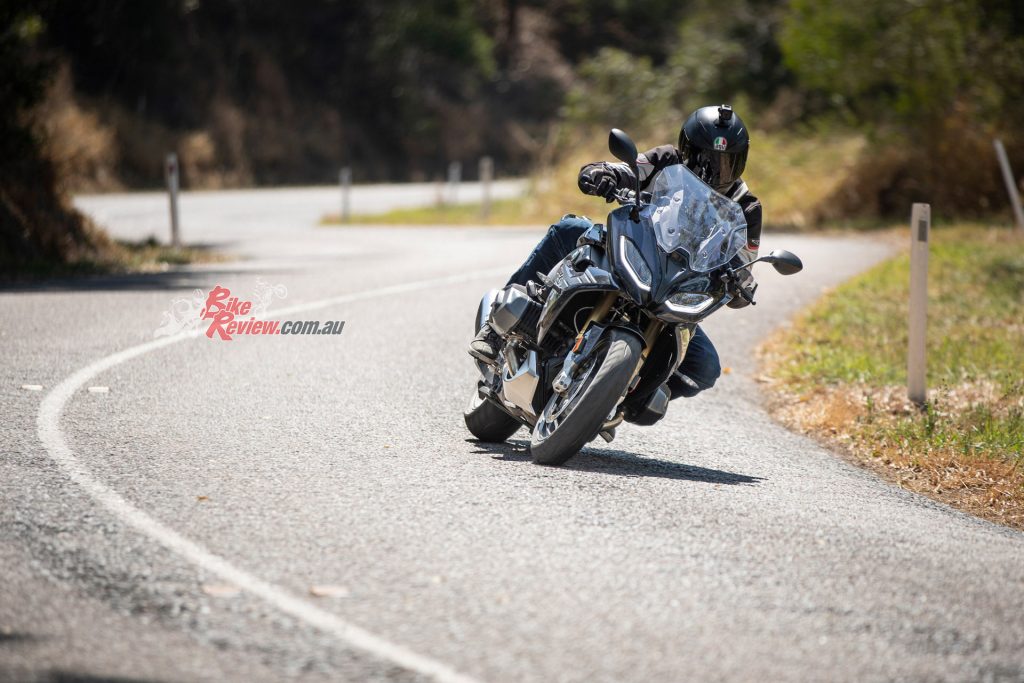 Ground clearance is impressive, particularly for a bike with two giant cylinders either side of it. I touched the footpegs down a few times but once I upped the rear preload, it was only my boots/toes that occasionally clipped the ground, mainly in turns with mid-corner bumps. Off some of those bumpy turns, the DTC would do its job if I was driving hard on the power but it is completely unobtrusive. The ShiftCam system is promoted as a seamless system, however, on a constant throttle I could feel it hunting around usually at the 5500 to 6500rpm area. It isn't a problem at all, just a feeling.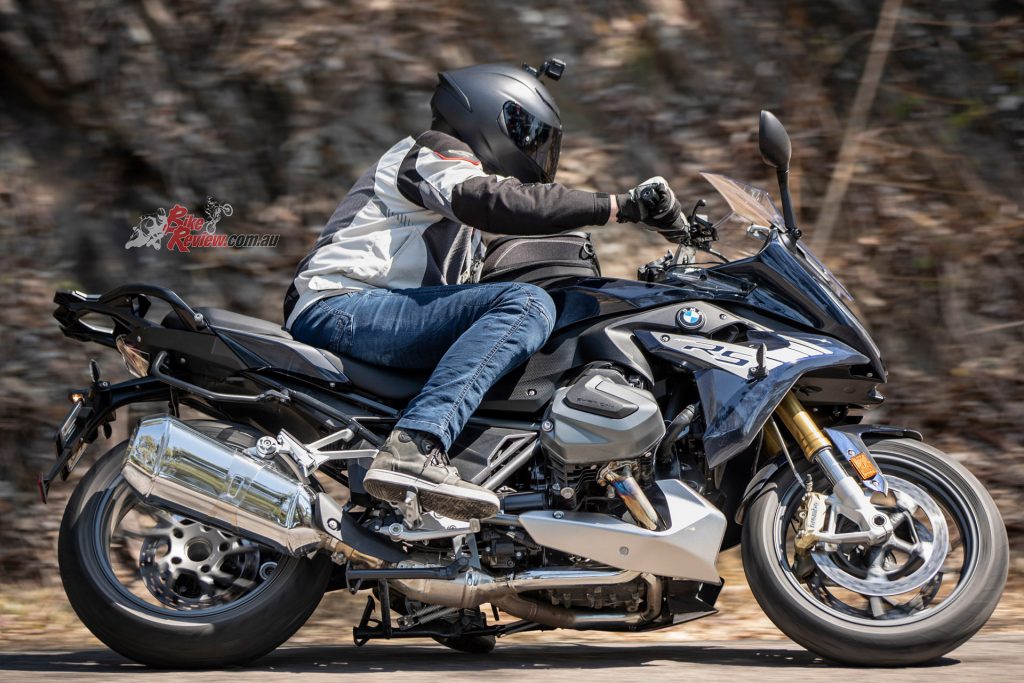 I had some issues with the lever coming back to the grip on the R 1250 R Exclusive, however, on the RS today I have no such issues. In fact, the brakes are amazing. Great feel and power from the front, along with the reassurance of a high level cornering ABS system.
---
---
The rear brake is great, has good feel and is handy for tightening up the line or just keeping things in control around town too. Too much rear brake when sports riding can unsettle the bike, as there is a lot of engine braking from the big Boxer, which meant when banging down the gears into turns, sometimes I had to roll the throttle off rather than shut it off, and leave the rear brake alone, in order to get a smooth run into the quick turns.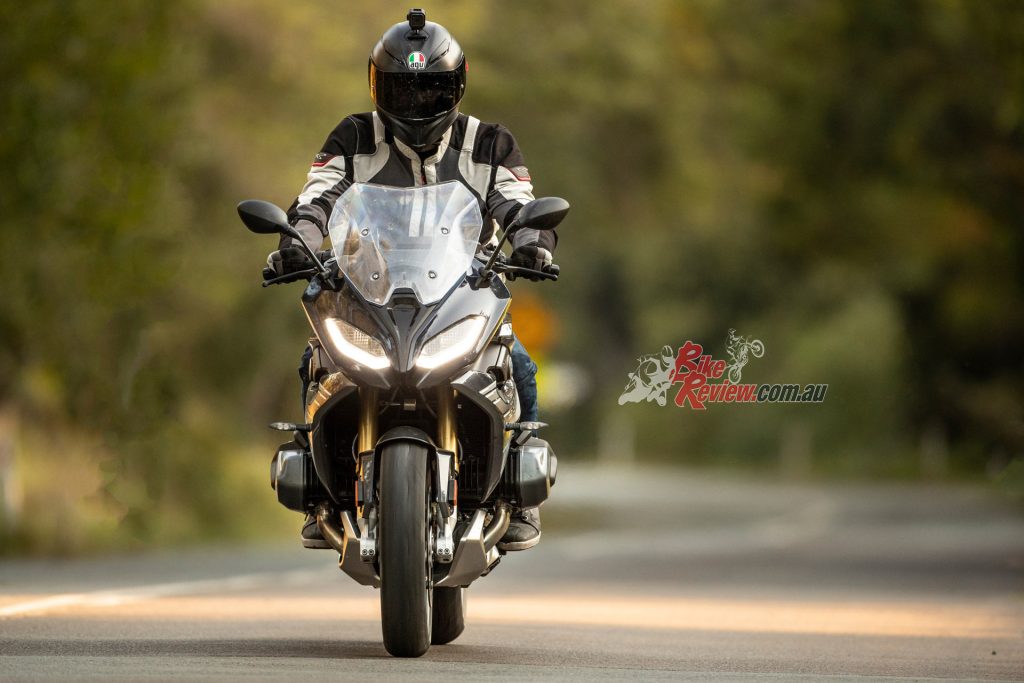 Back to more sedate riding after a day of mixed conditions that even included some dirt, where the bike was terrible of course, I couldn't help but think that the RS is a bike that, if someone told me was developed in Australia, I would not even blink. The base RS is good enough, the extras the Exclusive has make it spot on along with the Aussie spec kit that is included, being Riding Modes, ASC, ABS and Comfort Package (Chrome exhaust, Heated Grips, Tyre Pressure Monitoring) and adjustable levers.
---
---
Any negatives? A few. The screen just doesn't work for my height. The engine is really hot and those two big pots either side cooked my legs. I was wearing bike jeans. A lot of heat up around my chest area as well but once I removed the accessory tank bag, that improved a lot. The clutch is grabby and lurches a bit around town, probably just due to those big cylinders, and the bike is heavy, there is no hiding that. Are these things deal breakers? Not by any means. The weight vanishes once up to speed and the other things I can deal with as a compromise for all of the positives about the bike.
---
BMW R 1250 RS Exclusive Video Review
---
Tech Talk, Engine
The new ShiftCam Boxer engine achieves a whole new level of power and torque. BMW claim it was also possible to significantly optimise refinement and running smoothness – especially within the lower engine speed range. The Euro4 engine has improved fuel consumption.
BMW ShiftCam Technology has been used for the first time in the serial production of BMW Motorrad engines: this enables variation of the valve timing and valve stroke on the intake side.
Other technical changes to the engine relate to the camshaft drive – now taken care of by a toothed chain (previously a roller chain) – an optimised oil supply, twin-jet injection valves and a new exhaust.
The boxer engine goes a step further with boosted performance figures across the board. In the latest generation it has a capacity of 1254cc (previously: 1170cc). The ratio between bore and stroke is now 102.5 to 76mm (previously: 101 to 73mm).
It has an output of 100kW (136hp) at 7750rpm and generates a maximum of 143Nm at 6250rpm (previously: 92kW (125hp) at 7750rpm and 125Nm at 6500rpm. With a seven per cent capacity increase, the new boxer engine offers 14 per cent more torque and nine per cent more output than its predecessor, making it the most powerful production BMW boxer engine ever.
The boxer engine remains air/liquid cooled and the gearbox and clutch are integrated in the engine housing in the new boxer engine. This provides benefits in particular in terms of overall weight due to the omission of numerous bolt connections and sealing surfaces, but also in terms of the torsional response of the unit as a whole. In addition to a design that saves both space and weight.
---
---
Power transmission to the six-speed gearbox, which has been further optimised in terms of gear shifting, is via a multi-plate wet clutch. The clutch system is fitted with an anti-hopping mechanism. The brake torque of the engine is now passed to the rear wheel at a reduced level during coasting.
Chassis
The R 1250 RS chassis comprises of a two-section steel frame with a bolt-on sub-frame. The engine is a stressed member. Front forks are 45mm inverted units and the rear suspension is made up of a cast-alloy single-sided swingarm, BMW Paralever, WAD spring strut with remote preload adjustment and rebound adjustment standard.
Travel is 140mm at both ends, while castor is 110.8mm and rake 62.3mm. The wheelbase is 1530mm. The brakes are dual floating 320mm rotors with Brembo four-piston radial-mount calipers at the front and a single 276mm rotor with a two-piston caliper at the rear. Conventional master-cylinders are employed at both ends.
The wheels on the R 1250 RS are die-cast aluminium, with a 3.50 x 17in front and a 5.50 x 17in rear. 120/70-17 and 180/55-17 tyres are standard fitment.
The total length of the R 1250 RS is 2202mm, width is 925mm and seat height is variable with the options of 760mm to 840mm possible. 820mm is standard. Weight is 243kg ready to ride.
Electronics & Variants
Standard modes are Rain and Road and all models come with Riding Modes, ASC, ABS and Comfort Package (Chrome exhaust, Heated Grips, Tyre Pressure Monitoring) and adjustable levers. The standard model has semi-adjustable conventional suspension.
The Exclusive comes with the addition of a Pure Tank Cover, Touring Package (Dynamic ESA, Keyless Ride, Nav Prep, Cruise, Centre Stand, Pannier Mounts, Luggage Grid), and Dynamic Package (Daytime light, White LED blinkers, Gear Shift Assist Pro, Riding Modes Pro). The Sport comes with the addition of the Touring Package, Dynamic Package and a HP Exhaust and HP Tank Cover. The Option 719 goodies can be found here.
---
---
The Dynamic Package includes Riding Mode Pro, an overarching system that incorporates riding modes Dynamic and Dynamic Pro (configurable) for high level control and adjustability. The Dynamic Package also features a Daytime Riding Light, White LED Indicators and Gear Shift Assist Pro.
---
---
Dynamic Traction Control (DTC) combines with the selectable riding modes and contributes to dynamics and rider safety by calling upon networked sensors to rapidly determine and act upon rider inputs such as power delivery and incline angle. DTC makes a significant contribution to riding dynamics and road safety, providing invaluable assistance particularly under changing riding conditions and on low grip surfaces.
All R 1250 R and R 1250 RS models feature BMW Motorrad ABS. New Dynamic Brake Control (DBC), which is also standard fit across all models, provides additional safety when braking by avoiding unintentional accelerator activation. The engine control unit reduces drive torque during braking to make full use of the braking power at the rear wheel. This keeps the motorcycle stable and shortens the braking distance. BMW Automatic Stability Control (ASC), which is standard equipment across all variants, aids confidence in a variety of riding conditions by providing the best possible traction.
---
---
ASC eliminates rear wheel spin and enhances power transmission to increase active riding safety, particularly on wet roads. All R 1250 R and R 1250 RS models come standard with preload and rebound adjustable forks as well travel-dependent damping for the rear suspension strut.
BMW Motorrad Electronic Suspension Adjustment (ESA) automatically adapts to the situation and provides automatic compensation in all load states.
This allows finely tuned adaptation of the motorcycle to riding conditions, achieving advanced damping comfort and a stable ride response. ESA can be optioned for select grades within the Touring Package, which also includes Keyless Ride, Navigation Prep, Cruise Control, Centre Stand, Pannier Mounts and Luggage Grid. All models feature Connectivity as standard including a high-definition 6.5-inch full-colour TFT screen. This system, in conjunction with the standard BMW Motorrad Multi-Controller, allows the rider to access vehicle and connectivity functions swiftly and conveniently.
Intelligent Emergency Call is also standard on all models to provide further reassurance for riders. It summons the fastest possible assistance in the event of an accident or in situations of emergency.
2019 BMW R 1250 RS Exclusive Specifications
Price: From $25,455 Ride Away. Please visit model page for full prices here.
Colours: Black Storm Metallic, Austin Yellow Metallic, Imperial Blue Metallic, Option 719 Stardust Metallic
Warranty: Three-year, unlimited kilometre
Claimed power: 100kW/136hp@7750rpm
Claimed torque: 143Nm@6250rpm
Kerb weight: 243kg
Fuel capacity: 18L
---
Engine: Air/liquid-cooled two-cylinder four-stroke boxer, 1254cc, 12.5:1 compression ratio, 102.5 x 76mm bore x stroke, four-valves per cylinder, two overhead spur gear driven camshafts, counterbalance shaft, variable intake camshaft control system BMW ShiftCam
Gearbox: Constant mesh 6-speed gearbox with helical gearing system, shaft final drive
Clutch: Wet clutch with anti-hopping function, hydraulically activated
---
Chassis: Two-section frame concept consisting of main frame with bolt-on rear frame, load-bearing engine, cast aluminium single-sided swing arm
Steering head angle: 62.3º Castor: 110.8mm
Suspension: BMW 45mm inverted forks, 140mm travel, BMW Motorrad Paralever rear, WAD spring strut, 140mm travel, continuously adjustable spring preload by means of hand wheel, rebound-stage damping adjustable by hand wheel. Option: Dynamic ESA
Brakes: Twin front disc brake, floating brake discs 320mm, four-piston radial brake calipers, single rear disc brake 276mm, two-piston floating caliper, BMW Motorrad Integral ABS as standard, disengageable.
Wheels & Tyres: Die-cast aluminium wheels, 3.50 x 17in front, 5.50 x 17in rear, 120/70 ZR 17, 180/55 ZR 17
---
Dimensions:
Overall length: 2202mm
Wheelbase: 1530mm
Seat height: 760 – 840mm (820mm std)
Max height: N/A
Max width: 925mm
Instruments: Full-colour TFT dash.
BMW R 1250 R servicing & warranty
The BMW R 1250 RS is covered by BMW Motorrad Australia's three-year, unlimited-kilometre warranty. The warranty period also includes comprehensive roadside assistance, available 24/7 every single day of the year. Scheduled BMW Motorrad service and maintenance costs can be covered by a single, one-off advance payment with BMW Motorrad Service Inclusive (BMSI), which is available in two packages: Service Inclusive or Service Inclusive Plus.
---
---
BMW Service Inclusive covers a wide range of maintenance work, including oil service, oil, air and fuel filter change, the 1000-kilometre first check, valve clearance check, fork and gearbox oil change, spark plug replacement, and CVT belt change. The BMW Service Inclusive Plus package also covers front and rear brake and disc changes. Both Service Inclusive and Service Inclusive Plus can be selected as either a three years / 30,000 kilometres or five years / 50,000 kilometres program and is transferrable.
---
2019 BMW R 1250 RS Exclusive Gallery
---
---
The Verdict | Review: 2020 BMW R 1250 RS Exclusive
The 2019 BMW R 1250 RS is a versatile sports tourer that is a true wolf in sheep's clothing. Boasting full TFT technology with BT integration, the most powerful BMW Boxer engine yet and a price tag under 26 grand ride away, the R 1250 RS is worth a test ride. Here is our R 1250 RS video review…