The new Z650L is here and Jack has spent the last few weeks testing it; from commuting every day to giving it the beans on the twisties! Review: Jack Maguire Photography: Heather Ware
The Kawasaki Z650L has been updated for 2020 with a TFT dash and phone connectivity, a larger CAT for Euro4, Dunlop Sportmax 2 hoops, a thicker pillion seat and a restyled LED headlight and radiator shrouds. Check out our 2020 Kawasaki Z650L review…
Like a well-trained pit-bull, the Z650L is well and truly capable of being a monster – an aggressive nature certainly highlighted by a sharp, muscular design and a deep exhaust note when on the gas. A machine that can also be your best-friend and will forgive you for your foolish human mistakes.
As soon as I see this bike in the flesh I immediately appreciated how great it looks in this colour scheme; Pearl Blizzard White/Metallic Spark Black, which I think is the better of the two colour schemes Kawasaki offers. The green frame against the black and white bodywork contrasts brilliantly and makes for a stunning look. The new model has a sharper, more compact cowl and more muscular radiator shrouds, which make it look more aggressive and bring it closer to the look of the new Z900.
THE RIDE
This machine is certainly a step up from the old faithful Honda CBR300R that I flog every day and from the moment I swing my leg over the new Kawasaki, which is a suprisingly small bike for a 650, there is just something different about riding a bike with a little more edge. Planting my ass on the firm seat, I first notice how comfortable the ergonomics are for my 183cm frame. The Z feels sporty, but not too sporty that it's uncomfortable, which is great. The sidestand is easy to access as well. Tick.
Turning the key and pressing the starter button, the bike comes to life with ease and urgency and my short love affair with this bike begins…
I set off from Kawasaki and within five-minutes of navigating Sydney traffic, I feel right at home. I'm super impressed with how friendly this machine is but how at the same time it could be so much more than just a 'learner bike'. All of the controls are easy to reach and in comfortable positions, with an adjustable brake and clutch lever span, the latter super light and smooth, and the mirrors are decent and vibe free. There is little heat off the engine and almost zero vibrations in the entire rev range.
The TFT dash is super easy to read even when in direct sunlight. It has all the usual info such as a tachometer, speedometer, odometer, etc and also includes heaps of useful features such as range, average speed, average fuel consumption, plus has smartphone connectivity so you can navigate music, calls and messages but not maps/directions.
Jeff is along for the ride and sets the pace on the Z900 he is testing, a much quicker, stronger machine – with me following close behind on the Z650L. The Z650L no doubt would be eaten alive if it became competitive but still has enough punch to keep up and is a bunch of fun from the get go.
---
---
The Z650L's 649cc parallel twin motor gives the bike smooth, strong low and mid-range performance and feel, revving out to 13,000rpm. Power delivery overall is quite smooth, which means it can be easily controlled and should inspire confidence in learner riders. Fuelling is smooth, except for some moments at low speed, where it is a bit choppy from closed. Final gearing is short for a new bike, taking advantage of that parallel twin punch between sets of lights…
---
---
In fact, pulling away from the lights, I am impressed that this machine has some grunt to it, with a power-to-weight of 0.202kW/kg, and it manages to put a grin on my face every time we stop and start on our way through the outer suburbs en route to the hills… the gearbox is slick and positive too.
---
---
Taking it around the twisties is a ball of fun, where the strong mid-range really shines. The Z650L has a pretty basic but sporty suspension set-up, which just adds to the pleasure of hammering it around the smooth twisties, yet is nice and stable on even the bumpiest of backroads. I do notice that it likes to ride on the rear a bit, particularly off the corners and in change of direction. It likes 'peg input and feels like it has a rearward weight bias. It's not a problem, it just needs a slight change of riding style.
The Z650L comes with a slipper and assist clutch, which makes shifting super easy as I chase Jeff, and helps with stability and fast corner entry, as it stops the rear from locking up as I bang down through the gears. It's a feature that a learner would benefit greatly from. However, the slipper clutch does of course limit engine braking on those downshifts.
---
---
The Zed comes with ABS as standard and the brakes on the bike are good quality and have excellent stopping power with a progressive yet ample amount of initial bite. As I fang from corner to corner, braking deep into turns and really pushing the front Dunlop, it's clear there is plenty of power to perform emergency braking manoeuvres and get hard on the brakes with the ABS not intruding.
---
---
One of the things that impresses me the most about this bike is how it behaves in the twisties. The Z650L is quite light for a 650, weighing in at 187kg, which means that its a breeze to corner and makes line changing really easy. I feel I can put the bike wherever I want to, on or off the anchors, and it won't punish me for messing up my line, which I think is great particularly for the inexperienced rider, or in this situation where I am unfamiliar with the tricky roads we are on. Even for an experienced rider, making mistakes aren't uncommon and it's nice to have a machine that you can exert maximum control over and it will reward the rider by tracking in the desired direction.
---
---
The Zed Six has new Dunlop Sportmax Roadsport 2 tyres, which do an awesome job in the dry but I could certainly feel it sliding at the rear in the rain coming out of the corners later in my test period, at one point where I was pushing a little more than usual. At a regular pace, the Dunlops are fine in wet or dry conditions. There is no TC, which is fine, the engine is LAMS approved and not a Z900 tyre shredder so it is no deal breaker!
Initially the Z650L we had was certainly quite a thirsty beast. The tank was just full when I left Kawasaki HQ, and it had a range of over 250km showing. But after 150km of riding the range was reading less than 50km with a near empty tank. Fuel consumption thankfully started to mellow out though once the motor was run in more, with the consumption averaging 4.94L/100km over the 1000km I travelled.
EVERYDAY LIVING
Doubling on the Z650L is nice and easy and comfortable too, with Kawasaki increasing passenger comfort by implanting thicker urethane in the rear seat. Thanks to the easy ergonomics, manoeuvring with a passenger clinging to you is easy. Even taking the bike on the twisties with a passenger is a breeze and the bike handles well, which is one advantage of a full sized LAMS machine.
Another great thing about the Z650L is that it's a jack of all trades when it comes to road riding. I spent 10 days clocking up that 1000km through a mixture of daily commuting and hooning about on the back roads and it did both of these really well. It has the comfort that you would look for in a daily ride, yet has the capability to go quick in the corners and on the straights for weekend blasts.
The finish and quality of the bike is a high standard, however I couldn't help but notice some vibration noise that was possibly coming from the indicators flapping around in the wind. The Z650L has neat LED lighting all around, with LED indicators, headlight and taillight. One particular feature I though was really cool was the taillight, which displays the letter 'Z'. The finish of the paint looks awesome also and has a beautiful sparkle in the sunlight too.
---
---
The 2020 Kawasaki Z650L is available for $10,499 + ORC, with the Kawasaki website quoting $11,734 ride-away for my local area. That means that it's costing you approximately $35 more than the Yamaha MT-07LA, $632 more expensive than the Honda CB650F, and $4,944 more than the CFMOTO 650NK. The Z650L is a great choice if you have that extra cash to splash.
CONCLUSION
My love affair with this motorcycle came to an end after a short, but well-lived 10 days. I was very reluctant to hand the keys back over to Kawasaki – the Z650L would be an awesome bike for anyone from a learner to an experienced rider, and is definitely a consideration if you are in the market for a middle-weight naked or in the market for a comfortable and reliable daily machine with a sporty essence. It's definitely worth your time to visit your local Kawasaki dealer, swing your leg over one and see for yourself!
---
---
2020 Kawasaki Z650L Tech Talk
The 2020 Kawasaki Z650L features a liquid-cooled, DOHC, eight-valve 649cc parallel-twin that delivers smooth, responsive performance especially in the low and medium rpm ranges to inspire confidence in new riders.
Changes to this year's model include a larger CAT (adding 1kg to the weight of the bike) for cleaner emissions that comply with Euro4 standards, new Dunlop Sportmax Roadsport 2 tyres, a rear seat with 5mm thicker urethane for increased passenger comfort, and a stronger 'Sugomi' presence. That includes a sharper, more compact cowl and more muscular radiator shrouds, as well as a new LED headlight and colouring.
---
---
A slim airbox uses a single air intake hole and intake funnels designed for strong low-mid range performance and response. 36mm Keihin throttle-bodies contribute to strong low-mid range performance and response. Sub-throttles ensure smooth, sensitive throttle response.
Fine-atomising injectors delivering 75μm droplets, ensuring the ideal fuel-air mixture needed for the low-mid range focused engine. Intake and exhaust cams with short operating angles and overlap also move the torque curve toward the lower end of the rpm range.
The open-deck aluminium die-cast cylinder contributes to light weight and plated, liner-less cylinder bores enable a narrow cylinder pitch to enable a slim engine width. The triangular layout of the crankshaft and transmission shafts also makes the engine very short front-to-back. The 180° crankshaft drives a balancer shaft for silky smooth engine operation.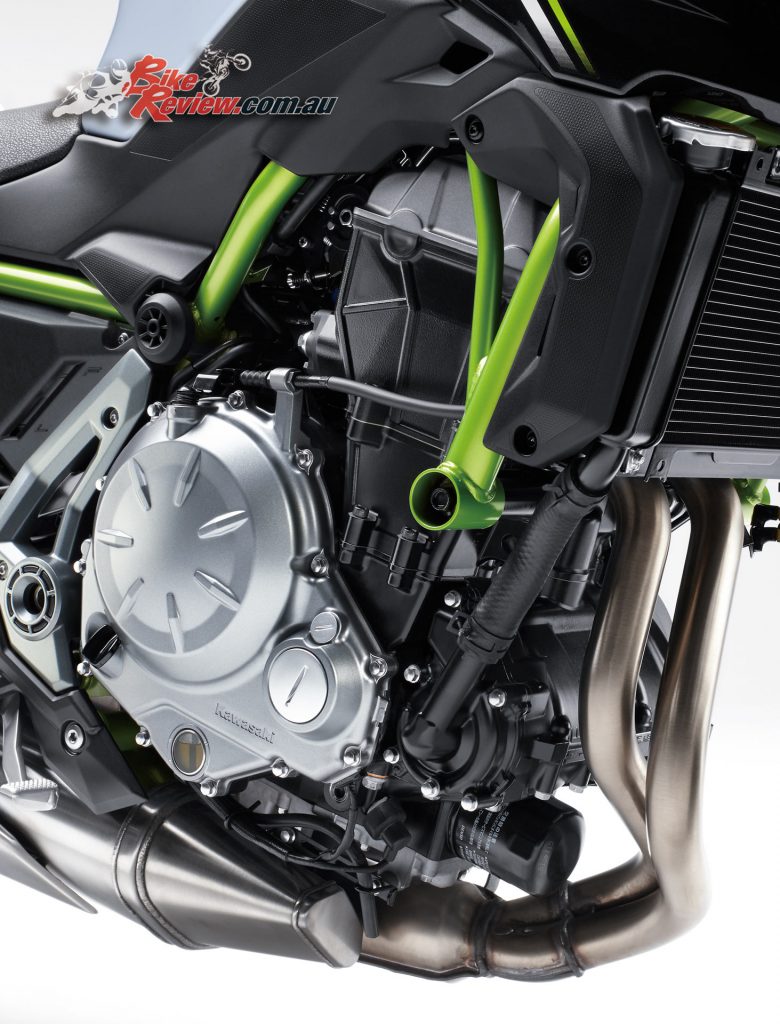 An auto-fast idle system simplifies starting and ensures the catalyser reaches optimum temperature quickly. A simplified cooling system routes coolant through the engine cases to the cylinder and head to reduce external plumbing, while hot air off the radiator is directed down under the bike.
---
---
An assist and slipper clutch has also been added and uses two types of cams (an assist cam and a slipper cam), offering two new functions not available on a standard clutch. When the engine is operating at normal rpm the assist cam functions as a self-servo mechanism, pulling the clutch hub and operating plate together to compress the clutch plates. This allows the total clutch spring load to be reduced, resulting in a lighter clutch lever pull when operating the clutch.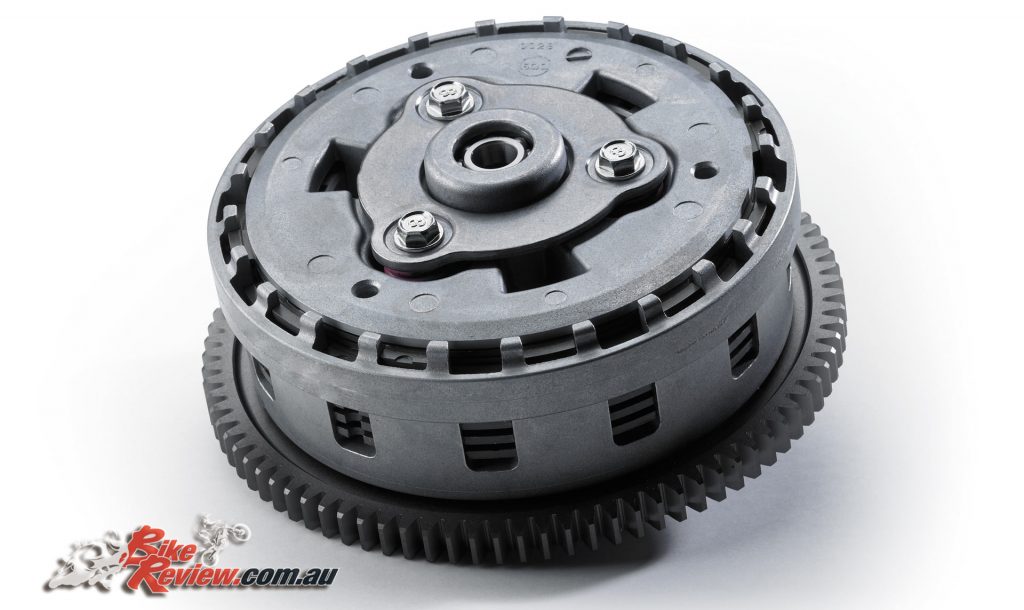 When excessive engine braking occurs – as a result of quick downshifts (or an accidental downshift) – the slipper cam comes into play, forcing the clutch hub and operating plate apart. This relieves pressure on the clutch plates to reduce back-torque and help prevent the rear tyre from hopping.
The chassis has also been an area of intense focus with the development of the Z650L, with the combination of 790mm seat height and slim chassis making for an easy reach to the ground.
One of the key components is the frame which weighs only 15kg and contributes significantly to the bike's light, nimble handling. The lines of the frame were made as straight as possible, and when bends were necessary their angles were made as small as possible, resulting in a design that disperses stress extremely well.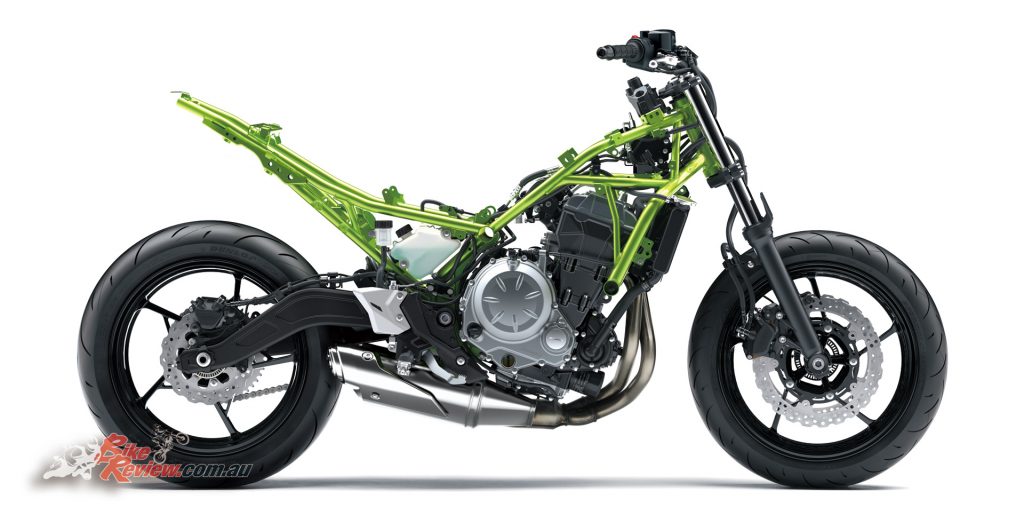 The rigid-mount engine is a stressed member, contributing to the frame's idealised rigidity balance. Even the footpeg stays are used as stressed members, further contributing to the frame's rigidity and light weight. With the swingarm, similar to the frame, the line from the pivot to rear axle was made as straight as possible. The lightweight design of swingarm at 4.8kg also contributes to the bike's light, natural handling.
---
---
41mm telescopic non-adjustable forks handle suspension duties up front and a horizontal Back-link rear suspension offers a progressive character with preload adjustability. The rear suspension positions the shock unit and linkage above the swingarm for mass centralisation and to ensure operation is not affected by heat.
Dual 300mm front petal disc brakes and a 220mm rear deliver plenty of braking power while contributing to the bike's sporty image. Dual-piston front calipers, master cylinder and brake pads offer controllable braking performance. A Bosch 9.1M ABS is also standard fitment on Australian models.
Both clutch and brake levers are five-way adjustable, able to accommodate a variety of hand sizes for increased comfort. Star-pattern five-spoke wheels contribute to light weight, while their high rigidity benefits handling
For 2020, Kawasaki have given the Z650L a TFT colour dash with smartphone connectivity. Smartphone connectivity means that riders can link their phone to their bike using Kawasaki's Rideology app. Riders will be visibly notified through an element on the TFT dash that appears when the rider's phone receives a notification, and riders will be able to view vehicle information, a riding log and can adjust settings on the dash through their smartphone.
Other features include an LED taillight, which lights up in an "Z" pattern, luggage hooks built into the passenger footpeg stays, providing convenient tie-down points, and an inner fender that incorporates part of the chain guard to help keep the underside of the tail cowl clean and contributes to the aggressive Z styling.
---
---
2020 Kawasaki Z650L Specifications
Price: $10,499 + ORC
Claimed Power: 37.8kW[50.7hp]@8000rpm
Claimed Torque: 59.0Nm[43.5lbs-ft]@6,500rpm
Wet Weight: 187kg
Fuel capacity: 15L
---
Engine: Four-stroke, two-cylinder, DOHC, four-valve, 83.0 x 60.0mm bore x stroke, 649cc, 10.8:1 compression, Euro4, EFI with dual 36mm Keihin throttle-bodies
Gearbox: Six-speed
Clutch: Wet, multi-plate slipper with cable actuation
---
Chassis: Trellis frame, high-tensile steel
Rake: 24.0°
Trail: 100mm
Suspension: 41mm telescopic forks, 125mm travel, horizontal back-link with adjustable preload, 130mm travel
Brakes: ABS, 300mm semi-floating rotors, dual piston calipers (f), 220mm rotor (r), single-piston caliper
Wheels & Tyres: 17 inch wheels, Dunlop Sportmax Roadsport 2 tyres, 120/70ZR17 (f), 160/60ZR17 (r)
---
Dimensions
Wheelbase: 1410mm
Seat height: 790mm
Ground clearance: 130mm
Overall width: 765mm
Overall length: 2055mm
Overall height: 1065mm
Instruments: TFT colour instrumentation with smartphone connectivity
---
---
2020 Kawasaki Z650L Gallery
---
---
The Verdict | Review: 2020 Kawasaki Z650L LAMS