The Harley Sportster S has touched down and is available to test ride from the 15th Jan! Jeff was recently let loose on the beast in Sydney, check out his review... Photography: Incite Images Team
"The Sportster S is the next all-new motorcycle built on the Revolution Max platform and sets a new performance standard for the Sportster line," said Jochen Zeitz, Chairman, President and CEO, Harley-Davidson. It sure as hell is, Jochen. It's an absolute weapon!
Just when my long sleeved shirts finally reach my wrists again after the Pan America stretched my arms an inch, I'm off to stretch them again on the Sportster S. I'm going to have to get a new leather jacket if I keep riding these Revolution Max powered H-Ds… I'll be dragging my knuckles soon.
It's not like there is any chance at all of showing self control with these motors. Nobody can fight the urge to open up those throttle-bodies and feel the rush… Especially not a hyperactive and impulsive person. Not that I know any of those… What? Me? Seriously?
---
---
Arriving at White Bay Cruise Terminal on Sydney Harbour, where Harley had, as you do, set up a racetrack for us, I was so excited that the only thing I could do was grab my hot coffee off the barista and pour it all over myself. You had to be there. It was the only way I was going to snap out of the mania I was experiencing – delusions of rolling burnouts and wheelstands on an exclusive wharf overlooking Sydney CBD. Wake up!
---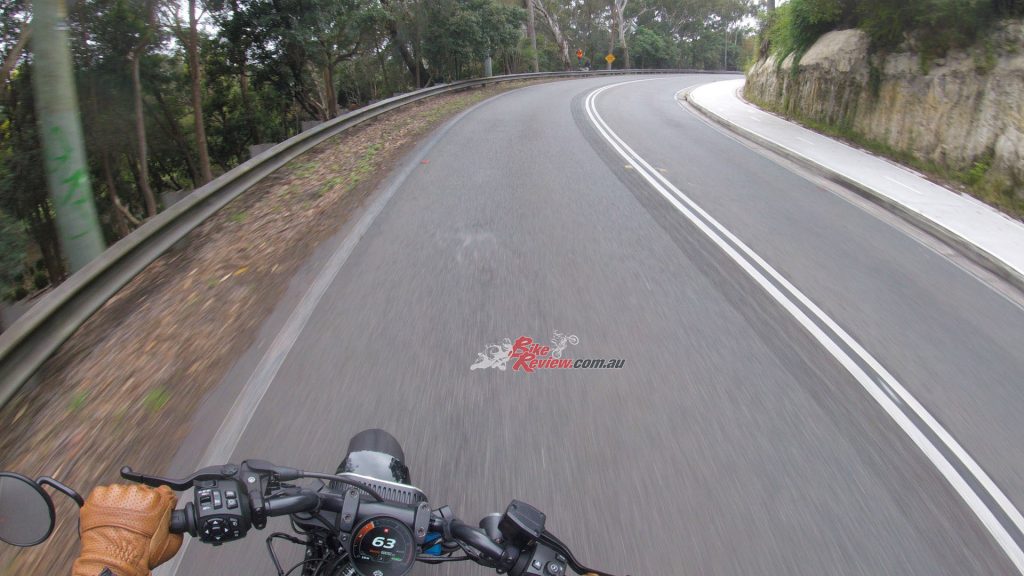 ---
There could not possibly be a cooler place or a more rad way to launch the new Sportster S. An urban outlook among industrial heartland, a fun road loop that suited the bike and our very own TT course! Harley promised big things from the Sportster S and we were going to find out, throttle pinned! Before, though, it was time to be serious and learn about the Sportster S with a tech presentation and even the opportunity to chat with the development team live from Milwaukee. We were very fortunate journo's.
One question that was on my mind was whether the Sportster S or the Pan America came first? Which model was the Revolution Max powertrain initially designed for? Was the Sportser S always going to be a Sportster?
---
The Sporter S wasn't always going to be a Sportster, however, after much discussion it was decided it would be the machine to continue the name…
---
The team in the USA all had a say, and the answers were really quite interesting. The bikes grew in concept together. The platform around the Revolution Max engine was a natural development that fell in place, the Sporter S wasn't always going to be a Sportster, however, after much discussion it was decided it would be the machine to continue the name…
You can check out my Pan America Special review here. You'll read and see what a huge impression the Revolution 1250 Max engine made on me. The Revolution Max 1250T has impressed me further still. The changes bring power from around 160hp to 120hp but torque is arm-pulling and 700rpm lower in the range.
---
Read our full Technical Rundown on the Harley-Davidson Sportster S here…
---
It has smaller valves, different cams and cam timing, different ignition timing, smaller throttle-bodies and a bunch more you can read about in the tech breakout. In short, it is more responsive and punchy, suitable for road riding and acceleration. It tell you, it's a stump puller!
The chassis of course is all-new and features some really good kit such as top spec SHOWA BPF forks, Brembo radial-mount monoblock front caliper and Brembo rear caliper, SHOWA shock and a full electronics suite (Cornering Rider Safety Enhancement) that offers three preset riding modes, a couple that are customisable, plus cornering TC and cornering ABS. The electronics are dialled in very well, as we found out with a perfect variety of conditions to test the Sportster S, literally four seasons in one day, which for us test riders is perfection! 
THE RIDE
Heading out of White Bay and over the Glebe Island Bridge to take in a loop that took us through some of the most iconic parts of Sydney was a fantastic way to experience the Sportster S and a great environment to see how it rides in the concrete jungle. It excelled and would be a fun commuter…
---
Navigating the dash came instinctively and in a few kilometres the Sportster S feels familiar.
---
My first surprise as I hop on the Sportster S and head out on the ride is how well I fit on the bike. I've read and watched the USA reviews and heard some heavy criticisms about the forward pegs placing too much cruiser style weight on the lower back and taking leg control away. Not the case for me, I can easily weight the pegs and use my legs like I normally would on a nakedbike for instance.
---
---
The ride triangle is compact but comfy and feels sporty for a cruiser. No terribly bad heat on my right leg (and I was not wearing bike jeans, but a hot day may be different), the bike is well balanced and very easy at low speed and clutch take up is smooth and linear. The controls fall naturally to hand and the switches are the same as the Pan America, which look way more complex than they are. Navigating the dash came instinctively and in a few kilometres the Sportster S feels familiar.
I start out in Road mode and the Revolution Max 1250T still pulls like a freight train, with a tiny delay right off a closed throttle, then as soon as the revs rise a bit the thing just want to go! I was grinning big time by our first stop, Luna Park area, and there were knowing glances among the other media as we all started to play up doing small wheelies and stuff.
---
Punch, followed by arm-stretching torque from 4000rpm, front wheel wanting to go up…
---
It took all of 10-minutes for the Sportster S to make me immature and irresponsible. That's a big tick right there! I'm soon in Sport mode. Phwoar! Now we are talking… Punch, followed by arm-stretching torque from 4000rpm to 6000rpm, front wheel wanting to go up… It flattens out up top where the Pan Am takes off but the mid-range is something else!
---
---
The small loop under the HB to get some shots gives me the first opportunity to give the tight chassis a run. First up, ground clearance is less than I expected. Like most cruisers, it decks out quickly and I am scraping the footpegs around the roundabouts each lap of the shoot, already. Not to worry, it's good to know the limits quickly.
---
The steering is direct, responsive and accurate but is heavy due to the fat tyre and that does stand out at lower speeds. With that big front shoulder, there is also a slight weave as more road irregularities and tread pattern roll is directed through the wide, comfy handlebars.
There is plenty of grip, as the roads were not even fully dried. We had some rain in the first part of the ride, so I did flick it to Rain mode and felt the performance. Dulled down throttle and more intrusive and early TC and ABS, so a great safety package there for the rainy days.
So I'm grinning and laughing out loud during the shoot as we are all having a bit of fun. We hit the expressway next, a very short run, but a chance to try the cruise control out and feel what the comfort level is like at expressway speeds. I'm comfy, really comfy actually and surprisingly there is very little wind buffeting, in fact, crazily, less than there is on the Heritage Softail Classic I just returned, with the huge windshield! The wind comes up off the Sportster S headlight and dash and goes over the top of my head. No windsock effect on this nakedbike… The cruise works well, as on the Pan America.
---
As I cruise along the expressway I'm surprised at just how smooth the bike is. There are no vibes coming through the footpegs, bars or seat. The ride is firm, most small bumps are felt with a jolt through the back and handlebars. With such a small amount of rear travel, and a sporty damping and spring rate in the BFPs, the ride is far from luxurious. The price to pay for fun and agility… and a low seat height. Doesn't bother me. I grew up riding racebikes and sportsbikes. I'm happy with it.
We hit some local twisties, just a few corners with a roundabout at each end, for laps up and down to get video and photo assets and get a feel for the chassis. I have rear preload set to exactly halfway. Forks are standard. With the smooth surface and lots of grip, the Sportster S is planted and feels great through the sweeping turns we are going up and down. The fat front tyre surprisingly OK for direction change and line holding. I'm looking forward to getting the bike out on more roads in a few months.
The front Brembo caliper is solo and could really do with the back up of a second rotor. Initial bite is conservative, and there is not much feel in braking modulation. The performance is there with a hard enough squeeze, but at this level of performance motorcycle a lighter touch at the brake lever that produces stronger initial braking would really improve corner entry, front-end control and general rider confidence in keeping the bike balanced.
---
---
Too much effort is required on initial braking squeeze. The rear is similar. Both together work well, strong enough for most situations. But when pushed hard later in the day doing laps, I found I really wanted another front disc to pull the Sportster S up…. But we were riding pretty hard. For less experienced riders, the 'low impact' braking setup will be appreciated as it is not at all intimidating and there are no sudden eyeball popping moments…
---
THE WHITE BAY, WHITE KNUCKLE TT!
After a short ride back to White Bay in typical urban traffic and roads, again a good opportunity to get a feel for the bike, play with the easy to read and navigate dash a bit more and feel the gearbox, clutch and smoothness of the bike, we had the absolute coolest experience I recall for a long time at any launch – that is, laps of a marked out TT style circuit around the cruise terminal.
I kid you not. By the harbour, on a giant wharf, with a decent straight and a back section, some wet patches for testing electronics and some very hard braking and acceleration areas. All with the Sydney CBD right there. Mental! It meant we could learn a lot in a short time in a controlled environment.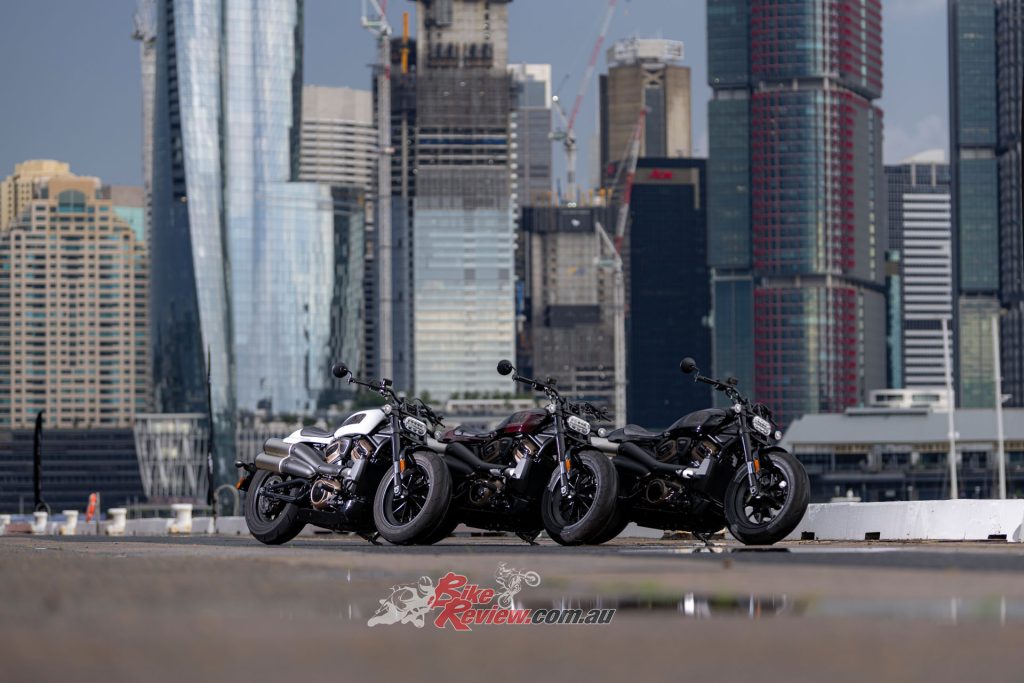 First off, some rolling burnouts and wheelies for the camera. Too easy on the Sportster S, it has so much grunt that it will lift the front wheel with no clutch, just a light tug on the handlebars and up it comes under power! Burnouts? I did an all-gear one and the Revolution Max 1250T didn't even break a sweat. A big motor in a small, lightweight (for a cruiser) package is a recipe for smoke!
Lapping in the White Bay White Knuckle TT gives me a perfect opportunity to test the full electronic suite. I stuck it in Sport and ran with the presets. First of all, a long straight along the wharf with a top speed just nudging 160km/h before braking VERY hard into a right-hander, really showcases the fantastic traction control. It is not at all intrusive, with me holding the bike a full gas and flat changing, but I can feel it digging for traction over the concrete surface.
---
Onto the straight, there are large puddles, dry areas and even some cast iron sunken rails (possibly for cranes) in the ground and after a few las to feel the TC I am going through that final section at close to full lean, almost on full throttle, and letting the cornering TC do its thing perfectly… Clicking the gears is precise and smooth, with a fairly short throw. Nice.
Braking really hard for that first turn, the Sportster S pulls up, but a second disc would be fantastic for harder riding like this (which I guess only a small number of owners will do). Still, there is fantastic support from the SHOWA BPFs and turning-in on the brakes is easy, with high corner speeds partly thanks to the slipper clutch. Firing it out of year is a blast, a small jump, a bit of spinning before the TC stops it, then cross water, lights up again, stops then hard braking. A right flick, left flick and full throttle to a roundabout that really, really tests the brakes and front tyre!
---
---
The roundabout is a good test of the low speed balance/clutch/throttle/rear brake manoeuvrability of the bike, then full throttle in first, hitting the limiter, and again into the next right. Another long back chute and hard, hard braking over wet/bumpy surfaces shifting from fourth to first, before that run onto the wharf. Bloody magic and I would have ridden around until sunset if I was allowed!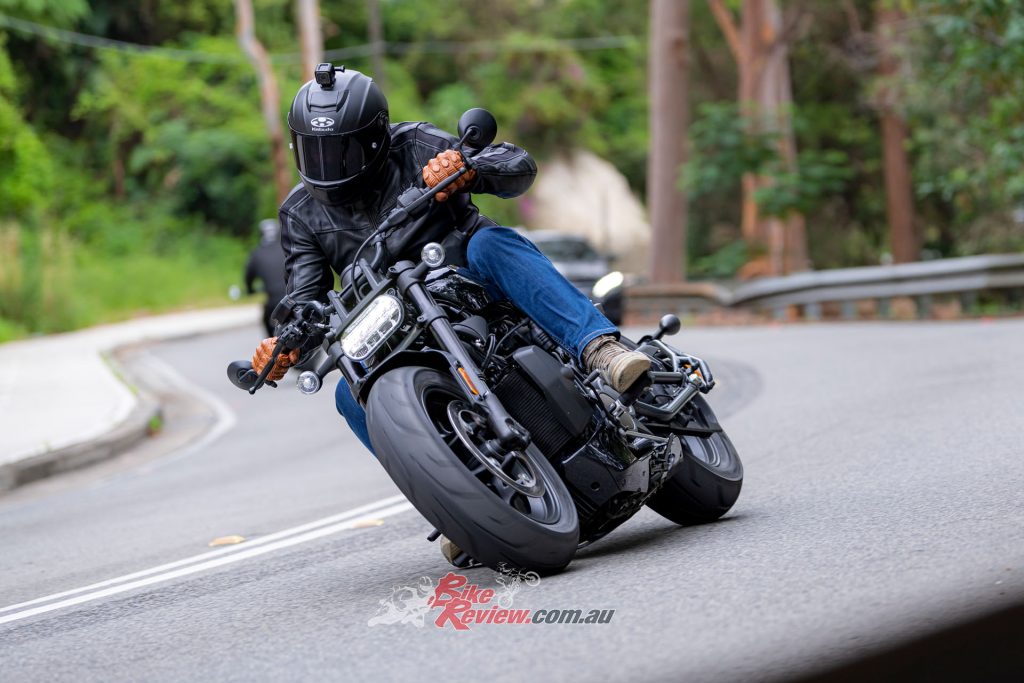 The cornering ABS and cornering TC were really put to the test and in the end I was confident to throw my faith at them for a few full noise laps and let them do their thing, so full throttle, full brakes, see what happens. The Sportster S keeps the wheels inline, very small amount of drifting through the turns, a few nice sideways slides towards the roundabout but all completely controlled. Very neat and well developed by Harley… It's an impressive bike.
---
Read our full Technical Rundown on the Harley-Davidson Sportster S here…
---
Likes? Pretty much everything. The styling, the engine, the chassis, the riding position and the overall performance are everything Harley promised. This is a very, very fun motorcycle with lots of personality and that every rare Grin Factor that is only engineered into the best of two wheeled machines. Dislikes? I wish it had a second front rotor and a quickshifter. That would really make my day!
We will be getting the Sportster S in for a two week test in Q1, where we will learn much more for you! Meanwhile, from the 15th of Jan you can test ride one at your local Harley-Davidson dealership…
---
The Sportster S is in Harley Davidson dealerships now with a base ride away price of $26,495, available in Vivid Black or Midnight Crimson. Head here to find out more!
---
2021 Harley-Davidson Sportster S Specifications
https://www.harley-davidson.com/au
Price: From $26,495 Ride-Away
Warranty: two-years unlimited km
Colours: Vivid Black, Midnight Crimson and Stone Washed White Pearl (extra $295).
Claimed Power: 90kW
Claimed Torque: 125Nm@6000rpm
Wet Weight: 228kg
Fuel capacity: 11.8L
Service: First 1600km every 8000km thereafter
---
Engine: Revolution Max 1250T, 1252cc, 105 x 72.3mm bore x stroke, 12.0:1 compression ratio, ESPFI, 2-into-1 shotgun; catalyst in muffler
Gearbox: Six-speed, Primary drive 49/89
Fuel Consumption: 5.1L/100km
---
Chassis: Mild steel tubular frame
Rake: 30° Trail: 148mm
Suspension: 43mm inverted fork with compression, rebound and spring preload adjustability. Aluminium fork triple clamps, linkage-mounted, piggyback monoshock with compression, rebound and hydraulic spring preload adjustability.
Brakes: Radially mounted, monoblock, 4-piston caliper with a 320mm diameter disc Rear: floating, single piston caliper with a 260mm disc.
Wheels & Tyres: Aluminium cast, satin black, Dunlop/Harley-Davidson Series GT503 tyres
---
Dimensions:
Wheelbase: 1520mm
Ground clearance: 90mm
Overall Length: 2270mm
Lean angle: 34º
---
Instruments & Electronics: 4in viewable area TFT display with speedometer, gear, odometer, fuel level, clock, trip, ambient temp, low temp alert, side stand down alert, TIP over alert, cruise, range and tachometer indication BT capable – phone pairing to access phone calls, music, navigation (H-D App ONLY). All LED headlamp, low and high beam with signature position lighting. All LED Tail/Stop lamp with signature tail lighting.
---
2021 Harley-Davidson Sportster S Gallery
---
The Verdict | Review: 2021 Harley-Davidson Sportster S, Aussie Launch