Jeff has been buzzing around on the Super SOCO CPx electric scooter to see how it stacks up compared to the TC MAX and other middleweight commuter scooters...
Electric bikes and scooters are a category that continues to expand. Our first electric test was only a few years ago, the Fonz NKD. We now have an Electric category that is rapidly filling. The latest battery powered beast on review is the stylish Super SOCO CPx scooter.
Super SOCO have a range of five models here, the TC MAX (two versions) the TC, CUx SE Ducati and the stock CUx. Check out their website here for more info on those models…
The Super SOCO TC MAX is one of my favourite scooter/moped category machines, electric or not. It is fun, zippy, great handling and very well finished, so I was eager to get the CPx in for review after my TC MAX experience. The CPx is the same price as the TC MAX, so I expected big things…
---
---
The CPx has some great features, such as LED lighting, reverse, linked brakes, large 16in and 14in wheels, a screen, USB port, a dual battery capability, centre-stand, a keyless ignition, alarm, wheel lock and riding modes, so it is well equipped and on par with similarly priced scooters in the features area.
Speaking of price, the CPx is up there, however, we must remember that this is new technology and as electric scooters become more popular and further developed, they will come down in price. For now, those wanting to go electric will be paying a premium in all categories of two wheeled battery power. It does come with a 10,000km and two-year warranty, so that is good news…
---
---
Powered by a torque rich 4.8kW motor, the CPx is the most powerful in the Super SOCO range and is aimed at the 125cc petrol scooter market. Would you save money over a petrol scooter? Maybe, depending on battery price when the time comes to replace it. Right now an additional battery will set you back $2,300 so we can assume a price of $2000 – $2300, or around 1600L of fuel (over 30,000km on a 125cc petrol scoot, which would be close to due for an engine rebuild by then).
Super SOCO claim three to four hours charge time for the battery, and I regularly had it charged at the four-hour mark. Range is claimed to be 75km with one battery (as tested). I was not able to get more than 55km from a full charge and that was being as careful as I could, averaging 50km/h with necessary bursts to 60 – 80km/h. The ride modes are not much use in urban areas, probably only for CBD traffic. I kept it on full power at all times. Dual battery optioning would be a must for me but the $2300 premium would be a tough call to make.
---
---
On one trip of open road (70km/h) I only just made it home (32km return, 16km each way) and the CPx was in limp mode for the last 5km (walking speed even at full throttle, but with 10 per cent showing on the dash). I think 60 – 65kmkm would be possible in a CBD environment based on my testing.
---
The styling of the CPx is modern and I think it looks fantastic in the Titanium Grey as tested, with the yellow GT stripes and the 3D badging. The wheels look great, and the fit and finish are not too bad, however, overall there is a feel and look that is cheaper than the competition and even the TC MAX. The switches, black plastics and paint are not quite as premium as the price suggests… all of the money is in the battery and motor technology. Personally, I'm OK with that for sure…
---
---
Like most electric scooters, storage is compromised by batteries, however although a helmet won't fit under the seat, with the single battery model as tested there is some room for some shopping and there is a handy grocery bag hook on the front bodywork. Dual batteries would negate any under seat storage capacity though. Super SOCO have included an enormous and sturdy rear rack for owners, so that is very handy and would also easily accomodate a large top box.
The riding position is very comfy. It is roomy, even for taller riders such as myself, and the handlebars are well placed for commuter comfort. The screen does a great job and the seat is wide and very plush, as is the huge pillion seat. There are actually three foot positions each side for rider and pillion.
---
---
"It soaks everything up and with the soft seat, you really get a luxurious ride over even the big bumps… the CPx will easily sit on 60, 70, 80km/h and I pushed it to 90km/h on flat road and 105km/h downhill…"
---
The centre-stand is handy, the CPx is narrow and I was able to park it under the roof eve at my front door landing, keeping it tucked away and dry and on charge each night. The side-stand is easy to flick down but the CPx has a fair lean on it on the stand. Speaking of which, there is a stand on each side, how cool is that? I only used the left one!
---
---
Out on the road the CPx is a pleasant scootering experience. The suspension is soft and underdamped but that doesn't matter, it is not a MotoGP bike, it soaks everything up and with the soft seat, you really get a luxurious ride over even the big bumps. The CPx is slow off the mark, as mentioned, but it will easily sit on 60, 70, 80km/h and I pushed it to 90km/h on flat road and 105km/h downhill.
Where the CPx falls short a little is climbs. Even a gentle incline at traffic speeds will cause speed to drop away. It's strange, as at low speed I tested it from a stop up and down a few steep driveways no problems… So it will get up some steep hills at low speeds.
The CPx handles well, thanks to the large diameter wheels, but better quality tyres would be on my list once the Chinese hoops fitted were ready for the bin. They are fine in dry weather but I found them a tad sketchy in the rain, with the rear locking up very easily and regularly while braking.
---
---
In dry weather, the braking package is adequate but not a stand out feature. The system lacks feel and feedback, even by scooter standards, and the rear will lock up in heavy braking applications, so you just need to be aware of that and also allow extra stopping distance.
---
---
The LCD dash is simple and easy enough to read, there is not a lot to learn there, with trip, total, charge, ride mode and speed shown. There is also an ampere display for a bit of fun. It is easy enough to see at a glance and a simple layout, but glare can be an issue. At night the dash lights up well (as do the LED headlights), with the dash though, I could not find a button for menu and trip reset! The mirrors are wide and vibration free.
---
---
Overall I did enjoy the CPx and I can see why it is such a big seller in Europe as a delivery and commuter scooter, however, here in Australia the CPx would only be practical to those with very short commutes at low speeds, people who only do short trips to shops or similar, or running around, and don't plan longer runs.
It's as much a green choice as a cost effective choice, as we are yet to know if electric is really going to save dollars over fuel, but the CPx is different and it is fun! There are a few choices out there, like the TC MAX, Fonz Arthur and NKD to name a few. Try and ride them all!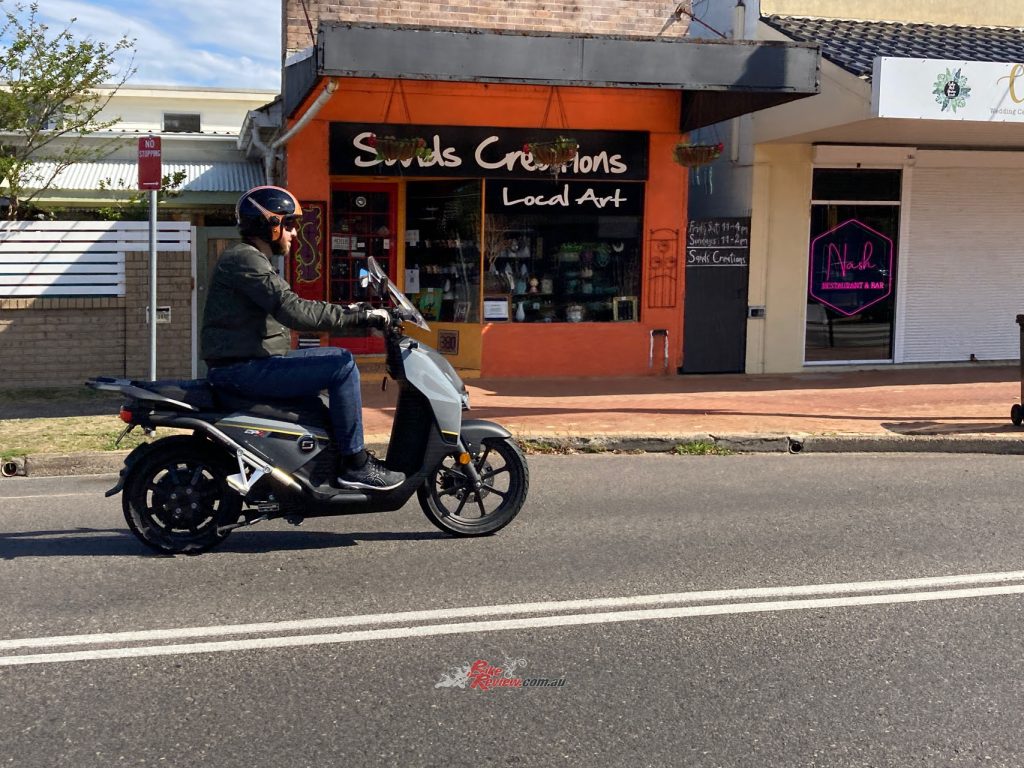 ---
You can pickup a Super SOCO CPx for $7,690 rideaway. Head here to find out more about the all electric scooter or get in contact with a Super SOCO Dealership.
---
2021 Super SOCO CPx SPECIFICATIONS
Price: from $7,690 rideaway
2-year 10,000km warranty
Colours: Phantom Black, Titanium Grey, Sonic Silver.
Claimed power: 4.8kW
Claimed torque: 171Nm
Climb angle: 17 degrees
Wet weight: 107kg
---
Engine: Super SOCO Patented Single Swing-Arm Motor with FOC Vector Controller 3.0
Battery: Removable – Lithium Ion (Capacity for two) 45 Ah per battery
Range: Claimed 75km (With one battery) 140km (With two batteries)
Charge: Four hours per battery, 90V-240VAC charger
---
Chassis: Steel
Rake: N/A
Trail: N/A
Suspension: Conventional front forks, non-adjustable, rear monoshock. N/A travel.
Brakes: Single floating caliper and 240mm rotor (f), caliper and 180mm rotor (r), combined system (rear lever activated one front piston).
Wheels & Tyres: Spoked wheels, 100/80-16in and 100/80 – 14in
---
DIMENSIONS:
Wheelbase: 1366mm
Ground clearance: 154mm
Seat height: 760mm
Overall height: 1442mm
Overall length: 2022mm
Overall width: 790mm
---
Instruments: LCD
---
2021 Super SOCO CPx Gallery
---
The Verdict | Review: 2021 Super SOCO CPx electric scooter