The Super SOCO TC MAX features a 3000 - 5000w motor, 95km/h top speed and is priced from $7,990 R/A... Test: Mike Cameron Video: Jeff Ware Photography: BikeReview
After riding the NKD and Arthur, I was itching to throw a leg over another electric bike. While visually the TC MAX style certainly appealed to me, what it would be like as a daily rider and how it would perform in the real world was another thing…
When Jeff showed up with the Super SOCO TC Max, I was quite taken by the looks of the machine. A blend of cafe racer with some futuristic modern touches, wrapped around a 5000W electric motor. The Ed delivered the bike to me with only a few per cent of charge remaining in the battery (thanks mate) so it was plugged straight into the wall for an overnight recharge. Alas my test would have to wait…
The starting procedure on the Super SOCO is more akin to a modern car with the familiar key fob to unlock the immobiliser and a push to start button where the fuel tank filler cap would normally be. This fake tank also houses a neat little storage area where you can carry the battery recharger or personal items. It's quite handy but a handlebar mounted button to open it would be a big plus.
THE RIDE
Apart from the start-up chime, which is reminiscent of Windows 95 boot up, it's all completely silent, and leaves you wondering if it's actually on!
---
---
Once on the road I was immediately impressed with the road handling. The linked brakes and the firm suspension are both very good for a bike of this size and class.
The bike has three output modes that determine the top speed. Otherwise there is no performance difference between modes. Mode 1 is limited to 55km/h, Mode 2 allows 70-75km/h and Mode 3 tops out at 95km/h.
---
---
The low seat height of 770mm is handy for the shorter riders and inspires confidence around town and in traffic. I found the seat quite comfortable during my test but didn't ride for more than one hour at a time. It really is a very easy bike to ride and is well suited to the LAMS novice rider.
Setting out on my usual 40km test route, which is a mix of urban and country B roads, the strengths and weaknesses became apparent fairly quickly. The powerful combined braking and the sharp handling, as mentioned previously, are superb and hard to fault, even on open winding roads.
Out on more open undulating country roads with an 80km/h speed limit, the electric motor struggles somewhat on hills with a gradient of more than 10 per cent, with the speed in Mode 2 falling from 75 to 50km/h over the crests.
---
---
A run up in Mode 3 at a faster pace would mean breaking the speed limit and using more battery life. On that same hilly road, a small capacity petrol bike would make it over while maintaining a constant 75 – 80km/h. However, we need to keep in mind this bike is for urban use and I was pushing the limits.
Acceleration is great from a standstill to 50km/h but when moving at speed it left me begging for a bit more grunt to push over steeper hills or for overtaking. The battery range is also a little optimistic (just like fuel consumption figures often are).
---
---
Unless you are riding on completely flat roads in Mode 1 at a constant speed, you will need to allow for a reduced range to that displayed. It just needs planning and experience with the battery range. Riding style and terrain really effect the range and you need to be mindful of this before setting out.
---
---
The LCD dash is adequate and clearly laid out but a resettable trip meter would be nice. Having a removable battery is very handy for parking on the street at work or home and charging inside. It's easy to take the battery out but it is very heavy. The belt drive is a nice touch and a positive for those who neglect traditional chain maintenance.
---
---
I'd really like to see regenerative braking introduced on future models and an option to change the start-up sound to something a bit less cheesy like a simple beep.  Also for Australian conditions, it would be more suitable to have the Ride Modes increased by 5km/h each.
---
---
That way they would top out at 60, 80 and 100km/h, which would be better suited to our Australian speed limits. I often found riding in our signposted areas that each mode was just a little short.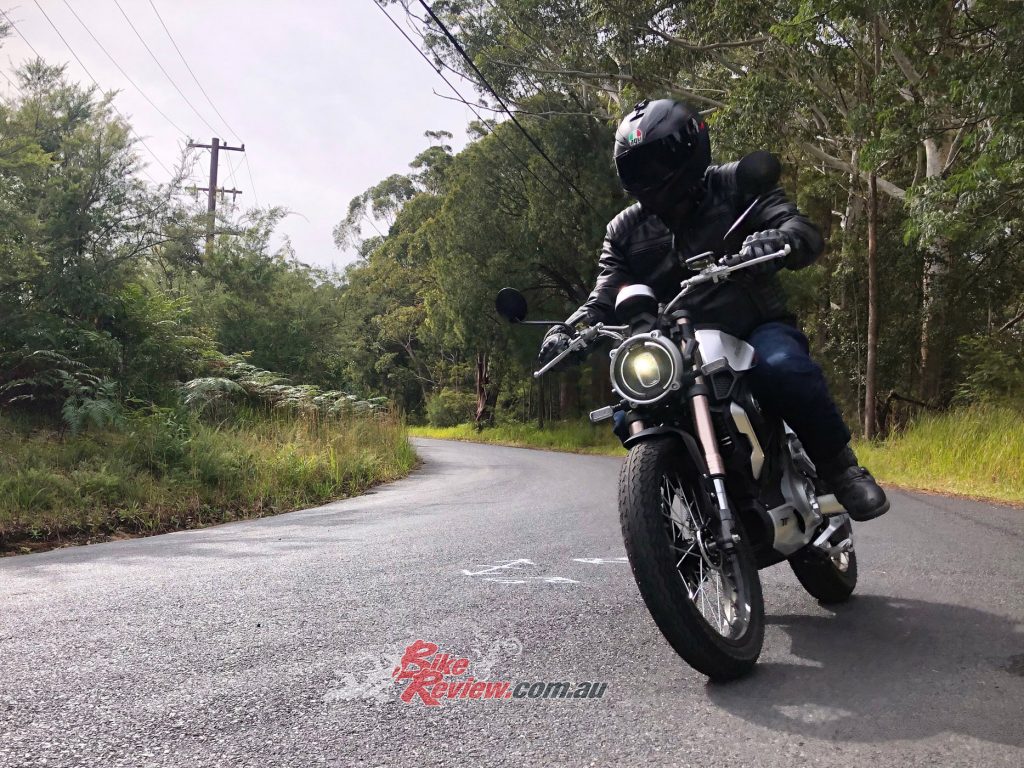 CONCLUSION
For the price point the Super SOCO TC MAX is really hard to fault. It is a fantastic city urban bike with green credentials, great looks and good handling to match. It is the urban and city environments where the TC MAX shines and I wouldn't hesitate to own one myself if I was back living in the city.
---
CHECK OUT OUR SUPER SOCO TC MAX VIDEO REVIEW


---
---
2020 Super SOCO TC MAX SPECIFICATIONS
Price: $8,290 (as tested) 2-year 10,000km warranty
Colours: Silver / Black
Claimed power: N/A
Claimed torque: 180Nm
Wet weight: N/A (150kg max load)
---
Engine: 3000 to 5000w centrally mounted electric motor
Battery: 60V 30Ah, 3240wH
Range: Claimed 110km
Charge: 8 – 9 hours, 240V
---
Chassis: Steel
Rake: N/A
Trail: N/A
Suspension: Conventional front forks, non-adjustable, rear monoshock. N/A travel.
Brakes: Two-piston floating caliper and 240mm rotor (f), single piston caliper and 240mm rotor (r), combined system (rear lever activated one front piston).
Wheels & Tyres: Spoked wheels, 90/80 – 17in and 110/70 – 17in
---
DIMENSIONS:
Wheelbase: 1320mm
Ground clearance: 40-degrees
Seat height: 770mm
Overall height: 1047mm
Overall length: 1963mm
Overall width: 710mm
Instruments: LCD
---
---
2020 SUPER SOCO TC MAX GALLERY
---
---
The Verdict | Review: 2020 Super SOCO TC Max Electric Bike, Including Video
The Super SOCO TC MAX offers real bike handling in a lightweight package. With a range of up to 110km and a full charge costing around 45c, motorcycling doesn't get much more economical! Check out our full written and video review.