After the Australian launch was cancelled due to COVID-19, Tony has finally gotten his hands on the updated Triumph Speed Triple RS. Check out what he thought... Words: Tony Wilding.
For Triumph fans it has been a long time coming, an all-new Speed Triple. In this style with the single-sided swingarm and muscular alloy tubed frame, the Speed Triple has been with us since 1999 and has been an evolution ever since. Here is our review on the all-new model. 
---
Check out Alan Cathcarts Launch review of the Speed Triple RS here…
---
However, for 2021, the RS is new from the ground up and now has a 1160cc 3-cylinder engine that has used the development from Triumph's Moto2 race program, resulting in a whopping 177.5hp and 125Nm of torque, which in real terms means it's a whole load of fun. For full disclosure I love Triumph's, I've even owned a 2000 model bug-eyed Speed Triple, but as always, I will give a full and honest review on this bike, as I do on every bike.
It has been 21 years since we've had an all new model Speed Triple, the previous version has always been a great bike, but it was long overdue for a complete overhaul and I was more than happy to get the call to test this all new 1200 RS. I suppose the average none bike nut wouldn't be able to spot the difference between the outgoing model and the new one, which in itself is a testament for Triumph, which say's how strong the Speed Triple looks and brand really are, and this new RS really needed to be unmistakably, a Speed Triple.
---
---
When I first got the RS, I was handed the key-fob. I don't know what was wrong with a good old-fashioned key or maybe I'm just getting old, but I don't like them. Anyway, when I pressed the start button the first thing I'm greeted with was a welcome from the new 5-inch TFT dash. The dash itself is bright and clear, but a bit small when compared to some of its rivals.
It's easy to read the speed and gear indicator on the dash, but other information that is in the corners is in a small font and can be hard to see. However, if you click the toggle switch, you can reveal more information such as fuel usage, trip readings and a whole host of other features, which pop-up in a larger easier to read font.
---
---
I love the look of this bike, the pray-mantis style headlights and the absolute quality oozing from every component, such as the fully adjustable 43mm NIX30 Ohlins forks, the rear TTX36 Ohlins shock or the Brembo Stylema monobloc calipers.
---
---
Moving the bike off the stand and pushing it around, the RS feels light and compared to the previous model, has shed 10kg from a combination of a healthy engine and chassis diet. On the move the bike feels even lighter, more like the Street Triple 675 than a big 1200 monster. That was always my gripe with the previous model, it just didn't feel light and agile enough for me, but how things have changed. The cable operated clutch has a reasonably light feel and is easy to use and never tiring commuting through traffic.
The new triple comes with some pretty bar end mirrors that offer great vision behind, but don't stick out too much making lane filtering a breeze. The RS also feels fairly narrow between my legs, thanks to its 3-cylinder motor. I'm also a big fan of the wide tapered bars, which offer plenty of leverage making traffic and conner carving effortless.
---
---
On the freeway the cruise control works perfectly and holds my set speed well. A few years back I'd always thought it unnecessary on a bike, but now having ridden plenty of bikes with it, I'm a converted fan. Sitting at 110km/h at around 4300rpm I found very limited wind hitting me, I don't know how Triumph managed it, because there's hardly anything on the front of the bike to deflect wind, but somehow it does and is very pleasant riding until you reach silly speeds.
The ride positing is spot-on for my 182cm frame and the seat is surprisingly comfy and with the seat being narrower towards the tank, a smaller person should find it easier to get their feet down with the 830mm seat height.
---
---
The Speed Triple RS also has a simple navigational display that can be used via a downloadable Triumph app, which worked really well for me on the couple of times I tested it. You just type in your destination and simple directional arrows would appear on the TFT screen showing you to turn left or right in a certain distance – very simple and handy.
Riding on a freeway is fine and the RS can do that all day long, but the clever people at Triumph didn't design this beast to ride on freeways, it has been designed to carve corners and backroads or to stand still and just admire the intimidating muscular looks.
---
---
But for me it's all about the corners and I can't remember a bike I've ever ridden that's more capable on a twisty road than the new RS. The Triumph tips into corners almost without effort and is super sharp on change of direction, like I said earlier, it feels like a bike almost half its weight and if you find a smooth bit of the black stuff I doubt too many bikes would be able to keep up.
Another plus when picking up the pace is the up and down quick-shifter, again, it's the best one I've used. It works super smooth in both directions and doesn't require full throttle on up-shifts or a completely closed throttle on downshifts and really enhances the sporty feeling of the bike. The performance of the new engine is breathtaking, feeling even more so with it being a naked bike.
---
---
Acceleration is next level, and setting off drag style from a standing start, you are thankful for the wheelie control as the front wheel lifts in the first three gears, but is nicely controlled, gently coming down after lifting only 300mm or so. However, with the smooth fueling and the ability to switch maps, the RS is only as intimidating as you want it to be. There was a slight chain snatch feeling on my test bike, but this may have been an adjustment issue, either way, it never took away from the enjoyment of riding the RS.
For me the Ohlins suspension felt a tad on the firm side, not harsh, just more focused towards the sporty track side of things, which is a blessing when you're on the gas hard, on a relatively smooth road or doing a track day. Even so, it never gets unduly unsettled on the rough stuff and you wouldn't really want a bike like this with a super soft set up, because the RS really performs like a superbike and needs suspension to match. However, an electronic option would have been nice even if it was an optional extra. That being said, Jeff the Editor did a couple of hundred K's and thought the suspension was plush, but he is 20kg heavier than my 88kg frame.
The Brembo Stylema brakes are as good as it gets in the stopping department and I can't fault them in any way, feel and power is always there and you even get fully adjustable levers up front and the cornering ABS is adjustable and switchable through the map modes.
My only real complaint with the RS is that you can't separate traction control and wheelie control, they are interlinked and you can't disconnect TC while on the move, which means no hooligan wheelies without pulling over and having a long hard think about what you're about to do (thanks Triumph). I would also like a couple of more exciting colour options while you're at it.
---
---
I've said before on some of my test bikes, that I didn't want to hand the keys back, but that feeling is far more with the Speed Triple RS, there are really no real negatives about this bike and if you're after a bike with frankly ridiculous amounts of power and a chassis capable of handling it, which also looks amazing, then this is the bike for you. The biggest surprise for me after my 900km 10-day test was I still managed to keep my license…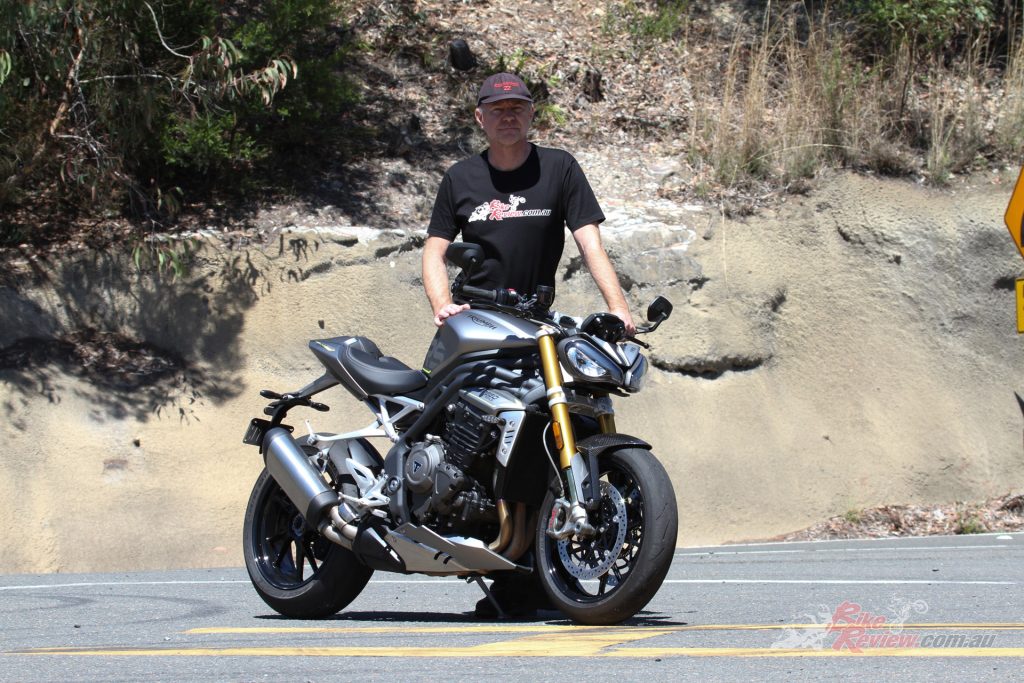 TECH TALK
To produce the most powerful and most torquey Speed Triple yet built, the same Triumph Motorcycles engine team which developed its 765cc Moto2 powerplant currently to be seen – and heard! – in action at a GP circuit near you, have created an all-new larger-capacity 12-valve three-cylinder Euro 5 compliant engine, with a 120° crank and offset chain drive to the DOHC.
Measuring 90 x 60.8mm for an 1160cc displacement (up from the previous model's 79 x 71.4mm 1050cc unit), this delivers a claimed 177.5bhp/132.4kW at 10,750rpm, a massive 49.5bhp/37kW more than before from an engine redlined at 11,150rpm, 650 revs higher than previously. Moreover, the extra dose of torque amounting to 125Nm/92ft-lb peaks at 9,000rpm, a significant increase from the outgoing Euro 4 model's 111Nm/82 ft-lb at 7,500rpm.
This has been achieved thanks to the entire powertrain being completely re-designed, with every single component re-engineered for increased performance and reduced mass, claims Triumph, making the new engine a significant 7kg lighter than before at 89kg, including the trio of throttle-bodies.
That's thanks to a lighter crank, hollow camshafts, various magnesium castings, a 60 per cent lighter lithium-ion battery resulting in a massive weight savings of 2.3kg alone, an all-new more compact, stacked six-speed close-ratio gearbox with lighter gear pinions, and a new slip/assist 10-plate clutch (albeit still cable-operated) with two fewer plates than previously thanks to a radical new friction compound, which Triumph says both helps minimise mass and improves clutch feel.
Compression ratio has been raised to a hefty 13.2:1 (was 12:1) via forged pistons and an all-new cylinder head, with revised porting and altered combustion chambers delivering a more efficient package. Among the engine's many leading edge components the valve train now features F1-type finger followers, the four valves per cylinder all have springs made from oval-section wire, and there are twin-tip sparkplugs with dual electrodes for increased durability at higher engine speeds.
This lighter and physically smaller motor has been installed in an all-new cast aluminium twin-spar chassis that's also 17 per cent lighter at 9.1kg, with the centre of gravity lower down within the same 1445mm wheelbase as before, and the weight distribution slightly further forward thanks to a longer swingarm, whose pivot is set 10mm higher than previously.
With a fully fuelled 15.5-litre fuel tank resulting in a kerb weight of 198kg, the new bike is 10kg lighter than the previous model, although that had a two-litre larger tank, so figure an 8.5kg weight saving. This delivers the highest power-to-weight ratio in the Speed Triple's history, says Triumph, so over 25 per cent greater than the previous model's, and nearly double that of the original 1994 Speed Triple.
The new frame carries fully adjustable Öhlins suspension delivering 120mm of controlled wheel travel both front and rear, with the 43mm NIX30 upside down fork set at a 23.9° rake with 104.7mm of trail, and a TTX36 twin tube monoshock with variable rate link worked by the cast aluminium single-sided swingarm. While the new bike only comes in RS guise, so there's no cheaper R version with less costly albeit less effectively damped Showa suspension, the Öhlins package fitted to the new Speed Triple is not the more adaptable but also costlier electronic semi-active system.
Brakes come courtesy of Brembo, and in keeping with the high end Öhlins suspension the twin 320mm floating front discs are gripped by the Italian company's range-topping Stylema Monoblock four-piston calipers, operated via a radial master cylinder with a separate reservoir. There's a single 220mm rear disc with twin-piston Brembo caliper.
A new lightweight design of black painted V-spoke cast aluminium wheels carry Metzeler Racetec RR K3 rubber, a 120/70 ZR17 up front and 190/55 ZR17 rear, the latter on a 6.00in rim. These are Metzeler's highest specification tyres approved for road use, but additionally, Pirelli Diablo Supercorsa SC2 tyres can be fitted to the new Speed Triple 1200 RS as a factory approved track option.
---
---
There's also been a step change in the Speed Triple's electronic package developed in conjunction with Keihin and Continental, with a new six-axis IMU enabling four-way adjustable lean-sensitive traction control, with integrated anti-wheelie control, both switchable. Also included thanks to this IMU is two-stage Cornering ABS (Road and Track) with the IMU continuously monitoring roll, pitch and yaw acceleration rates, to calculate lean angle and ensure the optimum braking force for any situation.
The system is adjustable through the all-new five-inch TFT dash and left-hand switch cube, and offers two selectable levels of intervention, Road and Track. Triumph says the new enhanced Track mode has been specifically designed to be as unobtrusive as possible, and virtually imperceptible during fast track riding, while still there to assist when needed. The ABS and TC settings are linked to the riding modes, but can also be adjusted independently if desired, or switched off altogether.
---
---
Both the TFT screen itself, as well as the user interface, are completely new, designed to allow the rider to apply more on-the-go adjustment compared to the outgoing model's electronic package, such as changing riding modes or TC settings while on the move. The new TFT display's configuration shows speed, revs and gear selected on its default display, but you can create space for any additional info or menus just by sliding the tacho to the side, in which case it'll squeeze itself into a distorted but strangely still readable elliptical contour that Salvador Dali would have been proud of!
Included as standard are the distinctive new full LED lighting, self-cancelling indicators, cruise control, a full keyless system for the first time on any Triumph model for ignition, steering lock and fuel cap, and the My Triumph Connectivity System. This allows Speed Triple owners to access turn-by-turn navigation via the free My Triumph app, as well as GoPro control, phone control and music operation, all controlled via the switch cubes and TFT screen.
---
2021 Triumph Speed Triple 1200 RS Specifications
Price: From $27,700 Ride Away
Claimed Power: 132.4kW@10,750rpm
Claimed Torque:125Nm@9,000rpm
Wet Weight: 198kg
Fuel capacity: 15.5L
---
Engine: Liquid-cooled, 12 valve, DOHC, inline three-cylinder, 1160cc, 90.0mm bore, 60.8mm stroke, 13.2:1 compression. Multipoint sequential electronic fuel injection with electronic throttle control.
Gearbox: Six-speed, X-ring chain, wet, multi-plate, slip and assist clutch.
---
Chassis: Aluminium twin spar frame, bolt-on aluminium rear sub-frame
Rake: 23.9° Trail: 104.7mm
Suspension: Front – Öhlins 43mm NIX30 upside down forks with adjustable preload, rebound and compression damping, 120mm travel. Rear – Öhlins TTX36 twin tube monoshock with preload, rebound and compression damping, 120mm rear wheel travel.
Brakes: Front – Twin 320mm floating rotors, Brembo Stylema monobloc calipers, OC-ABS, radial master-cylinder with separate reservoir, span and ratio adjustable. Rear – Single 220mm rotor,  Brembo twin piston caliper, OC-ABS. Rear master-cylinder with separate reservoir.
Wheels & Tyres: Front – Cast aluminium, 17 x 3.50in, Rear – Cast aluminium, 17 x 6.00in. Front Tyre – Metzeler RaceTec RR K3 120/70 ZR17, Rear Tyre – Metzeler RaceTec RR K3 190/55 ZR17.
---
Dimensions:
Length: 2090mm
Width (Handlebars): 792mm
Height Without Mirrors: 1089mm
Seat Height: 830mm
Wheelbase: 1445mm
---
Instruments & Electronics: TFT Dash, Two stage ABS, Traction Control.
---
2021 Triumph Speed Triple 1200 RS Gallery
---
The Verdict | Review: 2021 Triumph Speed Triple 1200 RS