The Vespa Pic Nic is here! Jeff and Heather took one home for a few weeks to test out its daily rideability and of course, its picnic compatibility, reliving memories of free days. Pics: Heather Ware
If you like to scooter in style, enjoy a weekend picnic in the park and want a premium scoot that is much more than a beat about daily commuter hack, then the Vespa Primavera Pic Nic 150 could be the one for you. I stepped back 20-years and enjoyed some time on one recently…
I have had a few scooters over the years and always enjoyed them, particularly when Heather and I lived in Sydney when we were young and kid free. One thing we often did was jump on our little Yamaha Scoot on a weekend and head to Glebe or Pyrmont (before all the apartments and parks were there) and find a spot on the harbour (there was actually some vacant land and bush there in the early 2000s), then we would spend a few hours having a nice picnic. It was awesome!
---
---
Kids arrived, we moved away from Sydney up the coast and scooters were no longer something we needed. Aside from the occasional test scoot, it's all in the past. However, when this little beauty arrived, it brought all those great memories back to us. When we picked it up, Heather's eyes lit up and she had a big grin. I don't see that happen with any other bikes. We could not wait to get out on it, but first I went out testing solo straight from the dealer that Vespa Australia had entrusted to hand over their press unit to us, Pro Racer in West Gosford, NSW (great shop for us local Coast residents)…
The first standout feature is there immediately as I ride up the street. It's the refinement and smoothness that only a quality scooter and particularly a monocoque Vespa can offer. Refined and balanced are words that come to mind… The 155cc 9.5kW/12.8Nm iGet engine will wind up but it takes time to get up to speed and inclines slow progress further.
Rushing is not part of the deal with the Primavera, so commuters in a hurry will be disappointed when they are beaten off the lights by the surrounding cars if they are expecting zippy acceleration. The torque delivery is smooth and linear, fuelling spot on and the iGet is one of the most refined engines out there, just don't rush it. Mind you, I am 95kg in gear, now that is only 20kg less than what Heather and I weighed combined 20-years ago when we had scooters! So in reality, it could well be zippy and I would not even know it! If you are a lightweight and ride one, let us know the verdict!
---
---
Top speed indicated on a long straight road was 105km/h and comfortable cruising speed is 80km/h, with 90km/h possible for sustained periods on the flat. The engine is quiet, vibe free, starts easily and will be a reliable long term powerplant for sure. To be honest, it just does its thing and I either had it at full throttle or closed most of the time!
In town, acceleration off the lights as mentioned is average, however, between 20km/h and 60km/h, it is quite zippy and easily keeps up with traffic flow. Just don't expect the character of Vespa engines gone by, this motor is as close to an electric motor as a petrol engine is ever likely to get. It's all about efficiency and fuss free reliability. I recorded fuel consumption of 3.3L/100km extra urban. Fuel capacity is 7L plus a bit, so you have an average range of around 200km at tank.
I love the handling of the Primavera. Even on the tiny alloy 12in wheels, with single-shock suspension both ends, the Pic Nic handles a treat. It is stable, even at 100km/h amazingly, and around the suburbs is just so nimble and light feeling that even new riders will be full of confidence on their ride. The mirrors are great and the riding position provides a good view and easy head-checks.
---
It leans into a corner nicely and generally feels balanced and compliant for a small scooter. And through traffic and while lane splitting, well, it doesn't get any easier. Low seat height, 120kg mass, narrow and sure-footed. Very impressive…
---
---
Switches are all basic, as is the dash and dash operation, nothing fancy to learn there. There is storage for a single open face lid under the seat, plus easy access to the engine for servicing by lifting out the storage tub. There is no shopping hook thought, but there is aa glove box with USB point and plenty of space for your phone to charge (I used it to charge my GoPro and it worked perfectly).
---
---
The only lacking area for the Primavera is in the braking zones. The ABC equipped 200mm front disc brake is wooden, lacking feel and feedback, and is weak, while the 140mm rear drum that lacks ABS is dull and can then lock up if relied on too much. Both brakes need to be used together, but with no rear ABS, it almost makes the front ABS redundant. I was very disappointed with the braking performance.
So enough about my solo riding. In short, as expected, it does what it is supposed to do and as a premium full chassis scooter, handles well, while the iGet motor easily gets the job sorted. What we came for was that special Pic Nic experience and I have to be the first to admit, it was really good fun to go out with Heather and enjoy a Pic Nic on a scooter just like the old days.
---
As much as I'm a sportsbike rider and road racer at heart, and a big time rev head, I have a real appreciation for all things two wheels and, more importantly, the experiences that they bring and the memories they create. The Vespa Primavera Pic Nic may cost you a bomb, is too nice for commuting, but will repay you with many fond memories and great times in the sunshine, I promise…
Vespa Primaver 150 Pic Nic Tech Talk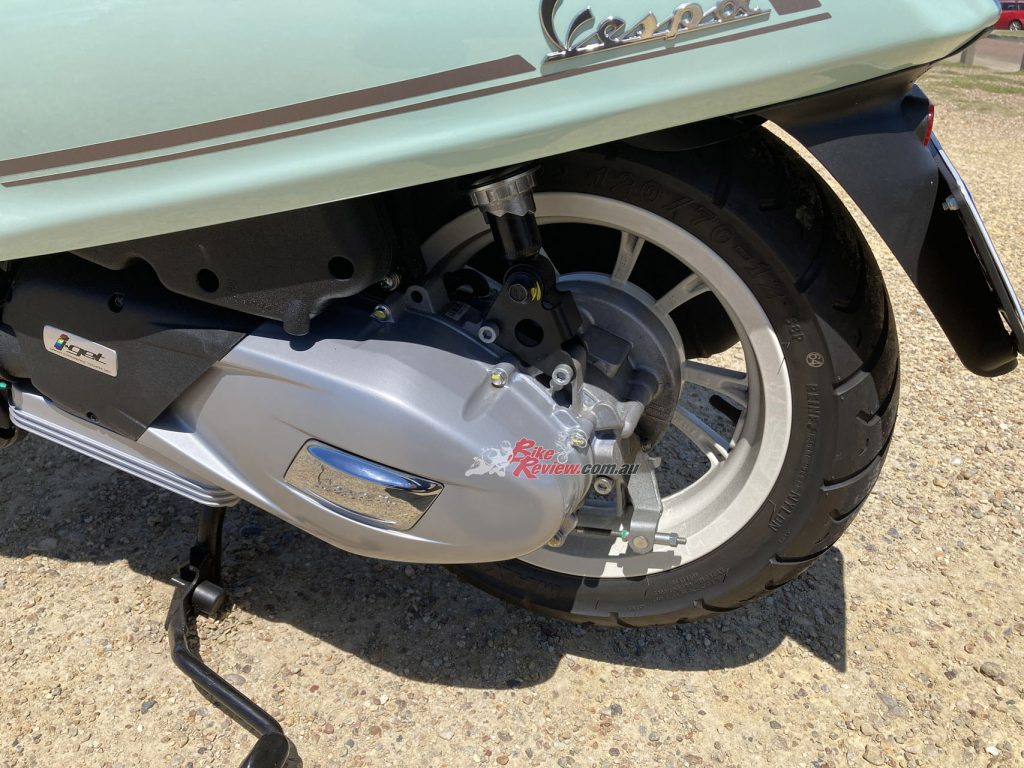 The Vespa Pic Nic is powered by a modern one-cylinder four-stroke 150cc iGet engine, air-cooled and equipped with electronic injection and three-valves. Vespa ensured that each detail from the exhaust to the inner structure of the transmission casing was designed to provide a smooth, comfortable and quiet ride for commuters and enthusiasts.
The control unit contains a barometric sensor, which ensures always optimum combustion under all conditions and at all altitudes. Vespa have also put plenty of development into ensuring the iGet 150cc engine can handle the stop/start nature of city traffic.
Vespa have kept their chassis setup simple with a conventional sheet metal body with welded reinforcements, echoing that of the original Vespas. Continuing the improved yet retro technology throughout the scooter is the suspension setup, the front is handled by a single arm with helical spring and single double-acting hydraulic shock absorber instead of a conventional fork design. The rear has had comfort kept in mind with a double-acting shock absorber, adjustable to four positions for preload.
---
---
The model comes in three colours, White Innocenza, Green Relax and Grey Materia, which let the highlights of the special edition Pic Nic style stand out. The signature belt in beige adds a touch of rustic chic to the livery of the scooter. The standard issue front and rear carry rack have 1 brown strap respectively, that not only embellish the look of the vehicle but are also functional items to tighten to the Vespa Pic Nic the items to be carried with you.
The Vespa Pic Nic special edition is easily recognised by the dedicated "Vespa Pic Nic" signature plate on the front compartment and by the outstanding accessories that complete this special collection. As a value-add for Vespa Pic Nic owners, provided with the new special edition is a complimentary Vespa Pic Nic branded gift set including a rattan basket, picnic blanket, tumbler and tote bag.
---
2021 Vespa Primavera Pic Nic 150 Specifications
Price: From $9,040 R/A (Jan 2022)
Colours: White Innocenza, Green Relax and Grey Materia
Claimed Power: 9.5kW@7750rpm
Claimed Torque: 12.8Nm@6,500rpm
Kerb Weight: 120kg
Fuel capacity: 7L
---
Engine: Piaggio I-get single cylinder, 4 strokes, 3 valves, 155cc, 58mm x 58.6mm bore x stroke, Electronic Injection PFI (Port Fuel Injection), Automatic, Electric starter
---
Chassis: Sheet metal body with welded reinforcements
Suspension: Single arm with helical spring and single double-acting hydraulic shock absorber. (f) Double-acting shock absorber, adjustable to four positions at preloading. (r)
Brakes:  Hydraulically operated 200mm stainless steel disc brake (f), Mechanically operated 140mm drum brake (r) 1 channel ABS
Wheels & Tyres: Die-cast aluminium alloy 3.00 x 12in – Tubeless 110/70-12in, Die-cast aluminium alloy 3.00 x 12in – Tubeless 120/70-12in
---
DIMENSIONS
Wheelbase: 1334mm
Overall width: 680mm
Overall Length: 1852mm
---
Dash: LCD display, analogue speedo
---
The Verdict | Review: 2021 Vespa Primavera Pic Nic 150