After tackling the 2022 Harley-Davidson Sportster S at the Aussie launch, Jeff spent a bit more time getting to know the sports cruiser earlier this year... Photography: Heather Ware, H-D
The Sportster S proved to be everything that Harley promised us in the lead up to the Aussie press launch last year, where we raced around a purpose made track and cruised the city. But to really put it to the test, we needed to live with it for a few weeks as a daily ride.
I had a lot of good things to say about the Sportster S in my Australian Launch Report. The Revolution Max 1250T engine truly wowed me. I mean, this thing wheelstands under power. Enough said. But there were a few questions I left the event with, such as, "Will the rear suspension cope on bumpy roads?" and "How well will the brakes perform in normal everyday riding scenarios?"… "How comfy will the bike be over a full day of riding?"… "Will the exhaust cook my right leg in traffic?"… These things, and a few more, sat in the back of my mind until I took the S back for a few weeks and used it as my daily rider and weekend blaster…
---
---
It's an exciting and engaging motorcycle. It feels short, low and nimble and with 90kW backed up by a stump pulling 125Nm@6000rpm, it has the go to match the show. It really does go hard and holding on at full throttle in Sport mode is not for the faint hearted or inexperienced, as it has incredible mid-range, before slightly flattening out up top but still pulling hard. If you want a bike that makes you laugh out loud, this will do it, and do it in style. It just needs noisier pipes.
---
---
Not feeling like a racer? Flick it the Sportser S to Road mode and cruise around taking in the atmosphere. With a cutting-edge electronics suite backing up your skills, the Sportster is a modern, high-tech, high performance package. I spent most the time in Road mode, occasionally in Sport.
Living with the Sportster is easy. Even at 228kg ready to ride, it is balanced enough to manage parking, moving the bike around, and low speed riding is no sweat. The weight is carried low, you really barely feel it. It's an easy going bike to jump on and go, whether up to the corner store just a few km away or for a day ride. It's fuss free and great and for those living in urban or outer urban areas, it could actually be a decent daily rider so long as a backpack is all you need to carry your kit in…
I pretty much used the Sportster S as my only transport while I had it, aside from when I had to use the car for the school run, so I rode it in the rain or dry, warm or cold, night and day and for fun and for transportation. I chose the latter as the bike made every trip exciting, it's a hoon's bike, let's face it, not one of Harley's classy chromed up cruisers, it's actually a bit of an animal and can get wild with all that acceleration on tap. I found I had to ride with restraint, or I'd have lost my licence for hooning, I reckon. But it also has a sensible, convenient side, with TBT navigation via the H-D app, plus BT connectivity to a helmet headset for smart phone control and music. I use a Cardo PACKTALK Bold.
---
---
The Revolution Max 1250T does everything you want out of a V-twin performance powerplant. Around town in Rain or Road mode, it is smooth, not at all intimidating, not overly hot (I had no issues with heat off the pipes, although I've read otherwise from some testers), has a light clutch with a progressive take-up, and the gearbox is smooth both up and down in shift. There is plenty of punch on hand when required, and it always starts, but does take a good few cranks to fire up, like the Pan America does.
The suspension is firm at both ends, and small low and high speed bumps are felt fairly solidly through the handlebars and seat around town, but it isn't an issue as there is enough seat padding to deal with it for the most part, but I'm used to sportsbike suspension. The brakes are just right for urban riding, not overly strong in initial bite at the front, but with plenty of stopping power, while the rear brake is just enough for control and balance. Small things make life easy, such as the access to the sidestand and the view through the bar-end mirrors, which is better than most of the same compact style.
---
---
Out of town when you can really let that stunning powerplant rev free the Sportster S becomes a serious motorcycle. It's one of the quickest road bikes we've tested, off corners, comfortably closing the gap to current sportsbikes between turns (at least the ones I rode with) and it's top fun experiencing the stump pulling torque of that engine. It doesn't need the 160hp top-end of the Pan America, that'd only blow you off the back of the bike. It's more suited to the fat torque between 4000 and 6000rpm…
The chassis is the limiting factor of course, being a cruiser, despite being a 'Sports' cruiser. The brakes that are so great in urban settings limit hard braking a tad in the hills and a second rotor would be nice, while the rear suspension travel takes the performance back a notch once there are bumps involved. If the Sportster S had another 20 to 30mm of rear travel, and a bit more cornering clearance, it could be 30 per cent better out on the open roads when it comes to cornering, I believe.
---
"I think it'd still be a good urban bike and have a low enough seat and stance even if it did have more rear suspension travel and ride height"…
---
I'd love to try one that is modified… The other issue is the harshness over the bumps from the rear end, which causes some instability as it bottoms out, not to mention lower back pain when the hits are really big. It's a shame, as the SHOWA front-end is spot-on once it is down in the stroke and being pushed, and offers good support under braking, too. I think it'd still be a good urban bike and have a low enough seat and stance even if it did have more rear suspension travel and rear ride height.
I adjusted the rear preload a lot while testing the Sportster S but could not find a happy medium for all situations, so would wind it up and down on the go, which is easy to do (just don't catch your fingers on the rear tyre like I did!). I ran it at around 3/4 out around town and 1/4 out in the twisties and on country roads. I left the front, although I considered less preload at times, I preferred the front to be stiff and it is pretty stiff, but it's a personal thing whether you back it off for comfort or not.
---
---
Steering is impressive in general riding – it's light, flickable and accurate, considering there is a whopping fat front tyre doing its best to fight the laws of physics. When the going gets busy, you feel the width of the Dunlop(s) but it's no issue and there is decent grip there but not a huge amount of feel. rear traction when hard charging is impressive, the TC doing a little bit of overtime when the going gets high but that's at the pointy end. In general use and most conditions, it's a very tractable bike.
---
Wet weather performance is good and aside from some tendency to follow road grooves, probably due to the triangular construction of the front 160-section, there are no issues with the tyres. I'd be keen to hear from any owners about how things may change as the shoulders wear out though…
On fast, flowing and smooth hotmix twisty roads, the Sporty S is a dream and on rails. It just loves it and is completely at home flicking from corner to corner, so I ended up sticking to the smoothest end of my local, the Old Pac, by slabbing it from the Coast all the way to Brooklyn on the M1 and avoiding the northern end of the Old Pac altogether. This was a fun loop really, and what the bike is all about… a blast in the hills, then set cruise control and motor home in a relaxed manner, taking in the views…
All up I was as equally impressed with the Sportster S out in the real world as I was in the Harley launch world. As long as it is ridden within its design limitations, it's a bloody amazing machine. Just don't get caught in the wet because there is no rear guard and you get sprayed top to bottom in water and end up soaked and dirty as I found out a few times!
At the end of the day, for an all-new model and such a massive change, the new Sporty ticks the right boxes. It is super fast, lively, stylish and very modern. It's priced at the premium end but for the technology, engine and running gear it is packaged up with, under $27k is bang on the money as far as I'm concerned, particularly compared to the bigger oil-cooled Harley models out there…
If you are after a cruiser that will handle some twisty fun and has the acceleration to match a sports or nakedbike, or even beat it, then the Sportster S is worth a decent test ride on, not just a spin around the block, a good run where you can get a feel for the bike.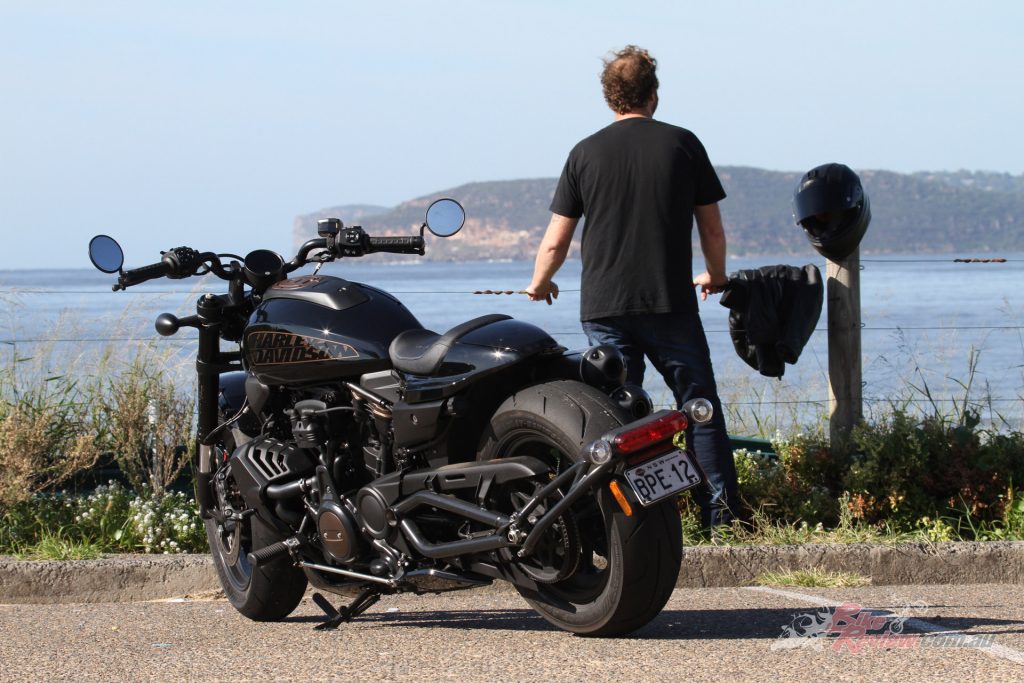 Tech Talk
The Harley-Davidson Sportster S uses the 121-horsepower Revolution Max 1250T V-Twin engine which provides a narrow powertrain profile that is integrated into the bike as a stressed member of the frame to enhance centre of gravity and handling.
The fully balanced powertrain has an internal counter balancer that mitigates primary engine vibration to enhance rider comfort and improve vehicle durability. Reducing the weight of the powertrain contributes to lower motorcycle weight. The use of finite element analysis (FEA) and advanced design optimization techniques in the engine design stage minimized material mass in cast and moulded components. Single-piece aluminium cylinders with nickel silicon carbide-surface galvanic coating are a lightweight design feature while the camshaft covers and primary cover are lightweight magnesium.
Four-valve cylinder heads (two intake and two exhaust) permit an expansive valve area. The DOHC design permits independent Variable Valve Timing (VVT) on the intake and exhaust cam, optimized for the front and rear cylinder. VVT helps broaden the overall powerband and improve torque management and efficiency. This allows the same engine to provide the rider with both low-end grunt for acceleration off the line as well as high-RPM horsepower. Hydraulic valve lash adjustment ensures quiet operation and eliminates the need for costly, complicated service procedures.
Piston crowns are machined for precise control of a 12:1 compression ratio. The engine is designed for use with premium-fuel fuel to make maximum power, but will run on lower-octane fuel, protected from potential detonation by the knock sensor technology. Internal balancers also help cancel engine vibration to enhance rider comfort and improve vehicle durability. The balancers are tuned to retain just enough vibration to make the motorcycle feel "alive."
The fuel tank and tail section frame the engine as the predominate centrepiece of the motorcycle. The massive front tyre recalls the fender-less front-end of a classic bobber, while the tail section, high-mount exhaust and slim solo seat draw inspiration from the Harley-Davidson XR750 flat tracker. The powertrain is highlighted with a Chocolate Satin finish on the lightweight magnesium engine covers. 
The Sportster S model is equipped with a host of technology. Three pre-programmed, selectable Ride Modes (Sport, Road and Rain) electronically control the performance characteristics of the motorcycle, and the level of technology intervention. Two Custom modes may be used by the rider to create a set of performance characteristics.
A collection of technology intended to enhance rider confidence during unexpected situations or adverse road conditions have been added. They are designed to match the bikes performance to available traction during acceleration, deceleration and braking, in a straight line or while in a turn. 
The Sportster S model offers selectable Ride Modes that electronically control the performance characteristics of the motorcycle, and the level of technology intervention. Three of the modes are pre-programmed, while two additional modes may be customized by the owner. Each Ride Mode consists of a specific combination of power delivery, engine braking, C-ABS and C-TCS settings.
---
Road Mode: Intended for daily use, Road Mode delivers balanced performance. This mode offers less-aggressive throttle response and less mid-range engine power than Sport Mode, with a higher level of C-ABS and C-TCS intervention. 
Sport Mode: Sport Mode maximises the rider connection to the motorcycle for a direct and visceral performance riding experience; the rider will experience the full performance potential of the motorcycle in a direct and precise manner, with full power and the quickest throttle response. C-TCS is set to its lowest level of intervention, and engine braking is increased. 
Rain Mode: The Rain Mode is an appropriate setting for riders building confidence as they become familiar with the motorcycle. Throttle response and power output are programmed to significantly restrain the rate of acceleration, engine braking is limited, and the highest levels of C-ABS and C-TCS intervention are selected.
Custom Mode: The Sportster S has two Custom Ride Modes. Within each Custom Mode the rider may create a set of performance characteristics to meet personal preference or for special situations. To create a Custom Mode the rider may select their combined preference of engine torque delivery characteristics, engine braking, throttle response, and C-TCS and C-ABS intervention, within specific ranges.


---
A round, 4.0-inch-diameter TFT screen displays all instrumentation and supports infotainment  generated by Bluetooth devices and helmet headset, including music, incoming and out-going calls, and navigation supplied by the Harley-Davidson App. All LED lighting includes a Daymaker Signature LED headlamp, eliminating distracting "hot spots." 
---
---
Navigation is supplied by the Harley-Davidson App for iOS or Android, which must be downloaded into the rider's mobile device. When navigation is enabled, the rider may select a moving map display or turn-by-turn map, either of which are displayed on the screen, assisted by audio instructions through the headset.
---
---
The Sportster S model is equipped with fully adjustable, premium front and rear suspension – SHOWA 43mm inverted cartridge forks and a SHOWA Piggyback reservoir rear shock. Rear suspension features hydraulic pre-load adjustment using a convenient knob located on the left side of the motorcycle. Lightweight cast aluminium wheels with a staggered, five-spoke design are shod with wide Dunlop/Harley-Davidson Series GT503 tyres.
---
Braking is handled by premium Brembo braking components. The single front brake features a new Brembo radial monoblock four-piston caliper and a 320mm diameter disc. The rear brake is a two-piston Brembo caliper and a 260mm diameter disc.
Unladen seat height is 750mm, low enough for most riders to get their feet down at a stop. Brake and clutch levers are adjustable for reach, to best match rider hand size or preference. The Sportster S model is pre-wired for accessory heated hand grips for added comfort in cool weather, and is equipped with two dedicated power points for heated riding gear (heated hand grips and heated riding gear/apparel each sold separately), plus a USB-C port. Cruise control and a proximity-based security system are standard equipment.
---

2022 Harley-Davidson Sportster S Specifications
https://www.harley-davidson.com/au
Price: From $26,495 Ride-Away
Warranty: two-years unlimited km
Colours: Vivid Black, Midnight Crimson and Stone Washed White Pearl (extra $295).
Claimed Power: 90kW
Claimed Torque: 125Nm@6000rpm
Wet Weight: 228kg
Fuel capacity: 11.8L
Service: First 1600km every 8000km thereafter
---
Engine: Revolution Max 1250T, 1252cc, 105 x 72.3mm bore x stroke, 12.0:1 compression ratio, ESPFI, 2-into-1 shotgun; catalyst in muffler
Gearbox: Six-speed, Primary drive 49/89
Fuel Consumption: 5.1L/100km
---
Chassis: Mild steel tubular frame
Rake: 30° Trail: 148mm
Suspension: 43mm inverted fork with compression, rebound and spring preload adjustability. Aluminium fork triple clamps, linkage-mounted, piggyback monoshock with compression, rebound and hydraulic spring preload adjustability.
Brakes: Radially mounted, monoblock, 4-piston caliper with a 320mm diameter disc Rear: floating, single piston caliper with a 260mm disc.
Wheels & Tyres: Aluminium cast, satin black, Dunlop/Harley-Davidson Series GT503 tyres
---
Dimensions:
Wheelbase: 1520mm
Ground clearance: 90mm
Overall Length: 2270mm
Lean angle: 34º
---
Instruments & Electronics: 4in viewable area TFT display with speedometer, gear, odometer, fuel level, clock, trip, ambient temp, low temp alert, side stand down alert, TIP over alert, cruise, range and tachometer indication BT capable – phone pairing to access phone calls, music, navigation (H-D App ONLY). All LED headlamp, low and high beam with signature position lighting. All LED Tail/Stop lamp with signature tail lighting.
---
The Verdict | Review: 2022 Harley-Davidson Sportster S, Road Test