A more street focussed crossover version of the Himalayan, the Royal Enfield Scram 411 is a load of fun, on and off road, as we discover at the Aussie launch... Photos: Royal Enfield ANZ/Tom Fossati
Royal Enfield's Himalayan Scram 411 is here. Their latest mid capacity offering has arrived on Australian soil and we headed to Northern NSW and Southern Queensland to test the ADV crossover as part of the Australian media launch, on road, off-road. We even camped out!
The Royal Enfield Scram 411 is a new sub-species of the ever-popular Himalayan model that has been successful not only in the Australian market but globally for the brand. The Scram 411 has been tweaked to give a rider focus on city riding as well as being suitable for weekend off road adventures.
---
"The Scram 411 has been tweaked to give a rider focus on city riding as well as being suitable for weekend off road adventures"…
---
From the crossover tyres, gators on the front forks and higher ride height for ground clearance, it all points to its versatility as a soft adventure bike. Funky and vibrant colour schemes illustrate its focus on fun and rider enjoyment too…
---
---
After arriving at the initial launch venue at Kingscliff on Monday evening, it was time to get our gear ready for the following morning (for those of us who's gear arrived) and settle into the welcome dinner before the official ride was to begin on the Tuesday morning.
---
We woke on Tuesday morning to be greeted by variants from each of the three models that make up the Scram 411 range. In fact, to be honest I was a little excited and out of bed early to make sure I got my hands on a model that photographed well (I swear I am not shallow).
Truth be told, that was almost a mistake, as it took me about 10 minutes to make up my mind on which bike I wanted to ride. In the end, Skyline Blue was decided upon, just in front of Silver Spirit and Blazing Black. They all look pretty schmick. There is a colour for everyone.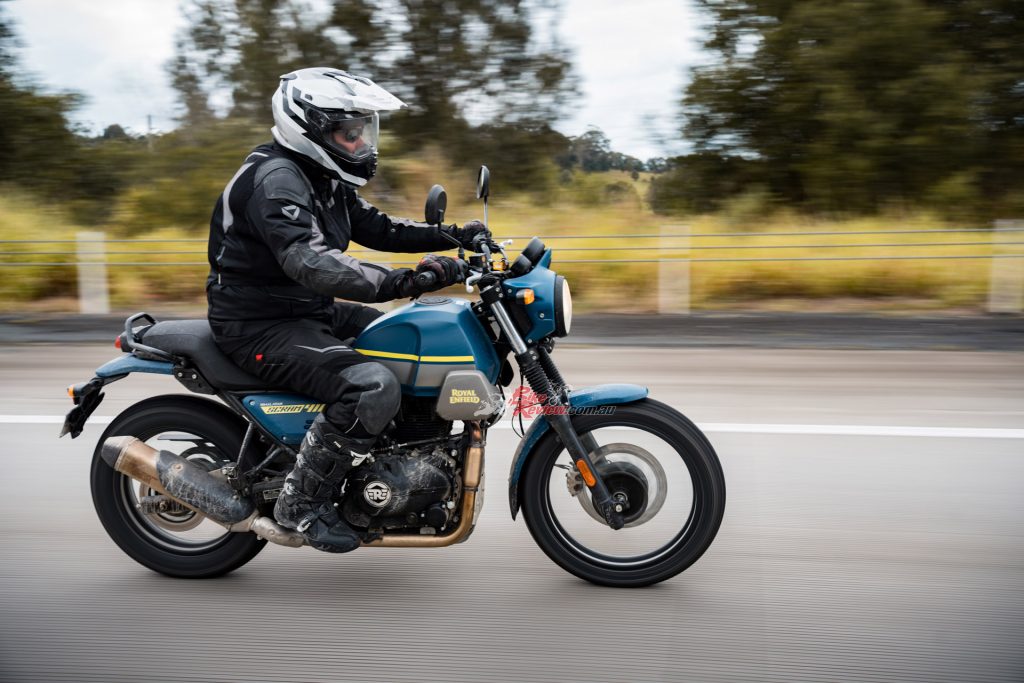 A quick walk around the bike gave me a chance to check out the styling firsthand, with some nice Royal Enfield decals strategically placed on the bike. The Daytripper navigation unit we have tested previously is on board too. There's also a user-friendly analogue/digital speedo. Decidedly uncomplicated, which is one of the nice things about Royal Enfield bikes in general, there are no ride modes or settings to mess around with. It's just flick the go button and ride.
---
---
It was off for a quick photo opportunity at the beach at Kingscliff, our first little journey saw us navigate suburbia and get a feel for the bike. You very quickly realise how easy it is to ride the Scram 411. Hand controls are easy to operate, brakes perform reasonably well, as a package it's not complicated. That said, there was a lot more to test, and we headed to the hinterland in Northern NSW, making the most of some straight roads and twisty corners along the way.
This gave me a chance to see what sort of substance and rider engagement the new Royal Enfield really offered. Powered by the updated Himalayan 'LS410' 411cc, fuel-injected, four-stroke, SOHC, air-cooled single-cylinder engine, the Scram 411 offers 18.1kW of power and 32Nm of torque. It's delivered across a powerband which ensures smooth delivery and a strong bottom-end. The single-cylinder powerplant feels strong and is willing to be revved all the way to the redline without complaint.
---
---
Earlier this year, I attended the Royal Enfield 350 Classic launch and that bike topped out just over 120km/h at top speed. Impressively, with a slightly bigger soul, the Scram 411 managed to creep just past 130km/h, which exceeded my expectations. It's a great motor, with a heavy flywheel effect.
---
"Impressively, with a slightly bigger soul, the Scram 411 managed to creep just past 130km/h, which exceeded my expectations"…
---
Through the corners, the Scram feels stable and reasonably planted, even with the throttle pinned. There is however a little wiggle in the rear, but it is in no way unnerving and you really have to concentrate to notice it. The Scram 411 utilises long travel suspension and a mono-shock setup on the rear-end. This setup allows 180mm of travel for the 17-inch rear rim and 200mm of ground clearance.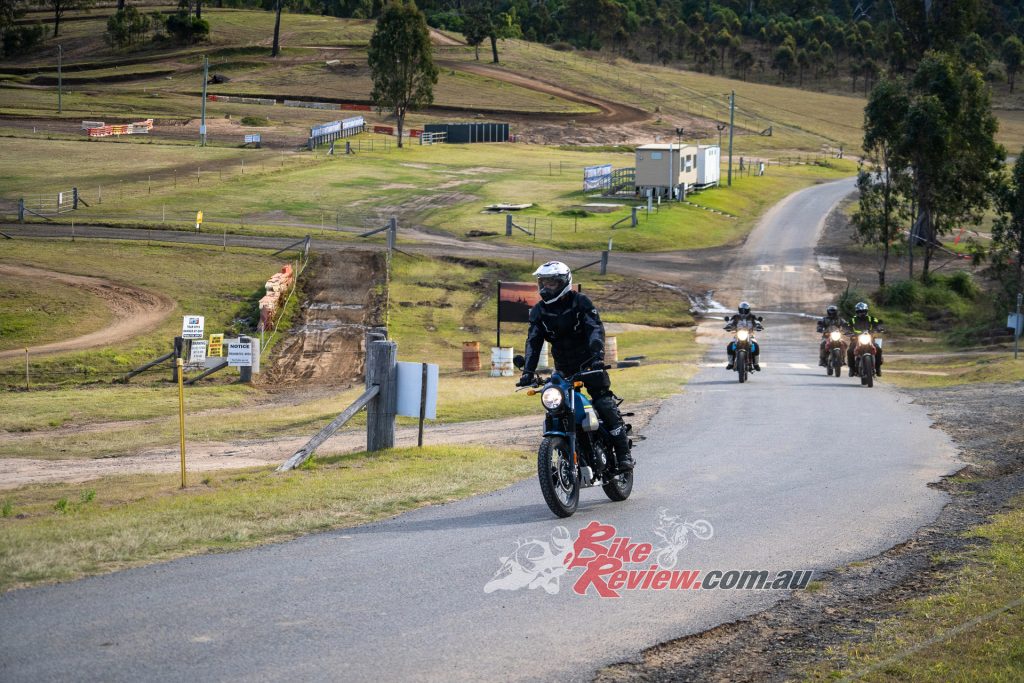 A conventional 41mm fork that features 190mm of wheel travel for the 19-inch front wheel is up front. This package soaks up bumps well and I was impressed how well it worked when I had the opportunity to take the Scram off-road – but more about that later.
---
A little more bite from the front brakes during enthusiastic riding would be nice, but the setup, which includes ABS front and rear, is more than adequate. The Scram 411 is fitted with a 300m rotor and two-piston floating caliper on the front. At the rear, there's a 240mm rotor and single-piston floating calliper.
---
---
Following our road ride, we found ourselves at Queensland Moto Park. On arrival there was a little bit of chatter and excitement among the contingent of media about the flat track activities we thought we were about to take part in. But unashamedly it is not the first time I've been wrong, there was to be no flat track action, instead a natural Scrambles track was to be tackled, which resembled something very familiar to a motocross track!
Royal Enfield sponsored rider Josh Farrell was on hand with a mildly modified Scram 411 complete with Staintune exhaust to show us all how it is done, before we were let loose. I did wonder if Royal Enfield are a little crazy to let 11 bike journo's loose on a Scrambles track on brand new bikes. Hat's off to Royal Enfield for the concept and letting us test their mid capacity scramblers to the limit, keeping in mind these bikes were stock standard and only had the ABS disconnected for the dirt activity.
---
After cutting some laps and being completely exhausted and having even more respect for what these bikes had just been through, it was time to camp out for the evening, have a beer, a feed and tell some stories around the campfire. It was a great event, and the bike a blast.
A big thanks at this point must go out to the good folk at Salt Creek Motorcycles and Queensland Moto Park for the excellent food and hospitaility provided at the venue to not to mention the first-rate facilities that were on offer for us to ride the bikes and get some photos and video.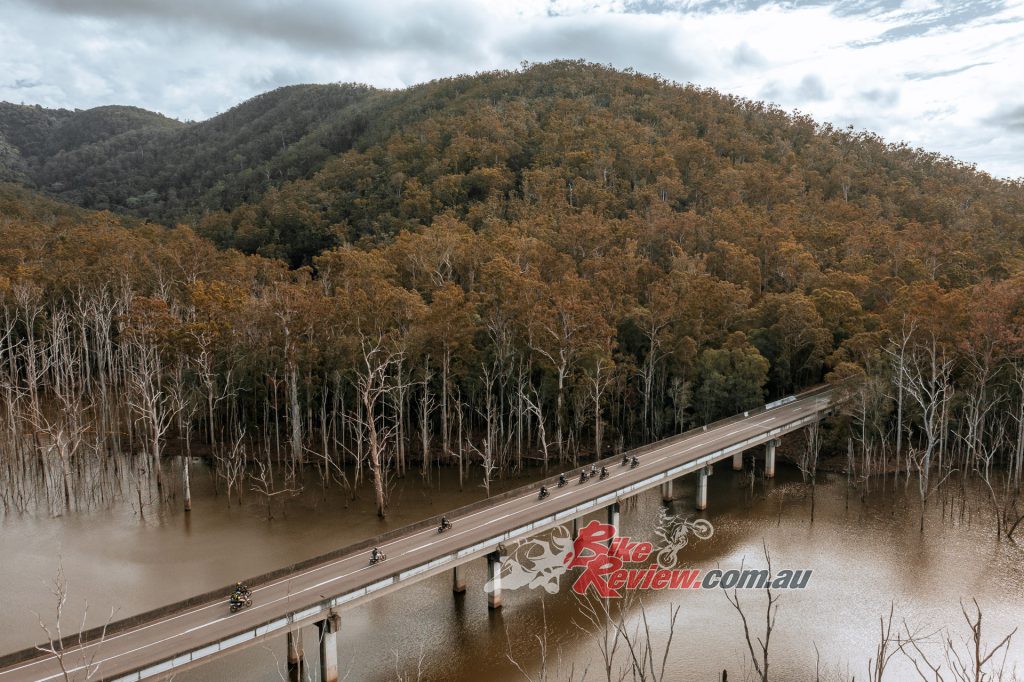 Day two kicked off with us climbing out of our swags early to be greeted with some great bacon and egg rolls. We hit the road about 8:00am, and it was time to head back the way we came in hopeful of sunshine, however the site of the NSW border also brought rain a little later in the morning.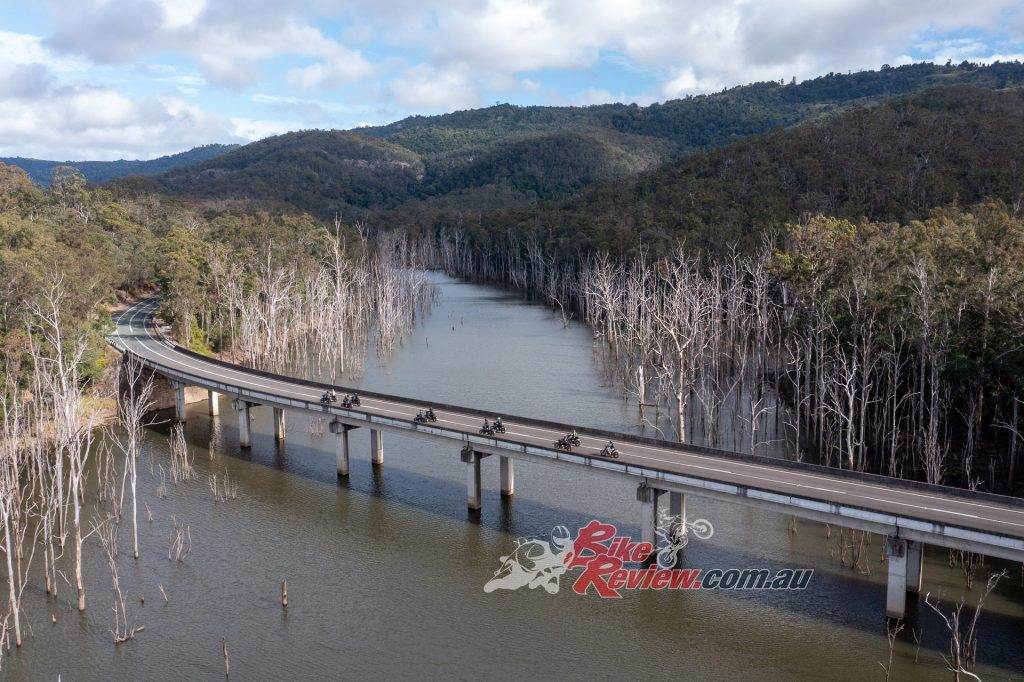 Wet or dry the Scram 411 remained solid and true to itself as an easy-to-use motorcycle that lapped up the conditions thrown at it. When we made it to our destination point at Salt Creek City Motorcycles at Ballina our machines were no longer the spanking gleamy shiny motorcycles we climbed aboard early Tuesday morning.
---
Check out the Staintune exhaust for the Scram 411 here, as used by Josh Farrell…
---
Our Scram 411's had thoroughly been tested both on the tarmac and probably as hard off road on the Scrambler track as you are really going to do on this bike. We had ridden through the sunshine and experienced heavy downpours and showers.
---
---
The learner legal bike lapped up the conditions, and I reckon it offers an accessible way to get into motorcycling, while still having a hip ride that offers an abundance of character and customisation options from the genuine accessories.
The entry level offering hits the road at $8,240 ride away and comes in three colour options. Those options include Graphite Yellow, Graphite Blue and Graphite Red. The mid-level offering starts from $8,340 ride away and is available in two attractive colour schemes which include Blazing Black and Skyline Blue which incidentally is the colour of our launch bike which looks Mickey Mouse. The top of the range variant comes again in two colour options including Silver Spirit and White Flame with pricing starting from $8,440 ride away.
---
---
Royal Enfield's Scram 411 comes adventure ready with an array of optional motorcycle accessories as well as a host of lifestyle merchandise. The motorcycle comes backed by a three-year unlimited kilometre factory warranty and three years roadside assist. If you are looking for a bike that works as a weekday commuter with the capability to hit a bush trail on the weekends, then the Royal Enfield Himalayan Scram 411 could be the bike for you.
---
Royal Enfield's Scram 411 comes adventure ready with an array of optional motorcycle accessories as well as a host of lifestyle merchandise…
---
Picking the model will purely be based on colour preference, but with accessible pricing and LAMS compliance the Scram 411 makes a compelling case to initiate your motorcycling journey or just park a bike in the garage that has the versatility to meet your lifestyle.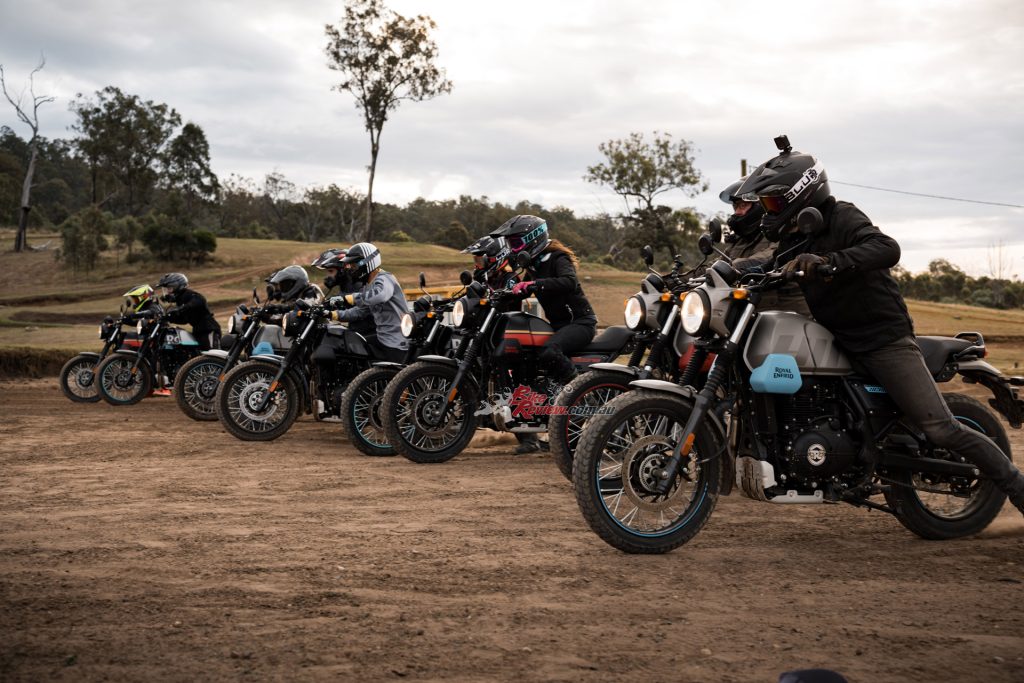 The 2022 Royal Enfield Scram 411 is now on your local Royal Enfield dealers showroom floors so take the opportunity to go check one out and get your Scram on!
Customers can now discover, book a test ride, customize, and book their Scram 411 at the nearest Royal Enfield Store. You can order yours here!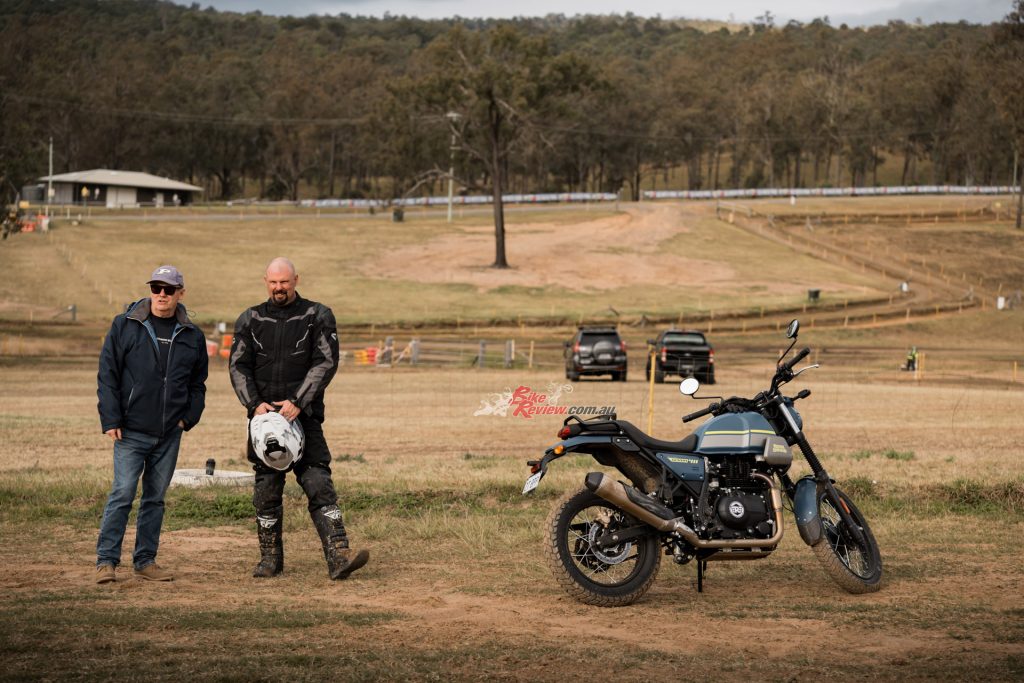 ---
Editor's Note: If you are reading this article on any website other than BikeReview.com.au, please report it to BikeReview via our contact page, as it has been stolen or re-published without authority. 
---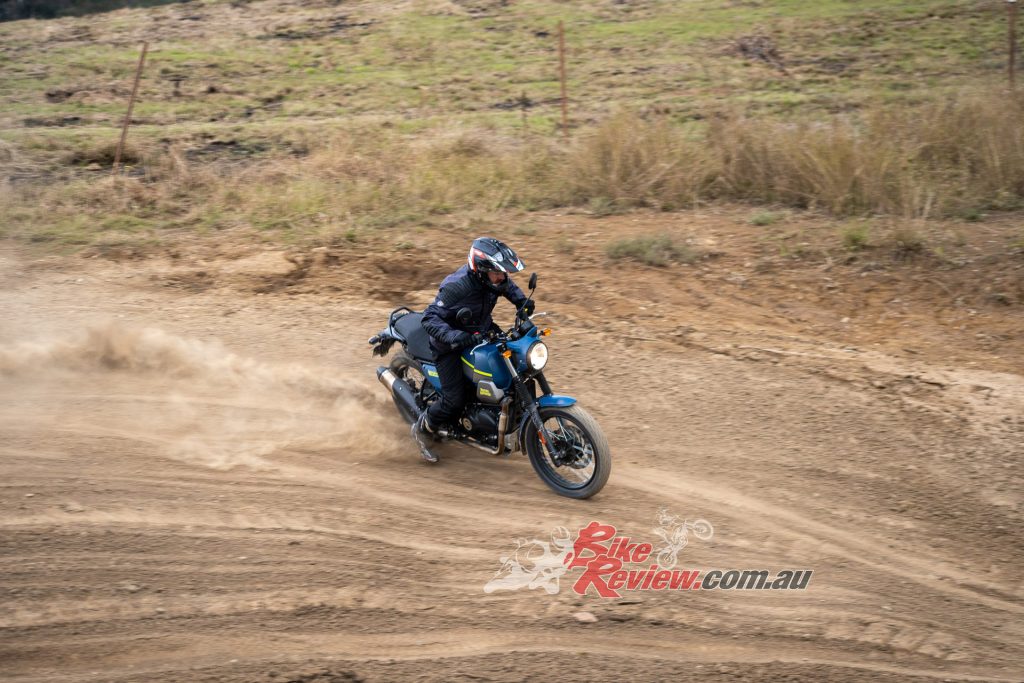 2022 Royal Enfield SCRAM 411 Specifications 
PRICE From $8,240 R/A
Colours: White Flame, Silver Spirit, Blazing Black, Skyline Blue, Graphite Red, Graphite Blue, Graphite Yellow
Claimed power: 18kW[24hp]@6500rpm
Claimed torque: 32Nm@4250rpm
Kerb weight: 185kg (no fuel)
Fuel capacity: 15L
---
ENGINE
'LS 410' 411cc, air-cooled, single-cylinder, four-stroke, SOHC, EFI
Gearbox: Five-speed, constant mesh
Clutch: Wet, multi-plate
---
CHASSIS
Half-duplex split cradle frame
Suspension: 41mm telescopic forks, 190mm travel, monoshock with linkage, 180mm travel
Brakes: Single front 300mm rotor, two-piston caliper, single 240mm rear rotor, single-piston caliper, ABS standard.
Tyres:100/90-19, 120/90-17
---
DIMENSIONS
Seat height: 795mm
Overall height: 1165mm
Overall width: 840mm
Overall length: 2160mm
Ground clearance: 200mm
Wheelbase:1455mm
---
Instruments: TBA
---

2022 Royal Enfield Himalayan Scram 411 Gallery
---
---
The Verdict | Review: 2022 Royal Enfield Himalayan Scram 411